Contemplating bathroom Feng Shui ideas to ensure your bathing space is just right for you. Draw on its principles to design a bathroom that will improve your quality of life. 
No longer simply functional rooms where we could begin and end our days, bathroom décor ideas are now much more likely to be at-home wellness centers where we unwind, escape, rejuvenate and repair – and this has had a big effect on not just how bathrooms look but how we design them. 
Here, we've put together the best bathroom ideas to allow you to use Feng Shui principles in your space, together with advice from designers who follow its philosophy in their projects.
Bathroom Feng Shui – how to create good Feng Shui
What is Feng Shui, you ask? Feng Shui is an ancient Chinese practice, but one that has become popular in western interior design over the past several decades, and something we should certainly take note of when choose deciding upon the best bathroom Feng Shui for our home.
A beautifully finished Feng Shui bathroom to get ready in every morning and to wind down in at night really makes a difference to the way you start and end your day. So if you're planning a bathroom refurb that incorporates the principles of Feng Shui, it's important to consider a few key things before you start, from space planning and lighting to bathroom color ideas and materials; it really does make all the difference between a basic bathroom and a beautifully functional and utterly enjoyable space. Use the following steps to guide you through the bathroom Feng Shui renovation process.
1. Find the right location
If your bathroom is located directly opposite front door, you may want to rethink this position. Having a bathroom directly opposite the front door means that when you walk into your home, the bathroom is the first thing you notice, and it is one of the Feng Shui features to avoid. 
In Feng Shui, it is vital that you pay attention to what you see and how you experience your home, especially in relation to the front door. The front door is the mouth of chi, which means it is how energy enters your home.
If the first thing you see when you walk into your home is the bathroom, it could potentially lead to illness, or simply needing to use the bathroom more than you should need to. Ideally, you don't want to have a bathroom here, but if you aren't able to renovate and relocate the bathroom, a simple solution is to place a mirror on the outside of the bathroom door. This will energetically erase the bathroom and minimize any possible negative effects.
2. Ensure you had adequate lighting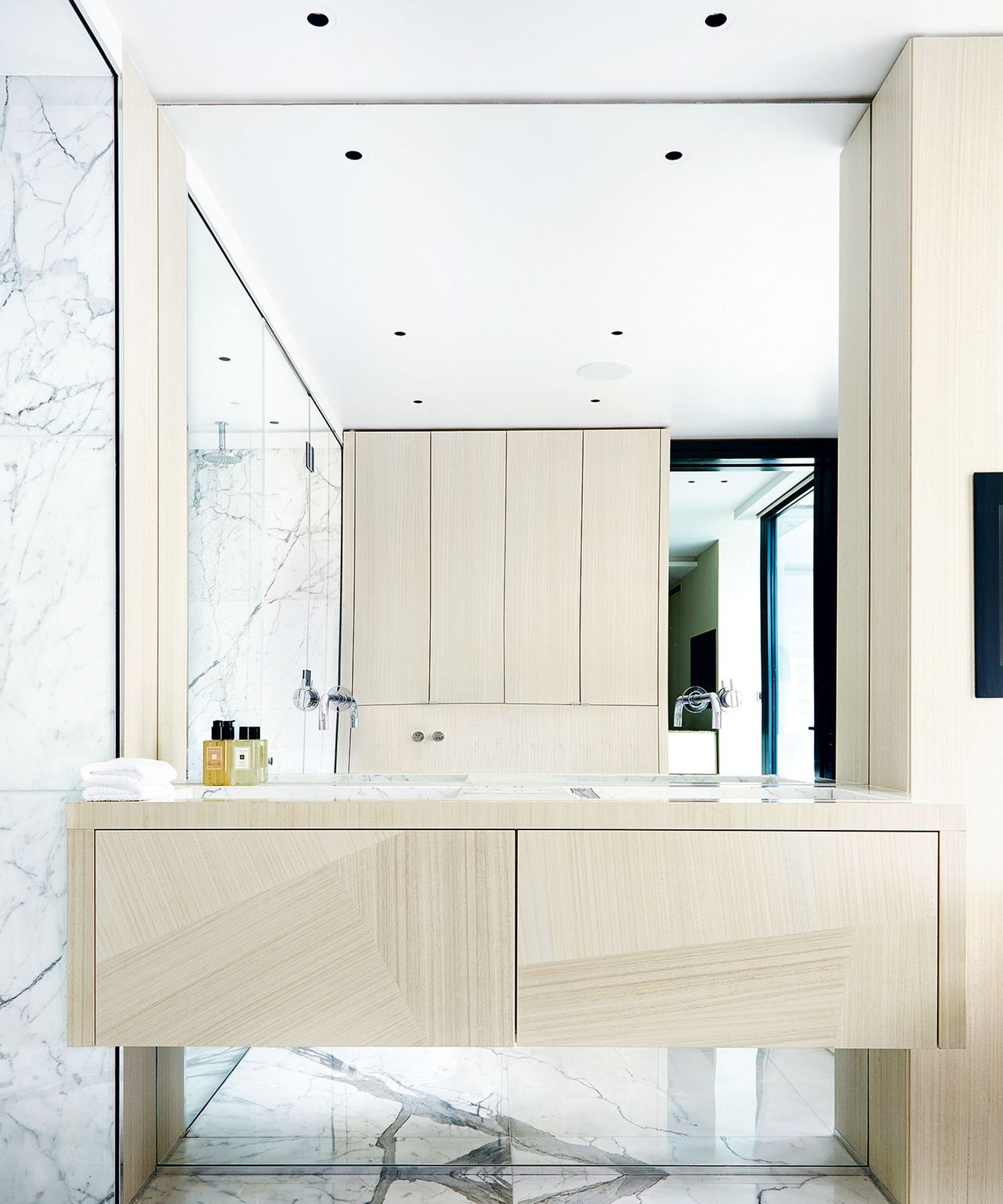 Smart Feng Shui bathroom lighting ideas are an integral design element that should be planned at the start of a project, if possible. Lighting is more than just functional; lighting is an instant energy booster and can make you feel refreshed in the morning and relaxed in the evening. 
Go for at least two lighting circuits. Recessed downlights can provide sufficient general lighting for the space, but you don't want light from above when standing at the mirror. Many off-the-shelf mirrored cabinets include integrated LED lighting, but beware of those with a color temperature of 4000K or above, which will be cold and blue, and instead look for 3000K, which is a soft warm white. 
If your cabinet or mirror doesn't include integrated lighting, install wall lights near the sink. If you have the ceiling height for it, a pendant over a freestanding bathtub can look spectacular.
3. Introduce the wood element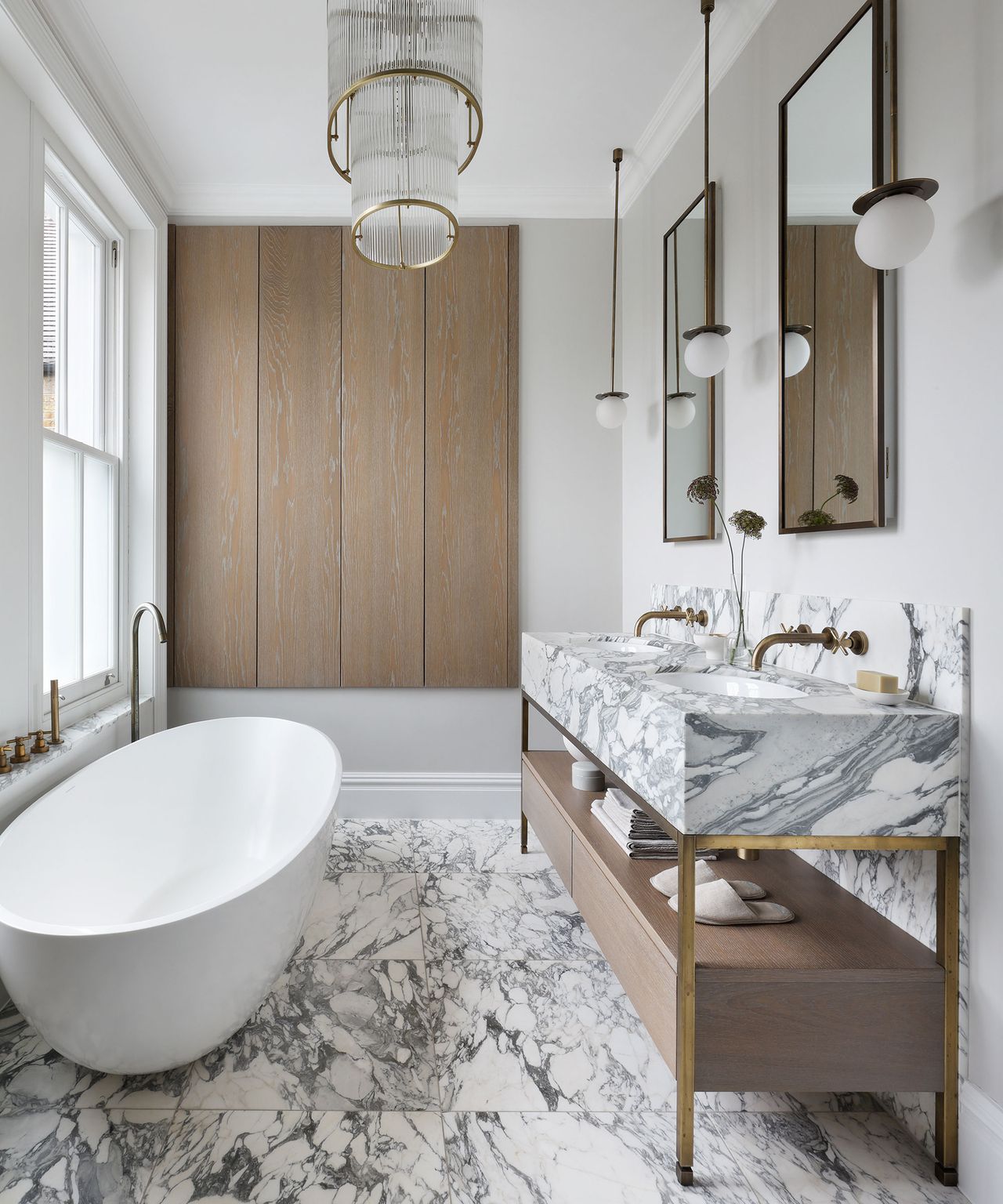 Thanks to the desire to create a sanctuary at home, the Feng Shui bathroom has become a retreat, a private oasis to help restore mental and physical wellbeing. With this comes a move away from clinical style. 
Wood is now the material of choice for its natural beauty and warmth; it conjures the quiet luxury of a spa. There are many ways to introduce timber to your scheme, from a simple small stool to a timber-fronted vanity. Wooden baths are reminiscent of Japanese soaking tubs, while the warm, dry air of a naturally scented wood sauna offers the ultimate indulgence.
'Look to the beauty of natural wood timber for warmth and a spa-like feel,' says Yousef Mansuri, director of design, C.P. Hart (opens in new tab). 'Wood accessories can be simple but effective, especially combined with other natural materials, such as an oak shelf with plants in stone pots. For flooring, try wood-effect tiles – the latest options are highly realistic.'
4. Consider the best Feng Shui bathroom colors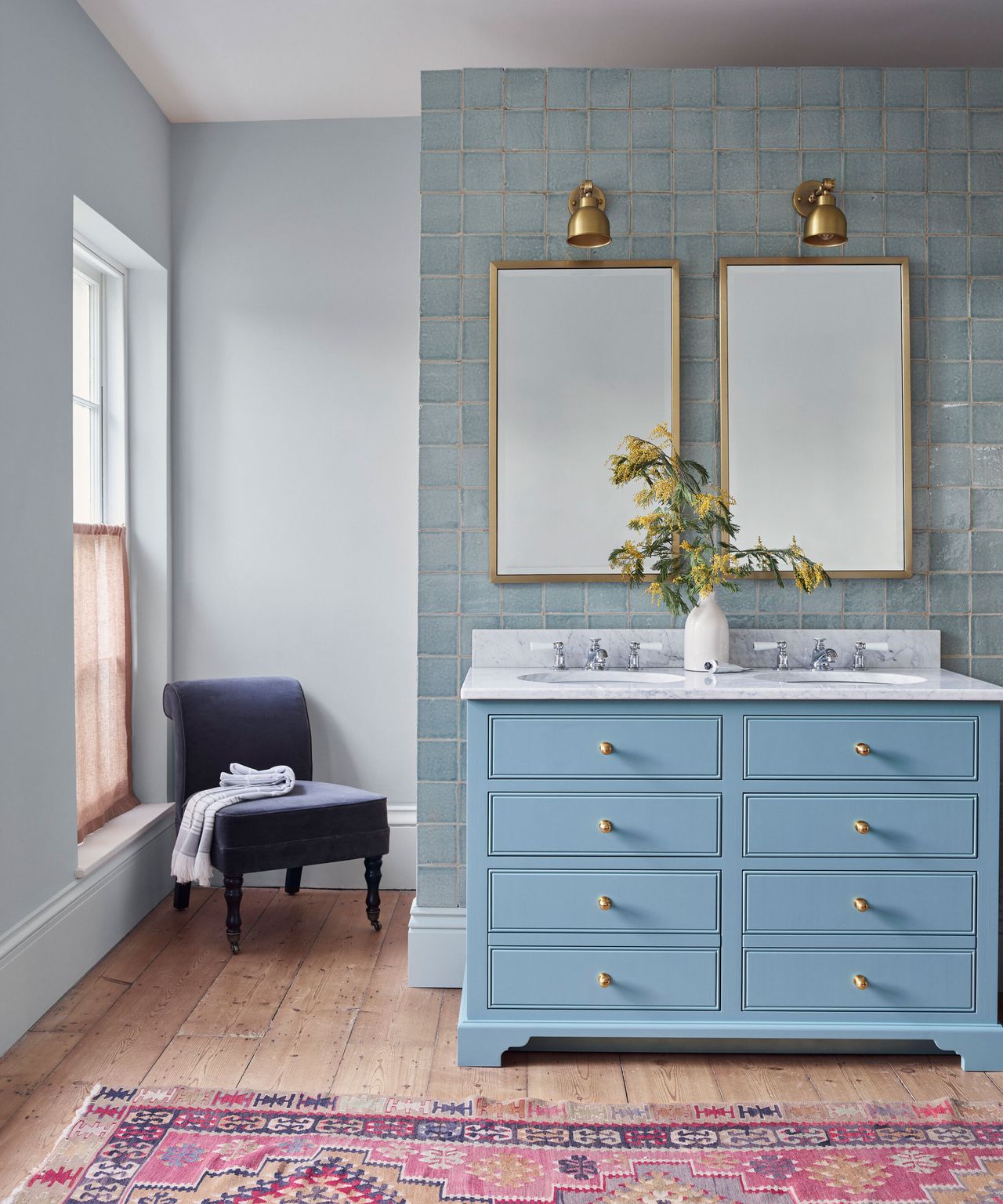 Finding the right Feng Shui colors for a bathroom might not be the first element you think of when planning a new scheme, but it should certainly not be an afterthought. 
'In Feng Shui white represents purity, innocence and new beginnings, as well as cleanliness and clarity,' says Patrick O'Donnell, brand ambassador for Farrow & Ball. 'It can be used everywhere in the home but is particularly successful in the bathroom – and any room where you want to create order and with little distraction.' 
Decorating with white offers a blank canvas that illuminates dark spaces and can make even small bathrooms feel spacious, light and bright.
Another color favored for bathroom Feng Shui is blue. Blue is a good color for a bathroom – and not just aesthetically. Our perception of blue has an affect on our moods, too. 
Jane Rockett, co-founder of Rockett St George (opens in new tab), says of blue bathrooms, 'Cool blues and deep navy tones promote calmness and are the perfect choice for your bathroom – typically spaces that you go to for escape, respite and cleanliness.'
5. Conserve water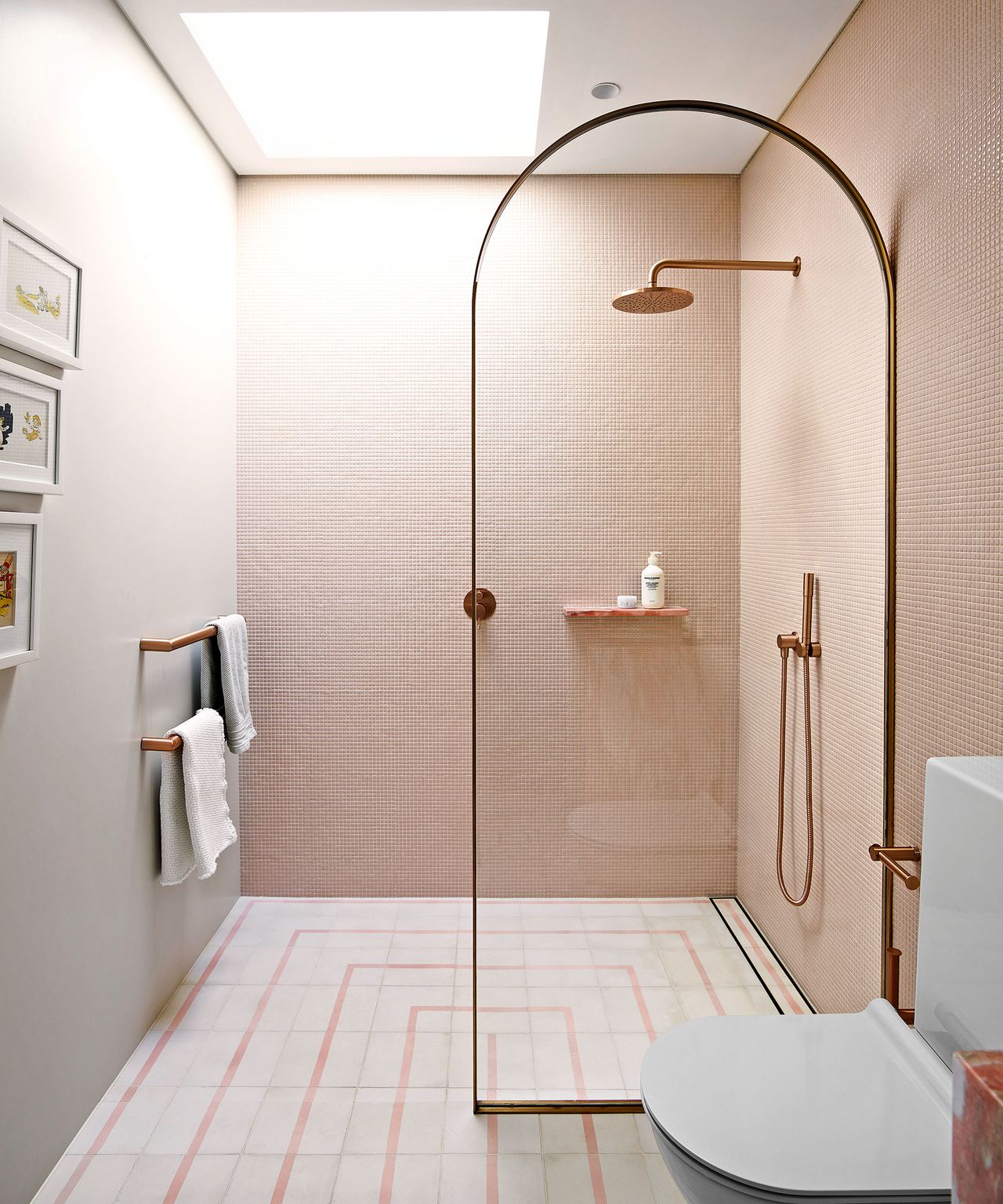 Feng Shui philosophy attempts to connect our home to the environment, so conserving water in a bathroom is said to promote 'good' energy. This can be as simple as installing water saving devices, taking shorter showers, repairing leaks and investing in smart bathroom technology that tracks your daily water consumption.
Water is a precious resource – climate change is making supply unpredictable, with increased frequency of drought across Europe. Yvonne Orgill, managing director at the Unified Water Label, says: 'Heating hot water accounts for 25 per cent of home energy usage, so it makes sense to use water efficiently to help reduce energy bills.'
According to the WaterSenseLabel (opens in new tab), if everybody took one minute off their shower time, we could save 7 per cent of home water use – and save energy too. In addition, manufacturers have been busy developing water-saving technologies, as Keith Dyson, technical sales manager, Hansgrohe, explains. 'Our EcoSmart products use air technology to volumise each droplet of water, reducing water consumption by up to 60 per cent without compromising on the shower experience.' 
Digital showers can also offer water-saving benefits, as Suzannah Adey, digital product manager, Mira Showers, explains. 'Through accurate water measurement tracking via the Activate shower app, you can easily see how much water you're using.'
6. Provide a place for everything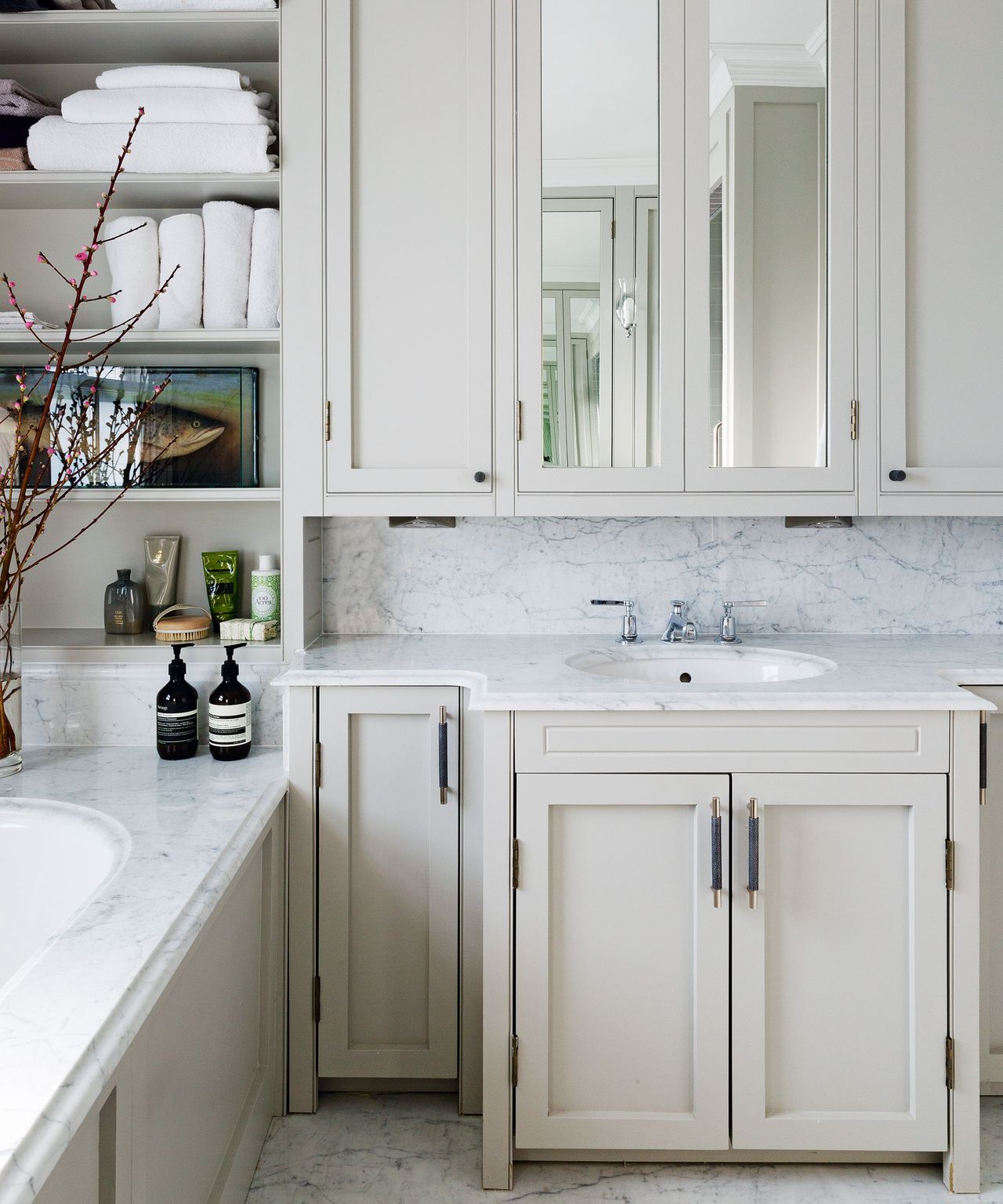 Good bathroom storage is essential to making the bathroom Feng Shui work for you. A bathroom has many demands put upon it, not only to be a practical, user-friendly room but also as a tranquil place to relax. 
'My bathroom is my sanctuary,' says Eva Sonaike, creative director, Eva Sonaike. 'I like the space clean and uncluttered, so storage solutions are an essential part of a good design here. If possible, opt for integrated storage so that the energy can flow freely. When designing a bathroom from scratch, consider all possible options. In my bathroom, a full-height mirrored cabinet spans an entire wall, providing ample hidden storage for all my beauty essentials.' 
7. Invest in solid stone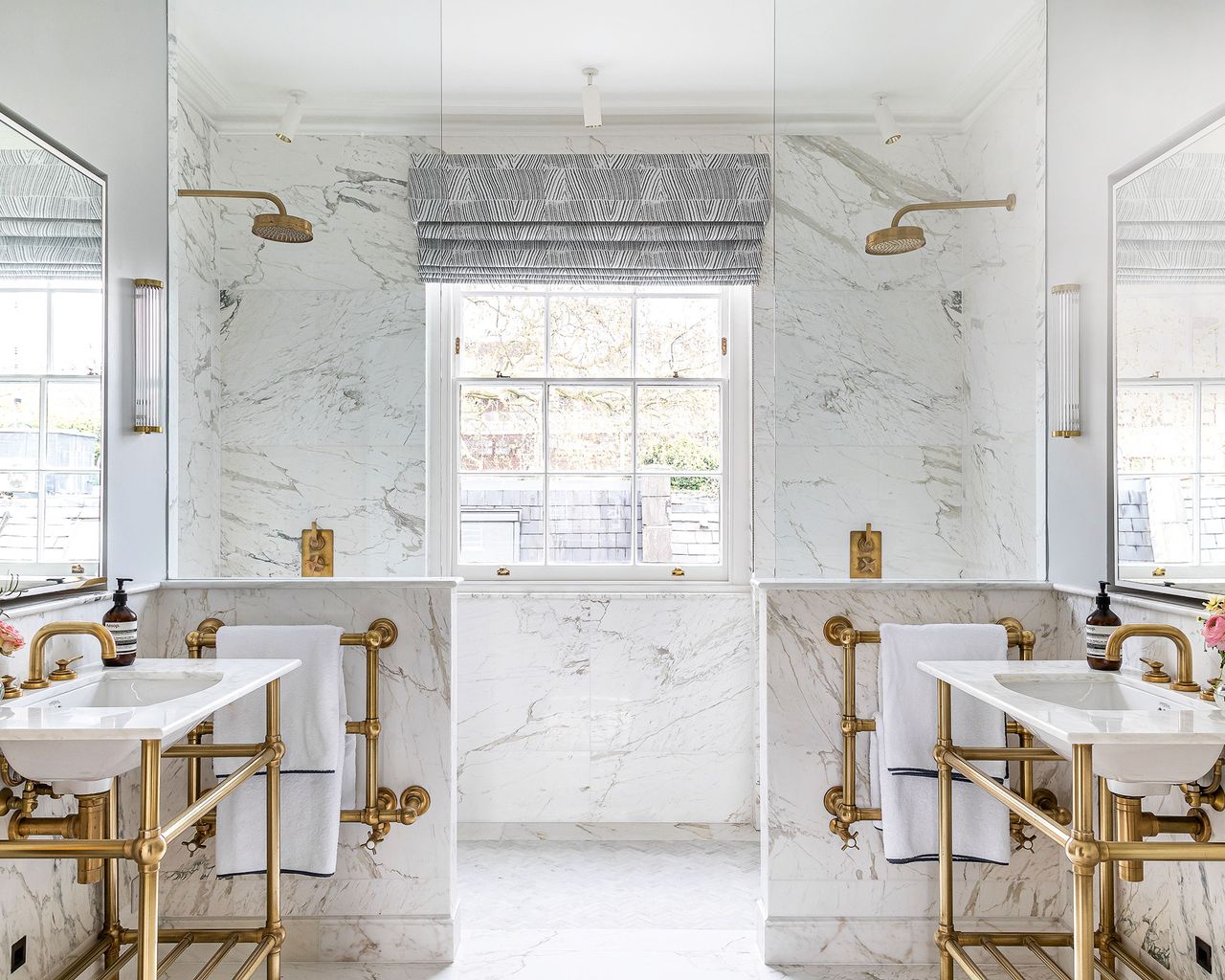 In a Feng Shui bathroom, put focus on materials that reinforce the 'earth' element, which is believed to enhance nourishment – and ground the home and its inhabitants.
Classic marble may be centuries old, but this versatile material can feel just as relevant in a contemporary settings. Plus, this enduringly popular materials is sure to evoke a sense of luxury and elegance.
Marble has a reputation for being high maintenance but with due care, says Guy Stansfeld, director of 23+GS/318 Studio (opens in new tab), it can prove extremely practical. 'Effective sealant will protect against most stains,' he explains, 'but the best advice is to treat it like a luxury piece of furniture. Clean it regularly, wipe off greasy substances before they have time to penetrate and don't leave items like wet soap sitting on it for long periods.'
8. Make space for plant life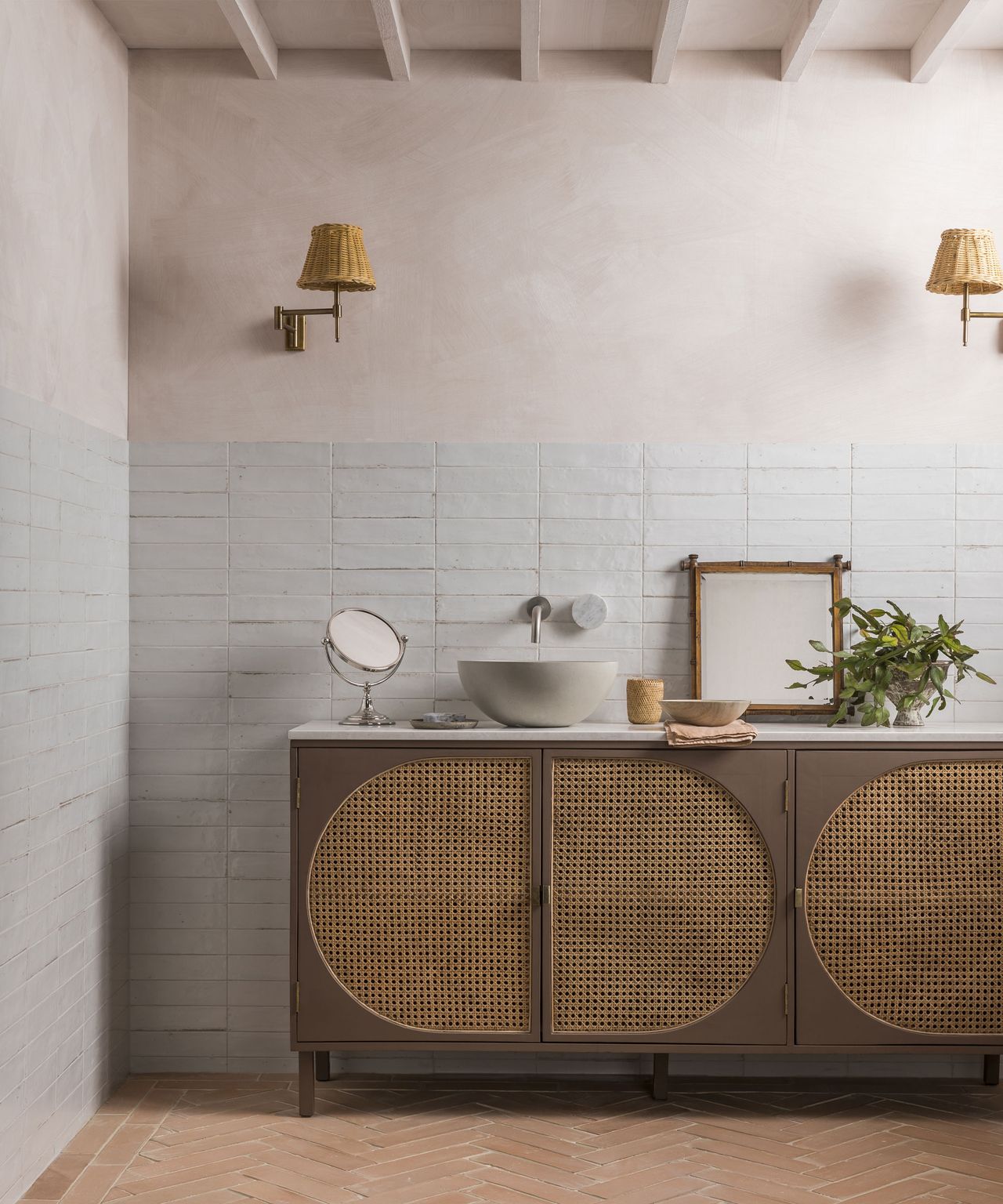 The best bathroom plants will instantly give your bathroom Feng Shui ideas a lift, the added greenery creating a spa-like experience and a calming, zen feel. 
There is a place in every room for an indoor plant, and the bathroom is no exception. In fact, a well-lit bathroom provides a unique opportunity for houseplants as it is generally the most humid room in the home. 
The primary 'issue' with a bathroom is the water flowing away. Plant life can transform the downward energy of water into vital life energy instead. 
9. Keep the bathroom door closed – and toilet seat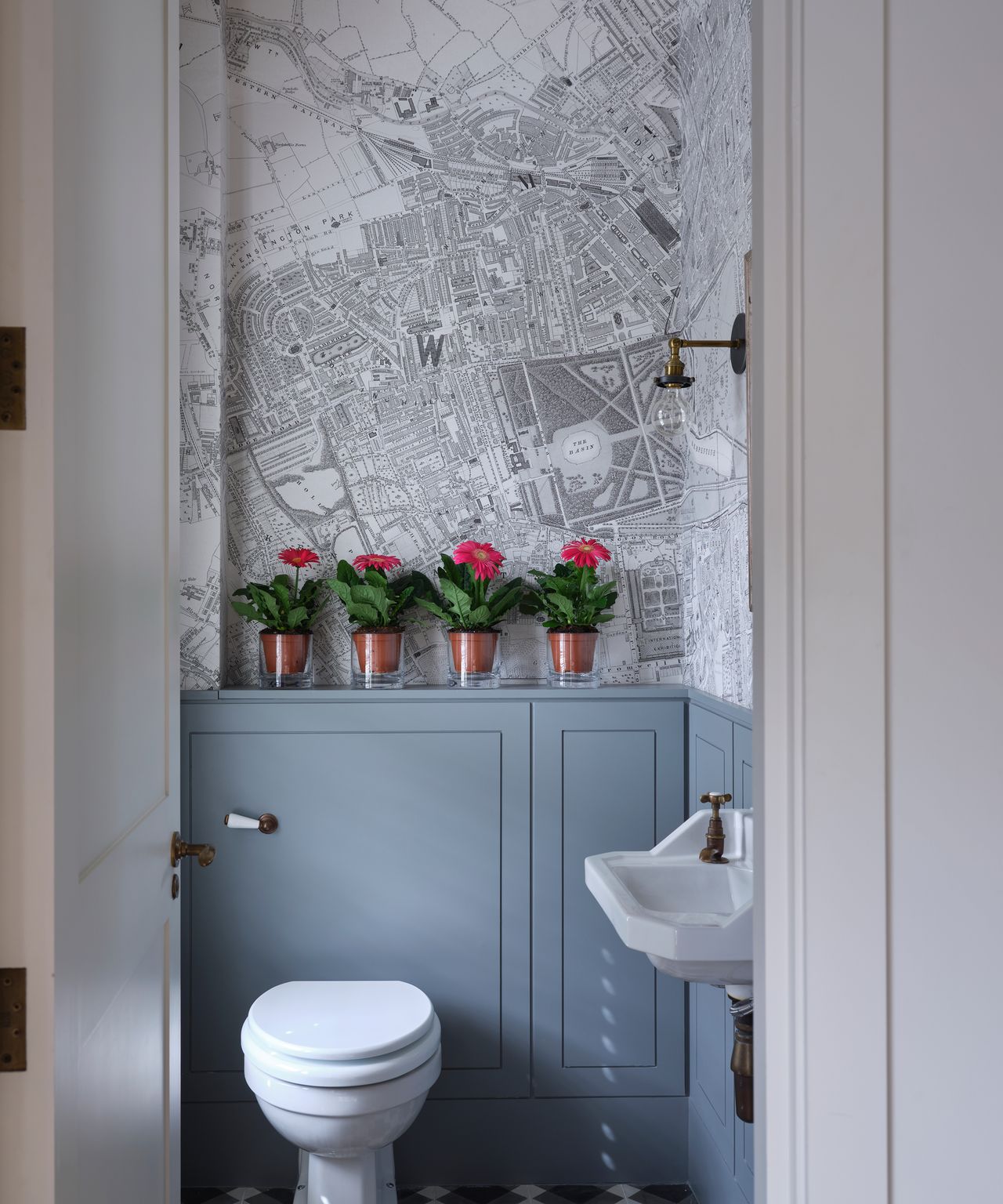 The toilet is often seen as being 'negative' as it purely functions as a place for flushing away waste and water. This is one area that we are told to pay attention to in accordance with Feng Shui teachings. In order to mitigate the loss or resources, in this case – water, it is advised to keep the seat down. This simple habit will also reduces moisture and humidity in the bathroom, thus keeping mildew at bay. 
Similar to the lid of the toilet, the bathroom door should also be kept closed shut. This will help to minimize the possibility of 'good' chi from flowing further away from you and down the drain.
10. Place a mirror on the bathroom door
If making any of the above changes is proving too difficult, be it either through layout or water management constraints, then simply placing a mirror on the bathroom door will help to energetically erase the bathroom, removing any issues associated with 'bad' Feng Shui. 
In terms of interior design, a mirror will serve to bounce light around the room, and visually enlarge the area creating the illusion of more space.