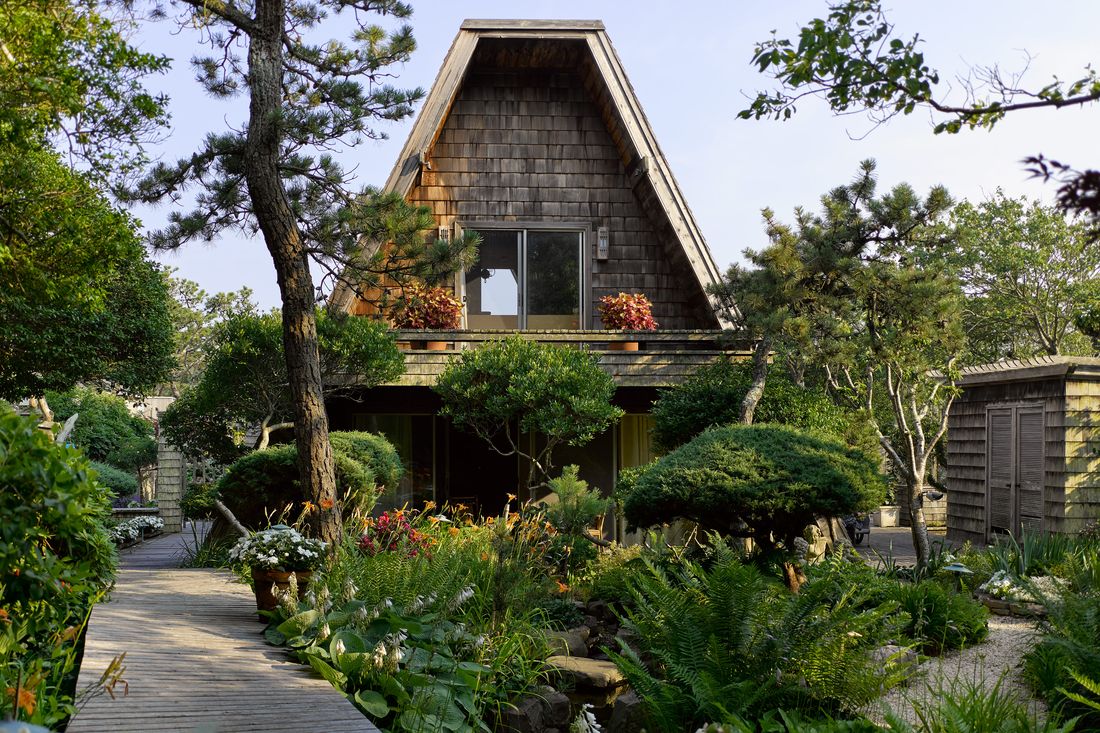 House and Garden: A view toward the 1960s A-frame, where it all began.
Photo: Annie Schlechter
When Sumner Freeman bought this 1960s A-frame house in Fire Island Pines in 1980, the property it sat on was so obscured by poison ivy, catbrier, and Virginia creeper that he couldn't even see it, and yet it called to him. "It was charming, and I could see the possibilities, and it suited me," Freeman says. In the 1990s, he bought the house next door and then, in the aughts, with his partner Roy Yeager, added a third. They rent out all but the A-frame, but they had room to expand the garden. It's a short walk to the beach; when you come upon it, it feels like another world.
Freeman is a retired physician and Yeager is a retired dentist. Travels near and far have inspired different elements, including visits to the Chanticleer garden in Philadelphia, where they got the idea for the arched bridge, and a trip to China, which inspired the largest of several waterfalls, and Sissinghurst Castle in the U.K., where they got the idea for a white garden. The ponds and low bridges were inspired by Monet's garden at Giverny.
Yeager had always enjoyed gardening, "except weeding my parent's garden when I was a kid," he says, laughing. But a garden was not a part of Freeman's life growing up in Haverhill, Massachusetts. Then, when he bought the first house, the north garden took two years just to clear. Freeman credits the talent and skills of landscape designer and artist Ken Ruzicka and his team for bringing the couple's vision to life. "He and his workmen have done all the heavy work."
The garden is laid out in four directions that lead to one another: The north, or "shade," garden, remains fairly wild and includes the boardwalk path that meanders through the trees, passing a waterfall and a stream. The couple planted a small orchard nearby with apple, pear, cherry, and peach trees, and strawberries and blueberries appear in season. There are also century-old swamp maples, indigenous to the area.
The west, or "formal," garden was built up on sand dredged from the swampy part of the property, which let them create a pond as well. (The pond water rises and falls with the tides.) They then added topsoil. The formal garden includes mostly perennials with additional annuals for color — there are roses and sunflowers — and has what Freeman calls a "French accent."
It was Ruzicka's idea to repurpose concrete cesspool covers for the path around the pond. "You know, it's difficult to transport anything out to the island," Freeman says. "And whatever you have has got to be used and reused." The rocks were transported from North Shore quarries.
The south, or "container," garden features mostly annuals, including zinnias.
By virtue of its design, the garden feels much larger than the half-acre it covers. "Every place, every turn, every twist has a seating area," Freeman says. "It's not designed for a quick view."