For seven years, Heather Torres and her family lived across the street from the Dallas Arboretum. Each fall, the stay-at-home mom of three would spend countless afternoons there with her children, admiring the seasonal displays. Torres's husband and father-in-law, who own and operate a produce company, would then source pumpkins, gourds, corn, and more for Heather to create her own pumpkin display on her front porch.
"My neighbors and friends would want to get in on it, but it wasn't lucrative for us," says Torres.
This year, though, Torres's children are all in school, and she had time on her hands. The couple decided to take the leap and start a business.
"We thought this was the perfect year to do this," said Torres. "Many people [aren't comfortable doing fall activities, like] going to pumpkin patches or the state fair. [With these displays, they can] bring the festivities home."
To start, Torres offered her services within her family's new neighborhood in the Rockwall area, where they moved in January. "[All the owners here] enjoy decorating," says Torres. "Everyone does Christmas lights, but not everyone has an Arboretum-esque display on their front steps. We know how much work it is to get these pumpkins together, and we realized that this is something that people want to have."
At the end of September, Torres created a Porch Pumpkins business logo and a flyer, then planned her package options. The company's services start at $250 for a porch drop-off of 30 colorful pumpkins. Her most extensive full-service design package is $1,000 and includes 75-pound gourds, decorative corn, hay bales, and more. Torres shot photos of each package, using her own porch and a friend's to model them. She took to Instagram and Facebook to explain the concept. The next day, her phone started ringing.
"In our first two days of business I was the only one delivering, so my maximum was six (deliveries) or so," she says. "I put my personal phone number on these fliers–I thought [our reach] would be one circle removed from people I knew." She was driving down I-30 to make a delivery when style blogger Amy Havins, a.k.a. @dallaswardrobe, reposted her flier. "My phone was blowing up for five straight minutes," says Torres. "After that, 90 percent of our customers, I had no personal connection to. And it took off from there."
Torres hired a second designer to help with displays as the business started booming. Though her team's designs are cohesive, no two porches are ever identical. The pumpkins should be "statement-making, not spread out," she says, "and while we went for the same look each time, pumpkins come in different shapes, sizes, and colors… for example, our white Cinderella pumpkins got smaller as time went on. … Using what God was giving us was really fun."
Torres considers each home's architecture before starting a display. "Some homes have sprawling porches. Others have three or four narrow steps. Or there will be double doors that we want to accent. It doesn't matter if the home is modern, contemporary, classic, or country–when you look at all these styles and add pumpkins, they [showcase] the uniqueness of that home."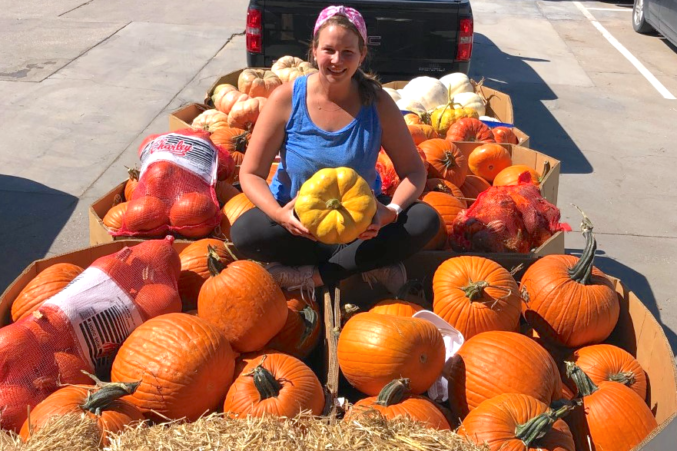 In just three weeks, Porch Pumpkins serviced over 250 customers in Dallas, Fort Worth, Rockwall, Frisco, and beyond, averaging 12 to 15 deliveries a day.
After a whirlwind first season, Torres finished deliveries on Tuesday. She and her husband then jetted off to Riviera Maya to celebrate 10 years of marriage.
"I always enjoy dipping my toe in business ideas," she says, "and this one was very enjoyable. But I love that I can do this for four weeks of the year, and the rest of the time I can be with my family."
As of now, Torres has no plans for Christmas-themed packages, but keep an eye on the @porchpumpkins Instagram account, just in case. Her followers will also get first dibs on her packages next fall, when she plans to add a "pumpkins and mums" service, a rainbow-painted pumpkin package, and more.
Want to try your hand at crafting your own porch display? Check out our pumpkin patch guide here, then scroll through the gallery below to get inspired by Torres's designs.