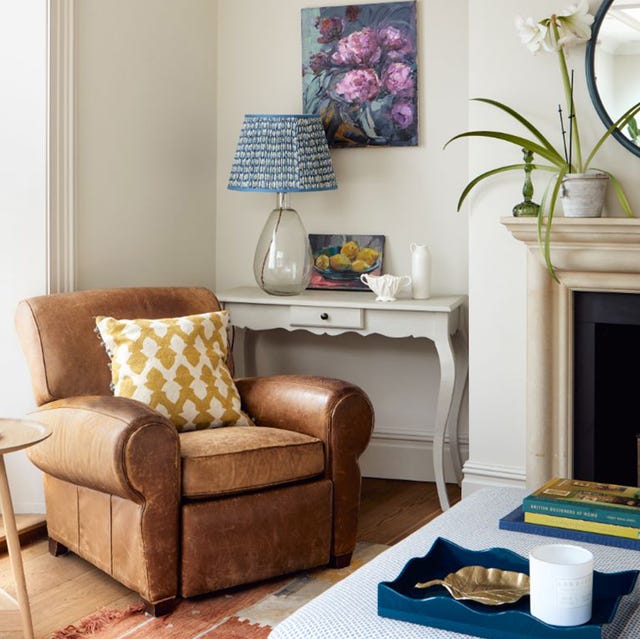 L-R: Farrow & Ball, Mylands, Benjamin Moore
Green, grey, and navy are the most popular living room colours for 2022. New research by Swyft Home found that we are making bolder choices in our living spaces, embracing bright and rich shades, as well as some more unexpected colours.
It is no surprise that the ever popular grey came in second place, whilst three shades of versatile blue appeared on the list. Classic cream and white proved less popular in 2022, in favour of more cheerful pinks and yellows.
"Green is the colour of 2022, taking the number one spot as the most searched for living room colour," says Ben White, design and trade expert at Swyft Home. "The rising popularity of green, both in the worlds of fashion and interiors, was predicted pre-2021, as trends generally began to lean more towards a natural look. I think the rise of green interiors is to do with more people wanting to bring the outside into their homes."
"Combining textures will be key to creating an interesting interior this year. We are far more confident with how we mix velvets and weaves – plush chenille scatters on breathable linen sofas give great depth to any room."
The top 10 most popular living room colours of 2022 are:
Green
Grey

Navy

Teal

Blue

Black

White

Pink

Cream

Yellow
Read on for our take on the trends…
Advertisement – Continue Reading Below
The ultimate in nature-inspired decoration, green is the most popular living room colour for 2022. "Some interior-savvy decorators are subtly blending green and natural tones into their interiors through the use of plants, timber and terracotta," says Ben. "Others are opting for more dramatic green looks, combining green walls, with green velvet armchairs, sofas and accessories."
Pictured: Country Living Woodstock Sofa, Armchair, and Footstool at DFS
"Grey is an incredibly versatile colour, forming an ideal base from which to expand your palette," says Kelly Collins, interior designer and head of creative at Swyft Home . "Colours with a cool undertone (blues and other greys) will complement grey well while colours with warm undertones (terracotta or burgundy) will contrast the shade and bring a touch of warmth into the space."
Pictured: Rose Theatre paint at Mylands
Different shades of blue appeared three times in the list, with a deep and inky navy proving most popular. "Remember that muted blues complement a greater range of colours and create a more soothing mood. To create drama in the space, go for a deeper, rich blue. For a fresh and energetic space, try bright blue hues," says Kelly.
Pictured: Plimsoll paint at Paint & Paper Library
Green-toned blues offer a bit more warmth than mid or light blues, an effect that can be further pronounced with the use of burnt orange or shades of reds. Teal is a particularly good choice if you tend to decorate with antiques as it sits so well with traditional woods such as mahogany or walnut.
Pictured: Tidworth Chair at Darlings of Chelsea
"The popularity of blue interiors is likely linked to people wanting to bring more hints of the natural world into their homes," says Ben. "Blue is a calming and tranquil colour, perfect for deep thought and introspection. Since a lot of us now work from home more often, this makes it a great colour scheme for concentration."
Pictured: Lulworth Blue paint at Farrow & Ball
Despite being one of the boldest of design decisions, black living rooms proved more popular than classic white or cream in 2022. Decorating with black takes a bit more consideration than other colours, and we would always be inclined to use a matt off-black – one that leans towards graphite grey, or mixed with a softening blue.
Pictured: Black Blue paint at Farrow & Ball
A much maligned colour for parents and pet owners, but one that is hard to beat in a country living room. White can look stark or overly pristine, so mitigate this by introducing warming elements such as plain and painted wood, and a sumptuous off-white carpet.
A surprising eith place, pinks require a keen design eye to avoid a sickly sweet outcome. Chalky and deep berry shades of pink work best on walls – primary pink can look overwhelming – and add sophisticated touches like a tweed or textured wool sofa, and a patterned rug.
Pictured: Pink Moiré paint at Benjamin Moore
Classic cream came in ninth place, perhaps indicative of a move away from neutrals. Cream certainly doesn't have to be plain however if you just consider it a base from which to build a more colourful palette – cream goes with just about anything, so there's no need to exercise caution.
Pictured: Honest John paint at Mylands
This content is created and maintained by a third party, and imported onto this page to help users provide their email addresses. You may be able to find more information about this and similar content at piano.io
Advertisement – Continue Reading Below