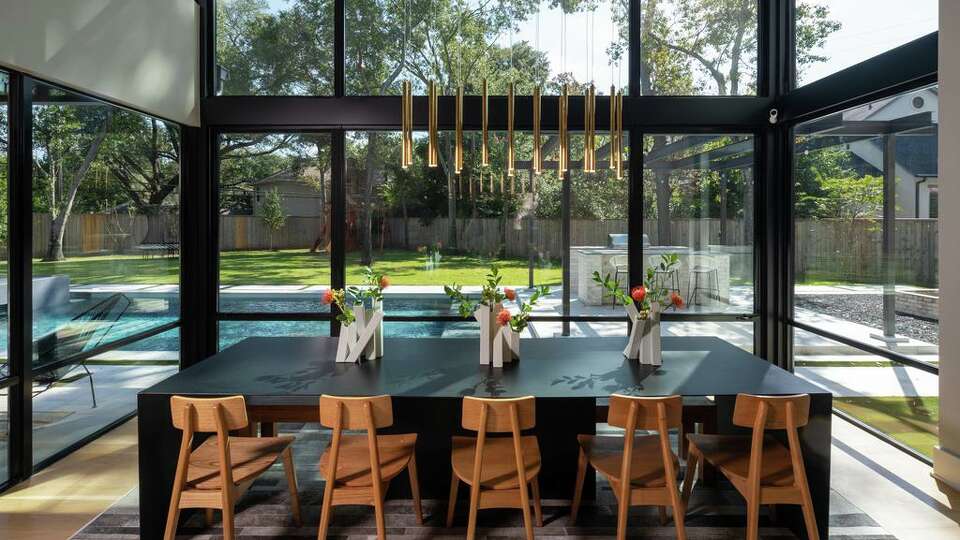 The most beautiful homes of the past year are a combination of both substance and style. Our homes got more of a workout than ever, and those that stand out have rooms and decor that kept us happy, and healthy.
By Diane Cowen |  | 
If ever there was a year that our homes became our refuge, 2020 was it. They weren't just a place to eat and sleep. They became our offices, our gyms and our classrooms.
Design and style have always mattered, but a look back to the past 12 months show how our homes can make our lives easier with well organized pantries, home gyms, comfortable living spaces and kitchens we enjoy using, whether we're making one more loaf of sourdough bread or a steaming pot of soul-enriching soup.
Read more
MOST BEAUTIFUL HOME
Organic Beauty
Perhaps my favorite home of 2020 was that of Kerry and Andrea Stein, a home so simple and organic that it looks like it could have magically sprung from the grassy fields in Washington County. It's a modest-sized home, but you see great architecture in every inch and have a great view from every window. They get extra credit for having probably one of the fanciest barns in the county.
The Steins' living room has big glass panels that open up to the outdoors on one end. Inside, it's filled with wood — some from his family's farm — limestone, steel and other natural materials.
A little extra credit must be given to the Steins' beautiful outdoor pizza oven. It takes 90 minutes to heat up, but then it bakes a pie in 90 seconds. And it's clad in beautiful Texas limestone. Get the full story and see more photos here
MOST BEAUTIFUL HOME
In Stunning Color
A very close second is the Gaywood home of Courtney and Justin Hodge. Bright, light and colorful, this home fills every box on my checklist. It represents who they are, works for everyone in their six-person family, and everything about it feels special and different.
This fantastic office is just one of the reasons that their home was my second favorite. I love the rug, the antique desk, the chandelier, the color — and I especially love the table lamps. Honestly, I could work from this office.
The Hodges' all-white kitchen is one about anyone could love. I especially like the gold-lined pendants and the Platner-style barstools.
The Hodges' powder bath has fabulous gold metallic wallpaper that, at a glance, is easily mistaken for tile.
With a cabana that's got a gym, full bath, living and dining area and a kitchen, you barely need a house to go with it. They wanted a place for their kids go play with friends — and they got it.
The Hodges' had no idea how handy it would be to have a two-desk homework nook for their kids when they built their west-side home. They didn't just leave it four walls and a door; instead they used bold blue for the desks and emerald green wallpaper and window shades for a stimulating place for their kids to get things done. Get the full story and see more photos here
MOST BEAUTIFUL HOME
Contemporary Simplicity
There was nothing cookie cutter about the designs I saw in living rooms. This one is in the home of Houston Astros second baseman Jose Altuve and his wife Nina and meets the needs of this contemporary and stylish couple and their young children. I love the big windows, fireplace treatment, and those gorgeous chandeliers that can pass for pieces of art.
You can't help but smile when you look at this photo of the dining room. Garnet red chairs pop in the high-contrast black-and-white room. (Those black panels are simply pieces of black glass expertly hung.)
The Altuves aren't big wine drinkers, but they did want a wine room in their home. This one's a beauty and includes art from one of their favorite artists, Romero Britto. Get the full story and see more photos here
MOST BEAUTIFUL HOME
Transformation From Traditional
Talena and Rich Gulash bought a sizable but ordinary home in Clear Lake and turned it into a dramatically different — contemporary — home. They added internal supports and took down walls, enlarged the kitchen and repositioned a staircase.
The massive renovation that Talena Gulash did on her own home makes it unrecognizable from the original, testament to what can be accomplished when you really want to. Absorbing part of the old dining room, she created the kitchen of her dreams with a 15-foot island and five-foot sink. Get the full story and see more photos here
MOST BEAUTIFUL HOME
Perfect Symmetry
This living room is an oasis in the Memorial home of Odeh and Brandi Khoury. With comfortable seating, a dazzling chandelier and eye-catching art, it's a room that makes you want to grab a good book and a glass of wine and just relax.
Brandi Khoury's favorite color is "shiny," so a wall treatment in cobalt blue was perfect for the dining room in her Memorial home. Custom designed chairs — also in cobalt blue — and glittery chandeliers finish the room. Get the full story and see more photos here
MOST BEAUTIFUL HOME
Elegance Classic Patterns
The living room in the West University Place home of Dudley and Greg Chitty is certainly formal, but it's also very inviting. I don't often "love" crown moulding, but this room's finishing touches are breathtaking. The couple use the room often to relax and listen to their twin daughters practice playing piano.
The Chitty's powder bath is pure elegance. I love everything about it, especially the wallpaper which, by the way, comes in several colorways. Get the full story and see more photos here
MOST BEAUTIFUL HOME
Home For Antiques
There's still a place in home design for antiques, and the Broad Oaks home of Steve and Cathy Green is one. Their dining room has super tall ceilings, which required a very large chandelier; this one's an antique Italian fixture centered around a round table. Linen draperies are the go-to fabric for window treatments in Houston.
The Greens moved back to Houston after living abroad and wanted a home that felt calm and comfortable. Their living room is filled with soft green, blue and creamy white and is filled with comfortable, slipcovered furniture.
The powder bathroom in this Broad Oaks home might be my favorite of the year, just for its antique mirror, vessel sink and its beautiful vase. Add in the door modeled after a beautiful antique, and it's perfect. Get the full story and see more photos here
MOST BEAUTIFUL HOME
Going Deep
Deep blues — navy, teal and peacock — made a strong showing in 2020. Peggy and David Matthews' family room got a teal lacquer treatment in a wall of bookcases, making the room a standout.
This dining room in the Southside Place home is one of my favorites of 2020. It hits every note just right: Great wallpaper, beautiful lighting, classic table and chairs. Well done. Get the full story and see more photos here
MOST BEAUTIFUL HOME
Antique Elegance
Here's another favorite powder bathroom, this one in The Woodlands home of Kay and Tor Matthews. Its sink counter is converted from a small antique table. The wall-mount faucet and elegant sconces add the perfect finishing touches.
This dining room is so elegant that it might even make your food taste better. (Not that the Matthews aren't good cooks.) While one side is open to a main hall, the other three are lined with draperies that turn the room into an intimate place to enjoy the company of family and friends.
Bedroom sitting rooms don't come along often, but when they do, they need tender loving care. This one in The Woodlands home is a comfortable mix of old and new with a lively pop of art.
The Matthews love playing games and an upstairs game/movie room is ready for a crowd. Get the full story and see more photos here
MOST BEAUTIFUL HOME
Fresh And Young
I love the simple but beautiful design in the Cyrus and Kate Bahrami's dining room in Wilchester West. Peacock blue made a strong showing in 2020, in chairs, offices and even kitchen cabinets. It's just the right mix of blue and green and brings this dining room to life.
Cyrus does a lot of work from home and wanted an office that would inspire. It's situated on a corner of the home that looks out to the street, so it's on display to everyone with a moment to look. It has great lighting, plenty of storage and a simple but beautiful desk. (Side note: Cyrus was squeamish about the name of the paint color — Benjamin Moore's "Cheating Heart" — but the end result is terrific.)
The Bahramis are right on trend with the white furnishings and a burst of color in a pair of emerald green chairs in their Wilchester West home.
To handle kid sleepovers, they created this bunk room with oversized beds. If adults visit, they won't mind using it either. Get the full story and see more photos here
MOST BEAUTIFUL HOME
Collecting Classics
Brent Farrell gets the prize for "Best Garage." The Houston contractor — he owns Recraft Construction Services — created a two-story, three-car garage with lifts to store his classic cars at his West University Place home.
Most people don't put extra effort into their stairs, but when contractor Farrell was contemplating the staircase in his massive home remodel, he and interior designer Victoria Sheffield arrived at the idea of creating mini chalkboards on the risers. He loves to host parties and it gives his guests a place to leave their mark. And he gets extra credit for his cute pooch, the late Snoop. Get the full story and see more photos here
MOST BEAUTIFUL HOME
A Little Jewel
Clair Hedgcoxe's tidy bungalow is a jewel box in Woodland Heights. Her living room feels curated, with personal mementos filling shelves and each detail a little piece of Hedgcoxe's personality. Out of the picture frame is a pretty display of blue-and-white Asian-style porcelain.
This bathroom is wallpaper heaven, with a lavender background and lively chinoiserie-inspired design. The home, which was meant to be on a home tour that, like many others in 2020, couldn't happen. Get the full story and see more photos here
MOST BEAUTIFUL HOME
Green Thumb
Lindsey and Christopher Henry's home in Memorial Thicket flooded badly in Hurricane Harvey, prompting them to do massive restoration and remodeling. They had no idea how much they'd need this home office, but made it comfortable, functional and beautiful. Extra points for the paint color choice — Benjamin Moore's Louisburg Green — and drapery fabric, Kravet's "Flying Ducks."
I love that parents are putting more effort into kids' rooms. This year I saw several with adorable wallpaper, including this one — with skateboarders — for Lindsey and Christopher's adventurous son, Heath.
The drudgery of doing laundry somehow seems a little better in a laundry room like the one Lindsey created in her Memorial area home. I love the Cole and Son "Secret Garden" wallpaper. Get the full story and see more photos here
MOST BEAUTIFUL HOME
Changing Scale
Amanda and Jeff Malone amped up the style in their home office with new cabinetry — and new everything else. The room has a super tall ceiling, so a bookcase there before was nice but simply out of scale. This one is the right size for the room, and was painted my favorite color of 2020, peacock blue. Extra points for the desk shaped like a WWII fighter jet wing, an interesting find at RH.
Amanda told her husband that she wanted to remodel their very brown kitchen for her birthday. This new one is stylish and functional and as upbeat as the young mother who uses it. Happy birthday, indeed. Get the full story and see more photos here
MOST BEAUTIFUL HOME
Working Mancave
Designer Laura Manchee wanted a stylish office that her husband could work from. He's got a great desk and a pair of handsome chairs and — the big office trend of 2020 — shelving painted deep, dark blue (Benjamin Moore's Hudson Bay). To feel more personal, she framed vintage fishing guides that hang on the wall behind the desk.
Manchee went all out on her powder bathroom, laying square tile at odd angles and adding a brass inlay for flooring. Beautiful wallpaper, gold fixtures and a black cabinet finish the room perfectly.
Manchee designed this bathroom for her two young sons. It's got enough personality and style that they love it now and it will work for them for years to come. And she likes it, too! Get the full story and see more photos here
MOST BEAUTIFUL HOME
Building Up
This home office is located on the second floor of a new, two-car garage at the Nottingham Forest home of interior designer Dan Pederson and his partner Scott Konitzer. Pederson had outgrown a small space in their home, and this big room allows him to sprawl a bit. If there's ever a need, it can be used as guest quarters since it has a full bath. He also gets the Good Guy Award: he opened it up to neighbors after he saw one trying to have a work conference call in his car.
This is the full bath that accompanies Pederson's new home office/guest quarters. He wanted durability on a budget and found this great faux grasscloth wallpaper that can handle the moisture of a bathroom — all that steam from the shower — and looks great. Get the full story and see more photos here
MOST BEAUTIFUL HOME
Ultimate Mancave
Matt Morgan wanted the ultimate mancave, with a huge aquarium, numerous TVs, a full bar and a great seating area. If he needs to work from his Fort Bend County home, an office — with a view to their swimming pool, is upstairs.
This copper tub is perfect for the stone-filled Mediterranean-style home in Richmond. Extra points for the sheepskin stool.
It's not often that parents go all-in on a bedroom style a boy might like for only a few years, so props to the Morgans for moving forward with the LEGO look of their son Ethan's bedroom. Extra credit for the chairs that look like a football and baseball glove. Get the full story and see more photos here
MOST BEAUTIFUL HOME
Let's Lounge
I'd give the Best Adaptive Reuse of a Room Award to this wine room/lounge in the League City home of Erin and James Dieter. It was a living room that was barely used, and now it's the perfect place for the Dieters to relax or entertain. Extra credit for the copper counter and shelves on the side where they created a bar.
When you ask for a closet that feels like a Tory Burch boutique this is what you get in the League City home of the Dieters. Likey, likey. Get the full story and see more photos here
MOST BEAUTIFUL HOME
Good Morning, Violet
Mary Patton injected big doses of eclectic style into the Southampton home she shares with husband Ben and daughter, Violet. A few wall mount shelves make this kitchen feel more open.
Purple on the walls, cabinet and rug — all for a little girl named Violet. How appropriate. Get the full story and see more photos here
MOST BEAUTIFUL HOME
Double The Function
Another Hurricane Harvey flood victim, Willie Frost decided to completely reinvent his Memorial Drive Acres home. The traditional home built in 1954 is now very contemporary and much more functional than the old one ever was. His fancy new kitchen has two islands, one for work and one for hanging out.
In his new primary bathroom, Frost used bookmatched slabs of veiny marble to create a shower as well as a nice backdrop for the pretty free-standing bathtub. Get the full story and see more photos here
MOST BEAUTIFUL HOME
Dream Home
Bryan and Nikki Walley get props for packing everything they wanted into the kitchen in their Hockley home: reclaimed beams, durable engineered wood floors, two islands, great tile and — just outside this picture — a wine room, the must-have extra in new homes now.
This bathroom the Walleys created for their teen-age son has so much to like: a print tile floor, masculine dark paint and drawer hardware that looks like handles on an old-fashioned library card file. Get the full story and see more photos here
MOST BEAUTIFUL HOME
Good Things, Small Packages
A home doesn't have to be huge to be beautiful. Reggie Beavan's 2,200-square-foot home in West University Place is another example of great things coming in smaller packages. His compact living room has a handsome pair of green chairs with a sectional sofa sized for the room and natural accents in bamboo, brass, wood and stone.
When you don't have much space, a small bar in a pass-through is just enough. Beavan now has this sweet bar — painted a super shiny red — in his West University Place bungalow. Get the full story and see more photos here
MOST BEAUTIFUL HOME
Welcome To Work
Shifting to offices, Angela Bishop works from her Heights home and asked for an office that was both beautiful and functional. She got it in this one, which combines a clear desk and upholstered cabinet with peacock blue draperies.
A natural wood floor and white walls are the perfect foundation for this colorful living room in the home of Angela and Celeo Mandujano. Peacock blue and chartreuse are a daring, but beautiful, pair. Get the full story and see more photos here
MOST BEAUTIFUL HOME
Possibilities Galore
This kitchen makeover ought to inspire anyone in a 40 or 50-year-old home to see the possibilities of what they could have. It was once a small, ordinary place and now it's the showpiece of Wilson and Magda Martir's Nottingham home. Get the full story and see more photos here
MOST BEAUTIFUL HOME
Craftsman Style
Patrice and Tim Richards built a new home in the Heights area to trim Tim's long commute in from Sugar Land. They wanted a style that would fit the area, and filled it with charming touches such as glass-front cabinets, brick backsplash and natural wood. Get the full story and see more photos here
MOST BEAUTIFUL HOME
Time For Change
Amie and Brian Boster turned their blah primary bedroom into a thing of beauty. Brian likes the comfortable chairs and the footboard bench and Amie likes the romantic feel of the canopy draperies. Get the full story and see more photos here
MOST BEAUTIFUL HOME
Let The Light In
There's a trend to have a single dining area — rather than a formal dining room plus a breakfast room — and this terrific dining room in the Memorial area home of Sandra and Carlos Carrasco is an example of perfect execution. They jokingly call it the fish bowl because of its many windows, but created a beautiful setting with a table made of a single sheet of steel bent on each end to create legs, and simple contemporary style chairs. Get the full story and see more photos here
MOST BEAUTIFUL HOME
Sand And Sea
Retirement feels remarkably like a vacation in Keri and Mark Buntyn's Palisade Palms penthouse in Galveston. It's filled with colors of the sea: sandy whites and soft greens and blues and feels far more casual than its "penthouse" label. Get the full story and see more photos here
MOST BEAUTIFUL HOME
Finishing Touches
Shelley and Don Riley filled their Magnolia home, but it just wasn't done. They needed window treatments, accessories and other pieces that make a room feel finished — not just furnished. I'm loving the chairs in the foreground. Get the full story and see more photos here
MOST BEAUTIFUL HOME
Taste Of The City
Many people in the suburbs are taking apartments in the city to make attending sports and entertainment events easier. Contemplating retirement and wondering what it would be like to live in the heart of the city Cheryl and John Brady of The Woodlands rented a downtown apartment and filled it with things that match their taste in their main home — but with orange and blue accents as a nod to their favorite team, the Houston Astros. Get the full story and see more photos here
MOST BEAUTIFUL HOME
Shades Of Gray
Both Patricia and Steve Smith have both worked from home for some time, so having a great workspace was important. This office at the front of the house is Steve's, and it's super stylish in a very masculine way. Get the full story and see more photos here
MOST BEAUTIFUL HOME
A New Era
It was time for a major upgrade, so Michelle and Steve Varnado remodeled much of their home in The Woodlands. Their dowdy kitchen is now a style-setter. An old, cluttered "mom's desk" is now a bar that serves their entertaining needs. Get the full story and see more photos here