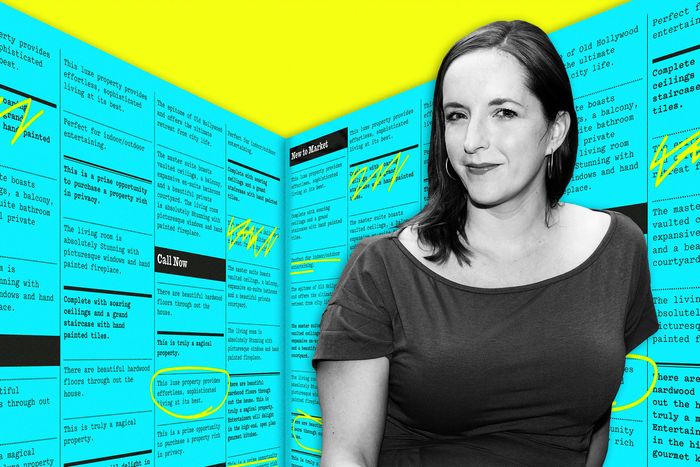 Photo-Illustration: Curbed; Photo: Greg Chow/Shutterstock
You know when you do that thing where you're working and you don't want to be working and then you find your fingers just typing a URL in before you even know what you're typing? That site is Zillow for me.
I like to browse in the middle of difficult emails or when I'm stuck with my writing and just need the ten-minute fantasy break. As a fiction writer, I also look at Zillow occasionally just to research characters' homes. If I have a character who's living in a suburb of Philadelphia, I'm going to go pick out a house for them and get some ideas for what that might look like and how to describe it accurately.
My husband teaches at a boarding school north of Chicago, so we live in a three-bedroom apartment that is in a dorm. It's a great place to raise kids. But there's definitely this question of where will we go when he retires? Occasionally, when I'm thinking about where we'll live in ten years, I'll set the price point at a reasonable number in the Chicago area. But since I'm not actually house-hunting, most of the time I'll set the price at the highest range just so I can see the fanciest houses.
The other thing I really love to do is set the built date to "before 1930." For Chicago, that's old. I'm really into interior woodwork — built-in bookshelves, fireplaces, and other things you're definitely going to find in older houses. If I'm looking on the East Coast, I'll set it to something like "before 1880." Sometimes it's just a rundown farmhouse and that's cool too, but sometimes it'll be like this house I found in Bangor, Maine. It's got a name and everything. When your house has a name, you know you're pretty serious.
Photo: Andrew Miller Photography for Jameson Sotheby's International Realty
This is pretty typical of my Chicago unrealistic gawk-searching. If this were my house I'd probably go a little lighter on the chandeliers, but I love wood-paneled walls and wood ceilings. I love the black-and-white floors. The library with the built-in bookshelves and wire caging really does it for me. I like that the owners put in a good modern kitchen that also doesn't look like you just transplanted a futuristic kitchen into an old house. And then there's this courtyard with a little fountain, which is the kind of thing that if you actually lived there you'd never use and you'd feel guilty about it.
Photo: Courtesy of MG Group Chicago
The shell of the building is quite old but everything inside is brand-spanking new. This home is not my style but I just find it fascinating. The first thing you see is just endless couches for days. How do you pick where to sit? The size of the closet is also jaw-dropping. The one thing that I look for in all these listings is the closet that's the size of an entire room. If I had that I would just live in there. The other thing is, if you're house-hunting in Chicago, and you're looking remotely realistically, a usable rooftop is so important. You probably don't want to waste a ton of footprint on outdoor living because you're only gonna be able to use it for four months out of the year. But they have good tight rooftop stuff going on here. They have this firepit with a TV and couches. They have the sun chairs. They have the dining table, outdoor bar, and kitchen. And a garden up there too.
Photo: Larry Malvin, Courtesy of Berkshire Hathaway HomeServices Chicago
I have been obsessed for a long time with the architecture in Evanston, especially as you get close to the lake. The Victorians are just amazing. This one has a lot of original look to it — like the dark wood, which I know is not for everyone, but I love it. I'm Hungarian and a cultural tradition I was taught as a kid was when you spend your first night in a new room, before you go to sleep, you need to count all the corners. Looking at these rooms, it would be delightfully impossible to count the corners. What counts as a corner? I don't even know. For example, the walls of the bathroom in the 23rd photo in the listing follow the lines of the house in a really organic way, and the room is shaped like that because it's under the roof. I tend to notice and really appreciate when a room is not just eight corners.
Photo: Courtesy of Laura Beckwith/Josiah Allen Real Estate
Vermont to me is the most beautiful state. And this is an example of the newer kind of architecture that I really love. It's a big house without being a McMansion. I love all the French doors. They're really paying attention to light. If you got invited to a party here you'd understand that you're in a very expensive home, but it still feels welcoming. And that's hard to pull off.
Photo: Courtesy of Boschetti Realty Group
This is totally me doing a Chicago midwinter search. I'm really into this pool that tricks you into thinking it's a bigger body of water. I love that this has its own dock. This house represents a lifestyle that has nothing to do with my own life but is appealing in an escapist way. There's a painting with a naked lady riding a cigar in the bathroom. It's so Miami. You look at this and you're like, okay, this is a vibe. You probably couldn't find this house in another city. I also love when I find a house where you can see the owners' stuff. Like when you get to the 18th photo in this listing, you can see their model cars, planes, and swords. And this is where I feel like I'm not just looking at real estate, I'm looking at how someone lives.