(Above) Quartz countertops like these will be popular in post-pandemic kitchens because they are less porous. Photo by VHT Studios.
7-Feb-21 – New housing design preferences in Chicago and across the nation are shifting as a result of the COVID-19 pandemic.
| | |
| --- | --- |
| | "Single-family homes and small apartment buildings with leafy outdoor space are in great demand, and architects and builders are taking notice because these residences are gaining more traction in the market," noted broker Sara Benson (left), president of Chicago-based Benson Stanley Realty. |
| | |
| --- | --- |
| "People are isolated now, and they're making real estate decisions that isolate themselves further," said JC Chi (right), co-founder and principal at Kuo Diedrich Chi Architects, based in Atlanta. | |
Builders and developers also are reconsidering whether the boom in downtown urban city centers will be on pause until the pandemic threat is over, experts say. There is no doubt that the pandemic is causing swank high-rise apartments with rooftop swimming pools, communal decks, fancy workout rooms, and high-speed elevators to lose some of their glitter.
Imagine what the "shelter at home" lifestyle is like in a high-rise tower with little or no outdoor space and long elevator rides while wearing a protective mask. During those elevator rides residents in some buildings reportedly are required to face the walls in a six-foot-square box.
With homes, condominiums, and rental apartments becoming office spaces for many workers, more Millennials are looking to buy or rent larger homes with private outdoor space and an extra quiet space for work.
| | |
| --- | --- |
| | "We do see folks that are in the building industry going back to the drawing board," said John Hunt (left), principal at MarketNsight. |
Developers are redesigning the layout of new homes and apartments to better accommodate the pandemic lifestyle, Hunt said. For example, what was formerly designed as a living room or a second bedroom could be transformed into a home office or flex space.
Additional private outdoor space also will better cater to the pandemic and post-pandemic lifestyle.

"Demand for homes and low-density walk-up buildings is at an all-time high, especially in Old Town, Lincoln Park, and Lakeview," said Benson. "There is something magical about outdoor space and the fresh air of a private garden in a single-family home or walk-up apartment."

Interior design trends also are shifting because of the pandemic.



One of the biggest post-COVID trends will be an emphasis on "antimicrobial" surfaces, especially in kitchens and family-room areas where residents gather, predicted Doris Pearlman, president and founder of Possibilities for Design, based in Denver.
Granite countertops and islands are losing popularity because the material is porous, Pearlman noted. "Quartz is the hardest non-precious stone on earth, making it the most sanitary countertop surface to use – as well as the most scratch and stain-resistant," she explained.
Quartz countertops are man-made from quartz chips or quartz dust bound together with resin. The ever-popular stainless steel kitchen appliance package also may soon be as extinct as the do-do bird.
| | |
| --- | --- |
| | "Bronze, copper, and brass have more antimicrobial properties than stainless steel," said Pearlman (left). "We are seeing that those warmer tones are being brought to market and are part of the antimicrobial conversation." |
Home loan rates hold steady
On February 4, benchmark 30-year-fixed mortgage interest rates held steady at 2.73 percent, reported Freddie Mac's Primary Mortgage Market Survey. A year ago, the 30-year loan averaged 3.45 percent nationwide.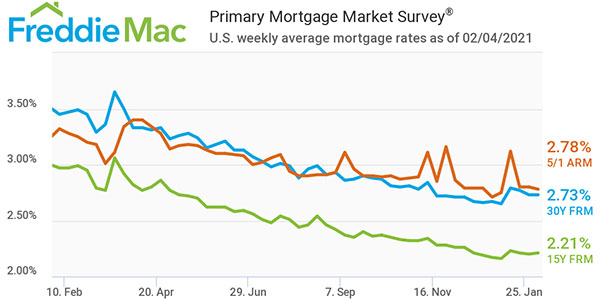 Lenders were charging an average of 2.21 percent on 15-year fixed loans. A year ago, the 15-year fixed mortgages averaged 2.97 percent. On February 4, Gateway Capital Mortgage was quoting 2.77 percent on 30-year loans and 2.125 percent on 15-year mortgages, reported RateSeeker.
The Freddie Mac survey is focused on conventional, conforming, fully amortizing home purchase loans for borrowers who put 20 percent down and have excellent credit.