When you think of wall stencils, do you picture curlicue flowers in delicate, dusty shades, decorating the walls of a quaint bed-and-breakfast, or maybe your great aunt's hallway?
Despite their old-fashioned rap, stencils are making a comeback, thanks to more modern designs and the fact that stenciling is a budget-friendly room refresh that anyone can do.
"Stencils appeal to many people now because folks are eager to make their home their own, but sometimes they're limited by budgets or even fear—hanging wallpaper is a commitment, financially and aesthetically, and some people are scared to go there," explains Emma Carole Paradis of Impeccable Nest Interior Design.
Stenciling is also becoming popular due to the rising trend of people putting their own personal stamp on their possessions.
"People are used to personalizing so many aspects of their lives, like their phones and electronics, and they're looking for new ways to customize their living spaces, too," points out Dee Schlotter, senior color marketing manager at PPG paint brand.
And stencils are an inexpensive way to try a trend on your walls or furniture.
"It's low-cost, high-impact, supereasy to do and completely satisfying," says Paradis.
Choose from any style and color under the sun, and apply them anywhere you need a lift. For some help, check out these nifty new stencil ideas below.
Stencil an accent wall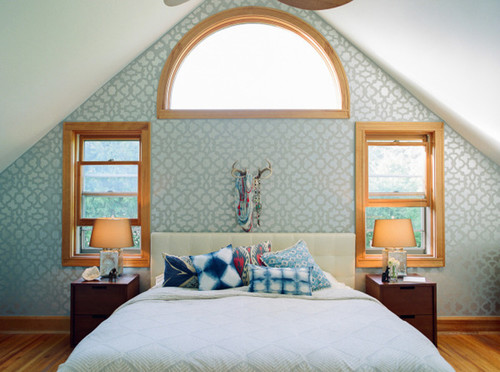 Photo by Janna Makaeva/Cutting Edge Stencils
Depending on the size of your wall, adding a stenciled design is a relatively easy DIY project to tackle, and you can personalize a private space (like the bedroom) with a small investment.
"The farmhouse style in particular lends itself well to stenciled quotes, stripes, or other patterns," says Schlotter.
Stencil a kid's room
Paradis and her business partner Kimberly Carole love the idea of stencils as wallpaper, especially very large ones that are 36 inches in size.
"A leopard-print stencil in a kid's room would be so great, and if you're unsure about it, it's only paint—you can redo it," she says.
Stencil your floor
Photo by Royal Design Studio Stencils
Think outside the box, and apply your stencils to floors.
"We've taken a stencil and used it to cover up a tile floor, and it totally changed the look of the room," explains Paradis.
Stencils can also stand in for carpet in rooms where you need some pattern but don't want to vacuum, such as a screened porch or sunroom.
Stencil a door
Your front door is another unusual spot for a stencil design. (Just use exterior-grade paint and finishes so your look adheres well and stands up to the elements.) Pick a fun pattern or stencil your house number.
"Doors look particularly good with a statement color, and stenciling is another way to customize your home's exterior," says Schlotter.
Stencil furniture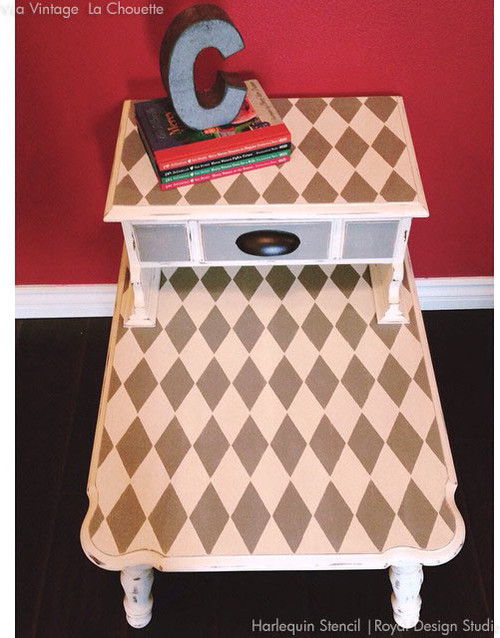 Photo by Royal Design Studio Stencils
If you're a thrifter who loves to upcycle, stencils might just be your best friend.
Rehab an old table or dresser with a stencil pattern, say the pros. Focus on the front of the piece or stencil the inner sides of the drawers for a mini surprise each time they're pulled out.
Throw pillows, headboards, roller shades, and plain white lampshades can also be vastly improved with a stenciled pattern (or try your monogram).
Stencil in stripes
Photo by Fabulous Finishes Inc
Worried your stencils will come across as old-fashioned? Add some classic stripes to your wall design.
"Stripes create a bold graphic that helps the space feel less dated—gone are the days of a stenciled border with a small flower," says Paradis.
Stencil letters
Photo by Bloom Your Space Organizing
Not every stencil has to be a flower or feather. Instead, consider a saying or phrase in a spot that needs a little oomph. The laundry room is the perfect place to practice stenciling, say the pros.
"This room is often overlooked, and you can go a little crazy here too," says Paradis.
What stencil shades work best?
There are no serious color rules when it comes to stenciling, but mixing too many hues into one pattern may be hard to achieve. (Each section of the stencil will need its own application.) Instead, choose a bold or dark color for the wall and then add a pattern in a lighter tone.
"Off-white and gray make a lovely combination, and pastel walls with a white stencil overlay would also be beautiful, says Schlotter.
Here's more on how to stencil.