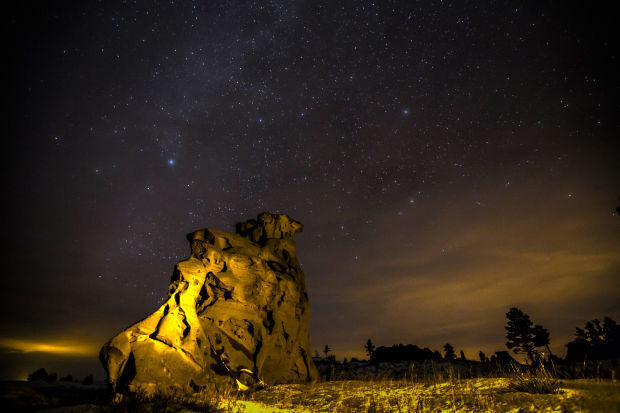 MONTANTA STATE PARKS
Special to the Times

The International Dark-Sky Association has officially designated Medicine Rocks State Park in Montana as a certified International Dark Sky Sanctuary, joining Glacier National Park as one of the state's two designated spots.
The application process for the IDA Dark Sky Sanctuary was a collaborative effort between Montana State Parks, the Carter County Museum, and Visit Southeast Montana.
The International Dark-Sky Association's Dark Sky Sanctuary guidelines require that "the park must provide an exceptional dark sky resource where the night sky brightness is routinely equal to or darker than 21.5 magnitudes per square arcsecond."
Over the course of two years, Sabre Moore, the director of the Carter County Museum in Ekalaka, conducted sky quality measurements and concluded that Medicine Rocks State Park exceeded this benchmark.
"Medicine Rocks is known for its unique geologic formations that people have been visiting for thousands of years," said Chris Dantic, Medicine Rocks State Park manager. Adding the IDA Dark Sky Sanctuary Designation opens the park up to a new category of visitor.
The International Dark-Sky Association promotes night skies that are minimally impacted by human light sources. For more information on getting involved in the International Dark Sky Association Montana Chapter, visit https://montana.darksky.ngo/.