The way we work has changed so much in recent years, with remote working and flexi-time set-ups now the norm for many of us. And while a makeshift desk might once have worked on a temporary basis, working from home in the long term requires a more structured and organised approach. 
If you're stuck for inspiration, then modern home office ideas are the way to go. Sleek,  streamlined and space-efficient, modern office design bridges the gap between form and function, with work and living spaces that blend easily and stylishly together.
Modern home office ideas
Setting-up office at home has its challenges in terms of space and layout, but choosing multi-functional furniture and flexible set-ups can allow what space there is to be better arranged for a more efficient layout. Design ideas can have a big impact on modern home office ideas too, with upbeat decor and energising colour combinations that will aid focus and boost creativity.
'Without a doubt, the colour of your working space will affect your mood and influence how you feel,' says Helen Shaw, UK Director, Benjamin Moore (opens in new tab). 'Choose colours that make you happy, inspiring drive and creativity and allowing you to stay positive.'
1. Use colour to cancel out distractions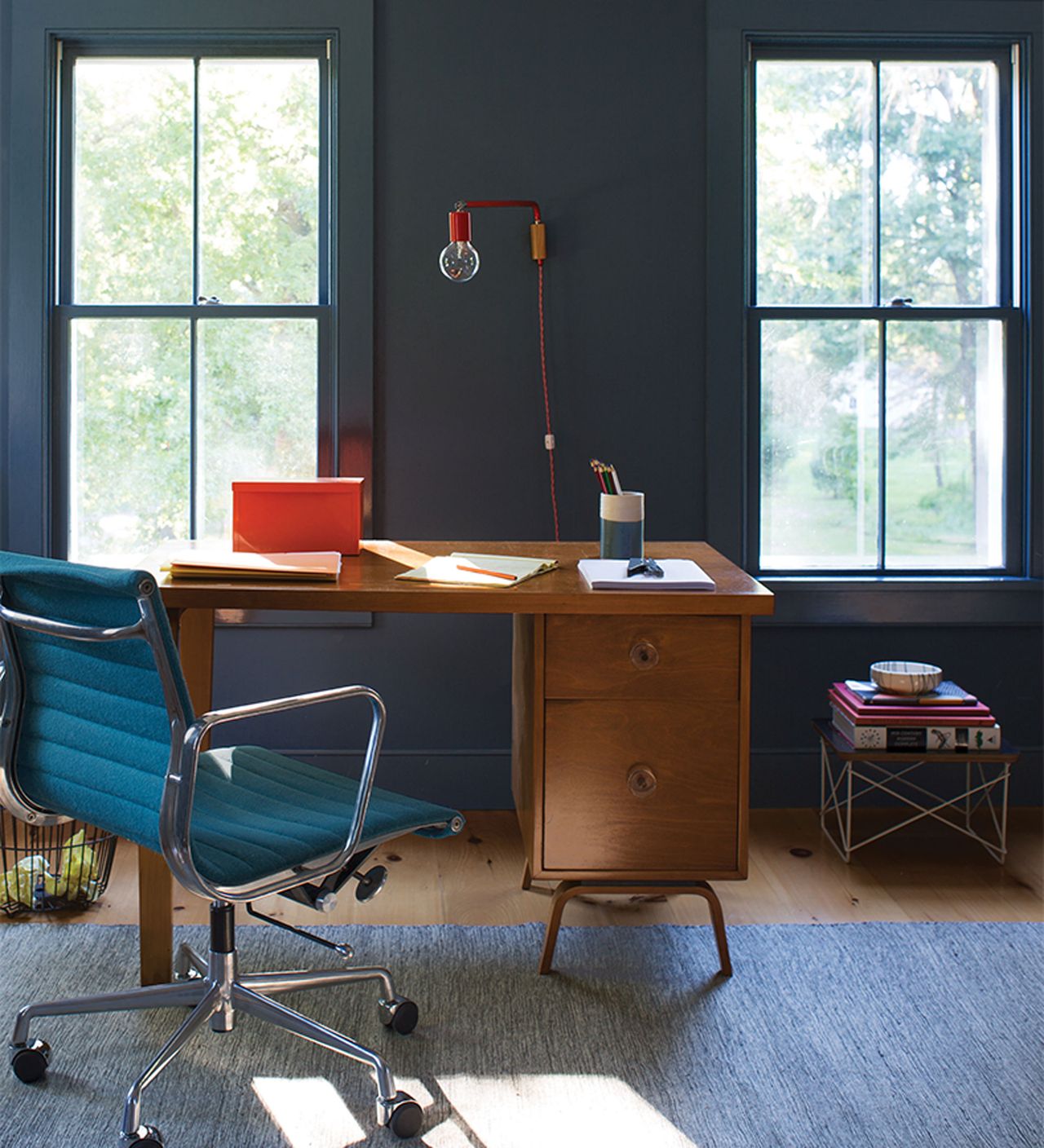 Create a modern home office scheme by using a single colour as your starting point. Paint walls, window frames and trims in the same shade throughout to create a calming backdrop with the desk as the focus. A useful technique for small home office ideas and busy spaces, having no break in colour helps to reduce visual contrasts and blur the boundaries, making small spaces feel bigger and easier on the eyes.
'Blues and greens are a great choice for anyone who needs to boost their concentration whilst working from home,' says Helen Shaw at Benjamin Moore. 'Both are naturally tranquil shades that act as restorers of balance and harmony. If your workload or even just the current day to day is overwhelming you, blues and greens are a great choice for calming the mind and encouraging focus.'
2. Zone in on your work space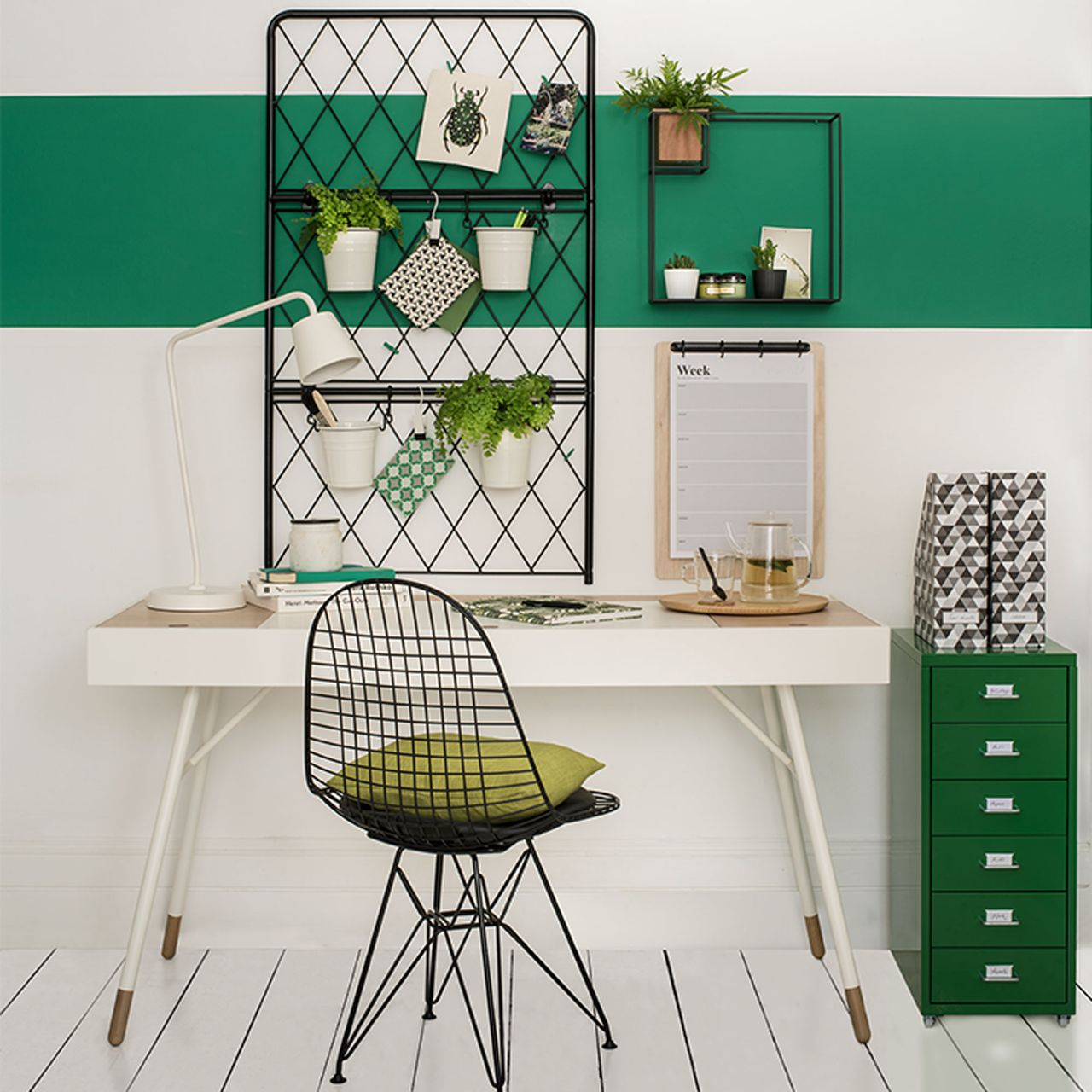 Whether you've a dedicated home office or your desk set-up is in a shared space, try an easy paint treatment for your home office wall decor ideas that will make the desk the focal point. Choose a bold paint colour and paint a deep contrast band to span the wall space behind your desk. Make the band roughly 35-45cm deep and position it at mid level so that it will act as a backdrop for shelves, wall planner and noticeboard.
When using a bold contrast colour, such as a vibrant green like this, keep the rest of the scheme clean and unfussy in comparison. Stick to white walls, flooring and desk with just a few black accent pieces – the room will immediately look bright and modern and anything you add, from furniture to plants and accessories, will pop out against the backdrop.
3. Co-ordinate your desk decor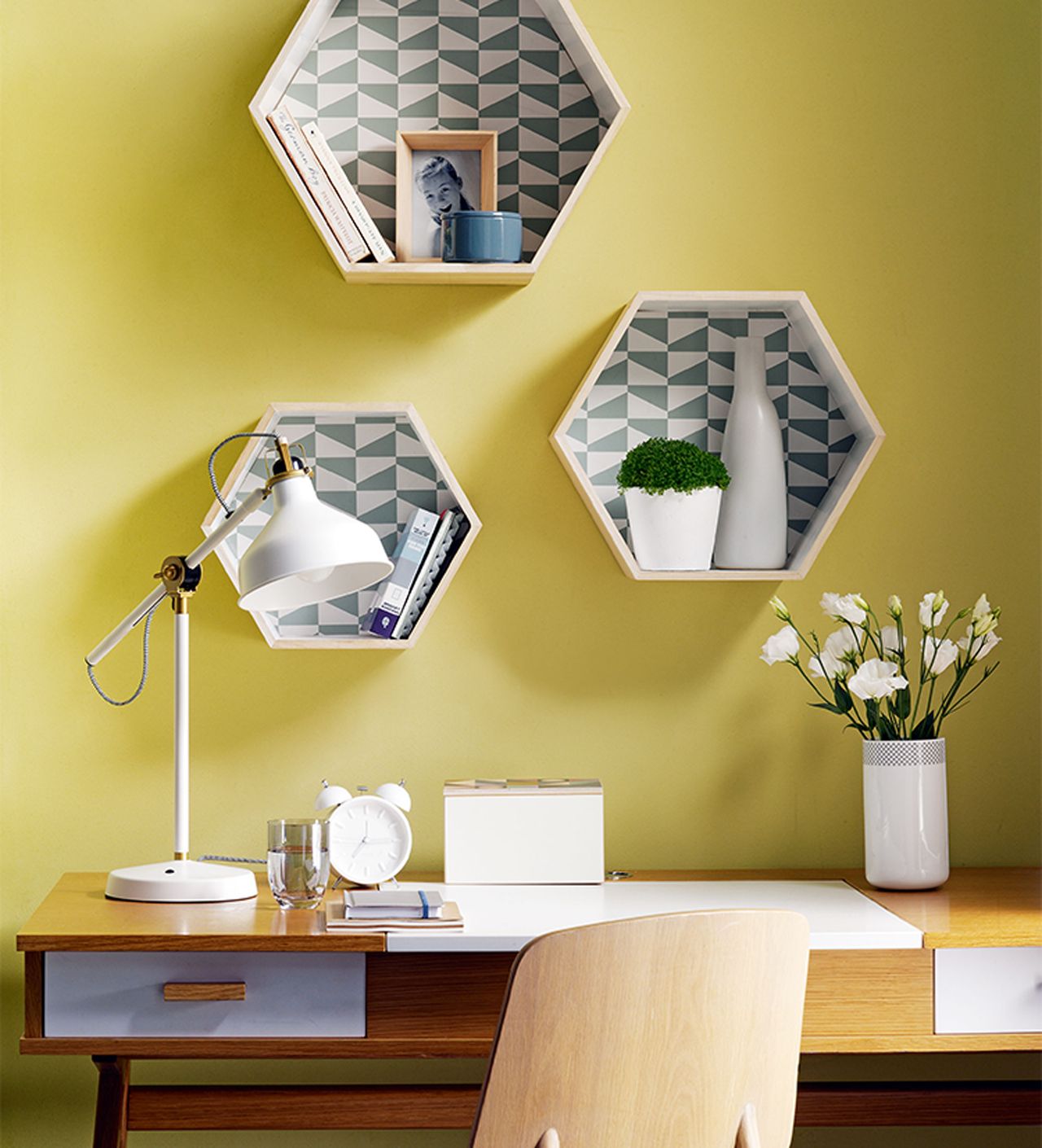 In a shared space such as a living room or dining area, choose a desk that complements the decor and blends in, rather than immediately standing out as 'office' furniture. A slimline console-style desk is neat and unobtrusive with drawers that will house a laptop and paperwork when work is done for the day. Decorative wall cubbies provide extra storage overhead and can be lined with patterned wallpaper for a co-ordinated look in and out of office hours.
'Clear your work space at the end of each day,' says Vicky Silverthorn, professional organiser at Youneedavicky (opens in new tab). 'If you don't have a designated office and your desk is in a living area, change it's look by putting a plant on top, or perhaps a scented candle or vase of flowers, something to symbolise that work time is over.'
4. Supersize your office calendar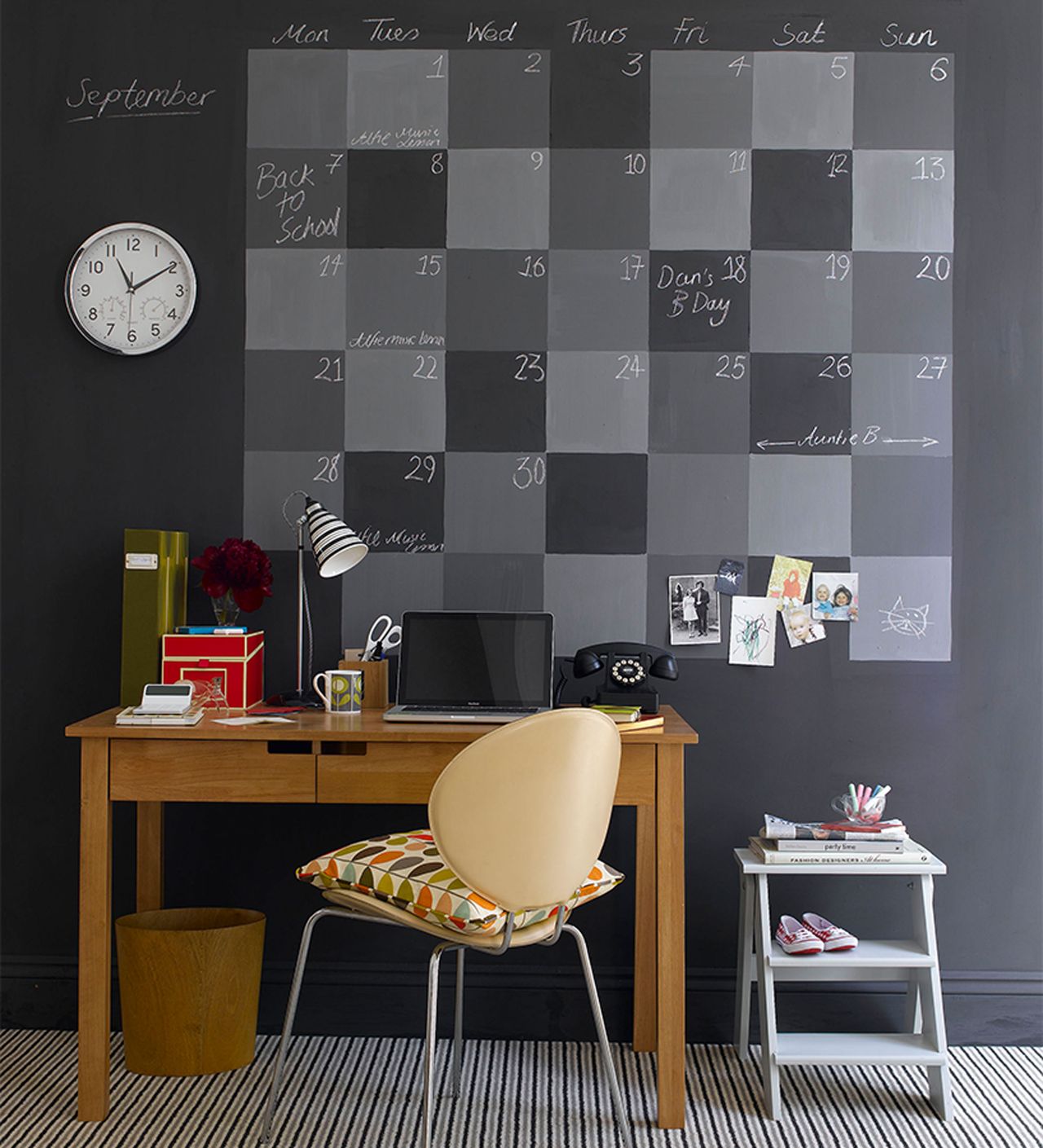 Make a statement with a chalkboard wall calendar that will add wow to any modern office scheme. Meetings and appointments can be easily chalked on (and wiped off) and by painting the entire wall in chalkboard paint there'll be plenty of space for other thoughts and musings.
To create different coloured squares, all that's needed is black and white chalkboard paint, mixed together in different quantities to create several shades of grey. Then simply mark out your grid and fill in the squares with paint, alternating the tones to create the graduated effect.
5. Go green to boost creativity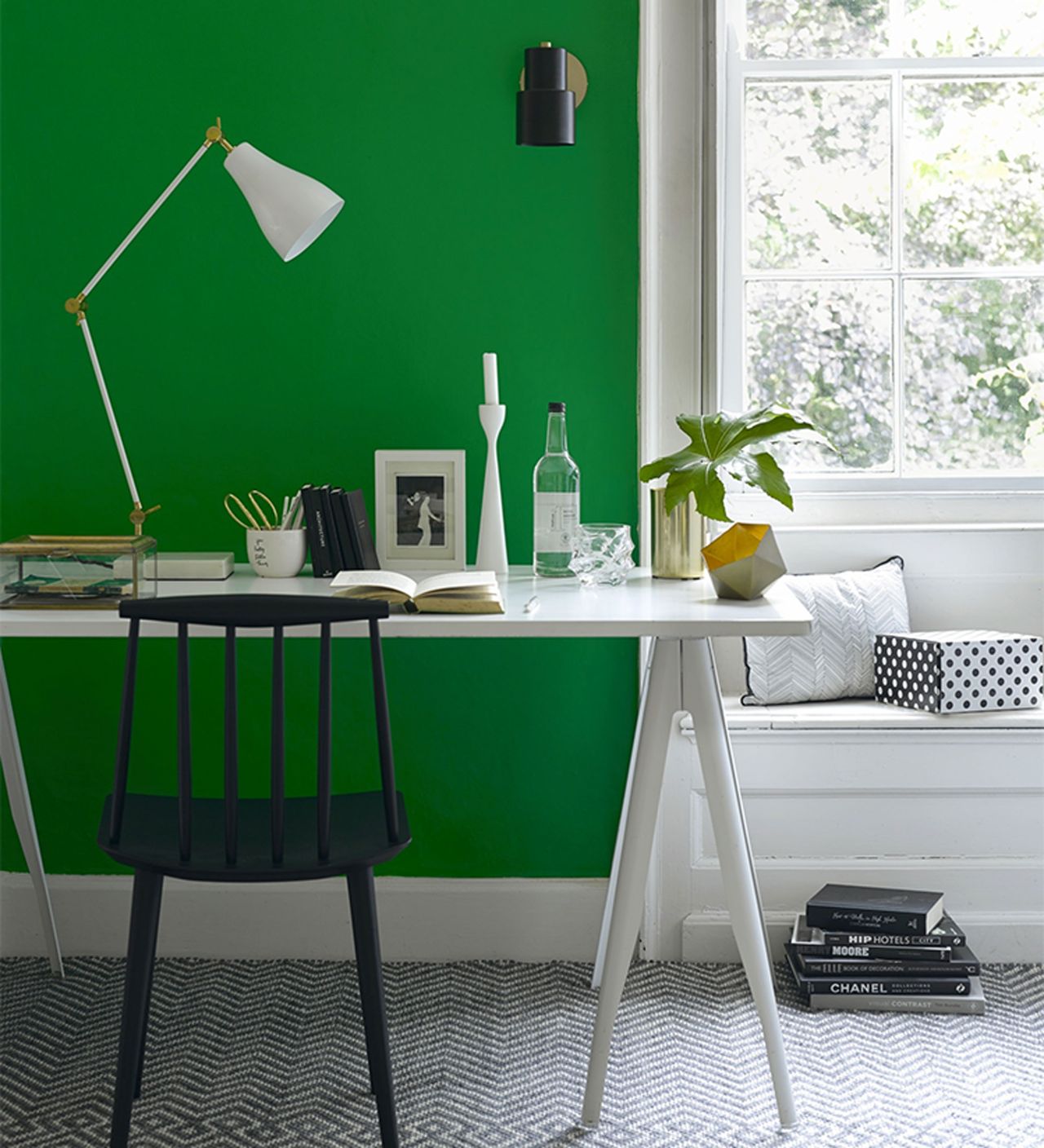 A desk positioned facing a wall can be uninspiring, so counter this with your paint ideas by using an uplifting colour that will energise your work space. Green is the colour of nature and is said to bring balance, calm and boost creativity – and because we see so much around us, green causes less eye strain and helps our focus and attention.
Make green feel fresh and modern in a home office scheme by partnering it with glossy white furniture and crisp white paintwork to bounce light around and make the room feel more spacious. Add in accents of black here and there to give the scheme extra edge and definition. 
6. Increase the sense of space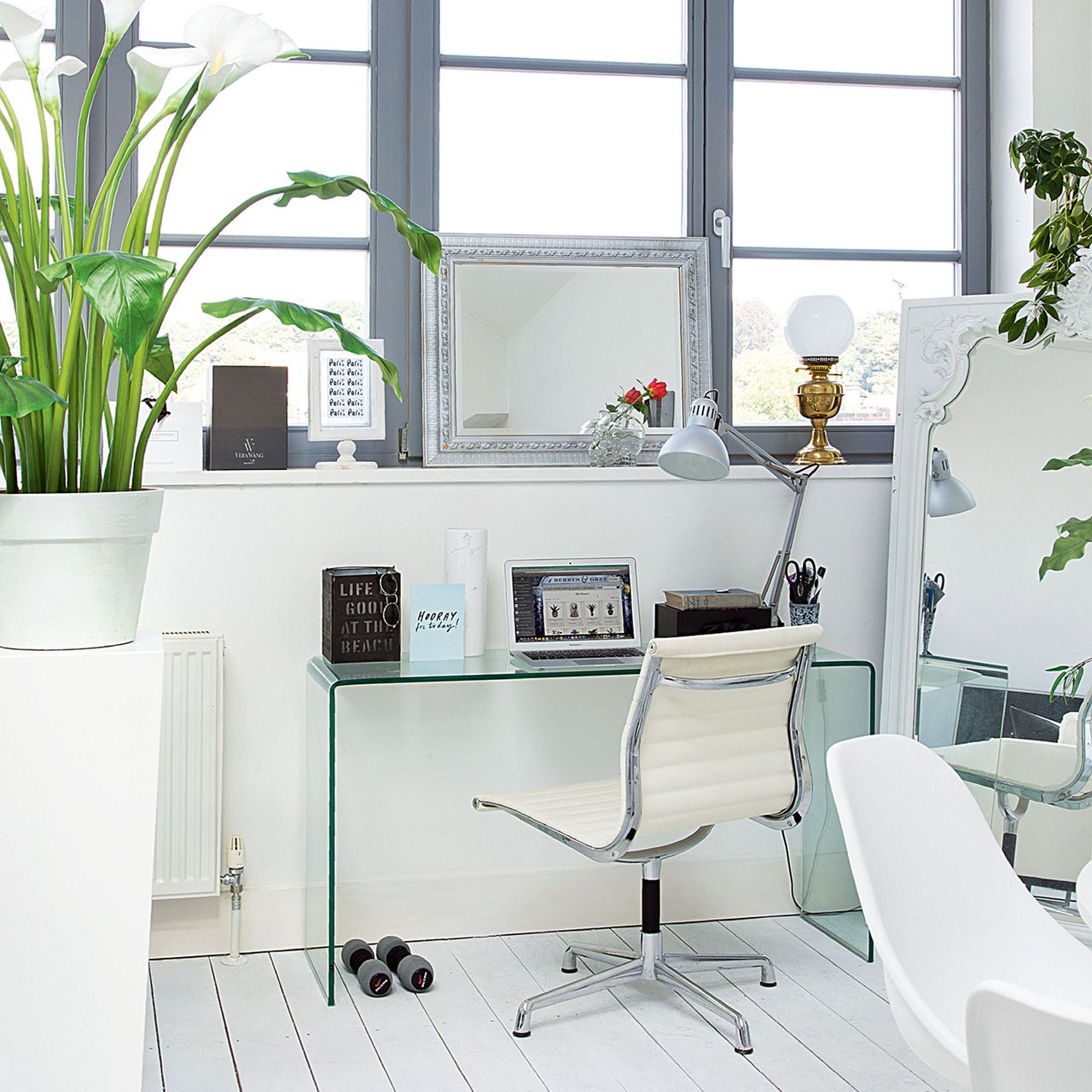 Doubling up with a desk in a box room or spare bedroom might be the only option if space is super-tight, but there are tricks and techniques that can boost the sense of space if you feel particularly hemmed-in. 
Keeping the room light and bright is the first step. An all-white colour scheme will make any small room feel stacks bigger and works perfectly with modern home office ideas. Increase the sense of space further by keeping window treatments to a minimum or opting for sheers and voiles that will let extra light in. Clear acrylic furniture and strategically-placed mirrors will all help to bounce light around the space too.
'Whites and off-whites allow you to begin each day with a clean slate and a clear mind, but it also affords you the ability to switch out little details as your taste (or the seasons) shift, providing a brand-new space with little effort each and every time,' says Helen Shaw at Benjamin Moore. 'Highlighting focal areas such as bookcases or woodwork in a complementary colour draws the eye and adds interest.'
7. Have fun with modern brights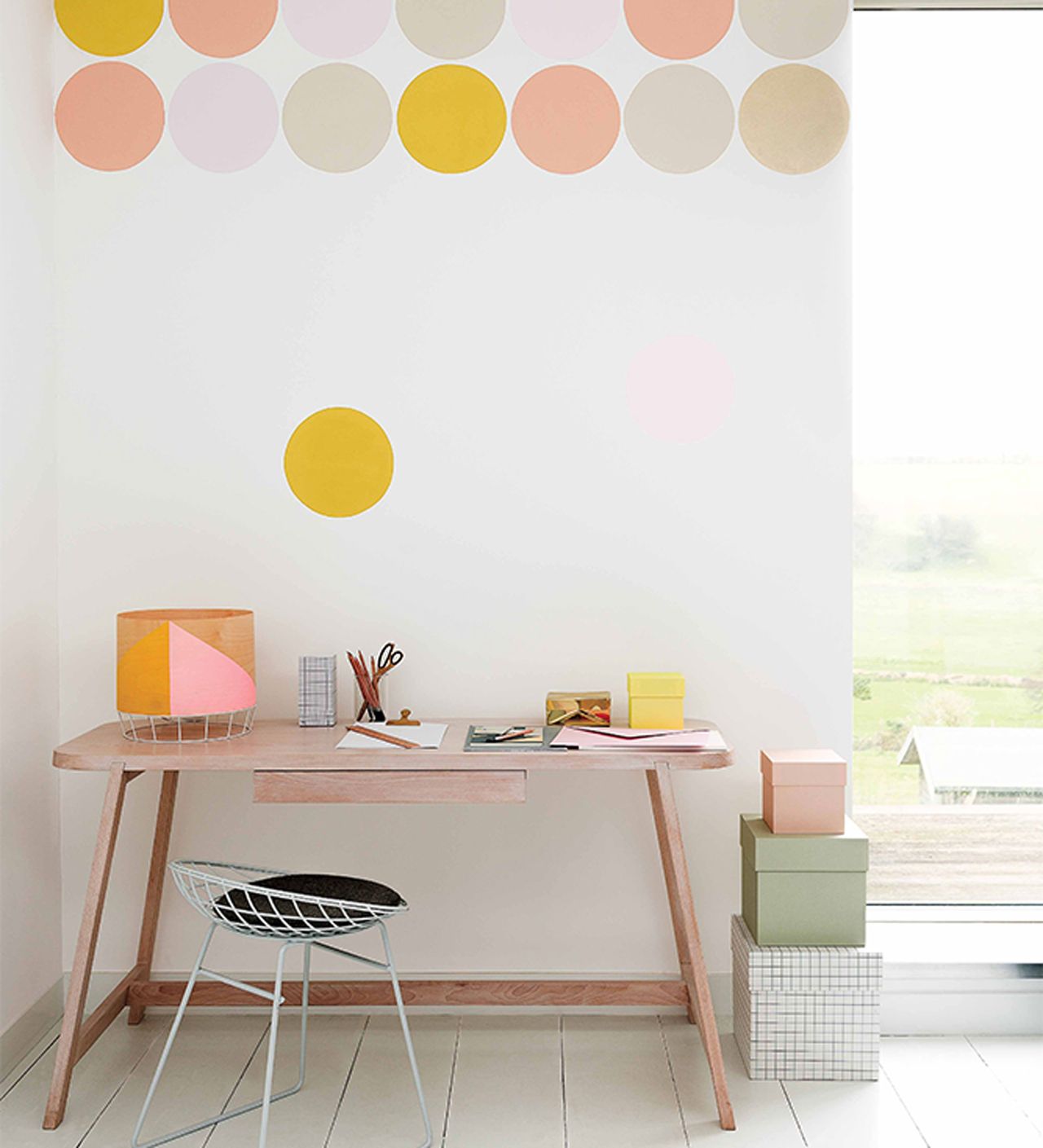 If an all-white scheme doesn't pack enough punch, then adding a splash of colour around the desk area is an easy way of perking up modern office decor without too much extra effort.
A simple DIY border just below ceiling height or mid-way down the wall will add just enough decoration and colour without overpowering the room. Create the border by painting two rows of circles in complementary colours, drawing around a plate as a template and filling in the paint colour using a small brush.
8. Take a tiered approach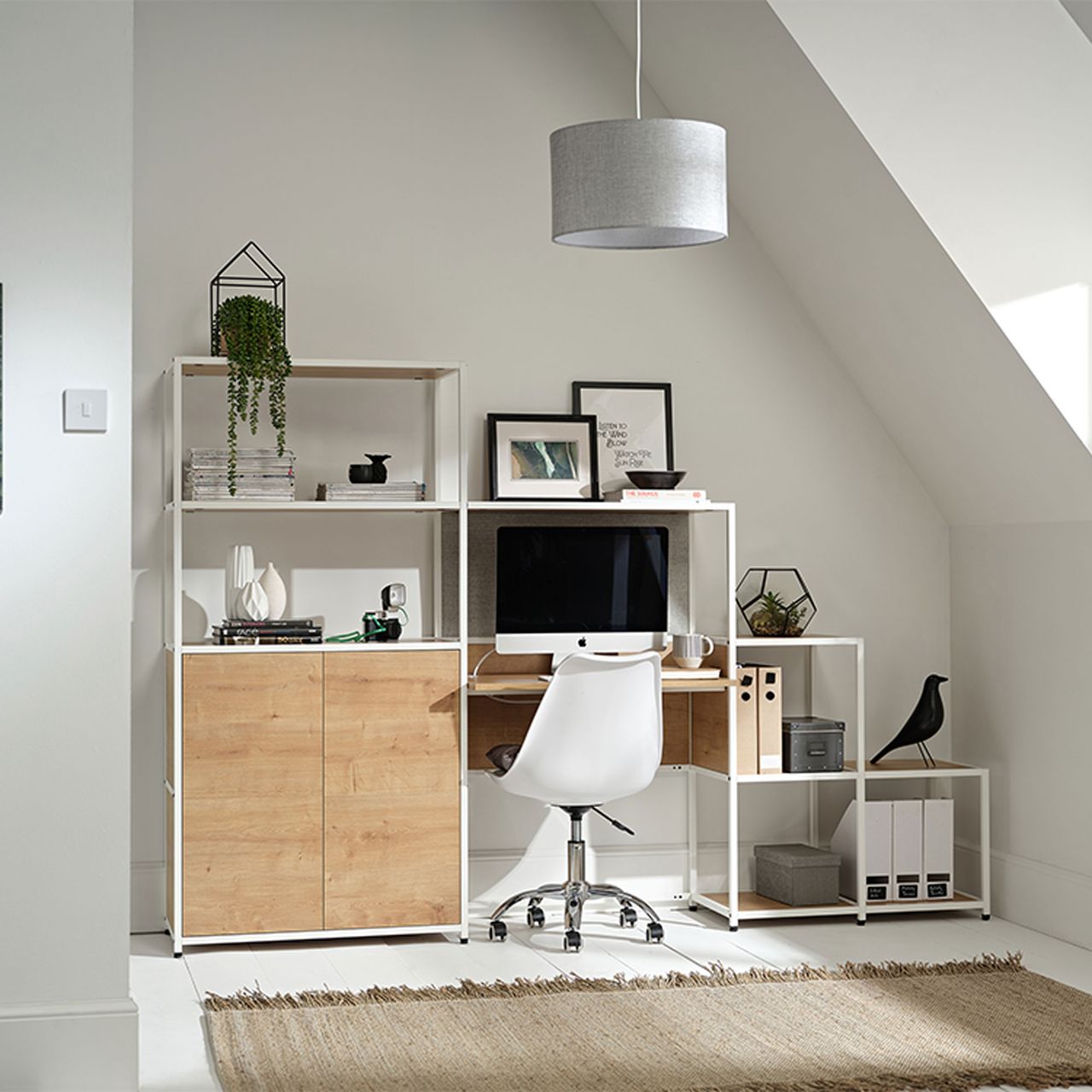 Too much clutter can quickly ruin a modern aesthetic, so incorporating home office storage ideas into your set up is a must if your work involves lots of kit, paperwork and other office essentials. 
Space-savvy modular systems are a practical choice allowing you to tailor storage to suit the available space and room layout. Less-costly than built-in storage, there's also the benefit that furniture can be shifted into another room and added-to at a future date should more office space become available. Sectional storage like this also works well in a loft or under-stairs space, with units arranged in tiers to step up the height.
9. Create a micro office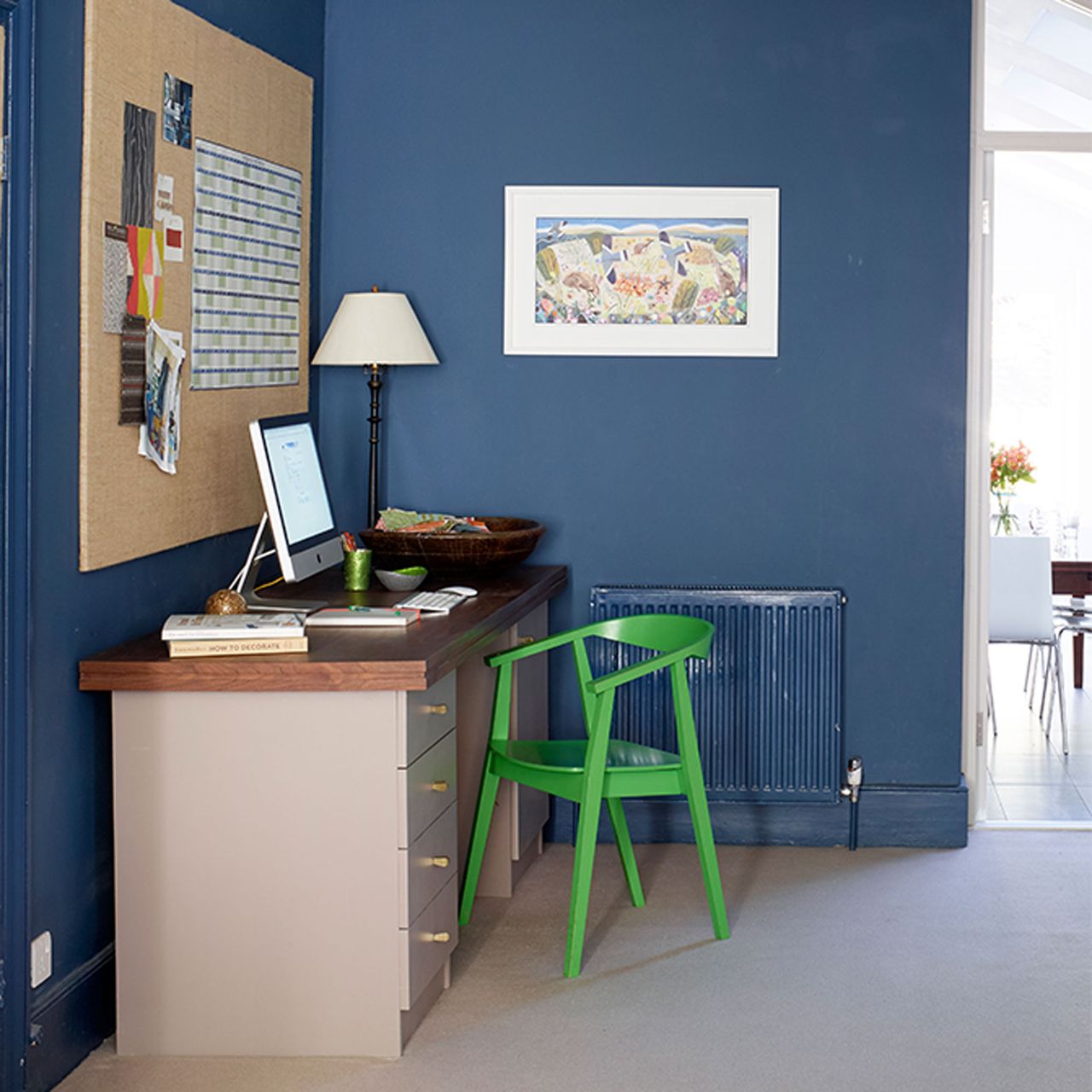 Making use of transitionary spaces, such as hallways and upstairs landings is a great way of carving out a work area if you don't have the luxury of a dedicated home office. A narrow desk is easy to tuck into a gap or unused corner or consider a space-saving triangular desk or L-shaped set-up to maximise the space more fully. And factor in drawer or cupboard storage if you can, so that work clutter can be stashed away for a neat and tidy look out of work hours. 
10. Go big with greenery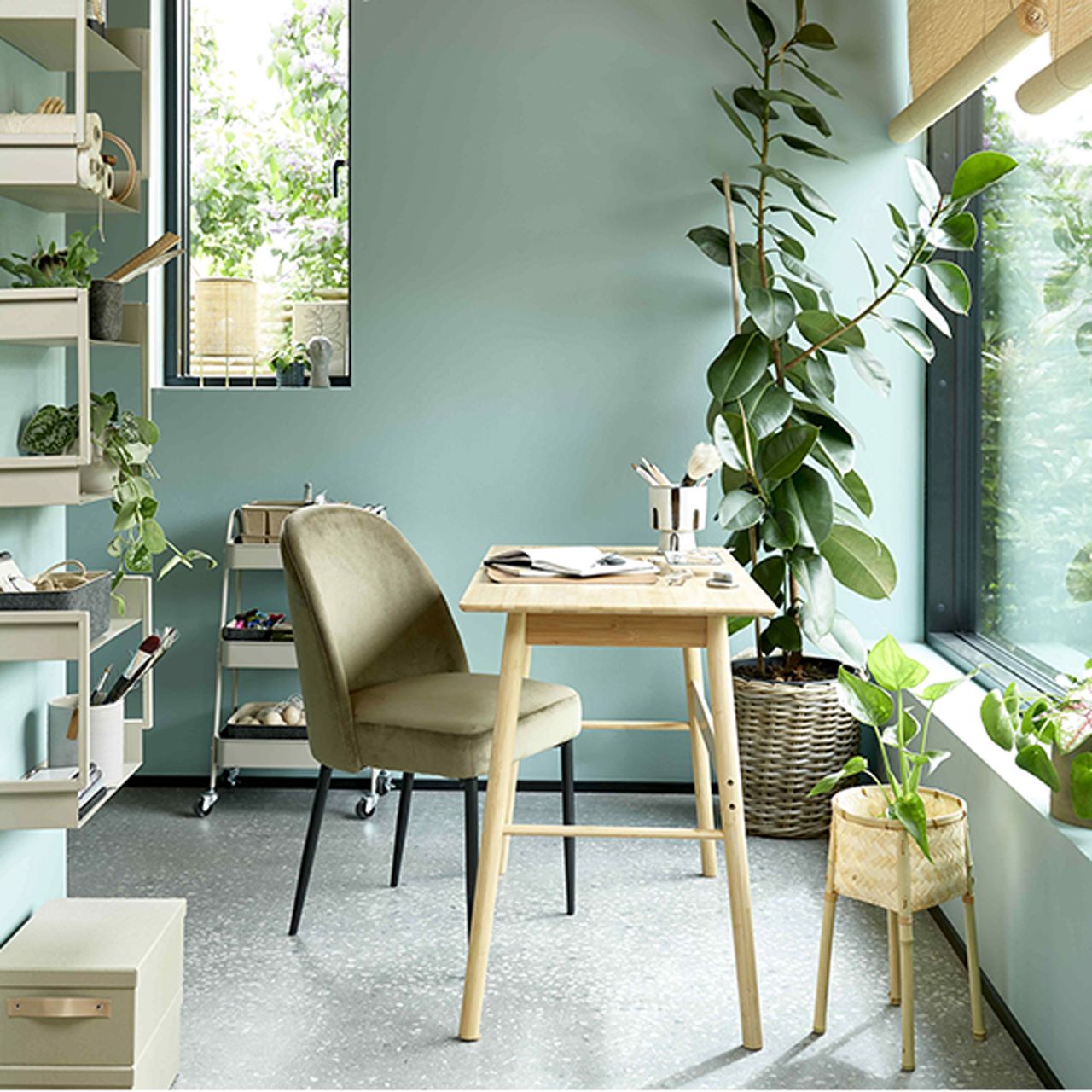 If it won't prove too much of a distraction, position your desk by a window so that you can make the most of a view outdoors while you work. If that's not possible, bring the outdoors in and include plenty of mood-boosting house plants and greenery in and around your desk space. 
Aside from their air-purifying qualities, having plants in a work space can help to boost creativity and increase productivity. Paint walls in tonal greens to create a calming backdrop and add open shelves to organise office kit and stage a display of greenery.
How can I make my home office look more modern?
Simplicity is key when it comes to any modern home office scheme. Furniture should be sleek and streamlined, clean-cut and shapely, with simple pieces that complement and blend in or bold designs that stand out and make a statement. Forget fussy frills and unnecessary extras, modern style is all about a pared-back look and considered detailing, where less is definitely more.
How do you decorate a modern home office?
Calm neutrals, energising brights or moody darks can all work well in a home office but whichever palette you go for, keeping to just a few key shades is the key to making it work in a modern scheme. Too many colours will fight for attention and assault the senses, while paring it back to just a few will create a sharper aesthetic.
Likewise, bold prints and fussy florals can also provide too much contrast and visual distraction, so are best avoided in a modern home office scheme. Instead, opt for tailored stripes, understated prints and simple geometrics that will add just a hint of subtle pattern without overpowering the effect.