During a pandemic holiday season that mandates limited travel and small gatherings, hosts are looking for ways to make Thanksgiving feel festive. DIY centerpieces check all the boxes: They're fun, budget-friendly projects that can involve the family. Plus, greenery, herbs, fruit and blooms can be sourced from your garden. "People want to make Thanksgiving special because it's going to be small," said Diane Mouton, owner of Fat Cat Flowers. "And it's so satisfying to be able to make a piece of art in your home."
When added to a bundle of store-bought flowers, homegrown plants bring seasonal color, flair and unexpected texture. Floral designers Mouton, Amy Graham, director of gardens at Longue Vue House and Gardens, and Margaret Williamson, creative director of Leaf + Petal NOLA, picked bouquet materials including herbs, greenery, kumquats, flowers and native plants from nearby yards, parks and green spaces. "Look around you before you go shopping for flowers," Graham said."There's a lot of inspiration in our immediate spaces."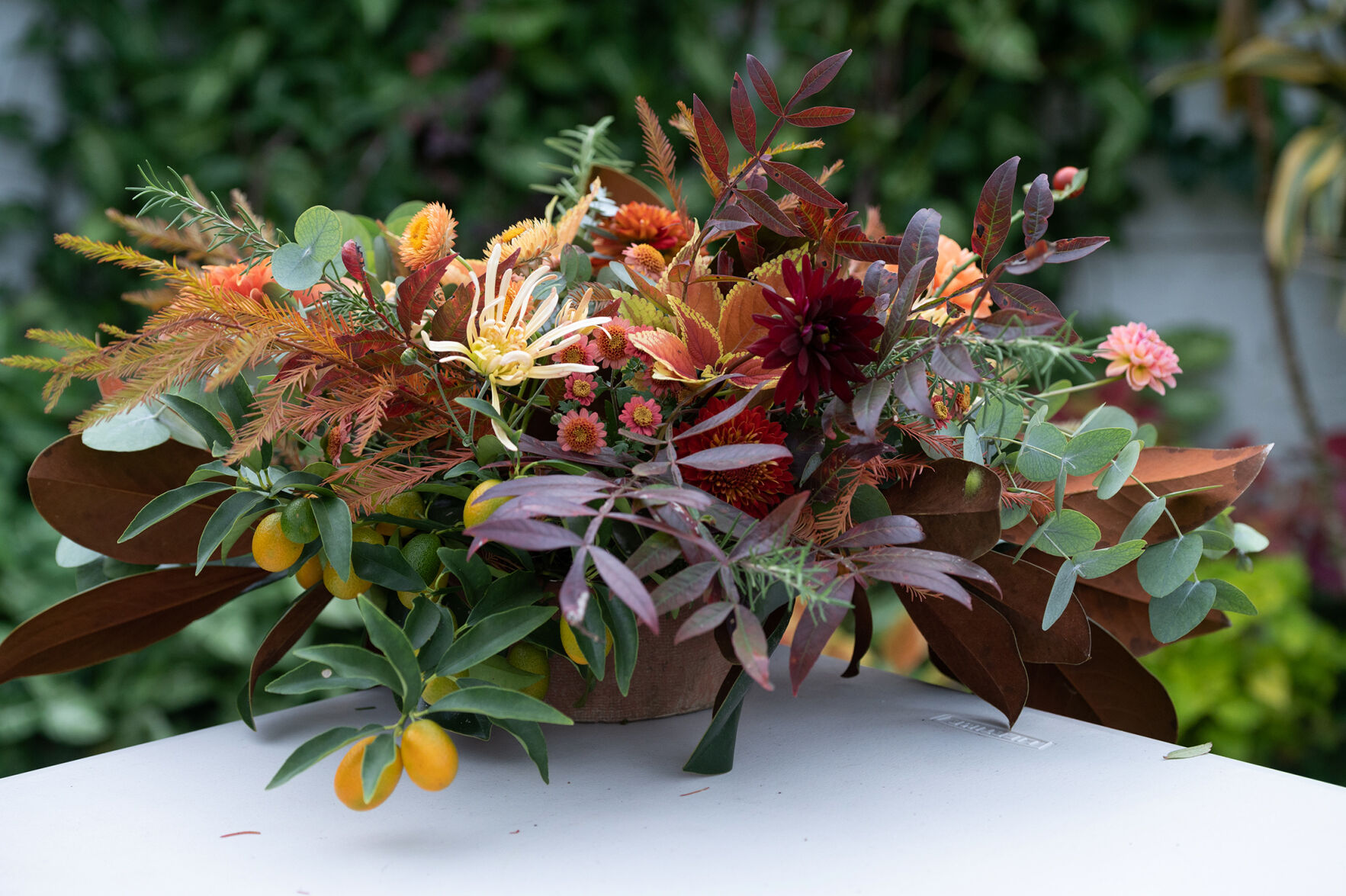 On a grand scale
MATERIALS: Eupatorium, magnolia branches, wax myrtle, flax, twigs, acorns, fairy lights, gold spray paint, gold Sharpie, garden pot, fabric
At Longue Vue House and Gardens, Graham and garden instructor Kellye Schroeder cut native eupatorium, with tall aster-related flowers, and magnolia leaves early in the morning and immediately placed them in cool water. They built up the base of their lofty centerpiece by wrapping an inverted pot in striped fabric and topping it with an urn. "Scale is important to your table," Schroeder said. "The flower should never be more than twice as high as your pot."
While centerpieces for sit-down meals shouldn't be so big that they block views and impede conversation, taller arrangements are appropriate for buffets or side tables. "I see (this) billowy, romantic eupatorium as being the centerpiece for buffet-style eating," Graham said. "It's fashion over function."
Schroeder and Graham placed the tallest stems first — the eupatorium — then added wax myrtle greenery as filler, and finally embellished the arrangement with long, pointy flax leaves. "Determine your shape before you start, and continue looking at it overall so you can shape it," Graham said. "Go in for a closeup, and back out for the full picture."
At the base, glossy clusters of magnolia leaves — some spray-painted gold for contrast — unify the centerpiece and the place cards, which are also made of magnolia leaves inscribed with gold Sharpie. Spray-painted gold, filled with twigs and fairy lights, and flanked by gold-painted acorns, a short, rounc dollar-store vase placed near the leaves rounds out the arrangement. "A little gold paint goes a long way," Schroeder said.
Feeling fall-ish
MATERIALS: pumpkins, dried hydrangea, celosia, blanket flower, tarragon, twigs, fairy lights
Carved Halloween pumpkins can be set on their sides and repurposed for this arrangement, which reflects the rule of three.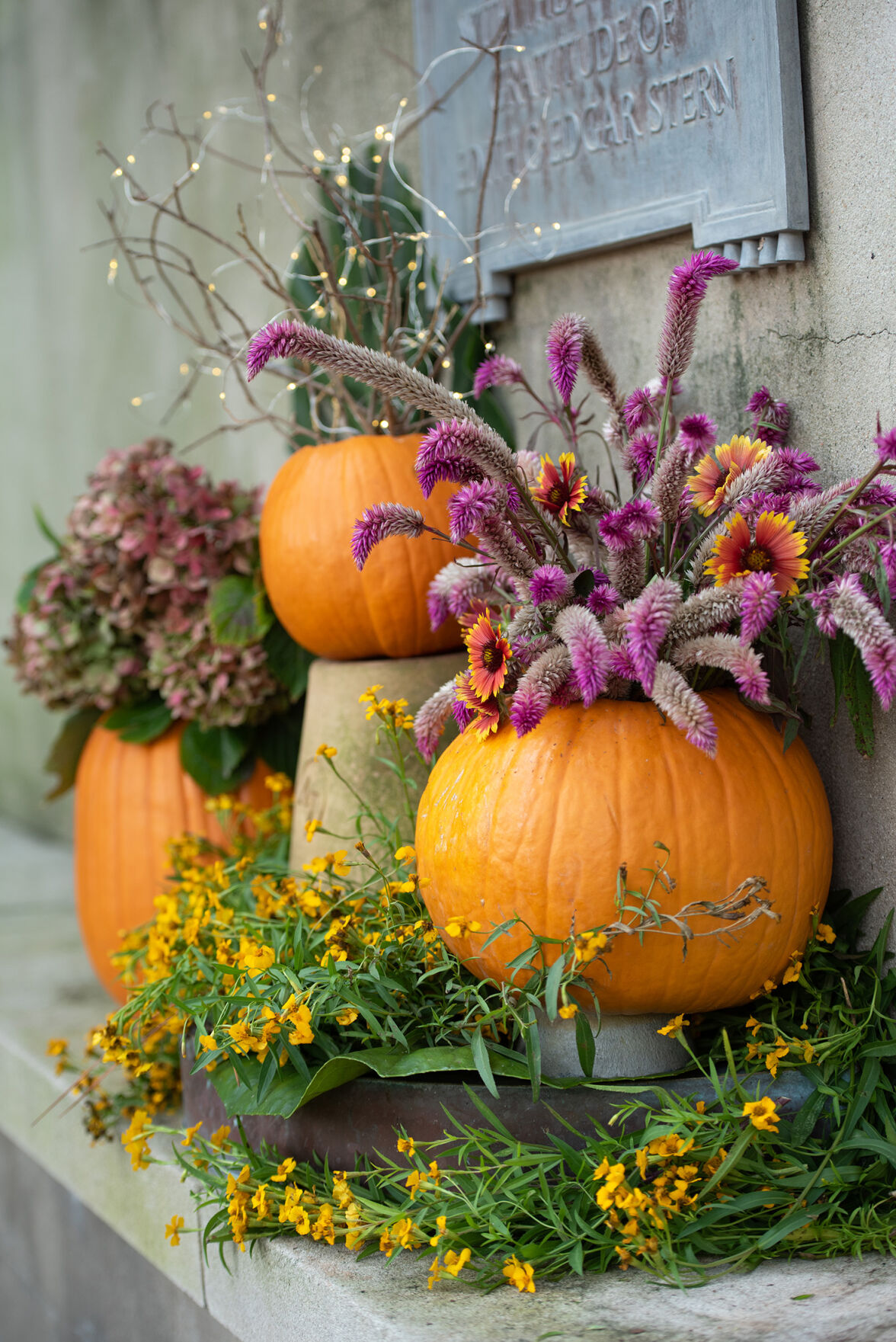 It's a nice fit for side tables, say Schroeder and Graham, who suggest placing jars of water inside the pumpkins or filling the gourd up with water. "If you put a jar inside the pumpkin, you'll have it for a lot longer," Schroeder said. Dried hydrangeas and twig arrangements don't require water and look decidedly autumnal, but "the celosia and the blanket flower are native and grow like weeds," Schroeder said. "We went with what we have a lot of."
"A benefit of dining al fresco with native plants is the butterflies visit our arrangements," Graham said.
Looks good enough to eat
MATERIALS: Yellow solidago, snapdragon, lavender, roses, ranunculus, cosmos, rosemary, basil, olive branches, Chinese lantern, chocolate cosmos, peppercorn leaves, chicken wire, vase
When the COVID-19 pandemic and resulting labor shortage closed rose farms, Margaret Williamson turned to her and her friends' backyards to create the "romantic garden style" arrangements that Leaf + Petal NOLA clients ordered. "I knocked on doors and asked if we could cut some larkspur and kumquat trees (branches)," she said. "I cut camellia branches and ferns from my yard. It was fun being able to create from local sources."
Williamson still likes using home-grown greenery and herbs to augment flowers from Trader Joe's, Whole Foods and small local farms like Pistil and Stamen. Inside the large candle holder she used as a vessel, wadded-up chicken wire provides a place to anchor stems. "It's a way to help you keep everything where it is supposed to go," Williamson said.
First, she created a base using roses and six snapdragons. Then she filled in the arrangement with delicate lavender and dahlias, plus rosemary, fern and basil from her backyard. "Especially for Thanksgiving, I love using more herb-centric arrangements," said Williamson, who makes sure her centerpieces never exceed 17 inches in height in order to facilitate conversation.
A bounty of flora
MATERIALS: magnolia, kumquat branches, cedar branches, eucalyptus, rosemary, dahlias, straw flowers, rosehip, rose, spider mum, heirloom mums, vase, flower frog
Diane Mouton, owner of Fat Cat Flowers, has a few tips when it comes to flower arranging. First, the arrangement should look pretty at every stage of the process, even when it's incomplete. Second, don't underestimate the power of greenery — Mouton uses at least two kinds in every arrangement. Finally, include things that are "a little surprise" for people. In this arrangement, that element is kumquats.
"The foliage of kumquats is beautiful, and the kumquat itself is such a jewel," she said.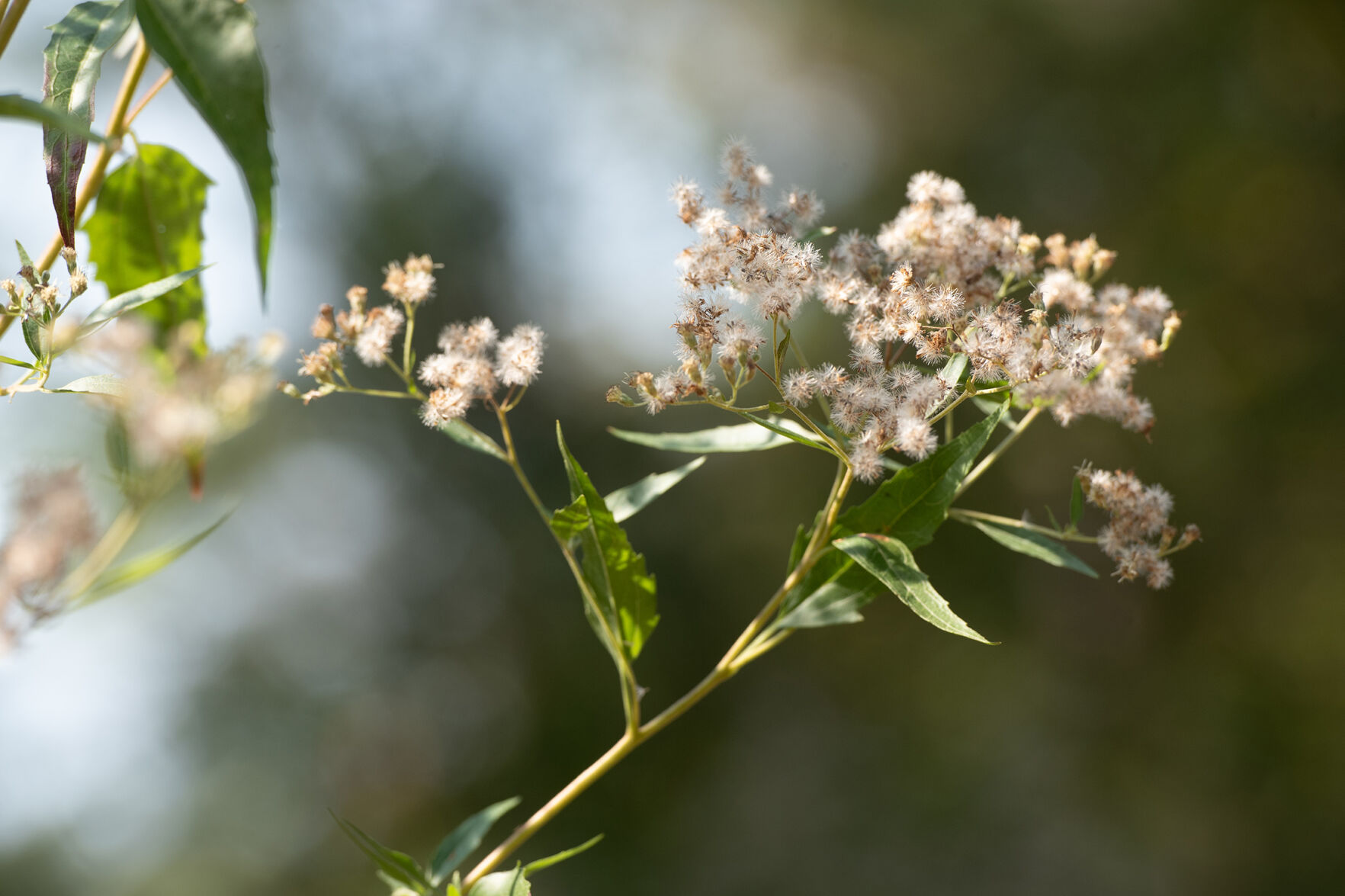 Another tip: Start early. If you're experimenting with backyard flora, give it a test drive before adding it to an arrangement, lest it wilt or drop pollen and leaves. "Isolate your ingredients, and if it holds up for a day or two, it's a great ingredient," said Molly Mueller, flower farmer at Molly Fay Flower Farm.
Mouton created a base from kumquat and cedar branches, which Mueller harvested from her north shore farm, and secured in a container using a flower frog. Next, she added eucalyptus harvested from a downed branch in Mid-City post Hurricane Zeta. "I always start my floral arrangements with foliage," Mouton said. Finally, she worked in an assortment of dahlias, mums and roses.
"We like that overgrown, funky look. That's the beauty of plants from your garden: Often they don't grow straight, but that isn't always a bad thing," Mouton said. "I think it's fun. It's not rocket science. It's flowers."