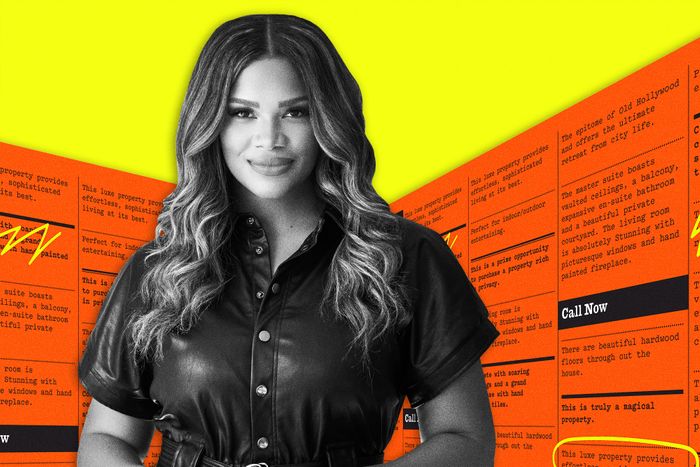 Photo-Illustration: Curbed, Photo: Courtesy of Kamie Crawford
I've been an apartment renter for God knows how many years now and I've always looked at Zillow. During quarantine, especially because we can't really go anywhere or do anything, I've gotten so into home shopping. Being locked down has really shown me how much I need — and I think we all need — more space.
My boyfriend and I are also looking to get married and one of the big life things we've been talking about is home buying. So now I'm on Zillow before I go to bed, I'm on Zillow if I have a moment during the day, I'm on Zillow when I get the email alerts. If I get the email on my phone that says there are new homes available or suggested homes I would like, I go straight to my computer and look them up. My boyfriend and I are always sending each other homes. I have my mom and my friends sending me homes that they think I'd like, so I'm on a full-blown investigation.
I like to window-shop on Zillow because right now we're considering buying at a lower budget and renovating something in the Valley area of California. When you look at houses that are priced higher, then you can get an idea of what you might want to put in during the renovation. One thing I realized during the pandemic is that I want a house with a pool. The pool filter is always on. And I usually keep the size set to 2,000 square feet and up. Even if I can't have exactly what I want right now, one day I will have it. You gotta manifest positivity in your home-buying process.
Photo: Courtesy of Michael J. Okun/Wish Sotheby's International Realty
Right off the bat, this is over budget at over $3 million. But that's not what I'm looking at. I'm looking at the structure. The exterior is exactly what I would want. I love the black and white. It looks really inviting and the modern farmhouse style is just very homey to me. I want a home where when people pull up to it, it's like you know someone's baking an apple pie inside. I love the driveway. We definitely want an open-concept home, so the living room leading out to the backyard with that giant window is goals for us. The backyard is phenomenal. There are spots for us to chill. There are places for the dog to pee.
Photo: Courtesy of Avi Barazani/Coldwell Banker
I also love the modern farmhouse feel here and how it plays with different colors and textures on the exterior. Once you go inside, maybe it's the furniture styling with the lighter-toned wood accents against the white walls throughout and the brown leather furniture, but this house feels like Tulum Farmhouse to me. I just feel like a younger couple would live in this house. The movie-theater room is an added bonus. My boyfriend loves the basketball court outside. And of course it has a pool.
Photo: Wayne Ford/Courtesy of Carmelle Kiesler
I love the fencing around this house. As I get older, I get more and more paranoid. I want as much of a barrier between myself and the outside as possible. I love this house because just looking at the front of it, it feels like a hotel. I love the open living room opening to the outdoor space and pool. That entire area is perfect. The huge, huge wine closet that's under the staircase is where I would like to set up my bed. That's what I get from this house: I get gate, wine, pool. Those are my top things.
Photo: Courtesy of Shelly Mashiach/MGB Realty Group
My mom is obsessed with interior design and crown molding is something she always talked about, "Oh it has great crown molding." I like the crown molding in this house. I think the house looks very clean, pristine, and well thought out. It reminds me of home, in Potomac, Maryland. It just feels very classic. The closets are huge. The bathroom I'm not necessarily in love with because I don't love when the marble is on the floor and on the walls and in the shower and on the everywhere, but I still think it's beautiful. That's probably the only thing I'd change.
Photo: One Shot Production/Courtesy of Adi Perez
Décor plays a big part when you're looking at a home online, and the setup is always key. I don't pay much attention to homes that aren't properly furnished just because seeing things in the space sells it for me. I really loved the design inside this house. I love the entryway, even this random glass box with the plants in it is so cool to me. I probably would not have space for it in my house but I like the idea that it could be there. I also like the upstairs, like the wood-slat walls behind the bed in the master. It's a sexy house. I feel like some young, sexy people would live in this house, which is how I'm trying to be. It just gives young, wild, and free vibes. And rich.