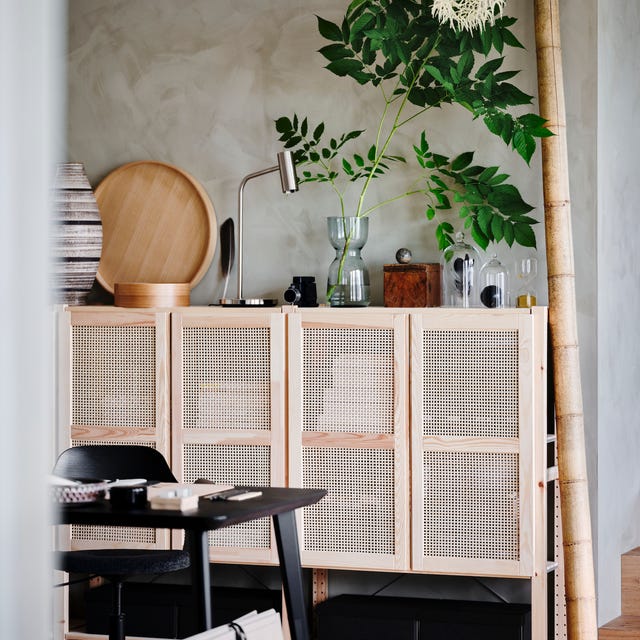 IKEA
IKEA has launched three new collections for spring/summer 2021 — Home Sanctuary, Outdoor Escapism and Everyday Celebrations — as part of its wider 'Transitions' theme.
The Swedish retailer has explained it will be moving away from 'seasonal' trends, as it hopes shoppers will embrace sustainable choices through 'transitions'. Unlike previous homeware drops, they are looking at the small ways we can adapt and change our homes by investing in quality products that stand the test of time.
It's all part of IKEA's goal of becoming a fully circular and climate positive business by 2030, as its successful linear model of making, selling and buying will not support the company to survive in the future.
'Sustainability is at the heart of everything we do at IKEA,' the retailer explains. 'From how we design our products, through to initiatives like Buy Back, our ambition is to create more affordable and easily accessible solutions to help people live more sustainably.'
Take a look at what's on offer this spring…
Advertisement – Continue Reading Below
1
Stylish patio must-haves
Create the ideal zone for entertaining and relaxing with space-saving furniture, benches, footstools and tables in a range of stylish hues.
'Extend your chill out zone out in the open and enjoy the fresh air with small and simple updates to your outdoor area,' says Rosheen Forbes, Commercial Activity & Events Leader at IKEA UK and Ireland.
Not sure what to get your hands on? Rosheen says the perfect chair for 'delightful lounging and relaxation' is IKEA's ÄPPLARÖ reclining chair.
2
Outdoor dining
Get your space set for summer with these must-have dining essentials. Whether you're planning a picnic alfresco or simply want to hit refresh on your tableware, the range has something for everyone.
'Cooking is a wonderful way to unwind, particularly in the sunshine and open air,' adds Rosheen. 'Establish an informal and relaxed ambience by creating your own fresh and healthy grazing table for people to dive in and enjoy.'
3
Picnic in style
'Create an enticing and welcoming atmosphere to disconnect, relax and celebrate together with an easy and joyful table setting,' continues Rosheen.
'The new festive INBJUDEN collection has everything you need to create a magical mood for your special occasion, from glassware, napkins and candlesticks, to decorative pom-poms and garlands.'
4
Practical pieces
Taking inspiration from Japandi — a Japanese and Scandinavian hybrid — the Home Sanctuary range taps into the higher demand for harmony and wellbeing at home. Whether you're keeping a lookout for gorgeous storage units or mood-boosting accessories, IKEA offers plenty of solutions for making the most of each room in your house.
5
Layer up with cosy accessories
Add a pop of much-needed colour to your garden or balcony with cosy cushions, rugs and throws. It's never too early to start dreaming about those long, balmy summer evenings…
'Textiles are a quick, easy and affordable way to transform your space and express your personality,' adds Rosheen.
6
Outdoor storage
Clear away gardening essentials, tools, and picnic rugs not in use with IKEA's clever storage unit. As part of the Swedish retailer's Outdoor Escapism range, it has been designed to 'cater for our many needs' and provide an 'alternative workspace'.
READ MORE: 5 positive changes you can make to your garden in 2021
7
Balcony furniture
Balcony gardens were all the rage on Instagram last year, with more households transforming small spaces into urban jungles.
'Limited space shouldn't be a hinderance when creating your personal oasis, playing with storage solutions with different heights will help maximise what you have available.
'For example, the HYLLIS shelving unit is sturdy and lightweight. Simply stack pots of different sizes and fill them with your favourite herbs, flowers and plants to create a lush, zen spot.'
8
Storage solutions
Create a comforting space by hiding away items in neatly-stacked boxes. While our belongings are what makes a home, clearing clutter will reduce stress and anxiety, improve your sleep, and boost your levels of creativity.
As part of IKEA's Home Sanctuary range, you'll find all you need to tidy your space, from wicker baskets to basic boxes.
Like this article? Sign up to our newsletter to get more articles like this delivered straight to your inbox.
Not able to make it to the shops? Subscribe to House Beautiful magazine today and get each issue delivered directly to your door.
This content is created and maintained by a third party, and imported onto this page to help users provide their email addresses. You may be able to find more information about this and similar content at piano.io
Advertisement – Continue Reading Below