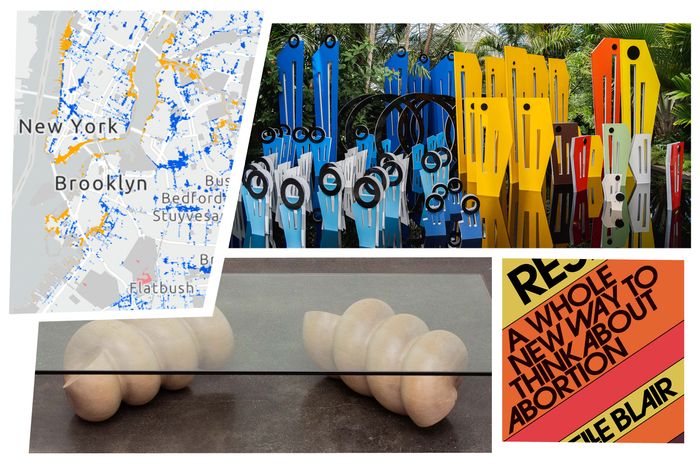 Photo: Courtesy of Claudia Mandlik/Pentagram, NYC OpenData, Courtesy of Caleb Ferris, Workman Publishing
The objects, designers, news, and events worth knowing about.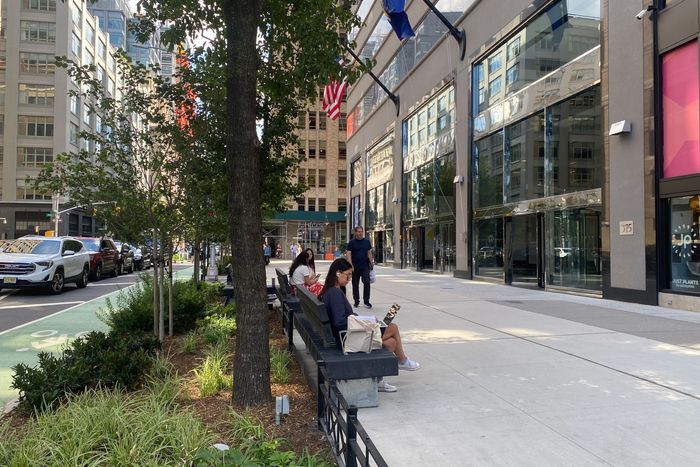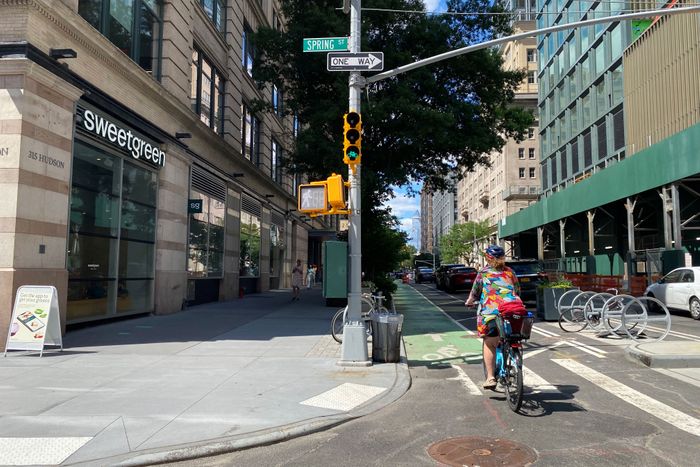 For the past ten years, the Hudson Square Business Improvement District has been turning an area of the city best known for being a congested on-ramp to the Holland Tunnel into a pedestrian-friendly neighborhood. The landscape-design firm MNLA developed a streetscape masterplan that includes protected bike lanes, 350 trees, additional bike racks and benches, bioswales (extra-large tree pits designed to divert runoff from the sewer system), and permeable sidewalks to filter stormwater. Now, one stretch — Hudson Street between Canal and West Houston — is complete and downright pleasant, with plentiful trees, a safer bike lane, and more efficient water drainage (details that would be welcome throughout the city, especially ones that reduce stormwater).
Graphic: NYC OpenData, New Jersey Office of GIS, Esri, HERE, Garmin, SafeGraph, METI/NASA, USGS, EPA, NPS, USDA
The city released (little-publicized) new flood maps, which illustrate where we can expect "deep and contiguous flooding" from rainwater (waters that are at least one-foot deep) in the future. These graphics are useful tools for understanding if your home might flood during the next big storm, as flooding — by the waterfront but also inland — is becoming more catastrophic in New York. Last year, 13 people in the city died as a result of Hurricane Ida's floodwaters. Most of the victims lived in basement apartments in historically under-resourced Queens neighborhoods like Woodside, Elmhurst, and Jamaica. Nearly a year later, the city hasn't done much to address the issue. The inflatable dams handed out earlier this month to people in flood-prone areas are essentially useless, and as the new maps show, the city is relying on residents informing and protecting themselves.
Photo: Courtesy of Caleb Ferris
Oakland-based industrial designer Caleb Ferris was walking down the pasta aisle at his local grocery store when he stopped to admire how sculptural all the noodles were — the gentle ripple of lasagna edges, the chunky spiral of cavatappi, the fluting on a lumache. All of these shapes serve a specific purpose: to hold various types of sauces. But to Ferris, they could also be used for artistic purposes. The emerging designer delights in celebrating overlooked elements in everyday life, so he turned the shapes into the "Al Dente" collection, which includes a glass coffee table supported by a carved-wood base that riffs on cavatappi, a wood side table with a lasagna-shaped top, a red ravioli-shaped bowl, and an objet d'art that's like an oversize lumache noodle. They're customizable, made to order, and available directly from the artist.
Photo: Courtesy of Claudia Mandlik/Pentagram
Until September 11, the New York Botanical Garden has a special exhibition about how the world eats, which includes artist-designed tables, an edible garden planted with vegetables introduced by the transatlantic slave trade, and an oral history of community gardens in the Bronx. The exhibition also dives into the environmental impact of food production. Designer Giorgia Lupi and her team at Pentagram created an abstract sculpture in the Enid A. Haupt Conservatory that visualizes data related to the per capita consumption of specific foods (wheat, milk, fruit, beef, etc.) and the carbon footprint associated with them. Each of the colorful tower-shaped pieces in the sculpture represents a specific food; its height corresponds to the volume consumed. A black circle on the top corner of each tower represents the food's carbon footprint, and in some cases, like with the halo on the beef tower, the circle is much larger than the tower itself, emphasizing the outsize environmental harm related to consuming it. "Ultimately, we want to spark questions," Lupi says. "Where does our food come from? And how do our choices affect the planet — now and in the future?
Photo: Courtesy of Workman Publishing
In 2018, Gabrielle Blair, a design blogger and founder of the Altitude design conference, wrote a 63-part Twitter thread about reproductive rights and how "irresponsible ejaculation" is at the root of unwanted pregnancies and, therefore, abortions. "What if there was a real and immediate consequence for men who cause an unwanted pregnancy?" Blair writes in the thread. "What kind of consequence would make sense? Should it be as harsh, painful, nauseating, scarring, expensive, risky, and life-altering…… as forcing a woman to go through a 9-month unwanted pregnancy?" The thread went viral, and now Blair has turned it into a full-length book, Ejaculate Responsibly, with a retro-inspired cover by the design studio Eight and a Half. Styled like a 1970s PSA with a striped background of mustard yellow, burnt orange, and plum and the title printed in black block type, it's a throwback design for an issue that was relevant then and, sadly, is again today. It's available for preorder here.