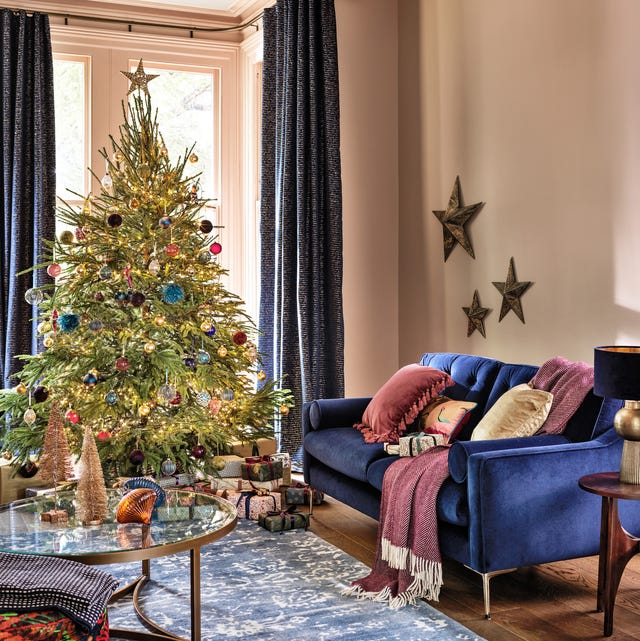 Photography: Jon Day / Styling: Rebecca de Boehmler / Direction: Sarah Keady
Decorating the home for Christmas is always an enjoyable way to start the festive season, but have you been guilty of damaging your walls when hanging up cards, lights and ornaments?
Whether you're going for an Instagrammable hallway or more of a minimalist feel in the living room, there are a few easy tricks to know about when it comes to protecting paint and wallpaper. Maryanne Cartwright, Head of Design at Graham & Brown, has shared her expert advice on how to secure your Christmas decorations without causing any damage.
1. Use over the door hooks instead of tape
Adhesive tape or Blu Tack is often the go-to way to hang up decorations, but these can cause lasting damage to walls. Try an over the door hook (like this gold metal and velvet hook from Oliver Bonas), which is a brilliant way to make the most of unused space, and is great for use all year round.
Maryanne says: 'When removing tape or Blu Tack from walls, this can often lead to chipping paint or stripping wallpaper. Try using over the door hooks to hang decorations such as wreaths or baubles.'
2. Hang decorations with tinsel
If you've got spare tinsel or ribbon lying around, don't throw it away. It could come in handy when putting your decorations in place.
'Tinsel or ribbon can add a festive touch to your living room or kitchen. Rather than taping decorations to your paint or wallpaper feature wall, try hanging them from a mantelpiece or cupboard door,' Maryanne explains.
3. Get creative with displaying cards

Putting up the Christmas cards is a personal and easy way to adorn your home – but they can cause problems when it's time to take them down.
'When you come to remove cards displayed with adhesive tape, it could strip the colour and cause the paint to either chip or fade,' Maryanne warns. 'Instead, you could peg cards to a decorative twig tree or alternatively, thread each card through ribbon and wrap around the staircase bannister, securing it by tying in a bow.'
We also like this idea by John Lewis: simply thread your Christmas cards through a thin garland and drape along your window frame.
4. Avoid hanging lights
Fairy lights can instantly add a festive touch to any room. While they're the perfect way to add sparkle, lights are difficult to hang if you have wallpaper or painted walls. 'Display fairy lights by wrapping them into a glass jar. Place it on a shelf to add a lantern-effect light,' Maryanne advises.
How can damage to walls be repaired?
If you find that your wall paint does chip over the festive season, Maryanne recommends the following: 'Scrape off any loose paint and sand any rough edges. Wipe with a cloth to remove the dust. Then simply apply one coat of the primer and paint and allow it to dry.'
To fix wallpaper that has peeled back, she adds: 'To patch up your wallpaper, you will need some adhesive and a smoothing tool. Pull the seam back and apply the adhesive behind the paper. Allow it to get tacky before using your smoothing tool to seal the seam.'
For Christmas decoration inspiration, see our festive ideas here.
Follow House Beautiful on Instagram.
---