Most home design advice applies only to commonplace rectangular rooms. Yet homeowners who have odd nooks, curvy walls, or other funny angles in their floor plan might be baffled by what to do, or put, in that space.
Fortunately, there's some good news: You don't have to hide these odd areas. Highlighting their quirkiness is actually recommended, says Ana Cummings of the eponymous design firm.
"Make your oddly shaped space look intentional, rather than try to cover it up," adds Drew Henry of Design Dudes. But doing so, you'll infuse your room with personality and energy, which is much more than any ol' boxy shape can offer.
Here's some advice to help you design looks that'll work in spots with unusual angles.
Accent with wallpaper
An angled cutout under a dormer or skylight is the perfect candidate for a bright color pop.
"You can also paint it like an accent wall, add wood trim around it, or hang fun wallpaper here," says Henry.
Small spots like this are ideal for using up that last bit on a roll you've got stashed in the closet.
Dine in the round
Curvy walls are cozy, which is a good vibe to channel in a dining room.
"A round room would be a cool space for dining, so shop for a proportionally sized table, and then accent the design with a round chandelier," suggests Henry.
Curve-backed sofas are also a fine choice against round walls, and circular rooms can work as music spaces, with a baby grand smack in the middle.
"If you have a round bedroom, I'd either go with a traditional bed enhanced with a curved headboard or a round bed—or better yet, a large custom-upholstered headboard wall," says Amy Bly of Great Impressions Home Staging and Interiors.
Install a book nook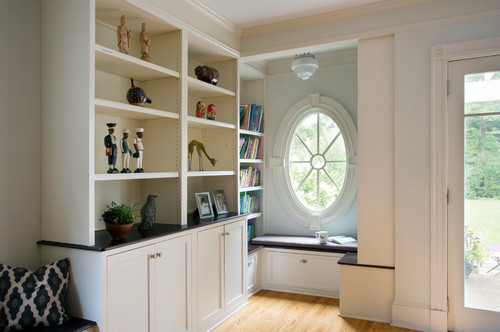 An odd pocket of space with its own window can become a dreamy reading corner, says Henry—and all you really need are a few shelves and a soft seat. If you want to do it yourself, installing these accessories is a fun project, though others may rely on custom millwork and a made-to-order cushion.
Nooks like these can also be transformed into smart storage, a dry bar, or a place to display art or sculpture, says Cummings.
Choose small-scale pieces
Photo by Return on Design – Because Aesthetics Sell
When it comes to furniture placement here, Henry recommends pieces that are on the petite side because they offer more flexibility for fitting in irregular spaces.
"For instance, instead of a sectional for an odd living room, you may want to look for a love seat and a few lounge chairs," he says.
As for layout advice, group furniture in a way that'll facilitate conversation or over an area rug, if possible, and direct attention toward a focal point such as the TV or fireplace.
"This way, you'll re-create a traditionally styled room without calling attention to an odd corner," says Cummings.
Create a home office
A triangular space under a set of stairs can stand in for a homework station with the addition of a simple flat surface and a chair. Or designate this spot for wrapping presents or a hobby like beading or scrapbooking.
Even out with furniture
Photo by Kelly Rogers Interiors
Bly likes to even out odd bumps or cutouts in a room to make them useful and less obvious.
"Try putting a tall chest or dresser in the nook, or fill it with a bench and a large piece of art or a chair and side table combination," she says.
A set of drawers or small chest can fit snugly, and it creates a line that seems to sit flush to the wall.
Trick the eye with mirrors
Mirrors add light, depth, and beauty to a room—and they can be a lifesaver in a spot with funny angles. Mirrors can make an area with odd features look larger, and they can help create the illusion of symmetry.
Make artwork pop
Photo by Cornerstone Architects 
Use large artwork, wall paneling, or a mural to your advantage in rooms with quirky features.
"These options can take your eye away from the asymmetry of a space and soften an oddly shaped room," says Cummings.
You can also work around triangular spaces with strategically placed pieces.
"In this case, I'd downplay the pointy end of the room by placing furniture or two chairs 'in' from the point to elongate it," says Bly.