To the say the least, the pandemic shook up our notions of home, and some took the opportunity to float some new ideas. After being approached by a client in Berlin to refurbish a houseboat into a tiny home, Beijing-based architecture studio Crossboundaries set out to explore the limitations of life on the go.
"Envisioning people living in a nomadic fashion is no longer an abstract image—it is achievable," says Binke Lenhardt, one of the firm's cofounders. "Simultaneously, we are debating our notions of public versus private and temporary versus permanent."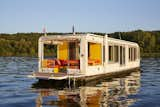 The firm's client, Marianne, is German born, but has led a relatively unmoored lifestyle, particularly over the past decade while living and working between Beijing and Berlin. More recently she spent a short period living aboard a boat before joining a rowing club in the latter city. These experiences gave her a strong desire to spend more time near and on the water, culminating with the purchase of the houseboat in 2020.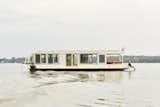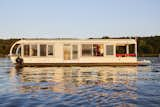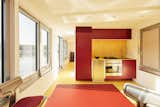 Her idea was to create a self-sufficient refuge that allowed her to manage both short and long trips through Germany and Europe, thereby challenging the notion of home as a fixed location. Following that request, Crossboundaries took measure of the boat's weight, structural integrity, and layout before performing an intensive renovation.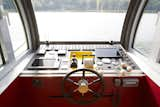 Unlike a conventional home—or most homes—the Fàng Sōng houseboat, as it's now known, has entrances on all sides, which provides flexibility when docking. The bow of the boat steps down to a kitchen area—equipped with sink, oven, and fridge—that leads into a cockpit with an expansive window and control panel.
Here, a clever "flip-over" bed doubles the functionality of the space, and also conceals the technical appearance of the cockpit to create a more domestic atmosphere. Nearby, a dining table can also be attached in various configurations as needed, and is concealed behind a sliding wall panel when not in use.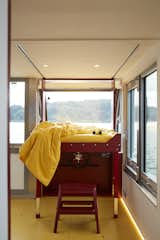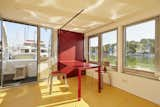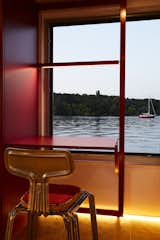 "Since the boat only has 645 square feet of space, we needed to find storage solutions within furniture so as not to block any windows around the outer walls," explains Lenhardt. The living area features additional adaptable furniture, including a generous bed that transforms into a sofa, a fold-away desk concealed within the wardrobe, and a sliding shelf that can accommodate shoes and other small items.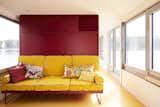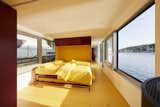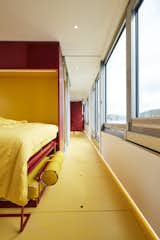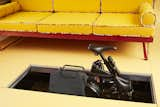 Throughout, Eastern and Western design conventions come together in a celebration of pattern and color. Red and yellow—the Chinese imperial colors—were chosen to evoke Marianne's time living in Beijing, while richly contrasting floral and geometric patterned textiles reflect the duality of natural elements against artificial craftsmanship found in traditional Chinese gardens.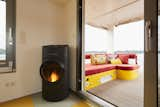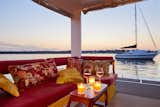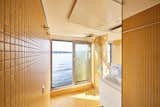 At the heart of the design is a focus on sustainability and a desire to provide "near-zero energy building solutions"—something that Crossboundaries believes is the duty of all architects.
To achieve those ends, the firm included a set of solar panels to power the boat's engine and appliances. On sunny days fall through spring, it is energy self-reliant, and can travel roughly 30 miles per day at around 4 miles per hour. An app-controllable pellet stove provides heat in the winter, and eventually, Marianne hopes to install a water purification system and a biological sewage treatment unit.