A bathroom is not often the first place you might think of decorating for a season, however when the days get cooler and we retreat into our homes, creating the perfect fall sanctuary extends to every room. Knowing how you can decorate a bathroom for fall can help to create the ideal autumnal hideaway for warming, relaxing baths at the end of the day.
Bathroom ideas are usually blank canvases for decorating, meaning that simple swaps and additions can easily transform the space into a seasonal oasis without making any big or permanent changes. What's more, seasonal decorating does not discriminate, meaning that fall decor ideas can find a home in small bathrooms and tiny bathrooms just as well as in larger family bathrooms and ensuites. 
We have spoken to experts to hear their tips for decorating a bathroom for fall so even the smallest of spaces can embrace the changing seasons
How can I decorate my bathroom for the fall? 
Bathroom fall decorations do not have to be tacky figurines or seasonal-inspired wall prints. Instead decorating ideas can follow fall trends from the rest of the house and comprise more modest or subtle additions that simply warm the space up in preparation for the colder months. 
1. Choose towels and linens in warm colors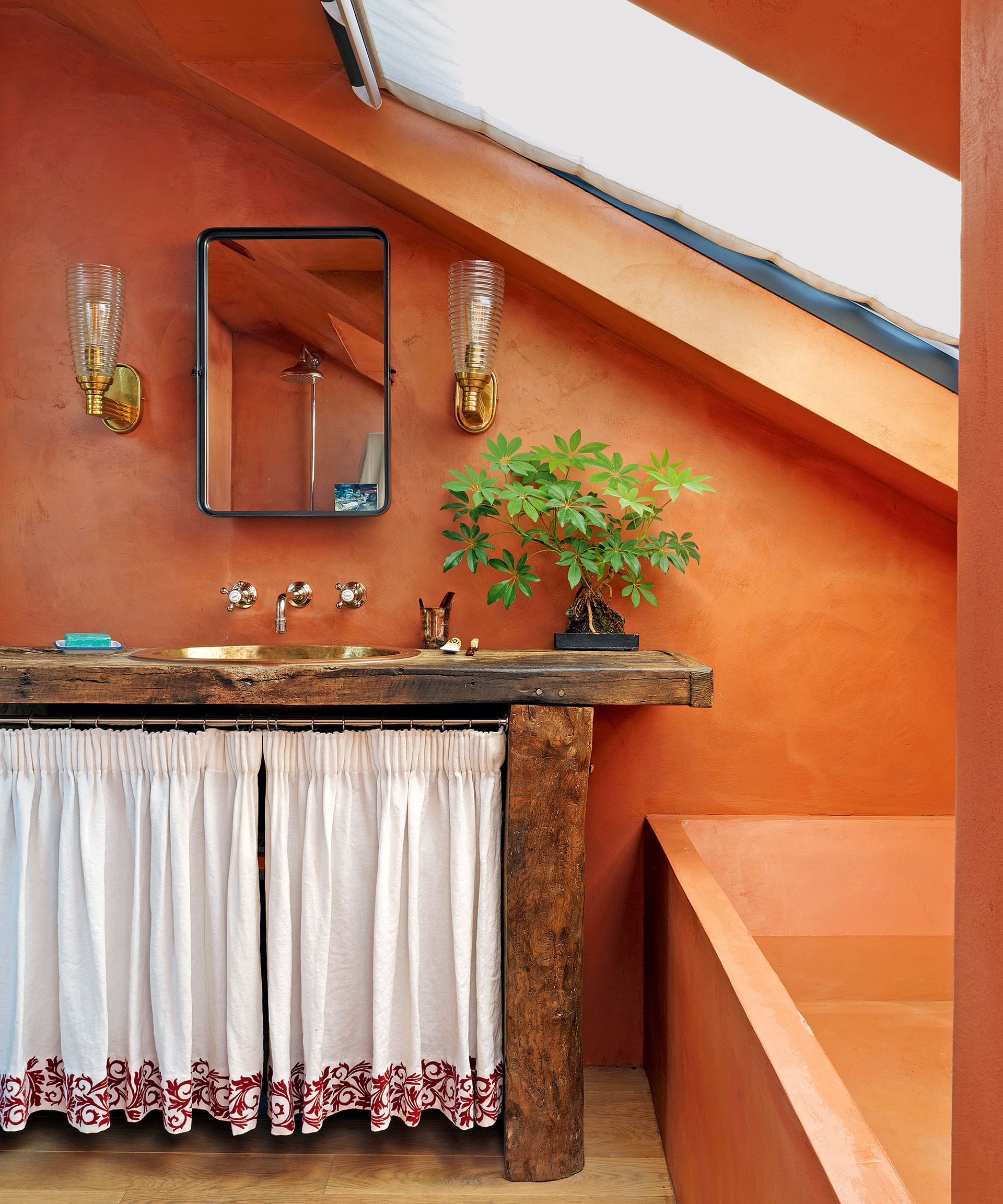 Perhaps one of the more obvious bathroom fall decorations, adding towels and linens that correlate with seasonal colors is an easy and affordable way to smarten up your space. 
'To refresh your bathroom for the colder months consider incorporating new towels and linens in an array of comforting textures and colors. A waffle towel is a perfect choice for winter and adds a luxurious touch too,' says Jenna Choate-James and Mariana Ugarte, co-founders of Interior Fox (opens in new tab).
'Adding a fall-toned hand towel is an easy way to bring seasonality into a bathroom. Swap your neutral hand towel for something that's in a deeper, more saturated colorway,' continues Audrey Scheck, founder & CE of Audrey Scheck Design (opens in new tab). 
2. Introduce house plants to a bathroom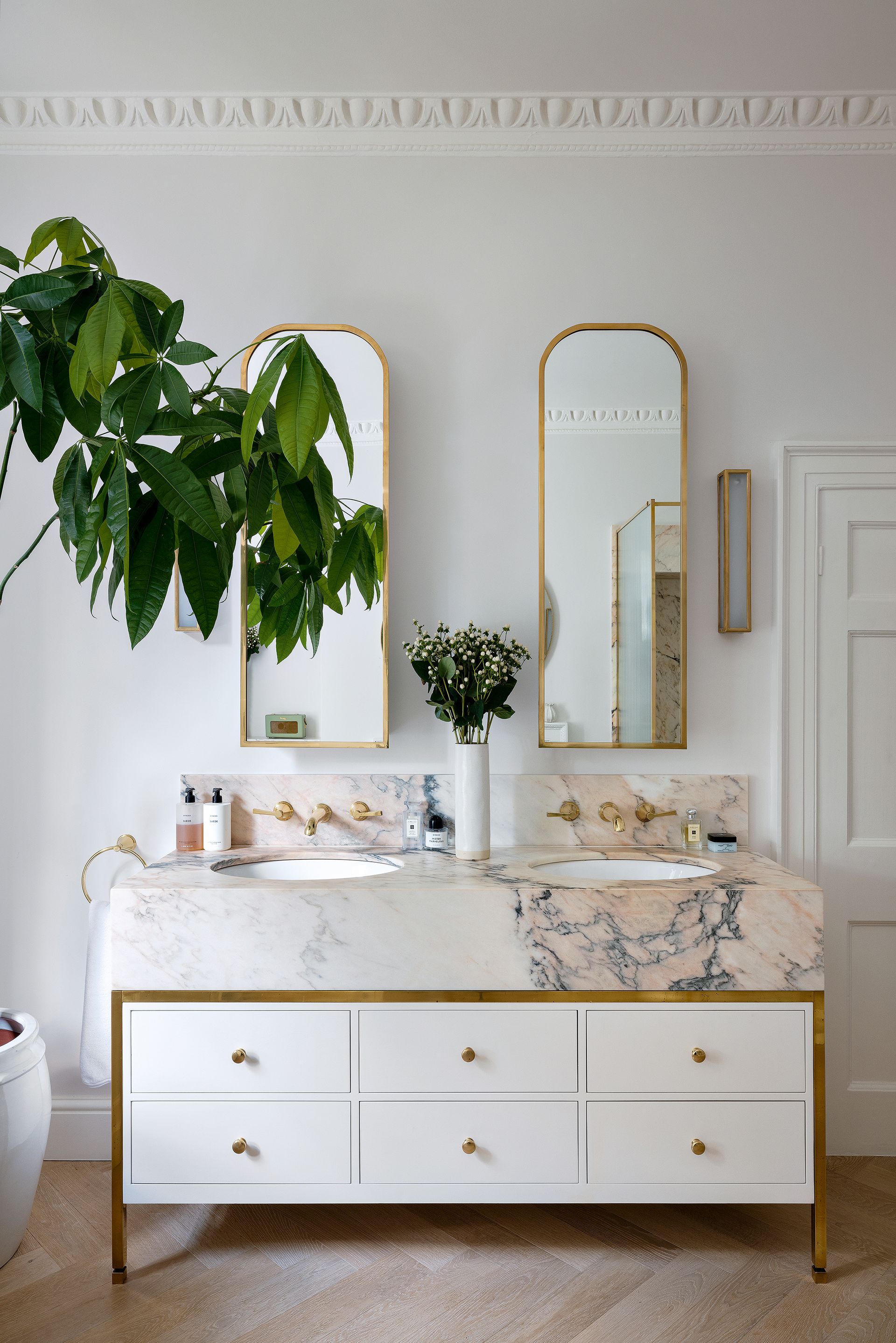 Decorating with plants is useful in bathrooms, however adding pots in fall color schemes such as warm terracottas, blacks, chocolate browns, and burnt oranges will help invoke the seasonal spirit. 
'Add further interest by including the best bathroom plants in unique plant pots. Instead of choosing traditional square storage baskets, look for oversized organic-shaped woven designs. Baskets are ideal for storage but also add texture and depth to pared-back bathrooms,' suggest Jenna and Mariana.
3. Incorporate warm schemes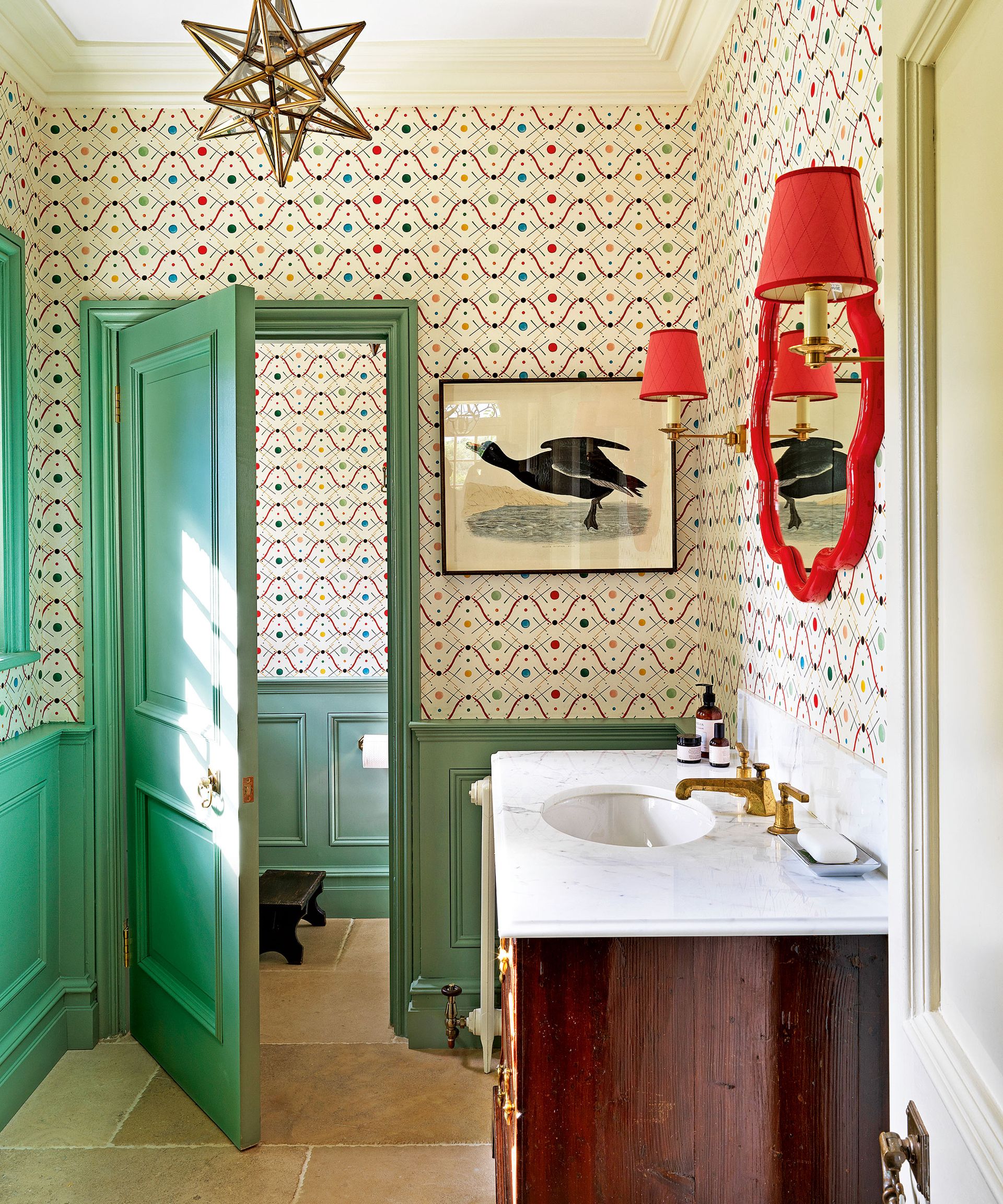 Rethinking bathroom color ideas? The small stuff – towels, plants, accessories – but if you are looking for a bigger bathroom update, renovating your space and adding new bathroom tile ideas or bathroom paints will curate an fall appeal all year round for those who cannot get enough of the season. 
'I am a huge fan of warm colors in a bathroom and fall could be the perfect time to make this update,' suggests Steve Corcoran, decorating consultancy manager at House of Hackney (opens in new tab). 
'Typically people choose cooler, fresher tones in a bathroom, however going for a warmer hue makes for a much more inviting and decadent space. Earthy pinks and oranges can be used on the tiles, paint and even wallpaper to create a cozy scheme.'
4. Hang a festive wreath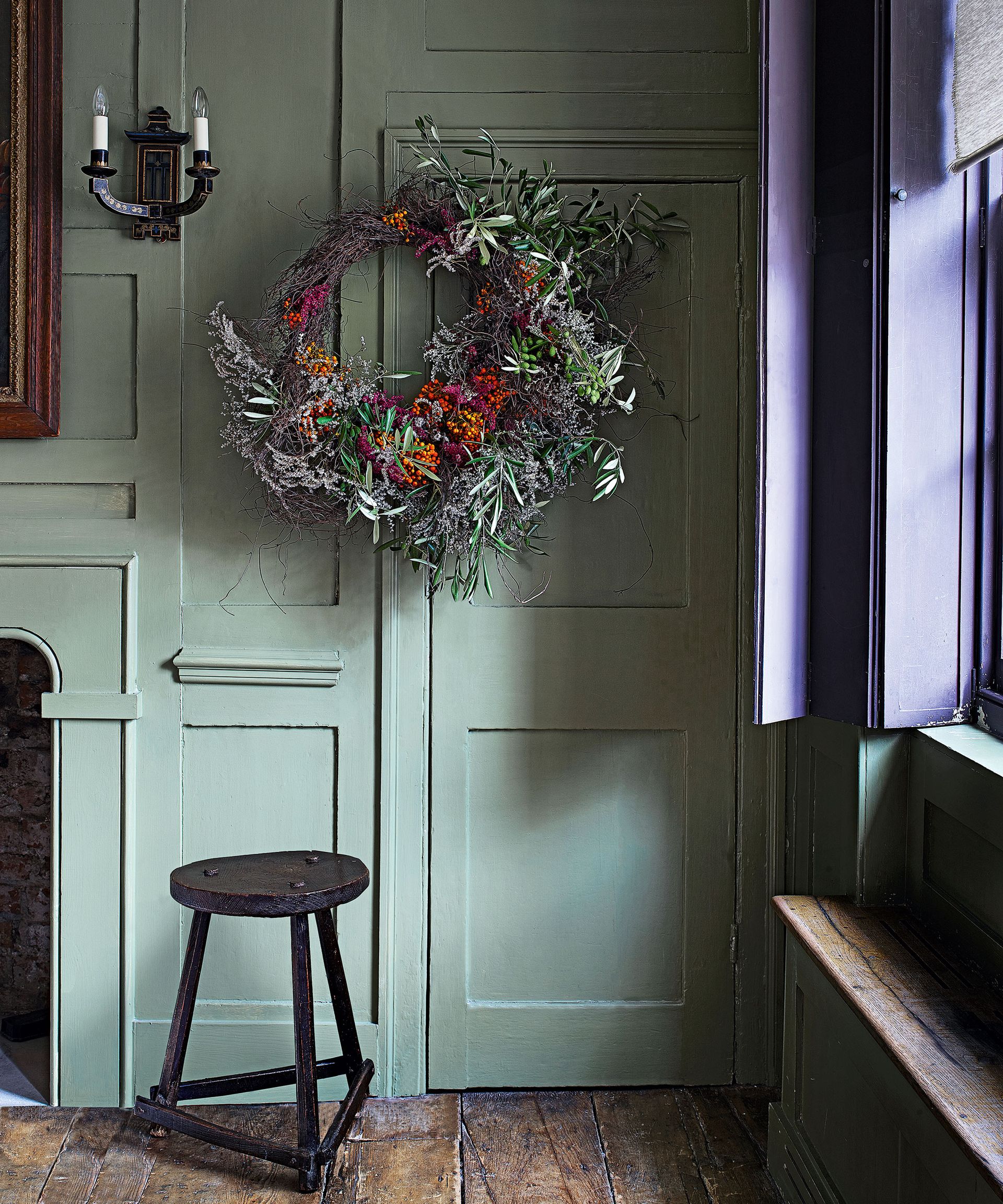 When decorating your bathroom for the fall, bathroom wall ideas are a great way to add temporary fall decor to the space without making permanent changes to the room's look. They can also be a great way to decorate for fall on a budget. Consider making a fall wreath, inspired by fall wreath ideas for a personal touch that can be moved around the home year on year. 
5. Welcome fall year round with wallpaper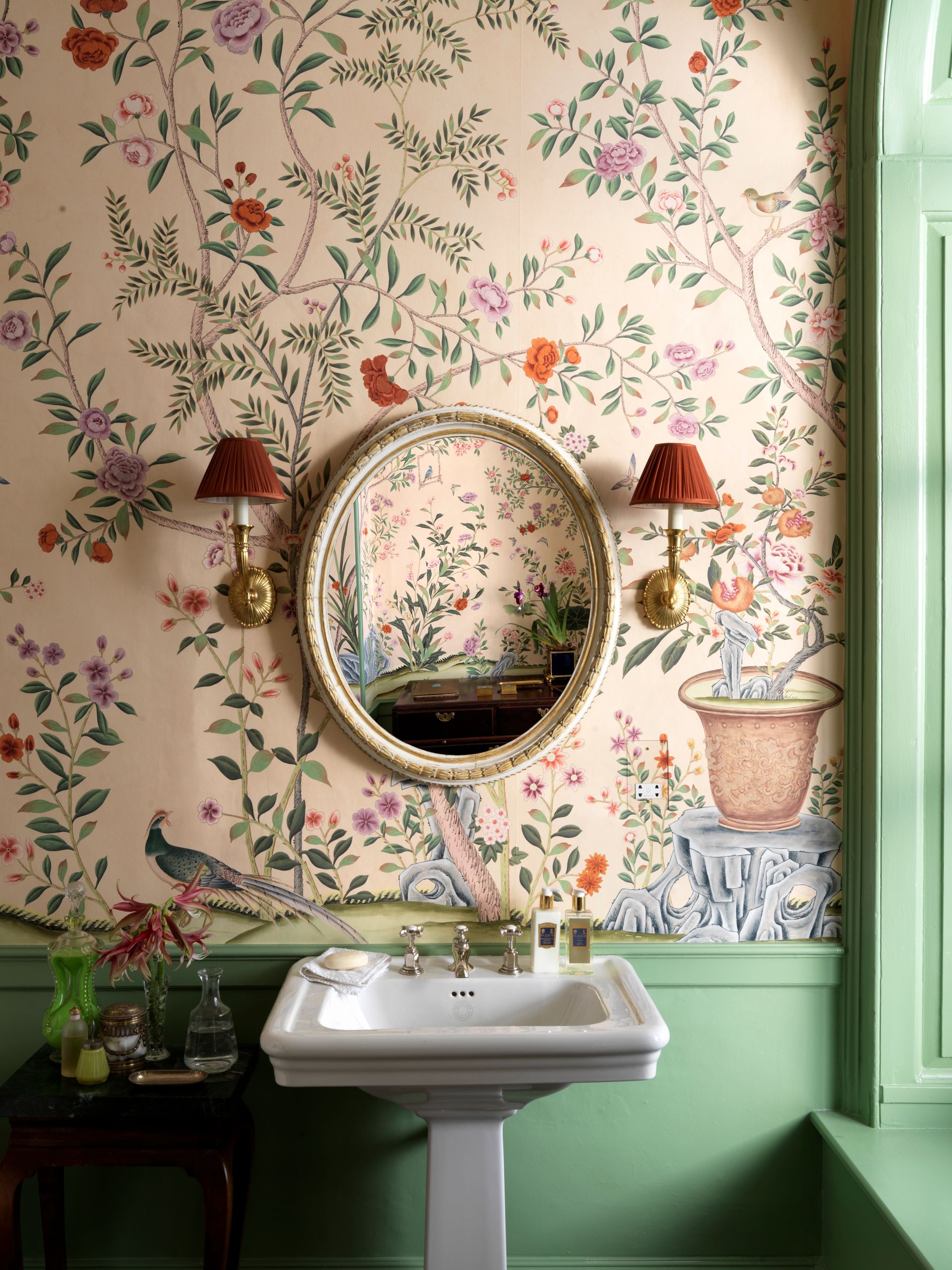 Bathroom wallpaper ideas can add texture and pattern to a space that otherwise can feel one-dimensional with its emphasis on practical tiles. 
'Decorating a bathroom with floral wallpaper in natural colors is a great way to incorporate an autumnal feel into a bathroom, without being too overt,' suggests Louise Wicksteed, design director at Sims Hilditch (opens in new tab). 'Subtle designs will give a nod to fall while also looking great year-round.' 
6. Lay out a rug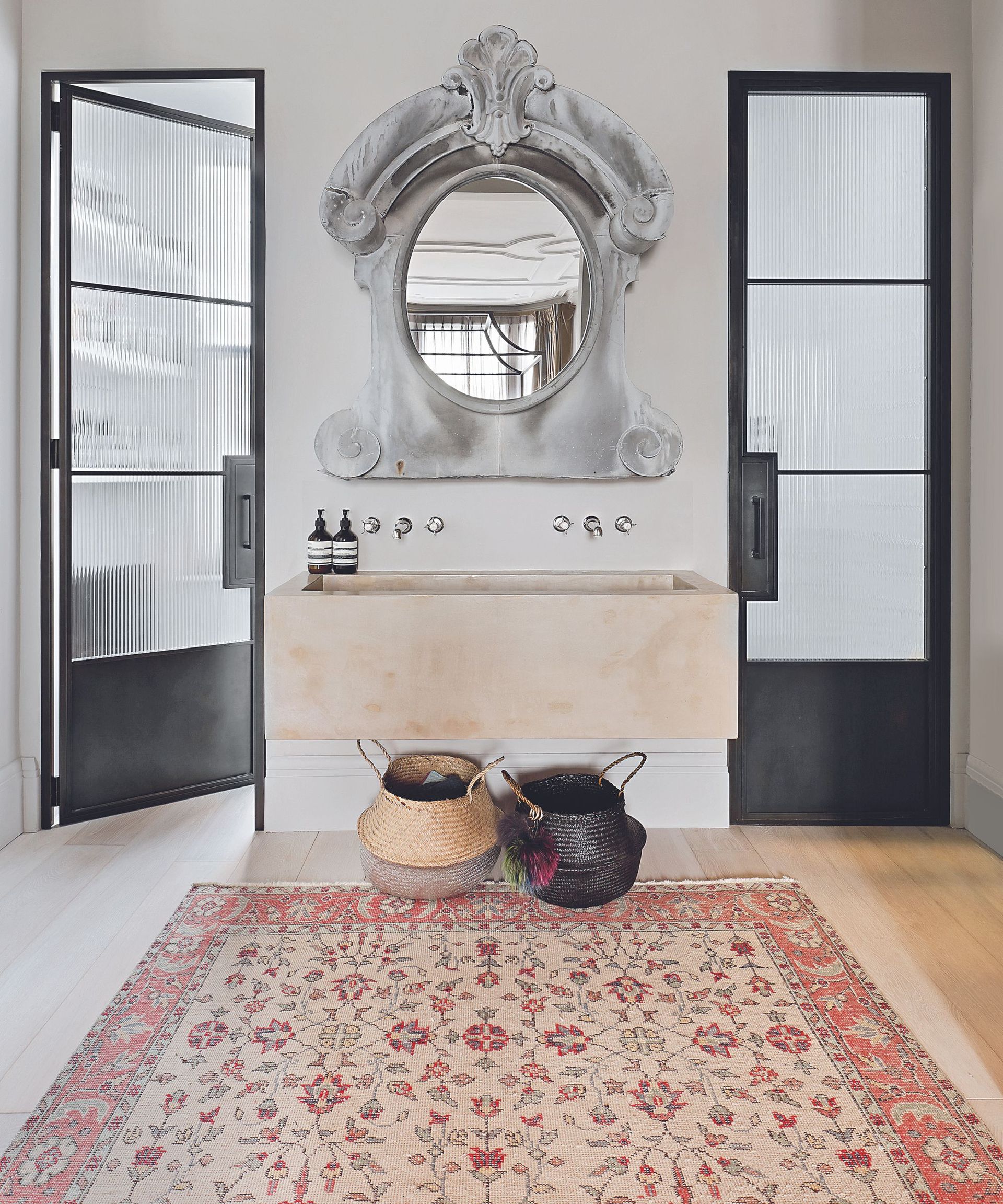 Adding a bathmat to a bathroom is standard practice however incorporating bathroom rug ideas can help to make the space feel cozy and more luxurious underfoot when you are simply getting ready each morning or before bed. 
Adding a rug in warm fall colors can enhance the autumnal scheme but be changed out seasonally so, come summertime, you could add a beach jute rug, for example. 
7. Decorate with dried florals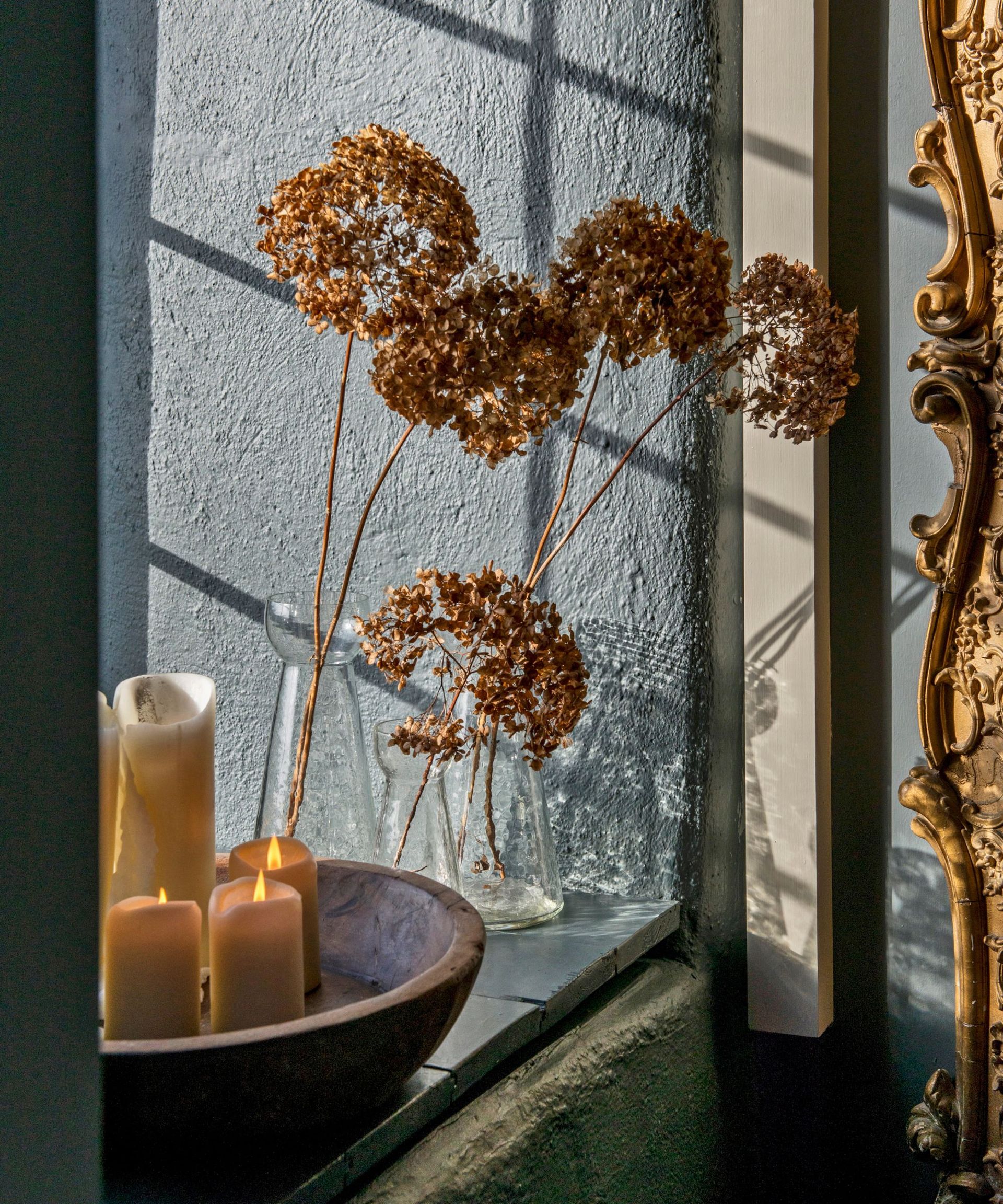 Decorating with dried flowers is a popular way to introduce texture in the fall months and makes for excellent bathroom fall decorations. 
'Utilizing natural elements such as leaves, branches, or dried florals will help your space feel more like fall,' says Audrey. 'We love to incorporate eucalyptus into bathrooms, especially during colder months. Eucalyptus smells amazing and tends to look even better when it's dried. Try putting it in a vessel by the sink or hanging a sprig of it from the shower head.' 
8. Speak to the senses with fall scents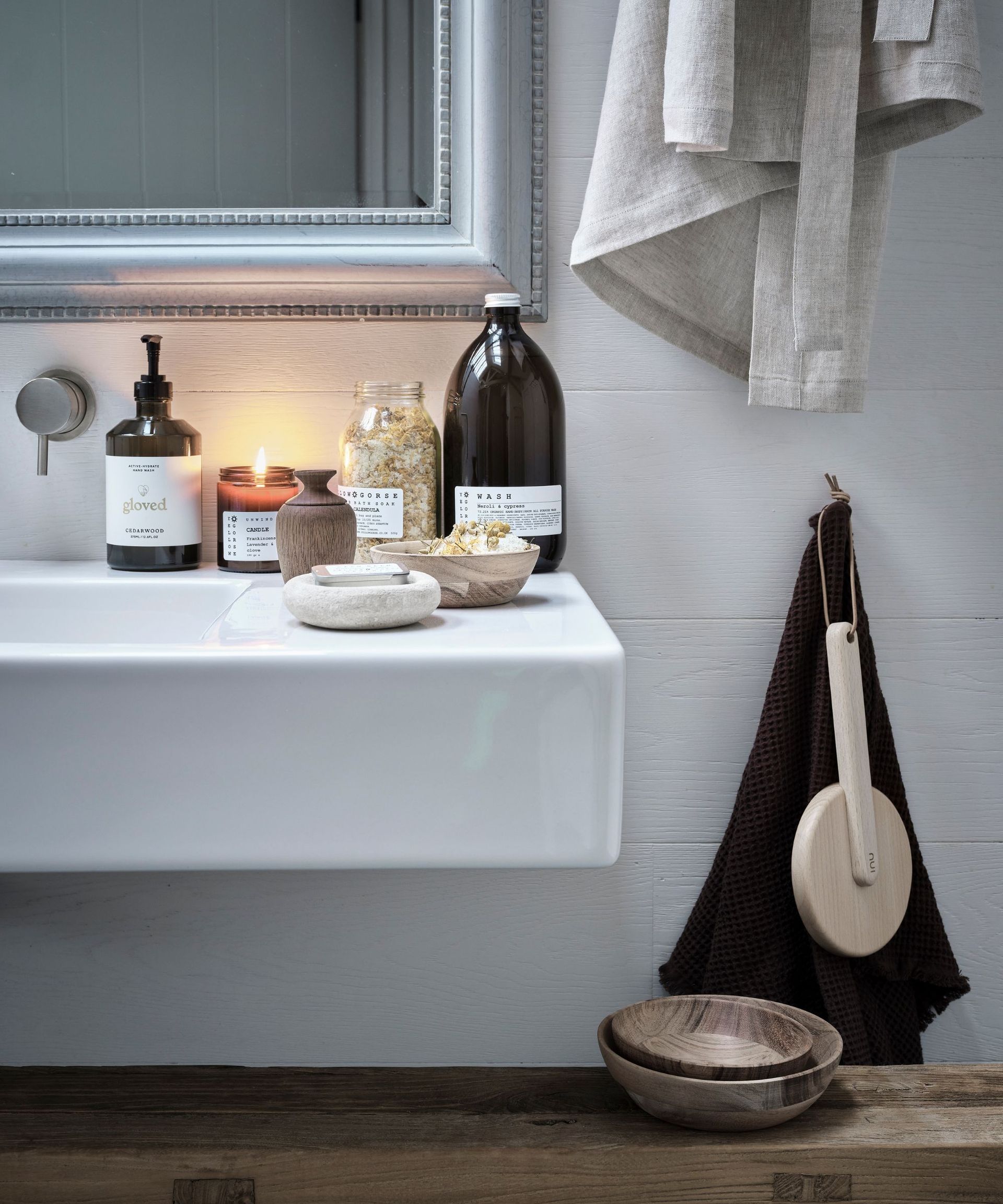 While decor is usually considered visual additions, festive scents in soaps or the best luxury candles will help to update your bathroom vanity ideas and upgrade your bathroom for fall by appealing to the senses. 
'Updating your hand soap to one with a spicy scent is another quick way to make a bathroom feel more festive,' Audrey explains. Adding scents such as spiced cinnamon, amber, or bergamot will instantly enhance your space and add a touch of spa-like luxury. 
9. Layer the space with lighting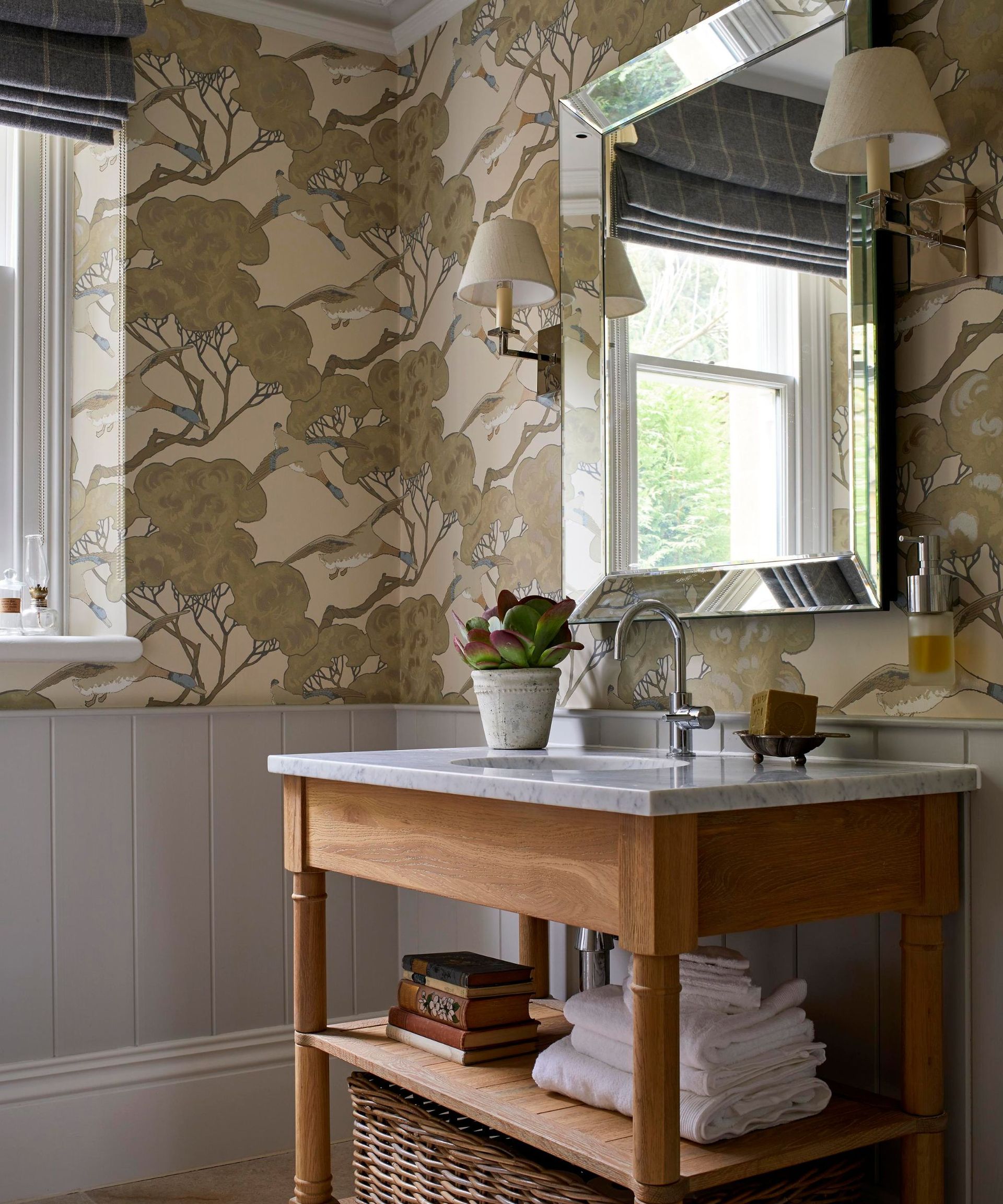 'One sure way to introduce a cozy fall setting in this space is with the help of installing ambient bathroom lighting. Perhaps the use of seasonal color could be an exciting option,' suggests Giuliano Ghidini, consumer commercial leader at Signify UKI (opens in new tab), owner of Phillips Hue (opens in new tab).
'Decorate your home with light that matches your design. With the pre-set scenes and 16 million colors possible with smart lighting, you can choose the perfect setting like warm orange and pink for the welcome to have the perfect evening. Get a seamless blend of multiple colors of light at the same time in a single lamp. The colors flow together naturally, casting light to showcase a unique effect.'
How can I make my plain bathroom look nice for fall?  
To make a plain bathroom look nice, consider investing in good-quality bathroom storage to reduce clutter and add an interesting focal point to your bathroom – especially if you choose a vintage vanity or cabinet to add an antique touch to your space. 
Adding high-end linens that offer a superior tactile experience for yourself and your guests, as well as swapping out hardware that is touched frequently will uplift the space and make the room feel more expensive too. 
How do you accessorize a bathroom for fall? 
Accessorizing a bathroom is a simple task that usually only requires investing in quality items that are also practical. Picking items such as soap bottles, towels, and vanity organizers that have an aesthetic appeal as well as function well for your belongings will instantly improve the look of a bathroom for little cost.