Continuously rising house prices have sparked warnings of a looming crash in the real estate market, but one analysis has shown that a city with soaring prices is already seeing a dip in property values over the last month.
Data last month from the Federal Housing Finance Agency (FHFA) showed that across the country, house prices rose in April by 1.6 percent, compared with the previous month. But year-on-year figures showed the real scope of runaway house prices and the squeeze put on first-time buyers. The FHFA said values spiked by nearly a fifth (18.8 percent) and over the last two years, up by more than a third (34 percent).
As previously reported by Newsweek, Phoenix was named by Moody's Analytics as among the top five cities in the U.S. with overvalued homes. Its assessment said that properties in the South and Southwest got "juiced up by remote work" during the pandemic.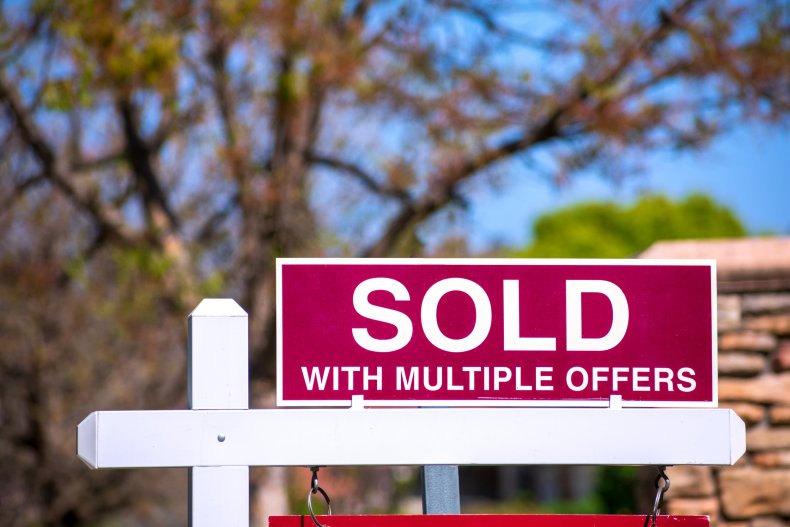 However, one analysis just out has shown that prices in the Arizona state capital may be on their way down. Data tweeted by independent real estate market analyst John Wake showed that prices in Phoenix had been growing steadily throughout 2021 from $365,000 to $458,000, before hitting a peak of $515,000 in May 2022.
But between May and June, the median price has gone down by $10,000 and now sits at $505,000. It prompted housing journalist Lance Lambert to share the graph and the tweet, "Did the home price top already get blown off in Phoenix?" Newsweek has contacted Wake for comment.
Such a dip could be significant in a city which has been described as one of the hottest real estate markets in the U.S. The Case-Shiller house price index, which measures repeat sales, was up 32.9 percent over the year to February, well above the national average of 19.8 percent, according to Norada Real Estate Investments.
The firm has described the housing shortage in the Phoenix area as "just dire." Compared with a healthy market in which there is still half a year's worth of homes for sale at any given time if no new properties enter the market, at the moment it said there are only enough such properties for one month.
Among the other five U.S. cities Moody's said were experiencing the highest real estate costs were Idaho's Boise City and Coeur d'Alene, Colorado Springs and Las Vegas.
But there are some signals of a market that is cooling. Chief Strategist of Quill Intelligence, Danielle DiMartino Booth, tweeted last week that in the Austin, Phoenix & Las Vegas metro areas "a third of June listings had price cuts."
"In the month of May, everything came to a screeching halt," she added.
However, as Moody's chief economist Mark Zandi previously told Newsweek, a 5 to 10 percent dip in prices in cities where prices are cooling "is very much on the table" – but he did not believe the market was heading for a crash.