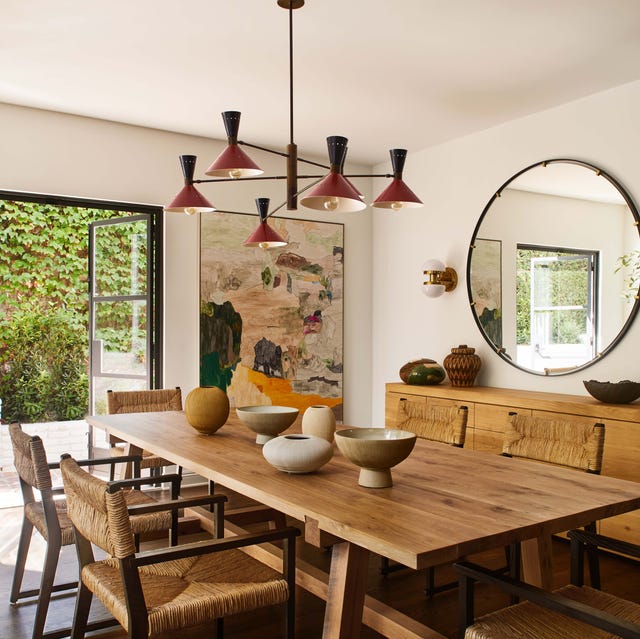 Sam Frost Photography
Good taste doesn't fit in a box. Cool and contemporary, warm and traditional, clean modern, and more—every style has a place in House Beautiful so long as it inspires our readers and tells a compelling story. With such a range of looks on our site and in our magazine, it's always a treat for our editors to see which home tours resonate most. This year's top 15 home tours run the gamut, from a historical townhouse in New York City's West Village (which graced the cover of our Ultimate Shopping issue) to a 1930s cabin in Jackson, Wyoming. The common thread is transformation. Take a look and find the one you want to move into (good luck choosing just one)!
Advertisement – Continue Reading Below
15
Carriage House by Shannon Roberts (Savannah, GA)
In 2020, life handed Knoxville, TN, interior designer Shannon Roberts some particularly sour lemons: a cancer diagnosis just as Covid-19 began swirling the globe. He turned it into lemonade—and fast. "Two weeks before the world shut down, my husband and I purchased a second home in Savannah, Georgia," says Roberts. "The carriage house (all 800 square feet it) was fair game for a renovation."
TOUR THE HOME
14
Colorful Bedroom by Angie Lane (Tecumseh, MI)
The bedroom in Angie Lane's circa-1860 Italianate farmhouse in Tecumseh, Michigan, needed addressing. "It was a mattress on a platform frame and not much else," confesses the designer, who finally committed to sprucing it up to shoot for the cover of her book, Midwest Modern Manifesto. "I ran with the idea of the room as an abstract version of a landscape painting," she explains.
TOUR THE HOME
13
Colonial Revival by Isabel Ladd (Lexington, KY)
"Explosive, vivid, saturated." This is how Lexington, Kentucky–based interior designer Isabel Ladd describes her home, a 1936 colonial that she renovated in "…colors and patterns that bring me immense joy. It reflects how I dress and live: very passionately and in full color."
TOUR THE HOME
12
Historic Townhouse by the Novogratzes (NYC)
For decades a bubble gum–pink stucco townhouse, the exterior of Cortney and Robert Novogratz's new family home in New York City is now gold. This, of course, is what the Novogratzes, a married design and branding powerhouse, do: "We aren't afraid to take a falling-down building and brighten it up. It can totally transform the energy of the neighborhood," Cortney says.
TOUR THE HOME
11
Whimsical Studio by Rudy Saunders (NYC)
As an interior designer at Dorothy Draper & Company Inc., Rudy Saunders has had plenty of experience working in exquisite homes. But he had his work cut out for him at the pre-war studio apartment on the Upper East Side where he lives: The space is tiny—only about 375 square feet—and it's a rental, meaning major renovations were out of the question.
TOUR THE HOME
10
Cottage Bungalow by Shavonda Gardner (Sacramento, CA)
While it might have been the moody living room that graced House Beautiful's cover, readers were obsessed with pretty much ALL of Shavonda Gardner's inviting California cottage. One standout room was her English country-inspired kitchen, whose mix of colors is, shall we say, chef's kiss.
TOUR THE HOME

9
Modern Home by Jess Cooney (Berkshires, MA)
Sited in Egremont, Massachusetts, the house that Jess Cooney's clients had bought featured a new, all-white kitchen, along with sky-high windows overlooking dreamy mountain views. Then a tree fell through the roof during a storm (thankfully, the house was empty), and the area sustained significant water damage. "The accident made the decision for them," says Cooney. "We gutted the kitchen, painting the cabinetry bright blue so it really popped in the open living space."
TOUR THE HOME
8
English Manor by Kim Armstrong (Texas)
Designer Kim Armstrong's clients, newly retired, were ready to move to the countryside. Their family was expanding as their children were creating families of their own. A new house with an open-concept floor plan had high ceilings that made window treatments a puzzle. But "the most challenging" part of the project, says Armstrong, "was to create intimate space" in the large open floor plan.
TOUR THE HOME
7
1930s Cabin by Emily Janak and Northworks (Jackson, WY)
Tearing into the walls of their new 1950s ranch house, designer Emily Janak and her husband, architect Adam Janak of Northworks, discovered an architecture lover's version of buried treasure: an original 1936 log cabin that had been covered up with drywall in the '60s. "It was like finding gold," says Janak. Because the pine timber had been sealed up for decades, it was in pristine condition.
TOUR THE HOME
6
Pop House by Atelier ND (Amsterdam)
Carice van Houten, best known for her role as Melisandre on HBO's Game of Thrones, and her boyfriend, actor Guy Pearce, had just bought a 1918 brownstone in a suburb of the Dutch capital. The walls were all white, but Van Houten describes herself as "a walking color explosion, a female Peter Pan, a bit like Pippi Longstocking… My trademark is my eclecticism." A kaleidoscopic upgrade was needed.
TOUR THE HOME
5
HB's 2022 Whole Home (Atlanta)
Breathing new life into an old house takes a village. HB partnered with Ladisic Fine Homes, architectural firm Pak Heydt & Associates, as well as even interior designers to transform this tudor-style house in Atlanta. Designers include: Ariene Bethea, Ashley Gilbreath, Brynn Olson, DuVäl Reynolds, Jonathan Savage, Keia McSwain, Leanne Ford, Lisa Adams, Mark Williams, Niki Papadopoulos, Whittney Parkinson, and Zoë Feldman.
TOUR THE HOME
4
Marble Kitchen by Laura McCroskey (Kansas City)
When it came to designing the 328-square-foot kitchen of her newly built home, Laura McCroskey's client, Becky Hillyard, had one request: "No marble!" The lifestyle influencer, founder of the blog Cella Jane, had asked her 642,000 Instagram followers for advice on which surface material to use—and nearly everyone cautioned against marble, since it's so easy to stain.
TOUR THE HOME
3
Industrial Loft by Alison Victoria (Atlanta)
Alison Victoria had never considered herself an apartment kind of girl. But when she laid eyes on the Stacks lofts, a converted 1880s textile mill in Atlanta, the HGTV star immediately knew she had to buy a unit there—even if only to flip it.
TOUR THE HOME
2
Cottonland Castle by Chip and Jo Gaines (Waco, TX)
The 1913 stone manor house, originally modeled after a small German castle along the Rhine River, has a history and foundation dating back to 1890—not to mention a permanent place in local Waco, Texas, lore. "It sits in the center of a neighborhood downtown, so if you live nearby, you've driven past it hundreds of times," Chip Gaines explains.
TOUR THE HOME
1
Forever Farmhouse by Carolyn Miller
"It was what I call a Frank Lloyd Wrong," says designer Carolyn Miller of the 1930s Pacific Palisades farmhouse that had fallen victim to a series of bad renovations in the 30 years since its owners moved in. The clients needed help, Miller recalls: "They wanted to bring the house into its best possible state. And they trusted me to do it."
TOUR THE HOME
Advertisement – Continue Reading Below