Garden party decoration ideas are the perfect way to celebrate the warm weather in style. 
In the middle of summer, you'll want to spend every moment possible outside. Whereas in the fall, sometimes nothing can be better than cozying up around a fire with friends to enjoy the crisp air. There are ways to make a garden party decorations work for (nearly!) any time of year or space available.
So, from intimate moments to family extravaganzas, we've curated our favorite garden party decoration ideas for every type of party.
Garden decoration ideas
Whether you're simply taking the family outside for dinner, or hosting a big group of friends, bringing things outside creates a new and fresh dynamic for your garden party ideas.
1. Set up for a playful outdoor tea party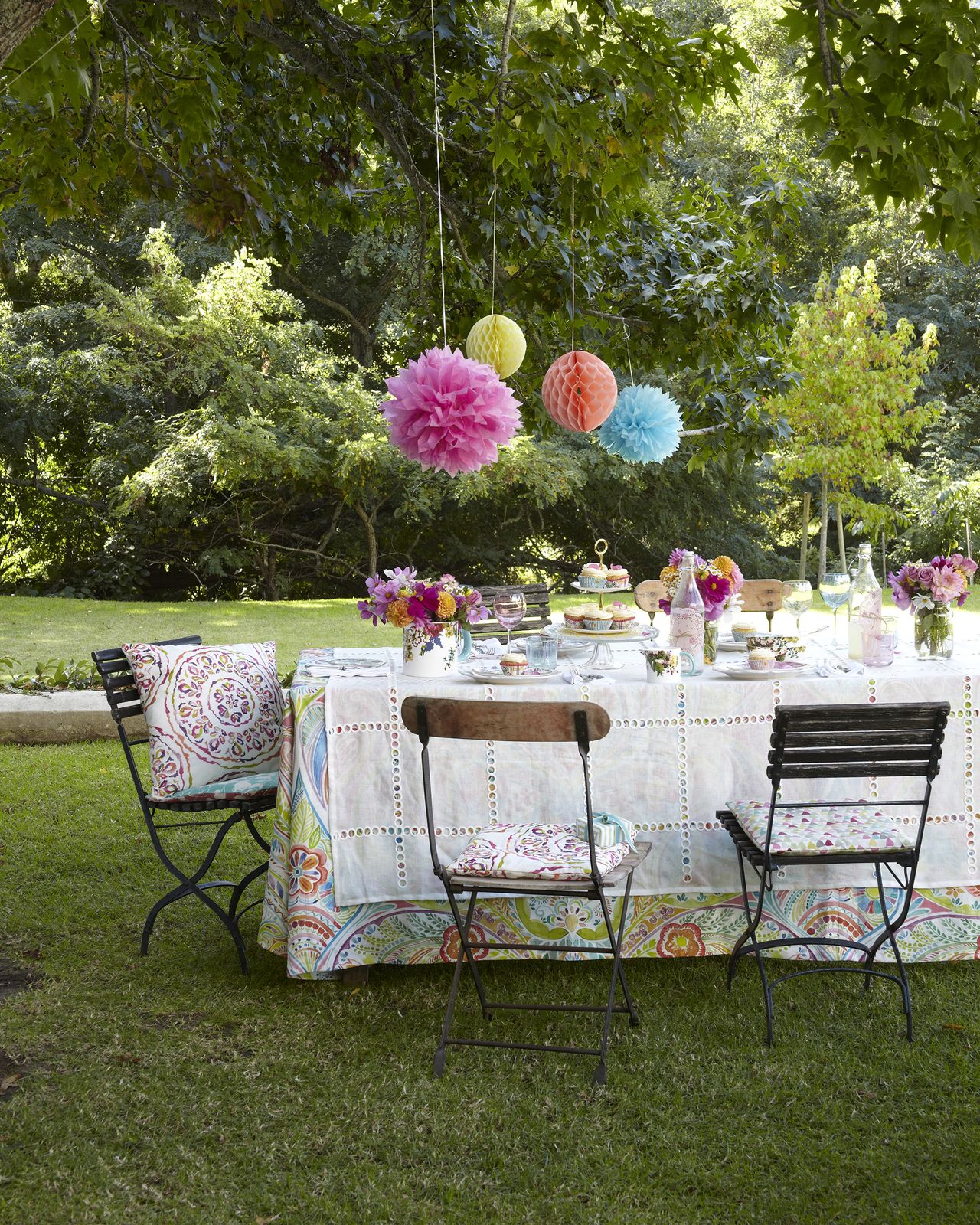 What could be more magical than an afternoon tea party surrounded by friends and the beauty of nature? For an outdoor dining idea with whimsy and wow-factor, position a portable table under a tree in a secluded part of the garden and use the branches overhead to suspend paper pompoms over the table – the perfect garden party decoration idea for a playful festival feel. 
Layer the table with patterned linens and top chairs with plenty of eye-catching seat-pads cushions. Bring the table to life with jugs of fresh flowers and arrange treats on tiered cake stands for a classic afternoon tea feel – these will also bring height to your spread, too. 
2. Create a pretty place setting with vintage finds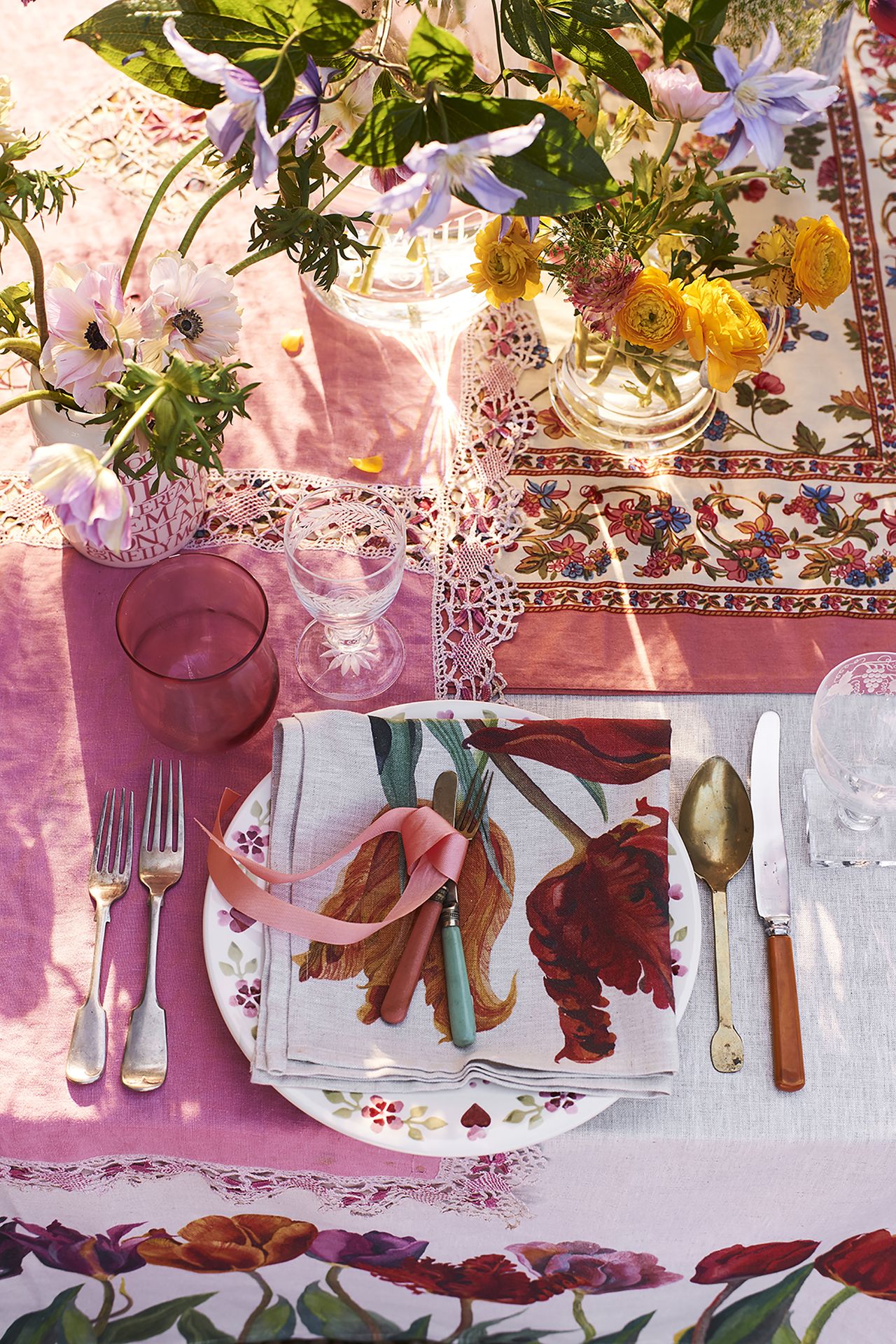 For a quirky, homespun look which is easy to create, why not use what you have and layer up a selection of vintage floral, block-printed and lace-edged tablecloths with mix and match crockery, glassware and cutlery? For a feminine flourish tie cutlery with ribbon and dot about plenty of freshly cut garden flowers.
3. Create a fabric awning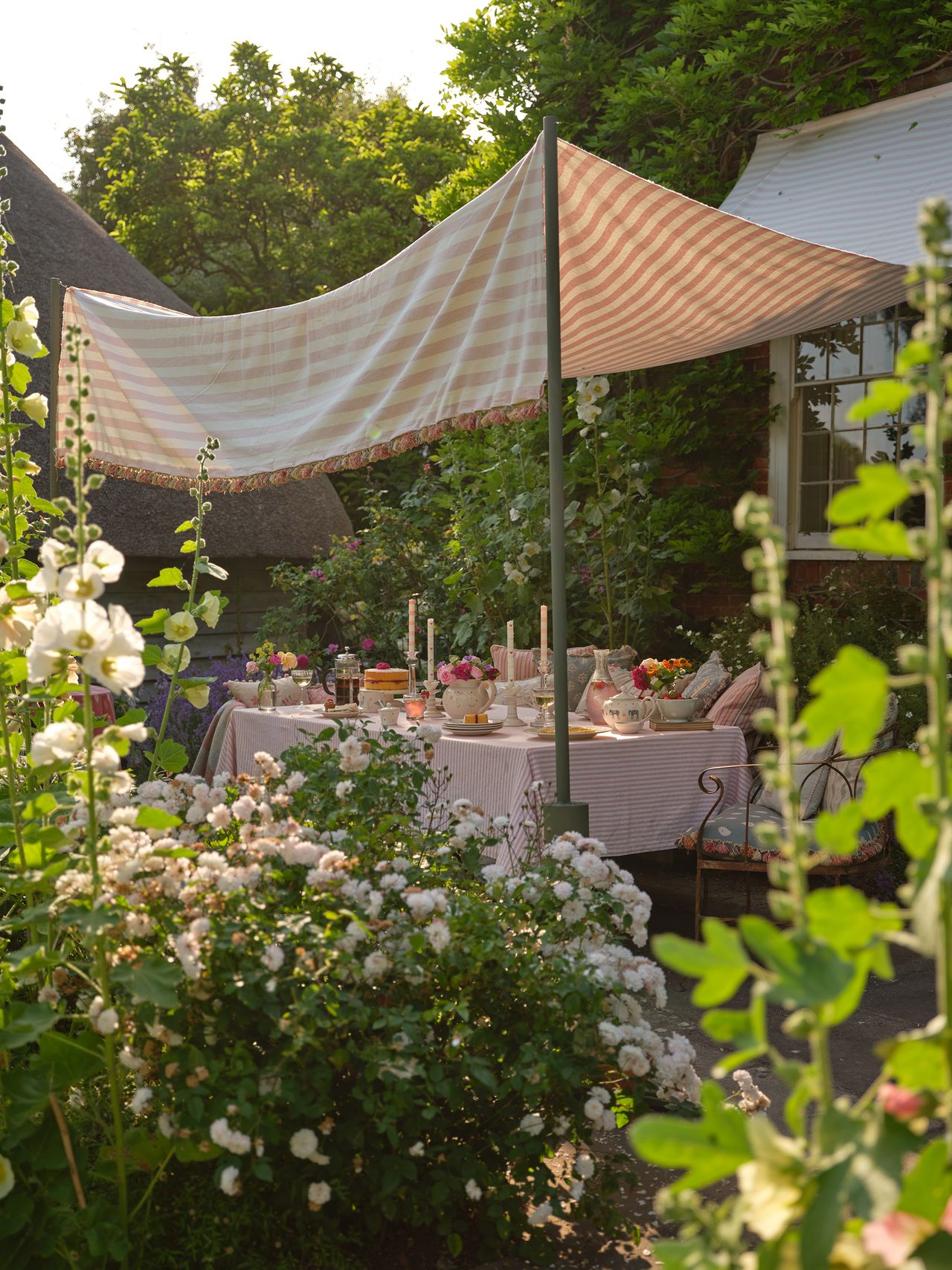 A garden awning is perfect for shading the midday sun during summer lunches – for a pretty country twist try making one using classic striped fabric as demonstrated here by Susie Watson Designs.
'I have always wanted to create an awning on the terrace to shade from the sunlight whilst we eat or read the newspaper,' says founder Susie Watson. 'Our Pale Rose Ivory Wide Stripe seemed like the perfect understated cotton; sophisticated and subtle, the stripes really do suit any outside space.  The towering hollyhocks echo the colours of the jolly tassels, the ideal tone to transition from early spring to high summer.'
4. Choose a practical and stylish drinks trolley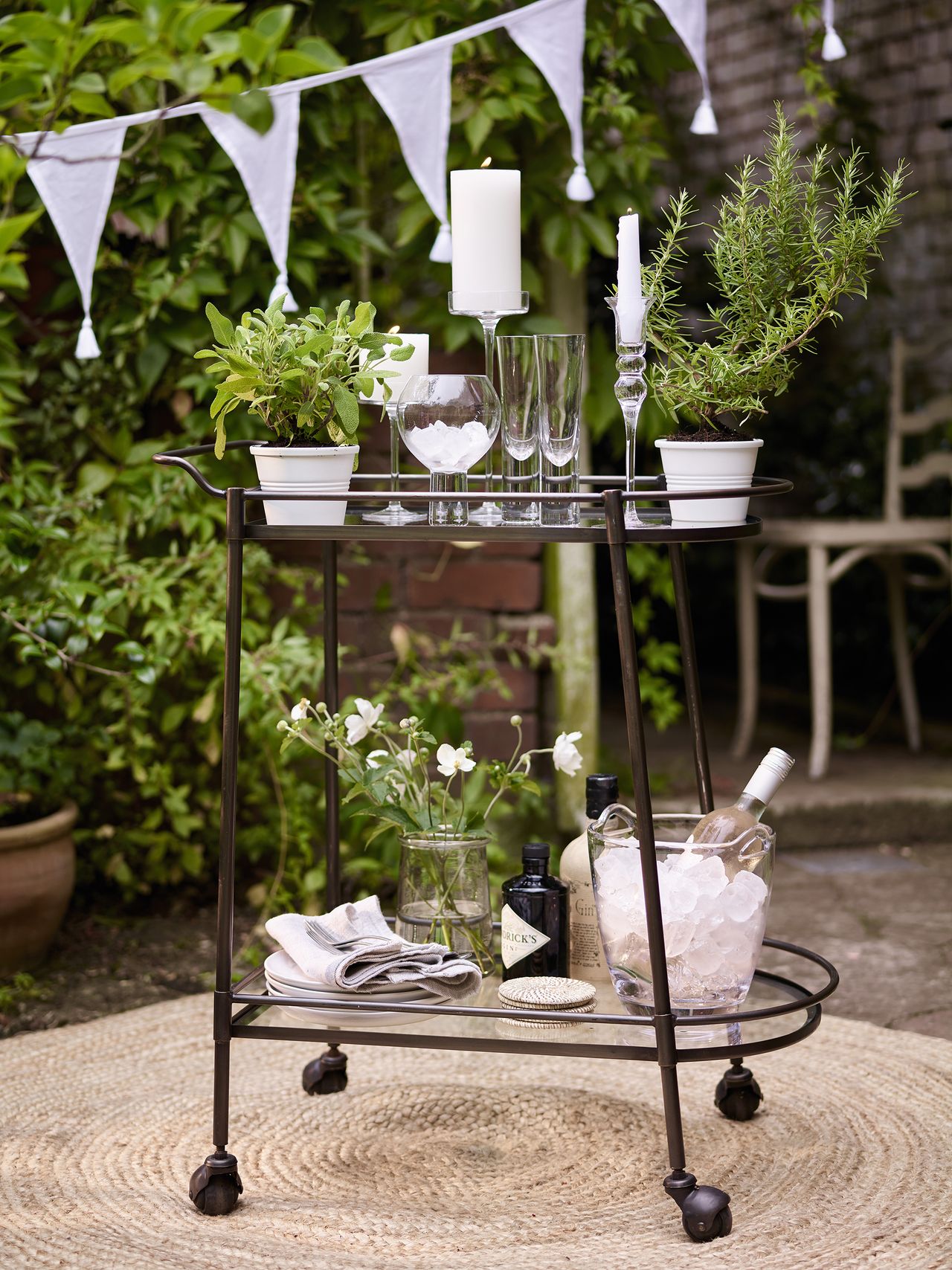 The drinks trolley has made a huge comeback in recent years as more and more of us are discovering the delights of home entertaining. Rather than keep your drinks trolley indoors, why not bring some glamor to your garden party by wheeling it out of the dining room and onto the patio as a portable garden bar idea? 
Make sure your trolley is fully equipped by loading it up with flutes, gin glasses, drinks, an ice bucket and coasters. Add in your favorite aromatic herbs in pots so that you can have a freshly picked supply for your summer cocktails and don't forget some candles to create that magical atmosphere after dark. 
'Beautiful bar cart ideas make a perfect focal point when styled with wine glasses, flutes, goblets and  tumblers all of different heights. Buff your glassware so it sparkles and add your linens and some seasonal flowers. As the sun moves around the garden you can easily reposition the trolley wherever you wish,' says Mark Winstanley our chief creative officer at The White Company. 
5. Decorate a chair with ribbons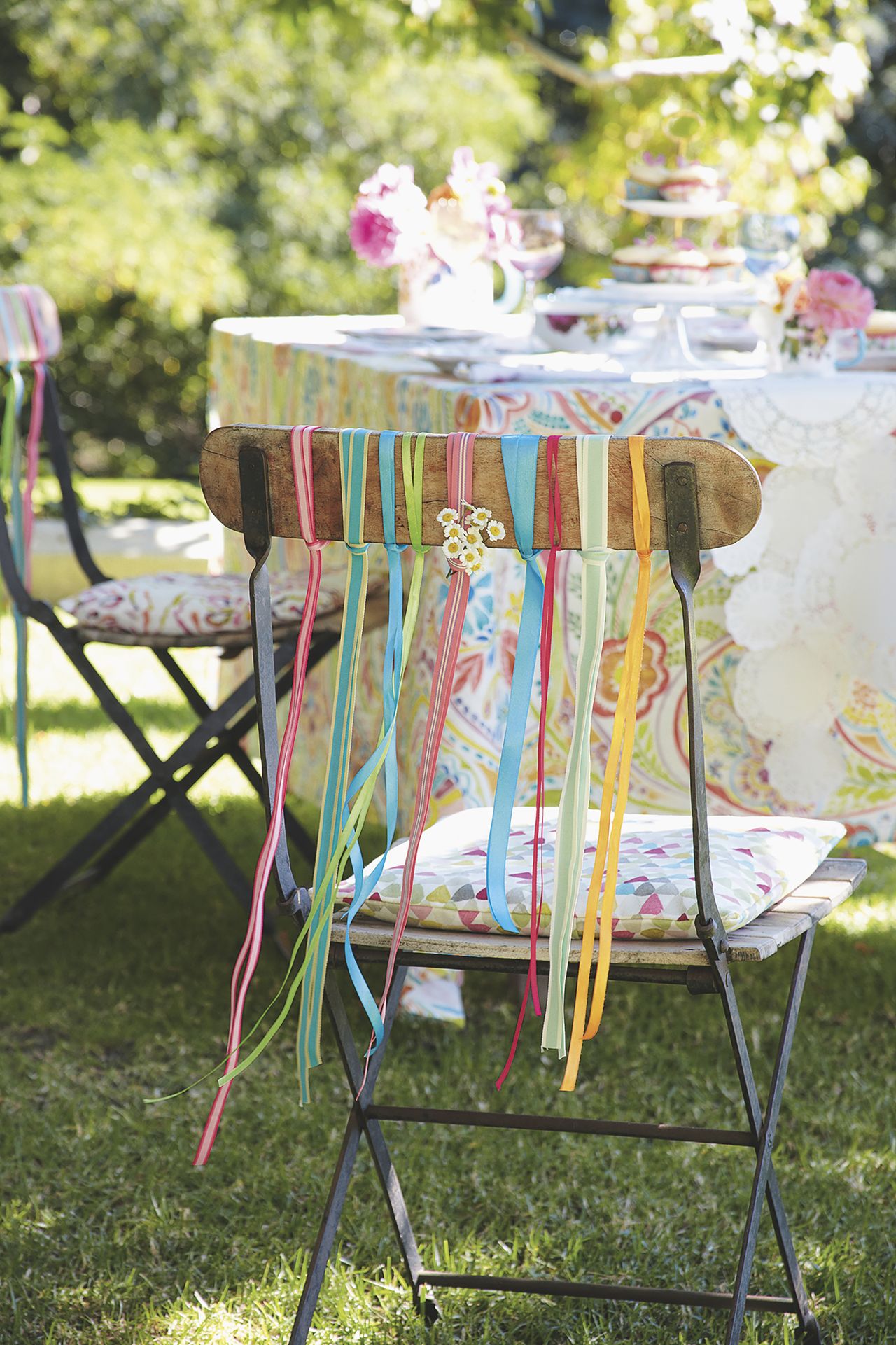 Creating a beautiful effect when fluttering in the breeze, tying ribbons to a chair is an easy and inexpensive way to bring a playful touch to an outdoor dining setting. French-style cafe chairs are an easy design to fasten them to and will also give a relaxed feel. Pick out ribbons to co-ordinate with the colors in your table linen and choose different widths for extra interest, you could also add in floral sprigs, too. 
6. Add floral flourishes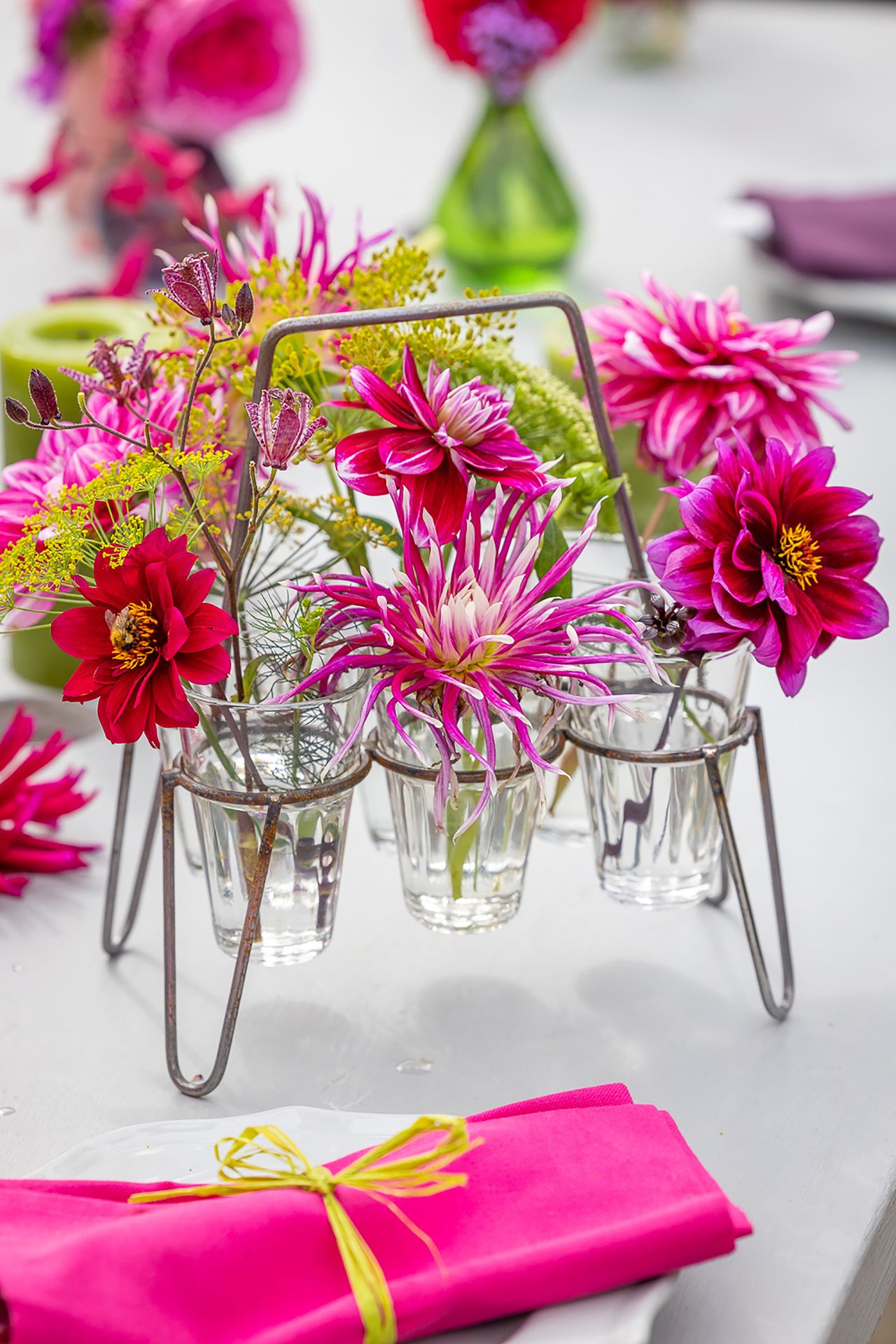 No garden party table would be complete without freshly cut flowers. There's no need for an extravagant bouquet, just a few stems are enough to add a floral flourish, in fact, sometimes less is more. Set in a handy holder, these glasses from Sarah Raven make perfect mini bud vases – you could leave them grouped for a focal point or alternatively place one at each place setting. 
For a mid-summer color pop try a combination of hot pink cacti dahlias and yellow fennel. If you're thinking of growing your own flowers for cutting then be sure to do your research on planning a cut flower garden.
7. Decorate with edible flowers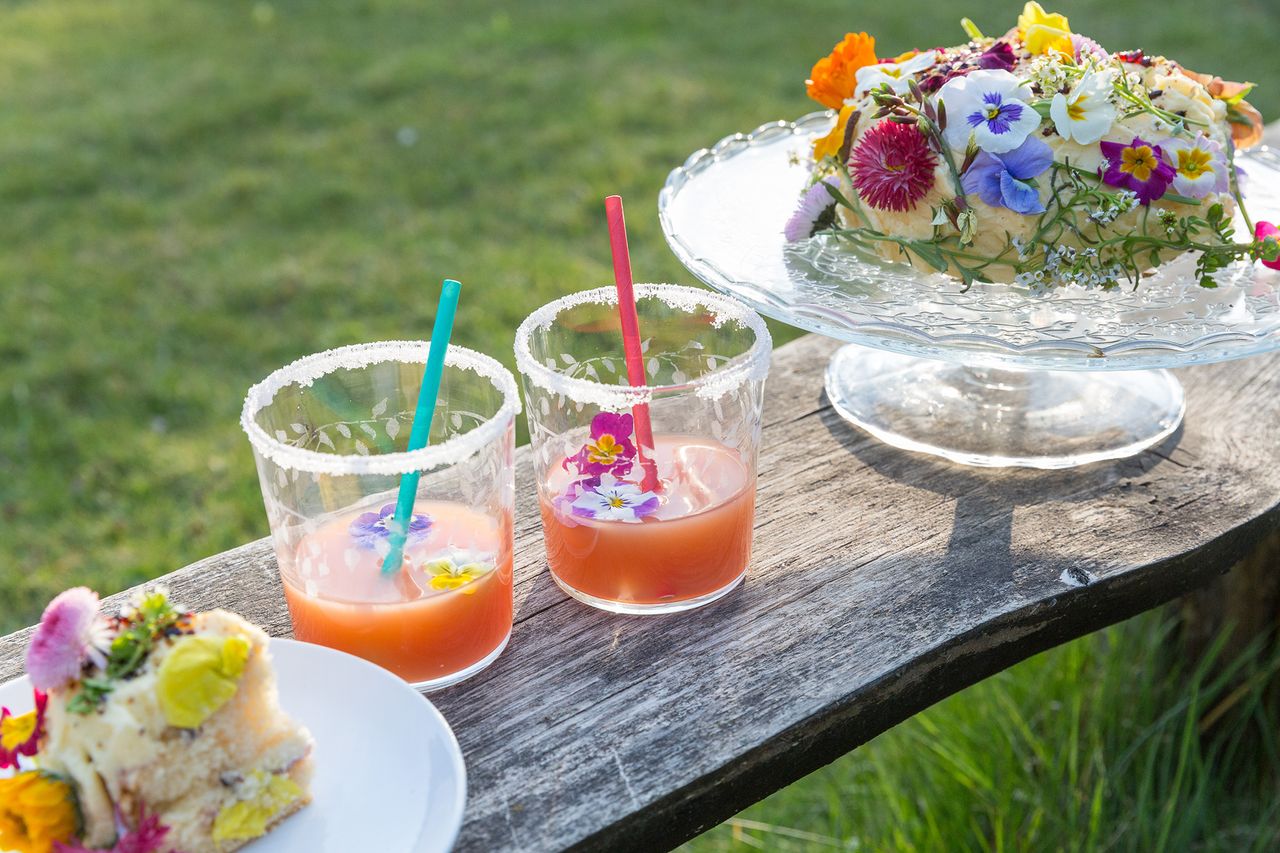 Decorating party food with edible flowers is a fitting finishing touch for a summer spread that is guaranteed to bring sparkle to an al fresco celebration. Try using them to decorate a show-stopping cake for an eye-catching centerpiece, or floating them in arrival drinks – they can also be used in salads, too. If you're thinking of using flowers to decorate food then it's important that they are certified as edible – be sure to do your research first and to buy them from trusted specialist suppliers. 
8. Don't forget the party games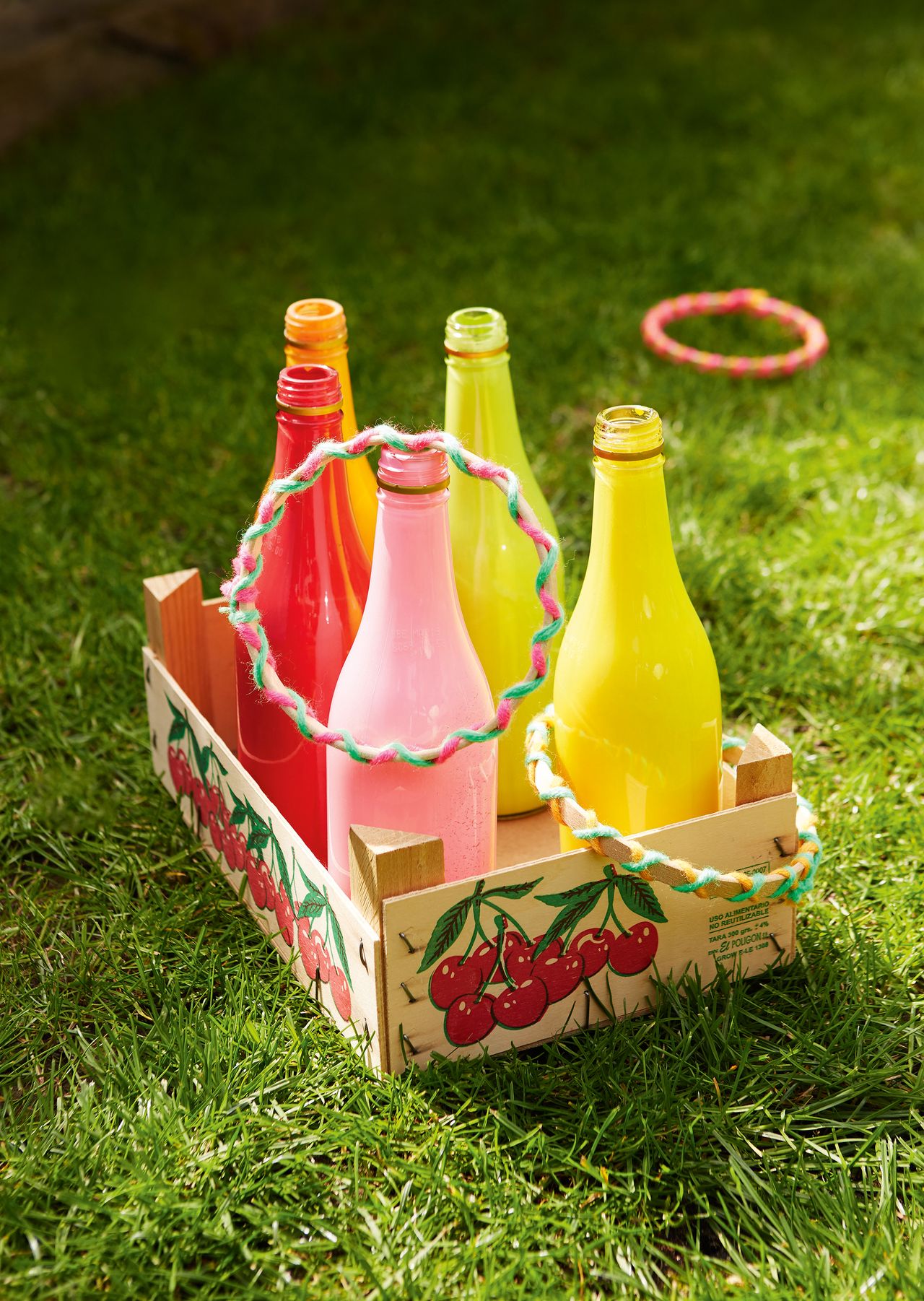 Outdoor living rooms are the perfect space for hosting games night. Outdoor games are a great garden party idea that all the family can enjoy. There are plenty of sets to buy online from classics such as croquet and French boules to oversized versions of indoor favorites like Jenga, chess and Connect Four. Alternatively, if you're feeling crafty, you could create your own garden party game idea such as this simple ring toss game made by filling a retro fruit crate with colored bottles ready for looping with ribbon-bound hoops.
9. Set the mood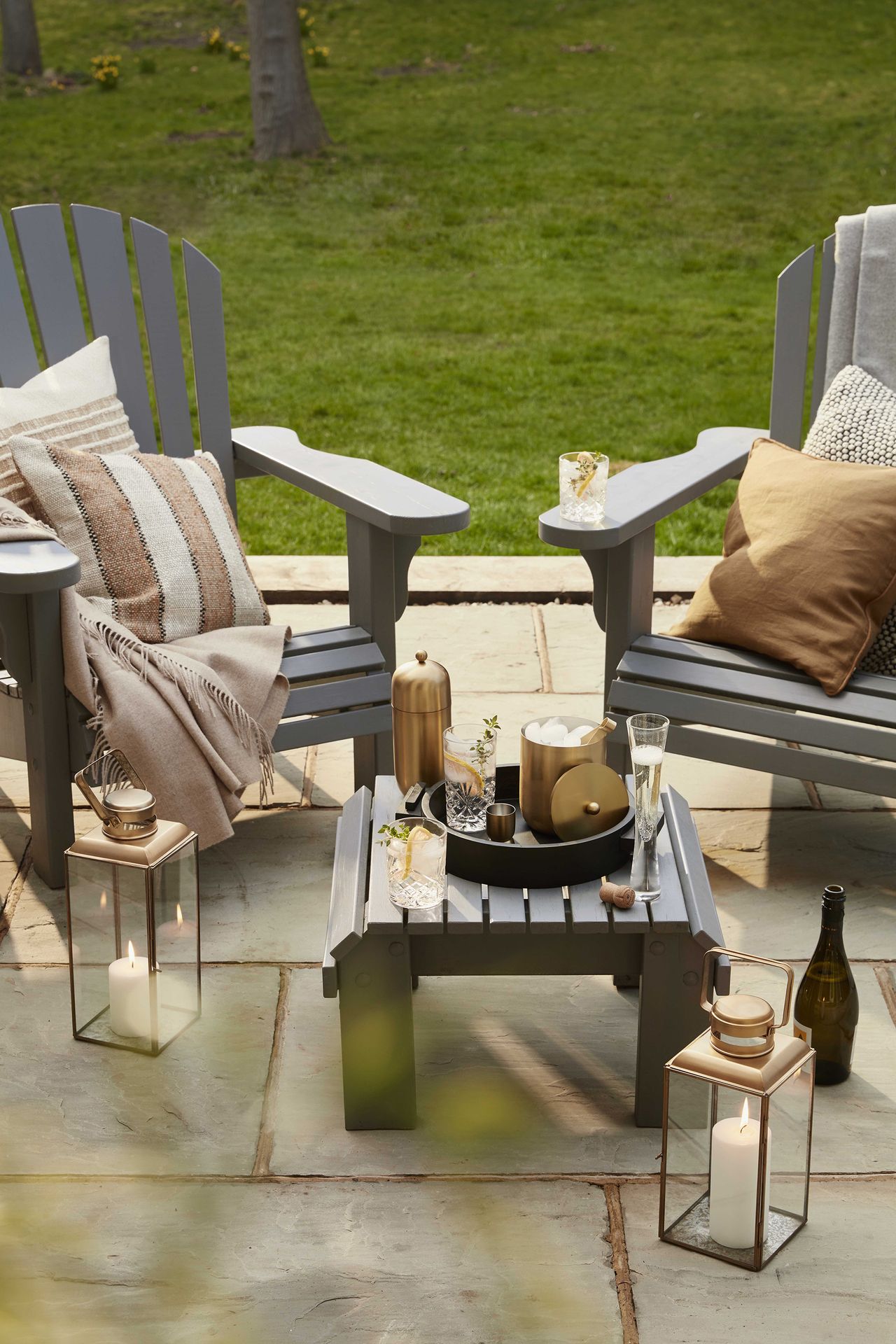 If you're planning on hosting an intimate gathering on the patio then factor in plenty of outdoor party light ideas and cozy textiles to create a magical atmosphere after dark. 'When entertaining outdoors you want to ensure the set up is stylish and comfortable, almost like an extension of the home, says Suzy Humphreys, founder of Layered Lounge. 
'Adding light throws and cushions in summer fabrics and colours adds texture and coziness on chillier evenings. I also like to dot lanterns and candles around the garden as the gentle glow of candlelight adds a real sense of occasion and will beautifully highlight your al fresco bar or dining table.'
10. Keep the kids entertained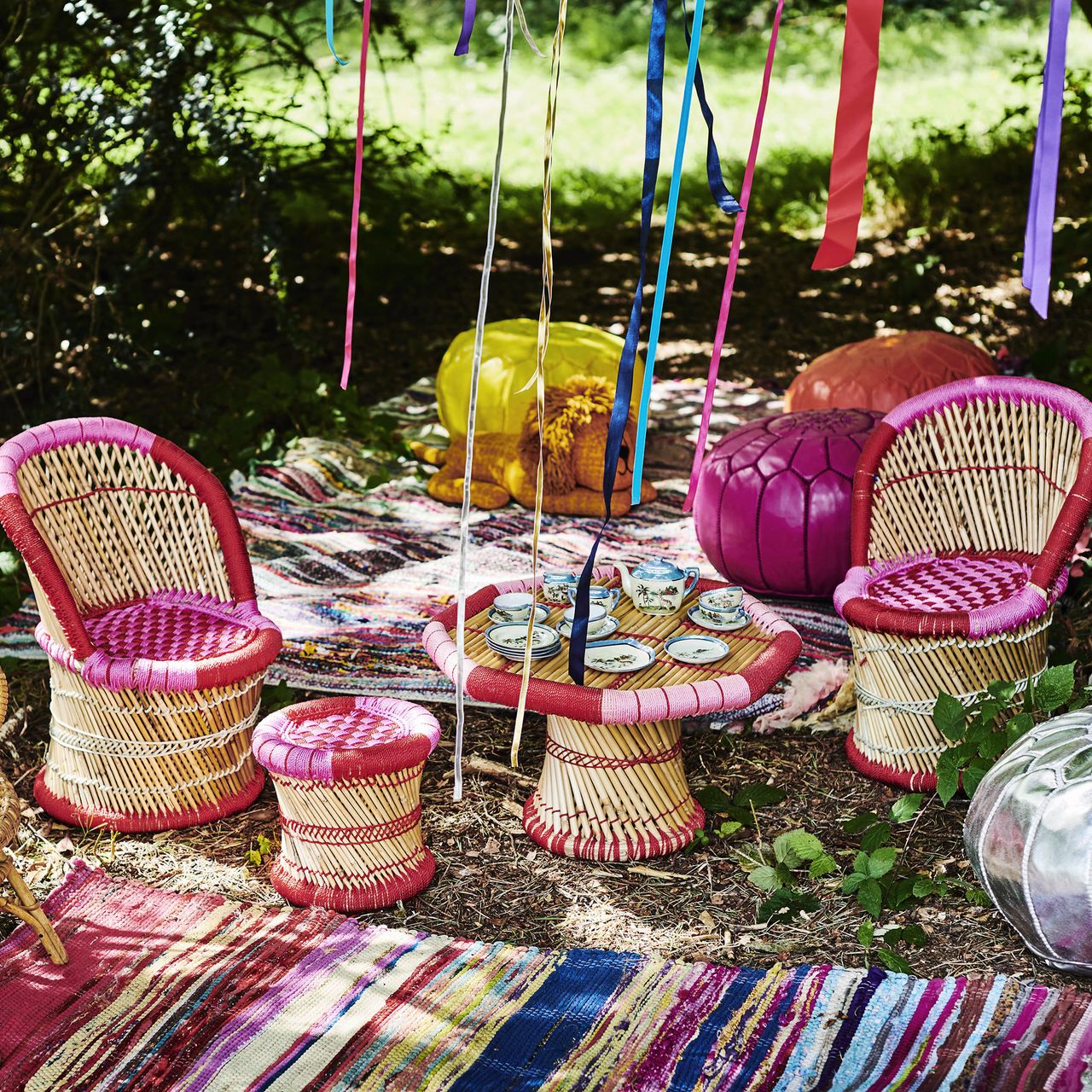 When hosting a garden party for all the family it's important to keep the little ones entertained, so consider styling up a secret area especially for them. For a relaxed, playful look, why not choose a vibrant boho theme? Begin by laying down colorful patterned rag rugs (brilliant for disguising dirt and stains) and then add in miniature rattan furniture and a selection of Moroccan pouffes. Great indoors as well as outdoors, leather pouffes are easy to wipe clean if marked by little grubby hands. For a fun finishing touch tie colorful ribbons from branches overhead. 
How do I decorate my garden for a party?
The best way to decorate your garden for a party is to first think about what type of occasion you will be celebrating. Once you have that important element nailed, consider budget, color schemes and whether your garden party decorations will need to be waterproof or child-friendly.