ST. LOUIS — Dianne Allen had been ignoring the calls from a number she didn't recognize. But after so many, she finally relented.
The woman on the other end asked if she was the owner of 8441 Midwood Avenue in Berkeley. "What's this concerning?" Allen asked. "You could be eligible for up to $2,000 in upfront cash if you agree to use our real estate service," the woman said.
Allen needed some money to catch up on her truck payments. And before the end of that day in August, a notary was at her house, thumbing through papers for her to sign. They gave her a check for $500.
"I kept saying, 'what's the catch?'" Allen said. "If I knew there was gonna be a lien on my house I would have never signed."
But the company, MV Realty, did record a lien against the house, security for the 40-year agreement Allen signed to use the Florida real estate brokerage firm if she ever sells.
Now, Allen can't take out the home equity loan she was hoping to use to remodel her kitchen because of the extra lien on her property. Banks are likely to balk at refinancing. And up to 3% of her home's value — a value determined by MV Realty — is now due to MV Realty, either from a brokerage commission or a termination fee under a clause that seems almost designed to be triggered, said Rob Swearingen, a lawyer with nonprofit law firm Legal Services of Eastern Missouri representing Allen.
MV Realty says its contracts are only designed to commit homeowners to use its brokers if they ever sell the house, and their 3% commission is in line with industry standards. A contract reviewed by the Post-Dispatch contains a provision spelling out a lien will be recorded against the property.
But, in addition to triggering a penalty worth 3% of the home's value if the house is sold using a non-MV Realty broker, the 40-year agreement contains an early termination clause triggered if the house is transferred to heirs and they don't recommit to the contract within a few days.
"It's like a hidden grenade that everyone's gonna forget about and the heirs won't know about," said Swearingen, who is preparing a lawsuit against MV Realty over its practices. "It's an equity theft device, is what this is."
Legal Services estimates MV Realty has entered contracts with at least 100 homeowners in Missouri, about 40 of them in the St. Louis region, according to property records.
The company has recently attracted attention from state attorneys general and members of Congress.
In late November, Ashley Moody, the attorney general of Florida, where the company is based, was the first to file suit against the company, alleging deceptive business practices and telemarketing law violations. The Florida Attorney General lawsuit cites records from one telemarketing service indicating MV Realty left over 6.8 million voicemails advertising their "homeowner benefit agreements."
"For a company to prey on unsuspecting homeowners in a way that locks them into a 40-year obligation designed to siphon away equity from the property is disgraceful," Moody said in a Nov. 29 news release announcing the lawsuit.
Last week, both Pennsylvania Attorney General Josh Shapiro and Massachusetts Attorney General Maura Healey filed a similar lawsuits against the company. Shapiro's office says MV Realty claims it has executed some 32,000 "homeowner benefit agreements" nationwide, up from almost 7,800 in 2021.
"MV Realty is a scam that exploits Pennsylvanians in vulnerable financial situations," Shapiro said in a statement last week.
In a statement, MV Realty spokeswoman Diana London said it is "committed to working with policymakers, regulators, and attorneys general where needed" and that "we are confident that after a full airing of the facts, these discussions will reinforce how MV Realty's business transactions are legal and ethical and that our team operates in full compliance with state and federal laws."
"New and innovative business models, like the (Homeowner Benefit Agreement), can transform established industries and can sometimes draw questions from critics or outright hostility from those whose existing business model is threatened," London said in a statement. "However, to suggest that MV Realty has engaged in unfair or deceptive practices is simply false."
On Wednesday, U.S. Sens. Sherrod Brown, D-Ohio, Ron Wyden, D-Oregon, and Tina Smith, D-Minn., sent a letter to the Federal Trade Commission and the U.S. Consumer Financial Protection Bureau citing recent media reports about MV Realty. It urged the regulatory agencies to work with state attorneys general to investigate MV Realty's business practices and any similar real estate broker listing agreements.
R. Wilson Freyermuth, a real estate law professor at the University of Missouri-Columbia, questions whether the underlying liens are valid if the homeowner has no obligation to sell their house or pay back the upfront cash. The American Land Title Association is already drafting model legislation, he said, to bar tying service contracts of all types, not just real estate brokers, to property titles.
'Securitization scheme'
Many of the headlines in recent weeks — including one from celebrity news site TMZ — have focused on the face of the company, Amanda Zachman, a contestant (who went by Amanda Zuckerman) in the 2013 season of the "Big Brother" CBS reality TV show.
But the impetus for the idea to use future listing contracts may have come from a New York investment firm looking for ways to securitize assets tied to home values and two Florida financial services veterans who led a company that a decade ago faced federal prosecution over financial products tied to life insurance.
MV Realty's CEO is Antony Mitchell, who once served as CEO of Florida financial services company Imperial Holdings. He led Imperial Holdings a decade ago with Jonathan Neuman, a minority investor in MV Realty. Neuman stepped down as Imperial Holdings' president and chief operating officer in 2012 after the FBI raided Imperial Holdings' Boca Raton office and it was disclosed he was under investigation.
The Justice Department in April 2012 reached a nonprosecution agreement with Imperial Holdings over its marketing of financial products tied to life insurance contracts. The Justice Department agreed to not prosecute the company, citing its cooperation, the termination of the life insurance product business and the departure of employees involved in the conduct. Mitchell, who took over as Imperial's president after Neuman stepped down, resigned as chairman a few months after the DOJ agreement.
According to court documents, New York investment firm Innovatus Capital claimed it brought the idea for MV Realty's listing agreements to Mitchell and Neuman. Innovatus CEO David Schiff approached the two, believing they controlled MV Realty, about a way to generate future broker listing agreements as a financial product tied to the value of real estate. The two had "extensive experience originating and securitizing asset classes that had not previously been securitized," MV Realty claims in its own lawsuit against Innovatus.
The two companies have been in litigation since 2018 over nondisclosure agreements and MV Realty's use of the broker listing agreements. They settled last week, days after the Pennsylvania and Massachusetts attorney general lawsuits.
A spokesman for Innovatus Capital did not respond to a request for comment.
MV Realty said Neumann is a minority partner in MV and has not been an employee or officer of the company. The lawsuit has been resolved "amicably," London said.
"It seems as though you are trying to connect past lawsuits that have been resolved with this ongoing conversation MV is having with lawmakers," she said in an email. "They have nothing to do with each other. The company would appreciate if you stick to current facts and not what it (sic) quite obvious you are being fed."
London said MV Realty is not securitizing any of its future listing agreements. The Florida attorney general lawsuit says the company's chief operating officer, David Manchester, is "responsible for securitizing MV Realty's interests in contracts with consumers."
The involvement of Innovatus Capital in the idea shows MV's claims of helping homeowners with some upfront cash is just a front for financial engineers looking to create another Wall Street product, Swearingen said.
"It has nothing to do with any benefit to homeowners," Swearingen said. "It was a securitization scheme."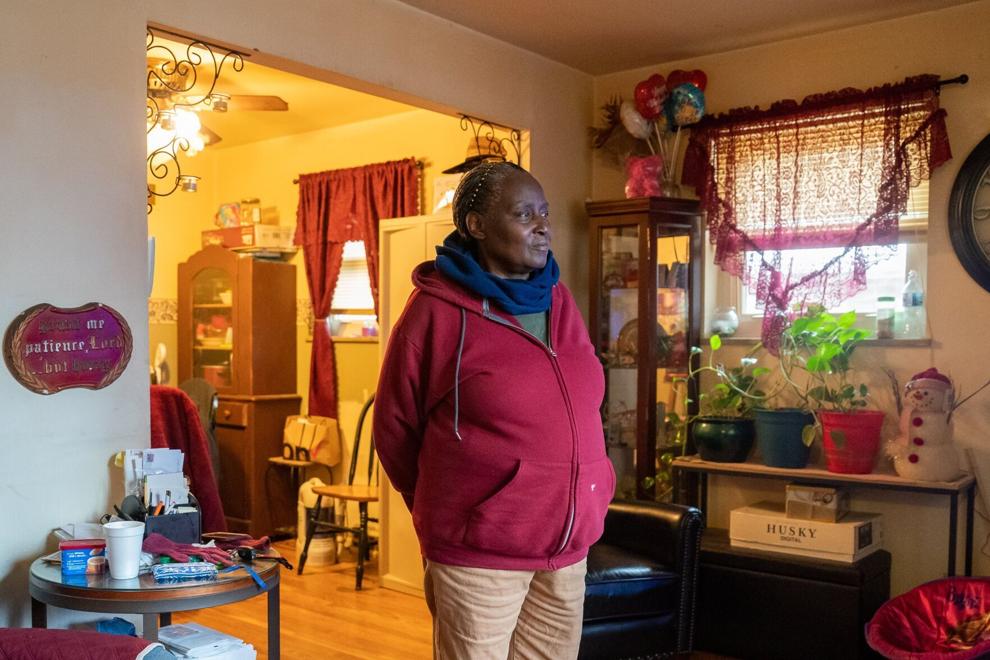 Back in south St. Louis, Marcella Jackson may be one of the lucky ones. She picked up a cold call from an MV Realty agent while she was at work and was told she could be owed money for agreeing to use MV to list her home. She didn't understand what the money was for, but she could use the cash. So she didn't hang up. They moved fast.
"I spoke with them that Friday, she sent me the contract that Friday, and 10 o'clock Monday morning the notary was there," Jackson said.
She signed an agreement with MV Realty for her two-bedroom, one-bathroom Tower Grove South home, but she felt something wasn't right. She never cashed the $629 check they gave her. MV hasn't recorded a lien against her house.
"It felt like something was wrong the whole time," Jackson said, "but I couldn't put my finger on it."