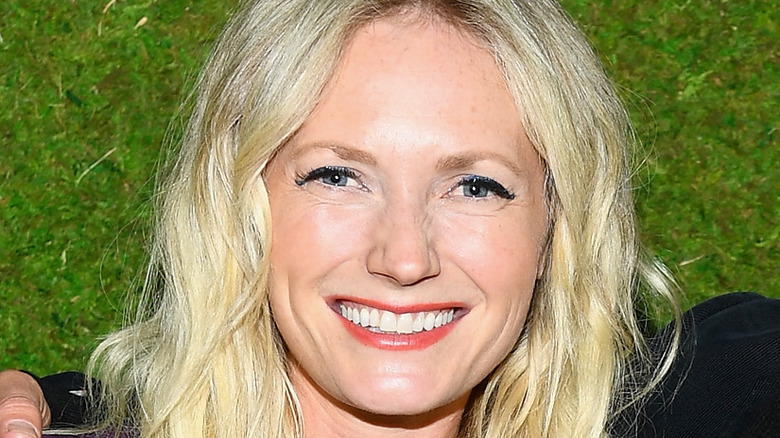 Dave Kotinsky/Getty Images
Looking for design inspiration for your home? Known for her chic style and eclectic schemes, Emily Henderson does it all. Making a name for herself following HGTV's "Design Star" in 2010, Henderson has converted numerous interior spaces from bath, bedroom, living room, and kitchen to exterior renovations like patios, backyard spaces, and outdoor entertainment areas. While hosting her hit HGTV show "Secrets From A Stylist," the professional stylist evaluates her clients' style interests through a personalized analytical process. As many interior stylists may concentrate on the ultimate stages of a space or design while changing out superfluous items for more suitable ones, Henderson frequently explores flea markets in search of quality vintage finds and repurposes them into one-of-kind pieces (via Decorilla).
What part of your home needs styling? An expert at knowing where to place things, the HGTV star often shares her versatile expertise with her guests to establish comfortable and fashionable creations within everyday home spaces. From reupholstering couches to glamming up a bland picture frame, style and tailored comfort take precedence as Henderson works with layers of curtains, décor, furniture, pillows, and rugs, among other specific requirements. Keep reading to get inspired by some of her most stylish home makeovers.
Before: Uninviting hall living room
This early 20th-century Hollywood Hills home features a mundane living area that often gets overlooked by guests. Located right off the front door, it features a gigantic arched window with French doors and a fireplace. It lacks an invitation to stay and a sense of style, as the room is positioned like a connecting hallway.
After: Hollywood country club
Expressing an old Hollywood vibe, Henderson highlights the walls in a vibrant ochre color with a complementing herringbone pattern tile within the fireplace. The chic couch was discovered at a flea market and reupholstered in a deep green. The golden club chairs and long, delicate linen curtains polish off the overall warm and vintage vibe. 
Before: Drab uptown apartment
Emily's challenge here is to design and style one of the other "Design Star" contestant's bland New York apartments. Recently moved in, Tom's living and bedroom areas contain basic furniture, although they lack color or décor, including personal style. Like a blank canvas, the designer sees potential to reflect his modern corporate style.
After: Tailored corporate style
Influenced by Tom's personal style, Emily showcases various masculine colors like navy blue against gray and silver metallics in the rug, pillows, couch, and chairs. Warm textures and global accents are also present, including contemporary clean lines in the furniture. Sleek and sophisticated, the corporate style pinstripe painted wall also adds depth to the room.
Before: Vacant glass house
A space full of boundless possibilities, Emily faces the amazing challenge of filling and designing a glass house sunroom in NYC's Foley Square. With a plywood board floor, the place is completely empty and features several glass windows on the sides and a ceiling within the frame.
After: Eclectic sunroom
With her primary focus on the color and design of her dress and accessories, the warm living area appears cool yet inviting with the blue patterned wallpaper and diverse lamplight. Boho chic in style, layered rugs, green plants, and unique décor are present, mixed with books and vintage furniture for a calm and cozy aura.
Before: Old, cluttered apartment
This New York apartment appears cluttered and outdated, with dated floral patterns and designs present on the furniture and a large wooden hutch cabinet with a traditional dining table set and chairs. The living room feels congested with chairs, television, and tables. Repurposing items within the space will be the ultimate challenge.
After: Chic, repurposed dining room
Inspired by various foods, Emily and her teammate Michael reinvented the space in a more stripped-down style while focusing mainly on restyling the cabinet, dining table, curtains, and wall décor. Notice the energetic splash of green on the ceiling and within the whimsical curtain design, including subtle black, white, and green elements.
Before: Boring family room
With a generous open concept, this spacious family room area features lively hardwood floors, a fireplace, and ample natural light from the windows. Lacking style and color, the family requires a functional space that is both modern and relaxed. Additionally, while preserving some distinctive art pieces, there's potential for a stylishly bohemian vibe to emerge.
After: Modern, open bohemian concept
With a blend of casual yet masculine hues like blue and brown, Emily has transformed the areas to complement each other. For a bohemian vibe, a handmade Turkish rug rests in the dining room, contrasting with the mid-century couch and vintage chairs. The long white curtains and fireplace give the home a soft, relaxed atmosphere.
Before: Bland textured walls
This quaint home features an open concept that requires better balance, function, and style, especially in the beige walls. The dining room appears rustic with the wooden farmhouse table and chairs, while the living area is modern with a leather couch and upholstered chairs. The space has the potential to present both styles while remaining homey.
After: Modern, rustic living space
Cozy and minimal, Emily redefines the home by swapping the living and dining areas' original locations. While keeping the couple's rustic style minimal, the wooden tables, leather sling chairs, and vintage bamboo shelf stand out amidst the living room. The walls are also painted in purple to contrast with the chair rail molding.
Before: Flavorless family room
The home features a large stone fireplace, carpeting, sliding glass doors, and natural light in an open family room. A remarkable feature is the rustic, dark wood beams on the ceiling. With minimal practical function or feminine touches, the family wants to refresh the room with color and vibrancy, and eliminate the office desk area.
After: Colorful, mid-century artist
From drab to vibrant, Emily's use of color and eclectic pieces enhance the room's appearance and function, especially in the curtains and furniture. With the couch facing the wall, the fireplace is now the focal point. A color blend of blue, brown, red, and green makes the vintage elements stand out amidst the room's new quality.
Before: Large green bedroom
A spacious barren bedroom with only a bed and a few picture frames on the wall, the homeowners have neglected to nurture this space. The walls are mostly gray with a cool mint green accent wall. There's carpeting throughout the room, and a captivating corner bay window fit for a chaise lounge or daybed.
After: Dramatic zen vibes
A lively Hollywood zen-like aura became the center of the room's motif, as the space is filled with various shades of green, including earthy brown and white contrasts. A lush green chaise lounge sits by the corner window, plus a vintage vanity and various nature-inspired artwork and décor dress the cool, serene, yet glamorous room.
Before: Random, pale living area
Colorless and unfinished, this home's living and dining space contain random modern furniture with subtle African animal décor in the corners and on the couch pattern. The living area is spacious, with rich brown wood floors and large sliding glass doors.
After: Funky, untamed style
Reflecting the couple's funky yet natural personality, vibrant colors have enhanced the living room space through the turquoise couch, yellow hand chair, and TV wall with a soft yellow background that contrasts a white shelving unit. The dining room is eclectic and inviting, with a global motif by the unique art and décor.
Before: Kid-centered dining room
This home's family-oriented dining room contains a farmhouse-style table and chairs, shelving with various knickknacks, an art easel, and random children's items and toys. The home has a lot of wood features with masks and tiki figures, including atomic lampshades for Emily to work with.
After: Retro Polynesian restaurant
A definitive meeting place, this dining area appears much like a restaurant with the vibrant red wrap-around couch, retro white chairs, and gold elements within the flooring and bamboo print wallpaper. A Polynesian lamp hangs as a focal point above the main table, as it mingles with mid-century lamps and tiki statues off to the side.
Before: Too much white furniture
With zero direction, this spacious living area is cluttered with oversized white couches and chairs and an entertainment center that lacks practicality. With large colonial-style windows, gorgeous dark wood floors, and a brick fireplace, there's room for improvement for this southern Scottish family.
After: Modern, Scottish family room
Refreshed with light blue painted walls and long ticking stripe curtains, Emily embraced both the family's Scottish and southern backgrounds through the blue and white touches, including rich wood and upholstered furniture pieces that display a classic yet modern vibe. The fireplace acts as a focal point and divider between the living and dining areas.
Before: Massive chaotic space
From bulky curtains to the awkwardly positioned office desk, this room and dining area have great potential to showcase a single dad's old-world yet masculine side. However, with the television and fireplace as the room's focus, the space needs to declutter to embrace a fresh and simple style and color.
After: Modern, Tuscan den
Reminiscent of Tuscany, Emily showcases rich orange and red colors in the curtains and pillows while balancing them with modern grays and blues within the walls, couch, and rug. The dining room features a dark wall with white curtains, a wall-mounted deer head, and modern wooden dining set to contrast with the vibrant red rug.
Before: Abandoned guest bedroom
Unestablished as an inviting guest room, this area consists of a bed and dresser, including a drum set placed in the corner. With little structure or purpose, the homeowners often avoid the state of this room, although it boasts lovely orangish wood floors and framed windows that lead to the patio or backyard.
After: Quirky, story-filled guest room
With a focus on the couple's love for graphic novels, Emily enhanced the walls with a black and white wallpaper to contrast the chair rail and Kelly-green color. Many pieces provide a welcoming invitation, like an antique lawyer bookcase and dresser for extra storage, including a collective bedside area for guests' essentials. 
Before: Empty grand living room
The family has left a magnificent room mostly vacant with only a roomy tufted couch and table. The grand room is a blank canvas with large, double glass doors and a standout brick fireplace reaching up to the ceiling.
After: Formal, French sitting room
Emily creates a classic European-style gathering place accentuated through color and form. Various shades of blue are mixed with ivory, gray, and white through the elegant drapery, furniture, pillows, and décor. The ascending fireplace wall has been white-washed and features wooden alcove shelves and a unique empty picture frame to draw your attention upward.
Before: Massive entertaining spaces
This monstrous living room space is located just off the front doorsteps, as the family often passes on through. It features a fireplace, a massive piano, and abundant natural light. Unfortunately, it appears bland and unused. As the holidays are approaching, more decoration, color, and structure are needed within the space.
After: Festive, modern staycation
Emily's transformation shows how a modern staycation beach vibe can transcend into a festive holiday entertainment space amidst the curtains, furniture, and decorations. Layered with green, blue, brown, white, and gold elements, this non-traditional theme flows throughout the living and dining room, as the family can easily dress it up or down.