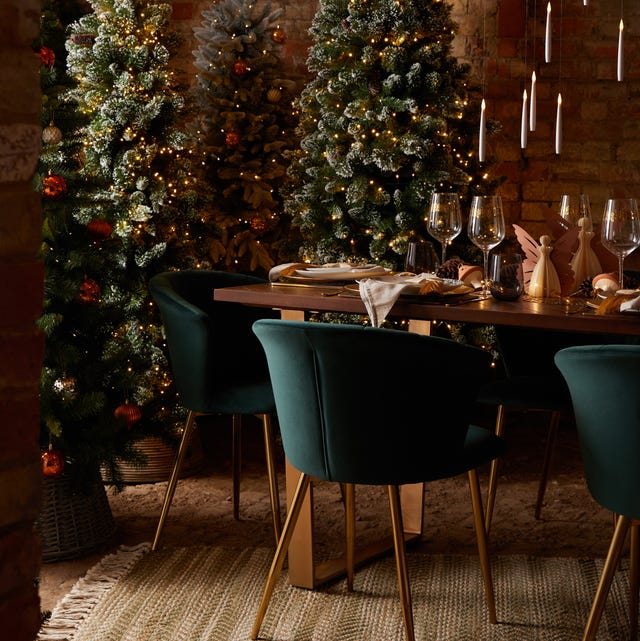 Dunelm
Dunelm's Christmas 2021 collection is filled with sustainable paper decorations, reusable wrapping paper and comforting accessories perfect for winter.
As is typical during 'Christmas in July', the home furnishings retailer has just unveiled its festive range of decorations, trees and gifting ideas alongside three key trends: Winter Solstice, Christmas Tropics and Nordic Nomad.
'This year, we've taken steps to create a sustainable Christmas for every home, removing glitter from all our decorations and foliage, and using alternative techniques, such as beading and sequin embellishment, to reduce our use of micro plastics without compromising on quality,' says Debbie Drake, Dunelm's Design Director.
'We've also got a wonderful range of paper decorations of various sizes, shapes and colours, ensuring there is something to suit every festive colour scheme. And we've eliminated 400kg of plastic from our wrapping paper, which is the weight of a small Highland cow! Meanwhile, our range of festive haberdashery fabrics, inspired by Japanese furoshiki, is a great alternative to wrapping paper.'
We might be in the middle of a summer heatwave, but it's never too early to get a sneak peek at what's to come. Available to buy from Sunday 12th September, why not take a look at some of Dunelm's Christmas decoration highlights below…
Advertisement – Continue Reading Below
2
Gifting ideas
Not sure what to gift your loved ones this year? Why not make it personal with Dunelm's range of monogrammed notebooks, mugs and cosmetic bags. In deep shades of teal and blue, they're the ultimate way to make a statement.
3
Go blush
Combine dusky pinks with metallics for Dunelm's Christmas tree trend, Christmas Tropics.
'A vibrant, tropical twist on Christmas, this glamorous but fun trend blends exotic with traditional,' say Dunelm. 'It mixes fabulous foliage with opulent birds and butterflies.'
4
Don't forget the exterior
From reindeers to sparkling lights, bring the festive spirit outside with Dunelm's range of garden decorations. It's perfect for putting on an amazing display for passersby.
5
Upgrade your table
Transform your Christmas table with new napkins, plastic-free crackers and fairy lights for decoration. Dunelm's Christmas range has everything you need to add sparkle to your evening meal. Tumblers start from just £1, while you can pick up plates for £4.
6
Fun for the kids
'Following the lives of people and gnomes that herd reindeer across northern Scandinavia, these light-hearted characters are here to bring joy to your festive season,' say Dunelm.
'Mixing fun characters and Fair Isle patterns with a modern colour palette, Nordic Nomad is ideal for all the family.'
7
Set the mood
A huge part of festive celebrations orbit around the table, so it's important you decorate yours just right. Set the mood this Christmas with candles, fairy lights and a touch of sparkle. Whether you're entertaining or simply cooking for your household, the new range hits the spot.
READ MORE: How to decorate and style your Christmas table
8
Dark hues
As part of Dunelm's Winter Solstice trend, you'll discover gorgeous rich hues (think bottle greens and berry reds), plus glitter-free decorations, stylish tree skirts, and cute woodland animal figurines. Christmas might be a long way off, but the new range is certainly getting us excited for the holidays…
9
Festive doorscaping
Doorscaping — one of Instagram's biggest trends — is not going anywhere this Christmas. As well as framing your doorway with foliage, why not hang a wreath on your door, place fun festive characters outside or string lights around hedges?
10
Don't forget your fireplace
Give your fireplace an enchanting upgrade with gorgeous garlands, pampas wreaths and glistening lights. This year, discover Dunelm's plastic-free range, which includes natural and eco-friendly decorations for every corner of the home.
11
Upgrade your kitchenware
From seasonal storage to plates adorned with fun figurines, cheer up the Christmas cook with Dunelm's festive kitchenware. As the heart of the home, your kitchen also deserves some love this festive season…
Follow House Beautiful on Instagram.
This content is created and maintained by a third party, and imported onto this page to help users provide their email addresses. You may be able to find more information about this and similar content at piano.io
Advertisement – Continue Reading Below