Last Man Standing on Fox may be coming to an end, but Tim Allen may be sending out hints that he is ready to return to his '90s comedy Home Improvement. On the January 7 episode of the show, Mike Baxter (played by Tim Allen) got some, well, 'home improvement' courtesy of Tim 'Tool Time' Taylor, the character Allen played across 200 episodes from 1991 to 1999.
In many ways, the timing was perfect for Allen to bring back his signature role. The episode of Last Man Standing is its last ever winter premiere, meaning that it was one of the show's last chances to grab some headlines. 2021 also marks the 30th anniversary year of Home Improvement, which debuted in September 1991.
The Tool Time cameo gave Allen the perfect opportunity to pay tribute to the role that made his career, with plenty of Easter eggs for fans of Home Improvement including a tribute to Wilson actor Earl Hindman, who died of lung cancer in 2003.
However, with the show about to celebrate a major milestone, this Last Man Standing cameo could perhaps be acting as a backdoor pilot to a future Home Improvement reboot.
Speaking to TVLine, Last Man Standing showrunner Kevin Abbott said: "I actually loved Home Improvement, so I didn't want to do anything that would in any way disparage that character and that franchise, I didn't want to mock it in any way, shape or form. I wanted to be careful.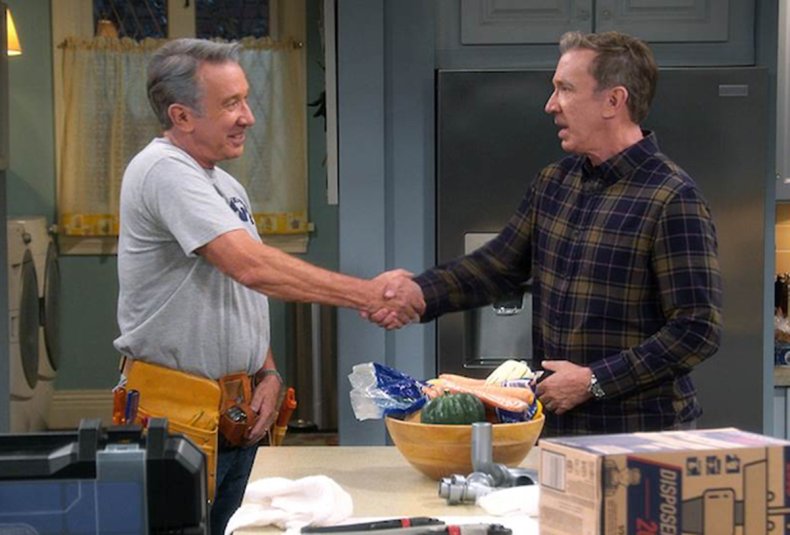 "Maybe they do something with [the ABC sitcom] in the future, a reboot or something, I don't know, so I didn't want to trap them in anything either. And Tim and I had several long discussions about where Tim Taylor would have wound up at this point in time. We changed the storyline a couple times in order to try to arrive at a place that we all felt very good about."
In February 2020, Allen told the same website that he was open to a rival of the sitcom. He said: "I always think about it, because I still talk to everybody involved."
However, were the show to return, it would be in a limited format. "I like the idea of doing it as a one-off, like a one-hour movie," he said. "I like the idea of finding out where the boys are now, and where… Tool Time would be in today's world. I just think it's a marvelous idea, and all the actors think it's a great idea."
In recent years, a number of '90s sitcoms have returned as limited series with a set number of episodes, so Home Improvement could follow this route. Mad About You, for example, returned as a limited series in 2020 on Spectrum, the same year that Fox released BH90210, a meta take on the reboot that saw Jason Priestley, Tori Spelling et al playing versions of themselves launching a Beverly Hills, 90210 reboot. More recently, Saved By the Bell was brought back to life on Peacock.
Per an interview with E!, a Home Improvement reboot nearly happened a few years ago. Allen told the network in 2018, "we thought about it in the time off [between Last Man Standing being canceled by ABC and brought back by Fox]…we talked to everybody."
According to Allen, this series was to see Taylor become a real estate mogul in Michigan, but plans were put on ice when Last Man Standing was re-commissioned. With that show ending, however, those plans could be brought back to life.
Even if fans do not get a scripted Home Improvement reboot, two of its leads are soon to reunite. Allen is set to join co-star Richard Karn for a DIY-themed competition/reality series, titled Assembly Required, set to air in 2021.