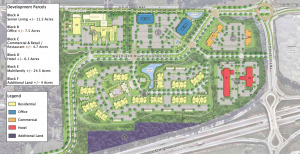 The Westfield City Council reviewed several introductory development proposals Monday night, including plans for a 60-acre project featuring offices, senior living, retail, luxury apartments and hotels.
Murfreesboro, Tennessee-based Front Street Partners LLC is petitioning the city to establish special zoning for a planned unit development at the northeast corner of U.S. 31 and 161st Street. Early designs for the project, called Lantern Commons, show 11.5 acres dedicated to a memory care and senior assisted living facility, 7.5 acres for office uses, 4.7 acres for retail commercial buildings, 6.1 acres for hotels or corporate headquarters, 24.5 acres for multifamily residences and a potential 4 acres earmarked for future expansion.
Martin Ing, a partner with Front Street Partners, provided the council with a plan that did not specify the project's total cost or development timeline. Instead, Ing gave a presentation that provided a conceptual overview of how his firm might build upon the property's previous zoning.
Front Street's project, and all other projects introduced Monday, are expected to  undergo further review at the Feb. 1 Westfield Advisory Plan Commission meeting.
Lantern Commons
Matt Skelton, a partner with Noblesville-based law firm Church Church Hittle and Antrim, represented Front Street at Monday's meeting. He said developers have eyed the wooded 60-acre parcel near the highway corridor since at least 2001.
Chicago-based Pine Tree Commercial Realty Group rezoned the property in 2007, he said, for something akin to an outdoor mall. He said that company's proposal included plans for two big box stores of up to 150,000 square feet, as well as six smaller retail buildings and four or five commercial outlots.
Skelton said the zoning was intensive, but the recession hit and the market could no longer support the project.
Indianapolis-based Buckingham Cos. then filed a petition in 2014 to build a similar commercial project on the southern portion of the property and multifamily to the north. When that project also failed to come to fruition, Front Street Partners envisioned its own mixed-use project there.
Ing's concept plan did not include specific bedroom counts or the buildings' particular square footage, but model depict as many as 22 separate structures on the property.
Those include a micro-office campus park with walkable green spaces; a blend of independent living, assisted living and memory care facilities; low-impact retail and restaurants; two hotels; and a farmhouse-style, luxury apartment community with one, two, and three-bedroom floor plans.
"It's a blend of mixed-uses that will be a credit to Westfield," Ing said. "We think this is truly appropriate."
Additionally, Front Street envisions extending a road through the project to serve as a future Westfield Boulevard connector.
Council member Joe Edwards said he'd grown up on the property, and wondered if the city might not use the location's visibility to a greater advantage.
"I wonder why we want to give away good [U.S.] 31 frontage to apartments," he said. "We could probably line 31 all the way up and down with these apartments, and I'm not sure we want to do that. We're giving away such value, perhaps."
Ing said the market no longer supports large, multi-story rows of commercial office buildings like the city might prefer.
"This is not the area to be selected for that usage," he said. "Something more neighborhood-scaled is desired."
Sanders Glen
Westfield-based Patch Development also proposed a planned unit development Monday night.
The 9.5-acre residential project at 2432 South St., though smaller, would also be subdivided into several areas. Those include a 2.17-acre area dedicated to 26 single-family homes, 5.75 acres for 50 senior apartments, and a 1.65-acre parcel dedicated to another 14 single-family homes.
Council member Cindy Spoljaric said she already has concerns about how the proposal might fit in with some surrounding single-family neighborhoods.
"My initial concerns with this project are that it doesn't initially fit into this area," she said. "It doesn't really have any usable open space, and that's a concern for me. It's really packed in and inconsistent with the surrounding area."
Lancaster Phase II
Jon Dobosiewicz, a land-use professional with Carmel-based Nelson & Frankenberger, presented William Trace Development's plans to add on to Lancaster community at the northeast corner of 186th Street and Casey Road.
Early designs for Lancaster's second phase show roughly 45 paired homes could be added to the community, which was established in 2019. Dobosiewicz said those paired villa homes are expected to sell for prices starting in the mid-$200,000s.
Hometown Heroes
The council on Monday also narrowly voted to establish a city program called Hometown Heroes.
The program offers free snow removal and basic lawn care services to public safety personnel who were disabled as a result of their service, as well as actively deployed military personnel's next-of-kin. Qualifying applicants must be city residents, and the total amount of property serviced cannot exceed one acre.
Council member and Marine Corps Colonel Scott Willis came up with the idea for the program. He estimated that there would be fewer than five families to apply in a given year, and those meager costs could be built into the city's contracted landscaping bids.
Council members who questioned the project said they wanted to support those first responders and members of the armed forces, but they felt it was a program that might be better run by churches, community groups or the private sector.
"I want to make sure we have the smallest government possible, and this is the type of thing that can absolutely be done though public outreach," Council member Scott Frei said.
Council members Willis, Jake Gilbert and Joe Edwards voted to approve the program. Council members Mike Johns, Troy Patton and Frei voted against it. Council member Cindy Spoljaric abstained.
Because the vote was tied, Mayor Andy Cook cast a vote in favor the program and it was approved.