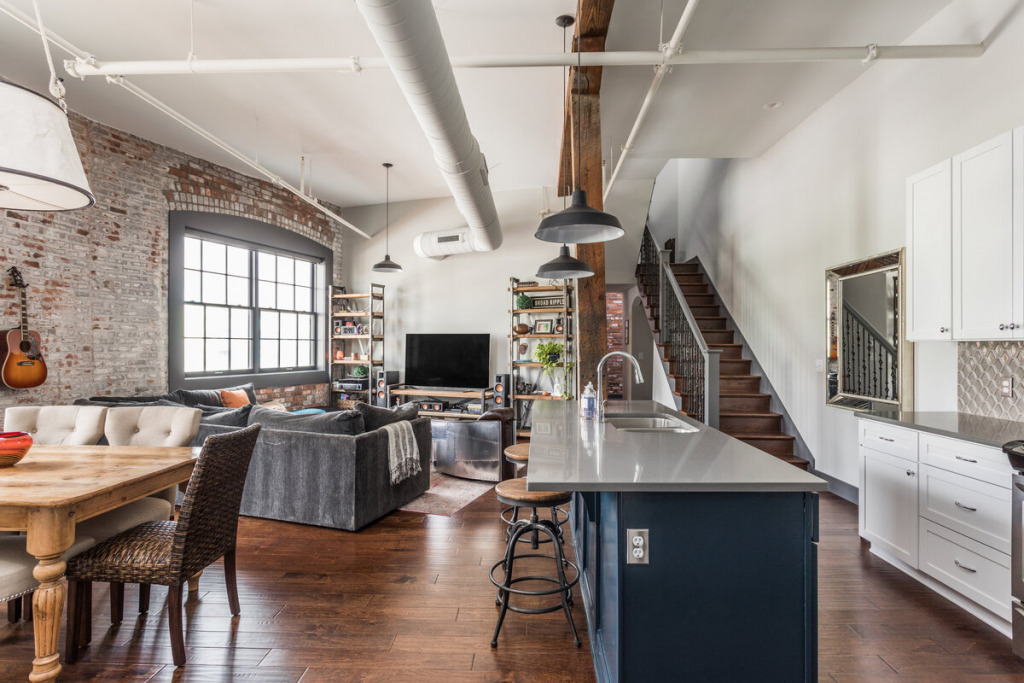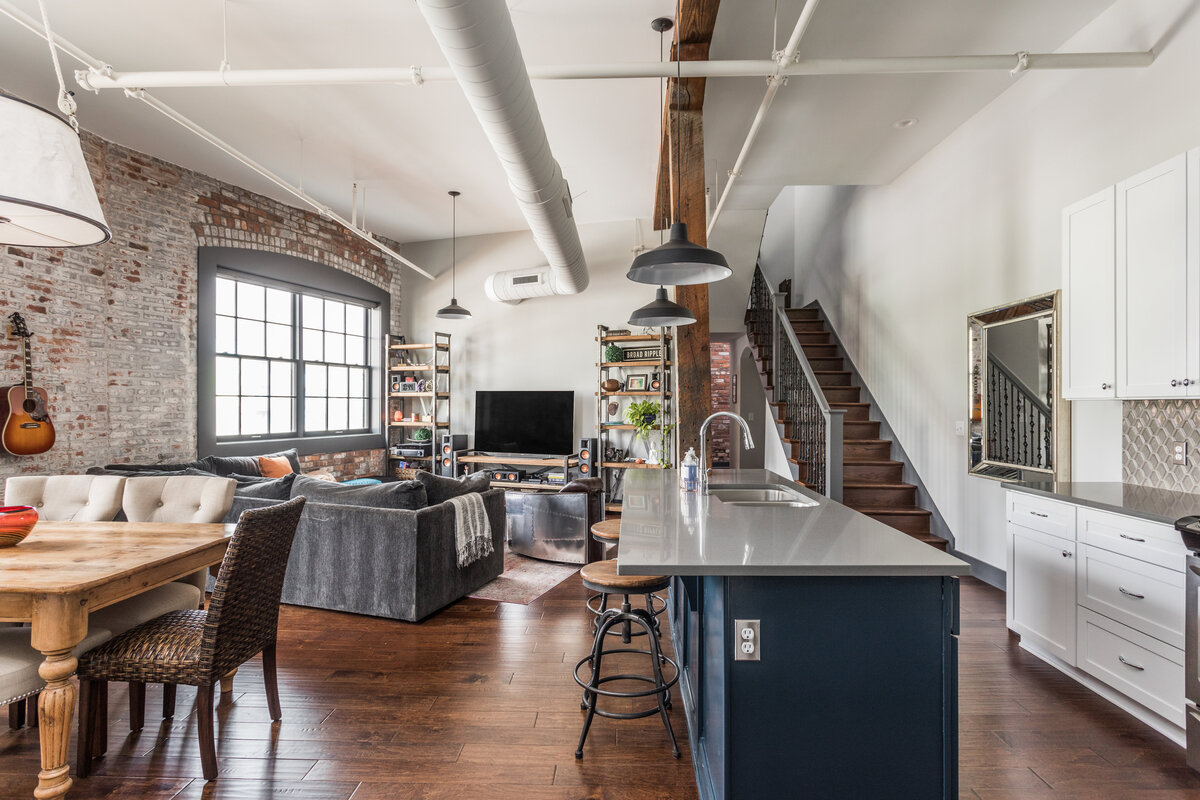 Open-concept living spaces—like in this condo in the Blum building—offer different decorating challenges than formal living rooms did long ago. (Photo courtesy of Everhart Studio)
The living room has historically been an over-decorated room used mainly to receive and impress visitors. This room was a status symbol for outside guests, which is why the decor was typically dressed up or done to the nines.
But the American living room has changed a lot in the last two or three decades. In today's homes, we see less and less the idea of a formal living room—aside from older homes or exceptionally large homes, where square footage and budgets are of no consequence. For the rest of us, lifestyles have evolved, and formal living rooms are things of the past.
Today's living room has morphed into a grouping of several different rooms into one. The living room, dining room and kitchen have given way to the "great room," or the open-floor plan home. This arrangement is the most popular layout for single-family homes, condominiums and apartments.
Anything is possible in these rooms, and no one decorating style or formula can or should apply. Decorating these rooms is seemingly free of convention or traditional discipline. It is for this reason that one should tread cautiously when decorating. One should still attempt to have an overall design concept as the goal. Otherwise, the result can be as chaotic as your last visit to any furniture store, where you were bombarded by the sea of furniture vignettes.
Unless you are one of those people that are happy with a generic design, I would advise against going the easy furniture store route. The design and decorating process, if you are doing it solo, sans professionals, should be slow. As in any creative endeavor, there are times when it is a painful process that puts self-doubt at the forefront. There are no shortcuts in a design.
If working with designers, this is usually where they show off their credentials of taste and experience. When this process works out, the resulting design is unique and one that highlights your personal taste and style.
A thorough analysis of the architecture of the room should take place. Take note of focal points, window locations and activity areas. Your decor should enhance the architectural style of the room. These great rooms offer you a chance to play around with the style of furniture and to mix and match them, if you so desire. Most rooms are a mix of various styles, unless you are a purist. The mood you are seeking generally comes as a reaction to the ambiance and the limitations of the room.
Another key element to a successful great room is the recognition of the scale and the size of your room. Dainty furniture may seem out of scale in a large room with high ceilings. Similarly, overstuffed furniture may look too large for an enclosed room with low or normal-height ceilings.
It is all a matter of balance—the mix of furniture, the size of your furnishings and your selection of art. Make it personal. After all, it's your house, and you live there.
Joseph Pubillones is the owner of Joseph Pubillones Interiors, an award-winning interior design firm based in Palm Beach, Florida