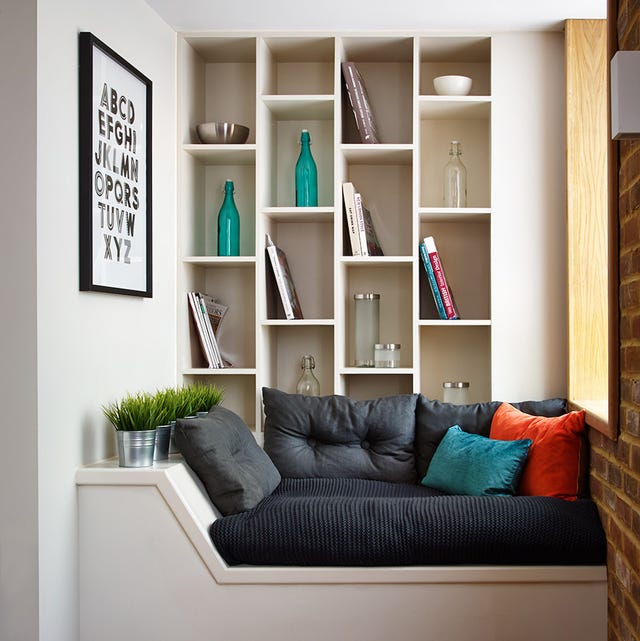 Forrester Roberts Interior Design (courtesy of Houzz)
Hotel-worthy luxurious bedrooms, elevated TV rooms, and year-round indoor-outdoor spaces are among the biggest home design trends to emerge this summer.
The latest report by home renovation and design platform Houzz has highlighted an increase in homeowners carving out dedicated spaces in the home, focusing on durable surfaces when renovating, and being inspired by newly coined terms such as 'bootility' and 'lootility'.
The trends are based on new search insights from Houzz's community of homeowners, home design enthusiasts and renovation professionals. Let's take a look at these trends in more detail…
• Elevated TV rooms
With busier than ever lifestyles, a place to curl up and relax after a long day is at the top of homeowners' wish lists. According to Houzz, searches for 'snug' is up by almost half and 'corner sofas' up by a quarter compared with the previous year. These cosy spaces are likely to be dedicated for movie nights, with searches for 'TV room' and 'cinema' both up significantly. Kitting out this space is high on the agenda too, with the rise of media storage units.
Media wall – 187 per cent
TV wall – 63 per cent
Snug – 48 per cent
TV Room – 46 per cent
Cinema – 30 per cent
Corner sofas – 24 per cent
• Indoor-outdoor spaces
This is certainly not a new trend, but the desire to create a seamless transition between indoors and out is growing significantly as homeowners seek to blur the line between their home and garden. It's perhaps not surprising then that searches for 'outdoor kitchen' and 'outdoor fireplace' have both risen in interest. But year-round appeal outdoors is a key priority too, because 'sunrooms' and 'orangeries' are also proving popular for homeowners. And, with natural light known to improve your mood and wellbeing, homeowners are using large swathes of glass to look out onto the garden, in particular 'Crittall-style' glazing, which saw an almost 3x increase in searches.
Crittall-style – 199 per cent
Sunroom – 56 per cent
Outdoor kitchens – 56 per cent
Orangerie – 35 per cent
Sliding door – 21 per cent
Outdoor fireplace – 18 per cent
• Thinking practically
Practicality and organisation is key for homeowners on Houzz, with the search terms 'larder', 'boot room', 'utility room', 'laundry' and 'American fridge freezer' all rising significantly, alongside newly coined terms 'bootility' and 'lootility' featuring for the first time. With dog ownership on the rise, homeowners are increasingly seeking solutions to ensure muddy paws aren't traipsed through the house, with searches for 'dog shower' up 1.5x this year. And, as energy prices rise, it's perhaps unsurprising that homeowners are seeking out alternatives, with searches for 'solar panels' spiking and 'heat pump' featuring on the most searched terms for the first time.
Solar panels – 100 per cent
American fridge freezer – 79 per cent
Dog shower – 51 per cent
Larder – 37 per cent
Boot room – 36 per cent
Utility room – 27 per cent
Laundry – 20 per cent
• Surfaces that last
Speaking of practicality, surfaces in durable materials are rising in searches on Houzz. Flooring options 'resin', 'cork' and 'luxury vinyl tile' have all seen significant jumps, with resin in particular up by almost 2x, Houzz reports. Meanwhile the plastering techniques, 'tadelakt' and 'microcement' are growing in popularity as alternatives to tiles, with designers on Houzz predicting a move away from grey tones to earthier shades. For worktops, quartz holds steady in searches, but for those seeking a natural stone option, 'granite' is rising in interest.
Resin flooring – 97 per cent
Tadelakt – 87 per cent
Microcement – 78 per cent
Cork flooring – 44 per cent
Luxury Vinyl Tiles (LVT) – 39 per cent
Granite – 36 per cent
• Luxurious bedrooms
How do you make the ordinary, extraordinary? When it comes to the bedroom, homeowners are seeking out inspiration for luxurious bedroom suites, with Houzz searches increasingly including associated terms like 'headboard', 'built-in wardrobes', 'ensuite' and 'dressing room'. And the bedroom colour that's h0t right now? Navy, which is up an impressive 3x. To create that boutique hotel feel, homeowners are turning to panelling, with searches for 'bedroom panelling' shooting up on Houzz.
Navy bedrooms – 218 per cent
Bedroom panelling – 200 per cent
Hotel bedroom – 63 per cent
Headboard – 33 per cent
Built-in wardrobes – 32 per cent
Ensuite – 25 per cent
Dressing room – 23 per cent
• Dedicated spaces
A TV room isn't the only dedicated space people are looking to carve out at home. Activity spaces in particular have been trending, with searches for 'games room', 'indoor pool', 'playroom' and 'reading nook' all up by more than 1.5x. Wellness continues to be a focus in this area too, with searches for 'sauna' on the rise.
Games room – 71 per cent
Indoor pool – 57 per cent
Playroom – 50 per cent
Reading nook – 50 per cent
Sauna – 21 per cent
Follow House Beautiful on Instagram.
---
This content is created and maintained by a third party, and imported onto this page to help users provide their email addresses. You may be able to find more information about this and similar content at piano.io