antoniolupi aids designers create total-look bathrooms
there are no lengths antoniolupi will not go to to enrich our spaces of daily rituals, routines and well-being, whether through material research and development or stylish solutions. the luxury italian bathroom furnishing brand aids architects and designers create complete, exclusive and highly personal ecosystems with the total-look concept. it enhances a tailored portfolio of customizable products, solutions and ideas to configure the perfect experience.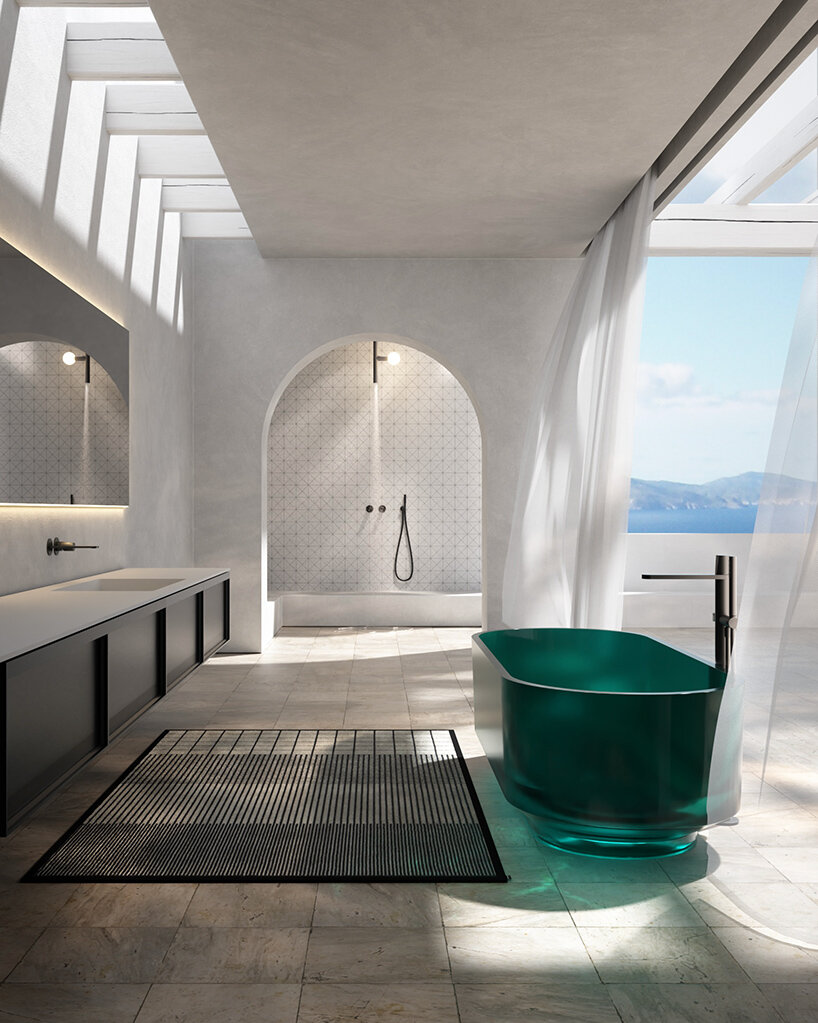 the cristalmood borghi bathtub next to the tramato carpet and then the bemade collection with the flash mirror. apollo showerhead at the back with tralerighe waterproof wallpaper
combinable, customizable and coordinated furnishings
antoniolupi's total-look concept transitions further from solely bathroom furniture. their portfolio comprises a series of collections and products including wallpapers, rugs, accessories and even fireplaces. this is on top of showerheads and taps. all offerings are perfectly combinable and customizable in coordinated styles to easily match widely varying interior design aesthetics and needs.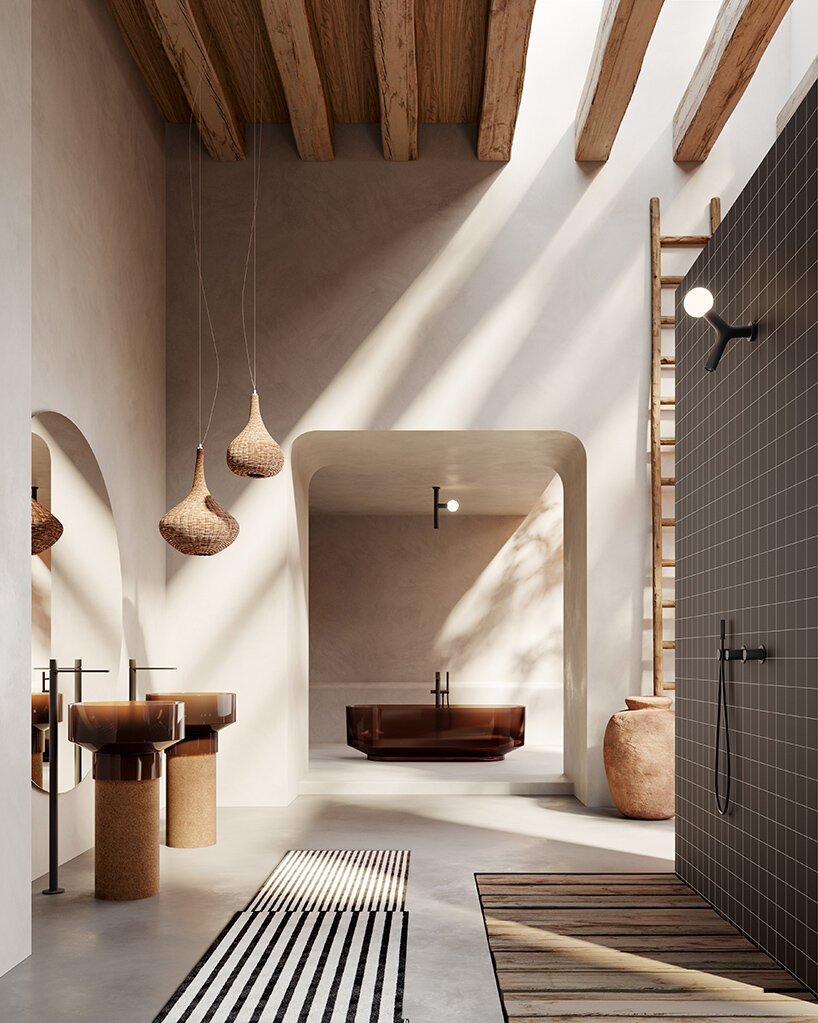 cristalmood borghi free-standing sink with the borghi bathtub behind, next to the tramato carpet and then the apollo showerhead with tralerighe waterproof wallpaper
waterproof wallpapers from antoniolupi aim to decorate the four walls of our spaces of daily rituals, routines and well-being. the fully customizable wallpapers of the tralerighe can be changed in color. the styles range from the mathematical black and white to the 44 color-popping lacquered, the colormood design made from the italian brand's innovative translucent, colored material, and the NCS whose palette can be specifically requested by clients.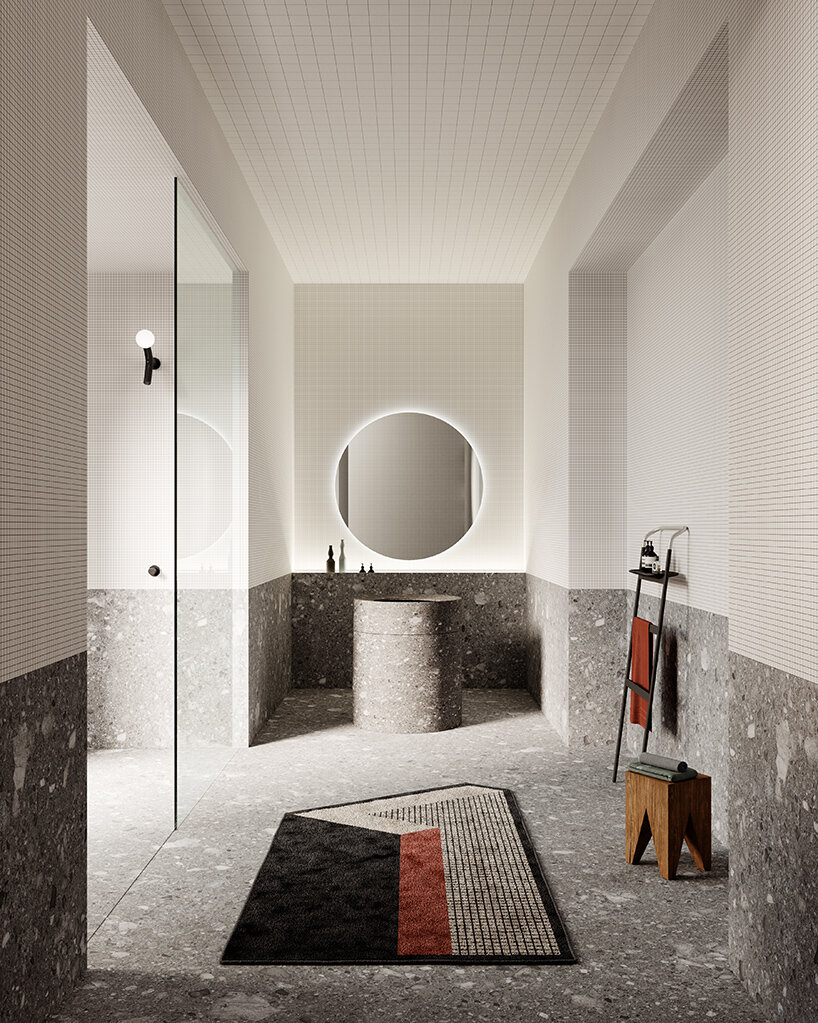 the volumi carpet with the anima liquida sink, circus mirror and mrwolf multifunctional ladder
antoniolupi's carpet designs add impressive decoration without taking up much space in the room. the tramato carpet borrows textures, optical effects and intricate horizontal, vertical and oblique lines to decorate contemporary spaces. the volumi is then an evolution of the tramato series. inclined lines paint a three-dimensional optical effect of depth and movement. the geometrie volanti design is an articulate contemporary composition of signs, geometries, graphics, neutral textures and subtle traces.