Welcome to the tenth edition of 97.9 The Hill's Staff Picks.
This time around, we wanted to get into the spirit of the season. So, we asked our staff to share their all-time favorite holiday decoration!
If you have a particular holiday decoration that warms your heart this holiday season, share a photo with us by tweeting us at @WCHLChapelboro or tagging us on Instagram.
So grab some eggnog, roast some chestnuts on an open fire, and join us for us nostalgic trip down holiday road.
---
Aaron Keck, Afternoon Show Host – "The Aaron Keck Show"
Favorite holiday decoration: outdoor Christmas lights
I like lots of holiday decorations, but the one that always puts me in the holiday spirit is outdoor Christmas lights. I think the Christmas season truly begins when I see the first house lit up, and it doesn't really end until the last ones come down. (I'd be on board with keeping 'em up all year. Who's with me?)
Truth be told, I'm not much for decorating myself, so I've never actually hung my own Christmas lights. Not yet, anyway. Maybe that ought to change next year?
Anna Griffin, Art Director
Favorite holiday decoration: light up wireframe unicorn
Currently taking name suggestions for my light up holiday unicorn. Also currently taking explanations as to what a unicorn has to do with the holidays. Even though she makes no sense, I still love her. Oh and yes, she does go up on the roof.
I was at a Big Lots in April a year or two ago, and for whatever reason they had a ton of Christmas decorations on clearance that month. She was lined up with the light-up reindeer, to the point where I did a double take – "why does that reindeer have a horn?" She was just trying to fit in. Being a self-proclaimed horse girl (well, equestrian technically), anything unicorn related I am on board with. She was set at the glorious price of $15. She came home with me and has been adorning our roof every December since – to the confused delight of all of our neighbors. As my neighbor across the street would put it, "that's one wacky reindeer on your roof."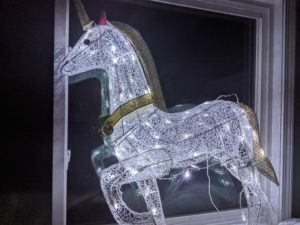 Brighton McConnell, News Director
Favorite holiday decoration: Christmas tree
My favorite holiday decoration has always been the Christmas tree. I never really feel in the holiday spirit until we put ours up (my family does a big, 11-foot-tall live tree each year, I do a smaller fake one in my apartment) and hang all kinds of ornaments on it. During the decoration process is typically when I first actively listen to Christmas music — it's my favorite tradition. I have a certain playlist of songs I listen to too, so I always associate hearing them with putting ornaments on a tree!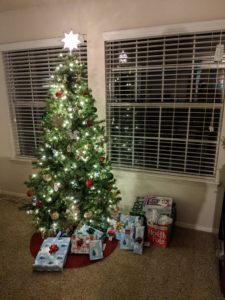 Elle Kehres, Reporter and Producer
Favorite holiday decoration: gingerbread houses
In my family, nothing says the holiday season like some good old fashioned gingerbread houses. Not only are they a fun activity to do with your loved ones, but also a stellar decoration. Every year since I can remember, I have decorated gingerbread houses and made an absolute mess while doing it. These days (in my old age) my siblings and I pour up the wine and make the decorating extravaganza into a competition! The winner gets unlimited bragging rights until the following December. The past few years I've let my Instagram followers vote on the best house. I'm happy to say that, this year, my candy cane themed house came out on top. After the houses are decorated and we've eaten our fair share of frosting and candy, we display them all together in a merry, little gingerbread village. It's one of my favorite holiday traditions.
Nicki Harris, Account Executive
Favorite holiday decoration: stuffed reindeers
I'm not sure if these are my favorite holiday decoration, but they are certainly my most memorable. Growing up, my family had these almost life-size (about four feet tall) reindeer stuffed animals. One was supposed to be a girl, wearing a plaid holiday dress, and the other a boy, wearing a tux. I have no idea where my parents found these strange decorations, but as a small child I LOVED them. When I was about 4, I would pretend the one wearing a tux was my boyfriend and would dance around the room with him. When they weren't fulfilling their dance partner duties, they would sit on the couch in our living room like people. I unfortunately could not track down a picture of these lovely decorations — when I texted my mom asking if she had one, she replied, "You mean the reindeer that were super creepy?" (Her language was actually a bit more explicit). I thought to myself, yes, but then I thought, weren't you the one who purchased these creepy characters? Here's a photo of a similar reindeer to give you sort of an idea.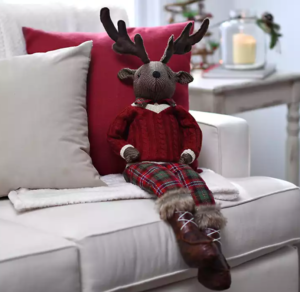 Jada Jarillo, Marketing and Operations Manager
Favorite holiday decoration: outdoor Christmas lights
My favorite holiday decorations are outdoor lights. To me, they signify the beginning of the Christmas season, and like my tree, have been something that I put up right after Thanksgiving since I was young. And, while I love to enjoy the twinkling of the tree from my living room couch, seeing the lights draped across the bushes and wound around the railings out front always gives me the warm fuzzy magic-of-the-season feeling, and transforms our home into a cozy Christmas cottage, more than anything else.
When added to the lights put out by my neighbors, and by all the homes and businesses on my route home from work, outdoor holiday lights create a community celebration of the season that lasts all month long (or in my case well into January) and hopefully sparks some joy not only in my family, but in those that pass by. Check out our display this year, complimented by my neighbor's lights, and if you look closely you can catch the blur of my 4-year-old running through the yard, just as excited about the lights as I am.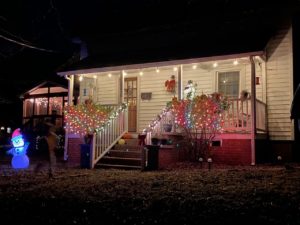 Kenny Dike, Billing, Broadcast Traffic and Sales Operations Manager
Favorite holiday decoration: garland and lights on the mantle
Most everyone who celebrates Christmas puts up a tree, but when the tree (and the lights and ornaments) are combined with some garland and lights on the mantle, that's when the whole thing goes next level. Also, if you don't have a fireplace, throw on one of the yule log channels on your TV and you'll have your own little Christmas Town!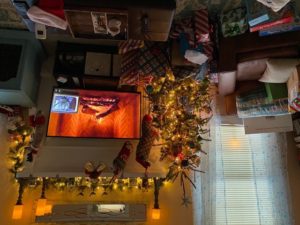 Victor Lewis, Digital Content Editor, Weekend Host, soon-to-be Morning Show Cohost
Favorite holiday decoration: wooden devil
In general, my favorite decorations to see on/in houses is/are strings of lights. They're so festive, and immediately make anywhere feel like the holidays. One of the only things I miss about being part of an actual neighborhood is coordinating when everyone was going to put up their respective lights and encouraging folks to drive through to take a look. Plus, touring other neighborhoods, of course!
That said, my favorite personal decoration at the moment is gonna sound a little strange. Some friends of ours brought us back this weird little wooden devil from South America, and he's been a constant decoration in our house ever since. We dress him up for seasons and holidays, and this Christmas is no different. Check him out: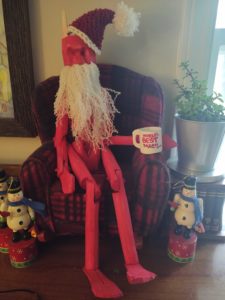 Ali Evans, Senior Account Executive and Host of Woman Crush Wednesday
Favorite holiday decoration: indoor décor
My favorite holiday decoration is the act of piling as many festive things as I can onto my fireplace and my entry table. I'm usually a big fan of minimal décor, but the holidays bring out a fairly chaotic side of me that believes more is more. You'll notice four stockings hanging – four people do not live in our house. I just couldn't decide which ones I liked the best while shopping. In fact, looking at these pictures now, I'm seeing places where more decorations could go. With this year especially, I think everyone should decorate in whatever way brings them joy – within reason guys, don't make me regret this. Keep your holiday decorations up until Valentines Day if you want. Etiquette Schmetiqutte – there are no rules anymore.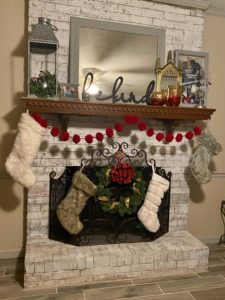 Jack Carmichael, Front Desk Guy
Favorite holiday decoration: Christmas tree
I love all of the family-specific traditions that surround Christmas trees. Growing up, my family had an artificial tree that we would haul out of the attic after Thanksgiving. More recently, I've enjoyed going to tree lots with friends to pick out real trees. And once you've got your tree, another tradition begins: you get to decorate it! My brothers and I each have our own collection of Christmas tree ornaments, which means each of us gets to play our own part in accessorizing the tree at our mom's house. I've seen other families decorate their tree with dried fruit, which I don't understand, but do appreciate. The best part of all is the way a lit Christmas tree illuminates the living room on Christmas Eve right before everyone goes to bed.
In the past few years, I have adopted a new tree-related tradition of recreating an annual photo of my girlfriend's brother standing next to the Christmas tree with a turtleneck, knit Christmas vest, and eggnog mustache. Here are the photos going back to 2016: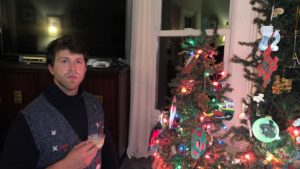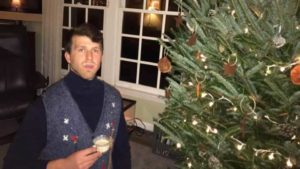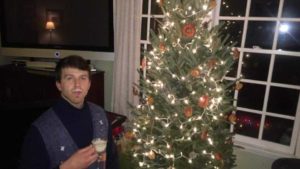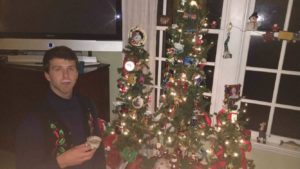 Check out the last edition of 97.9 The Hill's Staff Picks here!
Learn more about 97.9 The Hill's great staffers on our 'Meet Our Staff' page here!
Related