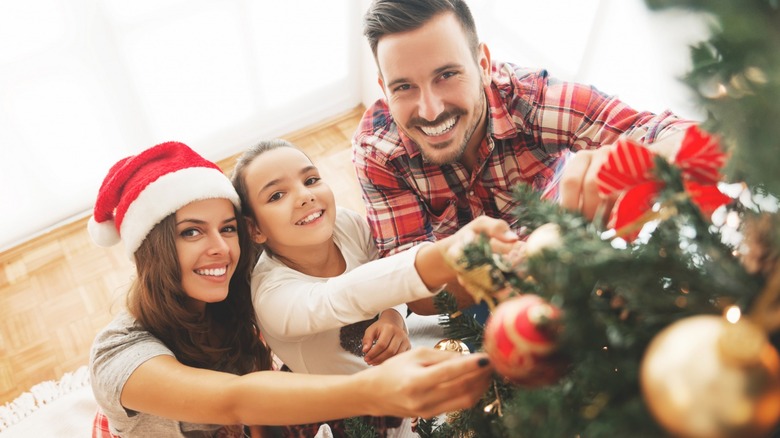 Tijana Moraca/Shutterstock
Haven't started decorating for the holidays? Feeling like red and green are too … boring (why are those two Christmas colors anyway)? According to Farmers' Almanac, during the Ancient Roman period, citizens decorated their homes with evergreen trees and holly for the winter festival celebration, and eventually, the green leaves and red berries became synonymous with Christmas. While it is a 1000-year-old tradition, some traditions aren't meant to be followed by everyone, especially if you're not a fan of green and red. However, this doesn't mean your home won't be as festive with other color schemes.
Nowadays, there are all sorts of non-traditional holiday aesthetics to choose from, so there's no need to feel tied down with the traditional red and green. In fact, some holiday decor doesn't even use color (but we'll get to that in a moment). If you're tired of the same old color scheme, we have 55 fun holiday decor ideas for you to try.
1. Color, color, and more color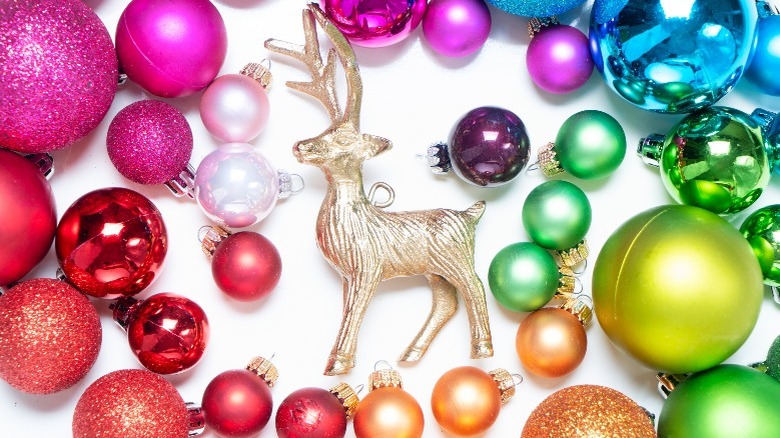 Neirfy/Shutterstock
Why choose one color when you can have them all? Light up your space with rainbow-colored lights and ornaments on your tree this year. But don't stop there — take this colorful theme and spread it throughout the rest of the home!
2. Chicness in gold, black, and white
JaneJJ/Shutterstock
Think a large, frosted Christmas tree with white, black, and gold ornaments and bows. The black and white aesthetic screams sophistication, but the pops of gold give your home a festive touch.
3. Pastel perfection
Marilyna/Getty Images
Don't save pastels just for Easter — let the pinks, blues, and delicate purples become your new Christmas color scheme. DIY your own pastel-colored nutcrackers to adorn your fireplace, or create a centerpiece to show off at Christmas dinner.
4. A very merry sarape Christmas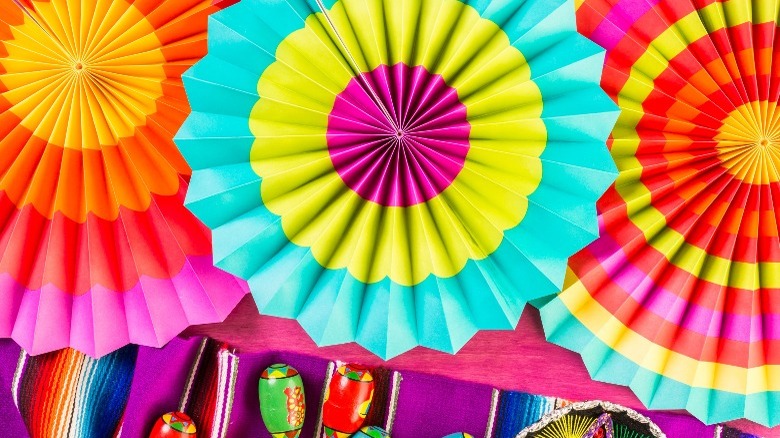 Arina P Habich/Shutterstock
Give your home a Spanish-inspired vibe with a sarape color scheme. Add splashes of bright blue, green, red, yellow, and pink with Christmas tree ornaments and throw pillows to match.
5. Marvelously modern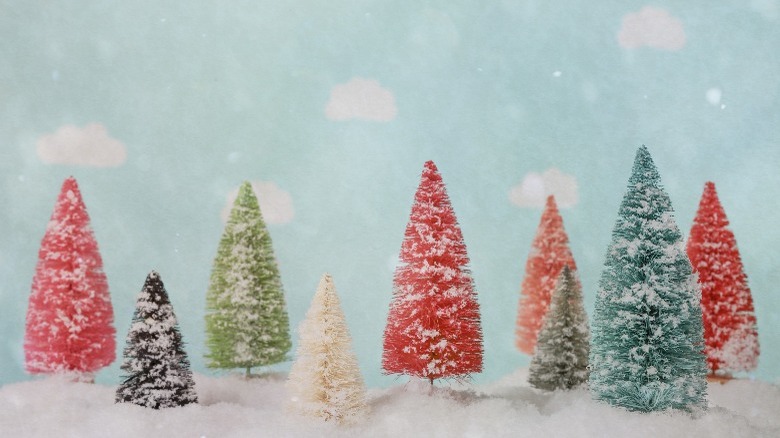 Suzanne Tucker/Shutterstock
A modern take on a classic, frosted evergreen and pink are perfect for any entryway. Decorate your entryway table with a forest of green and pink bottle brush Christmas trees to welcome guests into your home.
6. Candy cane Christmas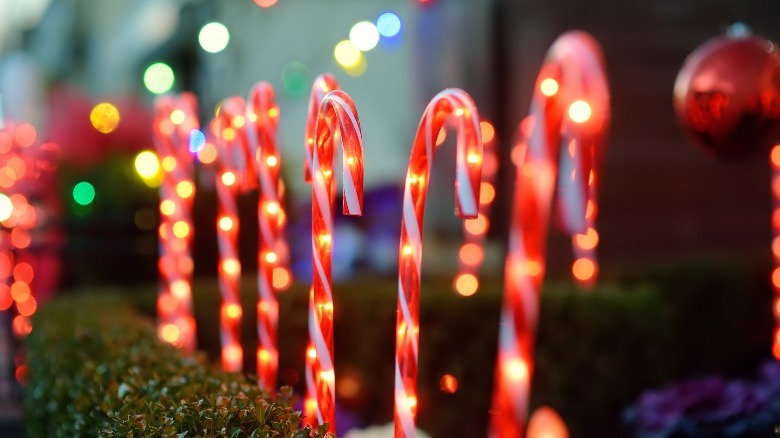 Maria Sbytova/Shutterstock
Turn your entire front door into a candy cane with red and white holiday decorations! DIY your own candy cane garland by adding red and white baubles, bows, mini gift boxes, and anything else you'd like to a string of frosted garland. Finish off with some candy cane lights to dazzle your neighborhood.
7. I'll have a blue Christmas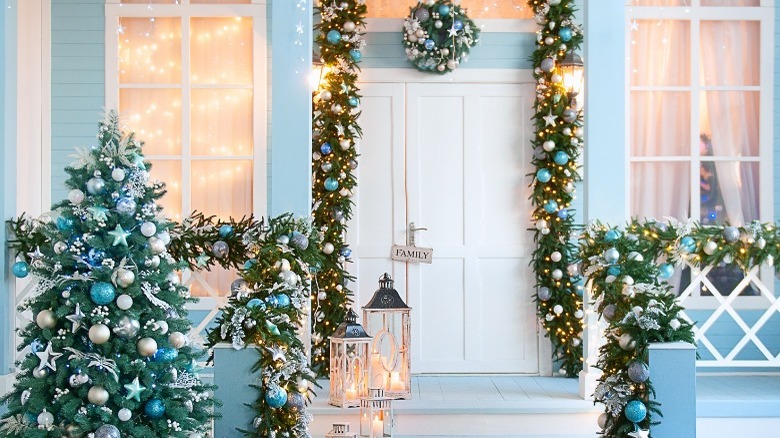 Studioschastie/Shutterstock
Blue has been a staple in holiday decor for a while, and if you haven't incorporated it into your home before, now's the time to do it. Create your own icy arena by adding tons of blue and white ornaments to your outdoor garland and shrubbery. 
8. Woodland wonderland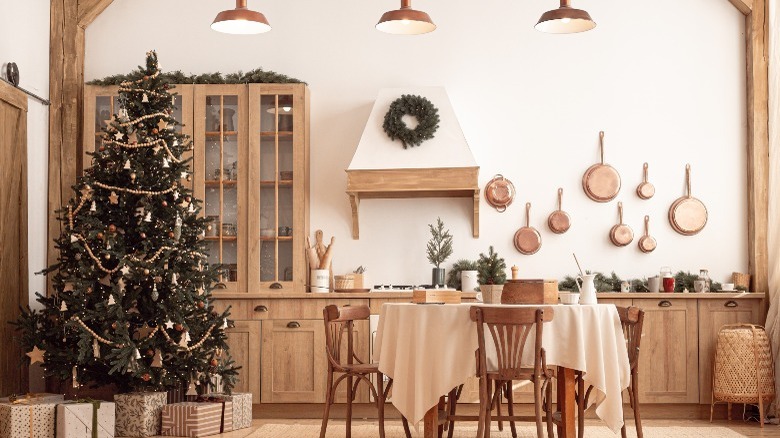 Stanislaw Mikulski/Shutterstock
Accentuate the natural wood in your home with earthy tones and textures. Keep your colors muted (think creams, browns, and dark greens). As a fun DIY project, you can make your own wooden ornaments to display on your tree.
9. Minimalistic magic
For those who prefer a more minimalistic style, we suggest keeping it simple with small holiday touches throughout the home. Small decor pieces on your marble countertop look both elegant and festive.
10. All that glitters is gold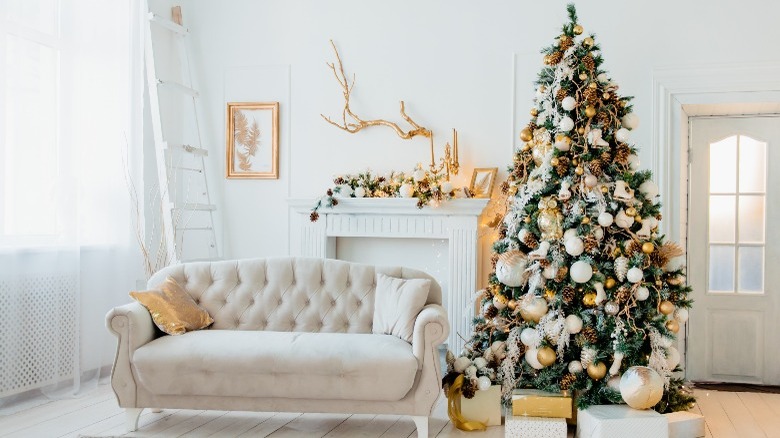 Sinellia/Shutterstock
Say goodbye to silver and gold and hello to gold and white. Add white and gold ornaments, bows, and garlands to your Christmas tree, then sprinkle some gold accents throughout the rest of your home. As a fun touch, wrap your picture frames and wall art in gold wrapping paper and add a bow to make them look like gifts!
11. The gingerbread residence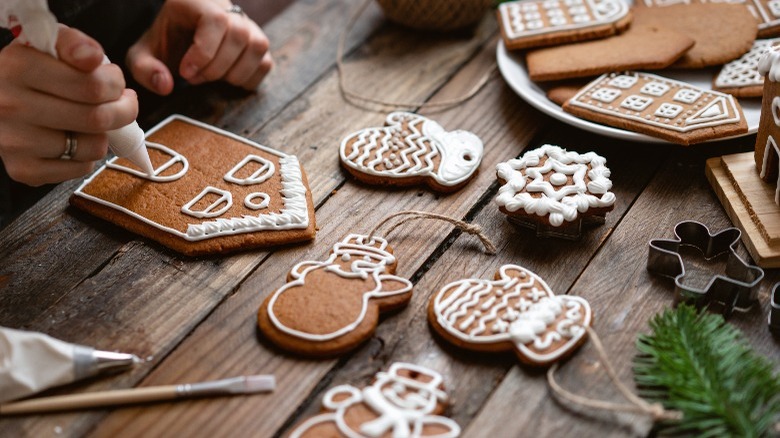 Fusionstudio/Shutterstock
Who doesn't love a good gingerbread house? Decorate a few with your family to display around your home. Create your own gingerbread man garland using cardboard and ribbon to string around your tree or hang on your wall.
12. Frosty and sophisticated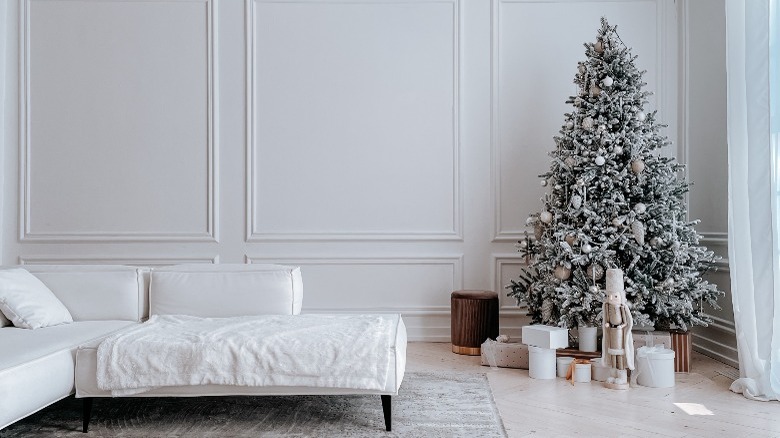 Elena Eryomenko/Shutterstock
An all-white color scheme is classic and elegant and will turn any home into a winter wonderland. Opt for an all-white or frosted tree, and be sure to add lots of fluffy white throw blankets and pillows.
13. Homemade holiday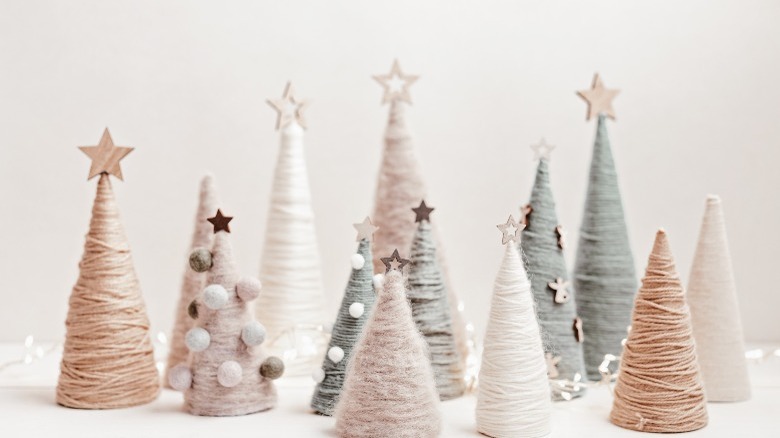 Netrun78/Shutterstock
This year, try your hand at homemade holiday decorations, such as yarn-wrapped Christmas trees. Simply wrap your yarn of choice around a cardboard or styrofoam cone, add pom poms for ornaments, and don't forget the star!
14. Red and pink duo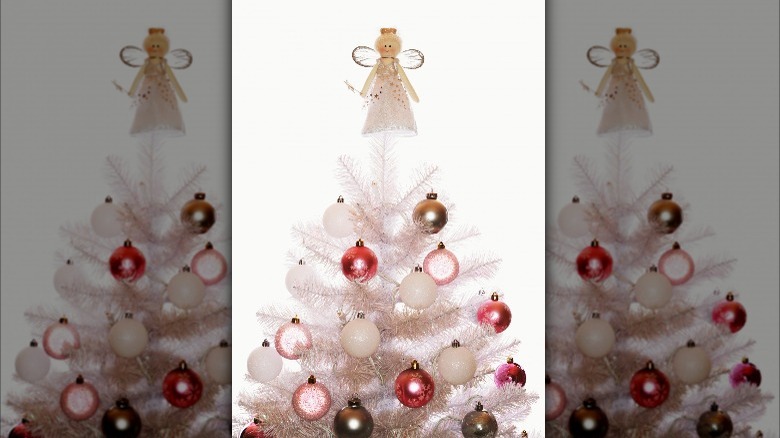 Martin Poole/Getty Images
Red and green, who? Pink is the new green this season, so ditch the evergreen tree and get yourself a pink one instead. Layer your favorite pink and red ornaments, and voilà!
15. Front door finesse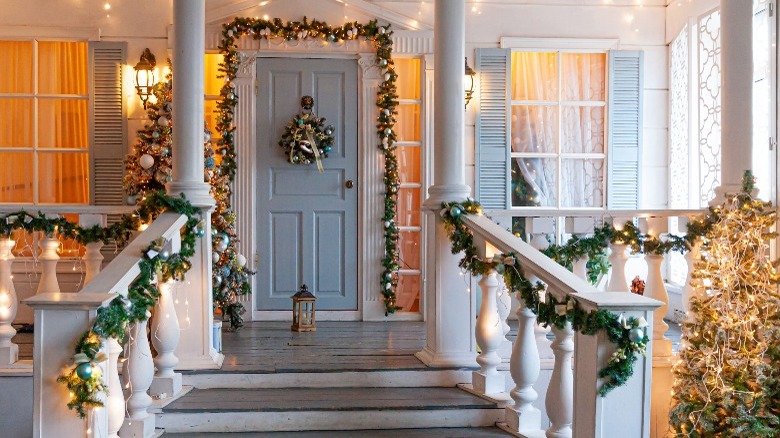 Julia Zavalishina/Shutterstock
There is no such thing as too much garland. Adorn your front door, porch, and railings with the long, thick strands until you're satisfied, then add baubles, bows, and warm twinkly lights to finish the look.
16. Dining in luxury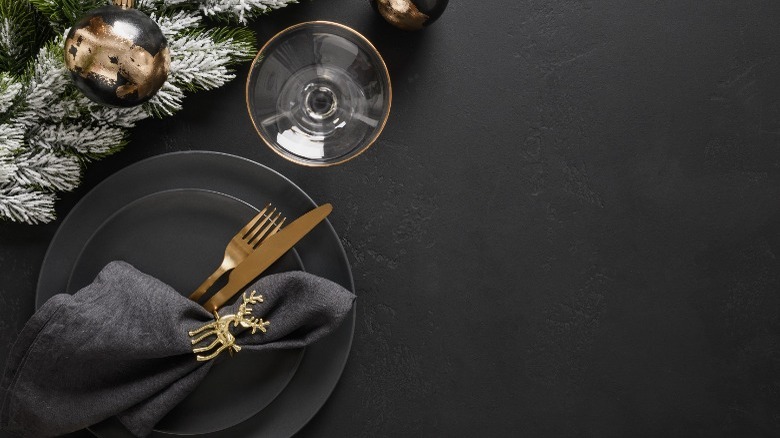 Lazhko Svetlana/Shutterstock
Add a touch of regalness to Christmas dinner this year with an all-black table and dinnerware set. Be sure to break up the darkness with some gold flatware, and place an evergreen centerpiece on the table to keep it on theme.
17. Earthy influence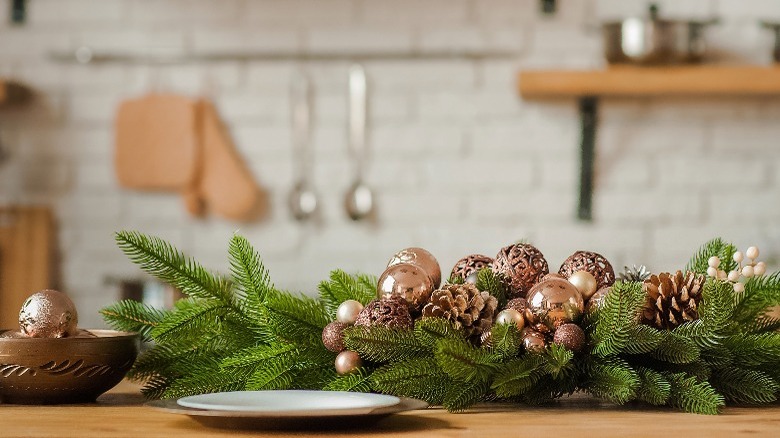 SoNelly/Shutterstock
If it's too cold to go outdoors, bring the outdoors to you. Create a nature-inspired centerpiece by simply hot gluing your favorite bronze baubles and pinecones to an evergreen wreath or garland, let dry, and you're done!
18. Ombré opulence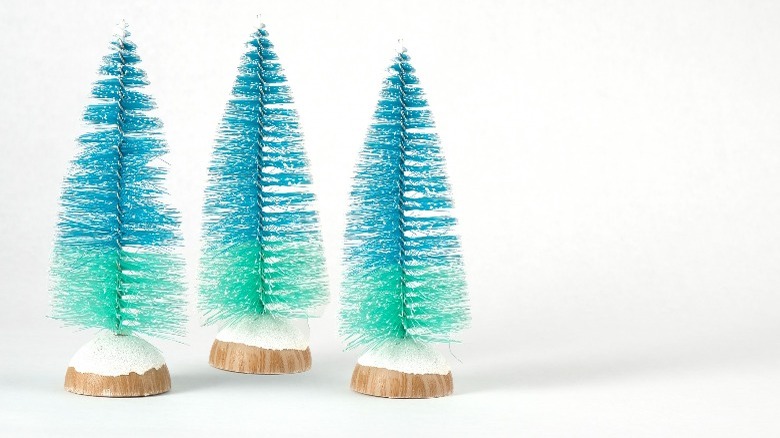 cctm/Shutterstock
Here's your chance to show off your creative side. Spray paint the bottom of a white Christmas tree with your color of choice, gradually using lighter shades as you work your way up. To really do it up, add baubles to match the different colored sections of the tree.
19. DIY wooden Christmas trees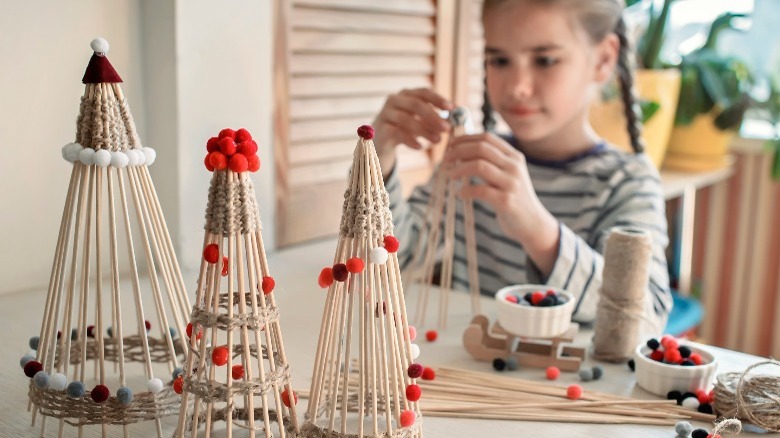 Maria Symchych/Shutterstock
Here's a fun DIY project for the whole family — making wooden Christmas trees! All you need are long wooden sticks, yarn or string to tie them together, and pom poms for decoration.
20. Spook-tastic tree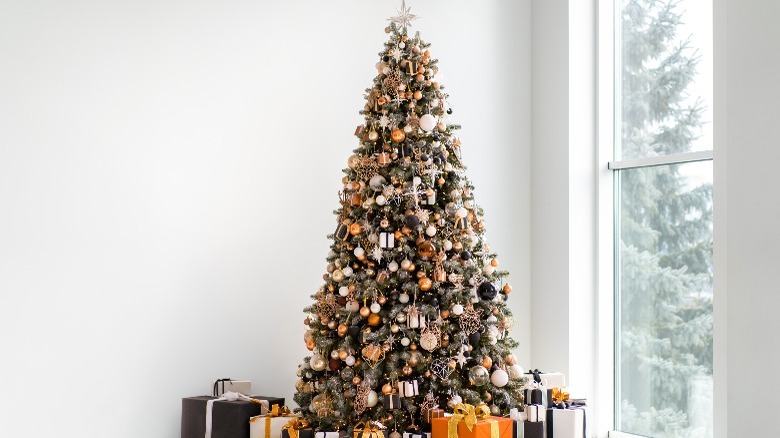 andreonegin/Shutterstock
Halloween doesn't have to be over just yet. Adding orange, white, and black baubles to your tree keeps the spooky season going till the end of the year!
21. Leafy centerpiece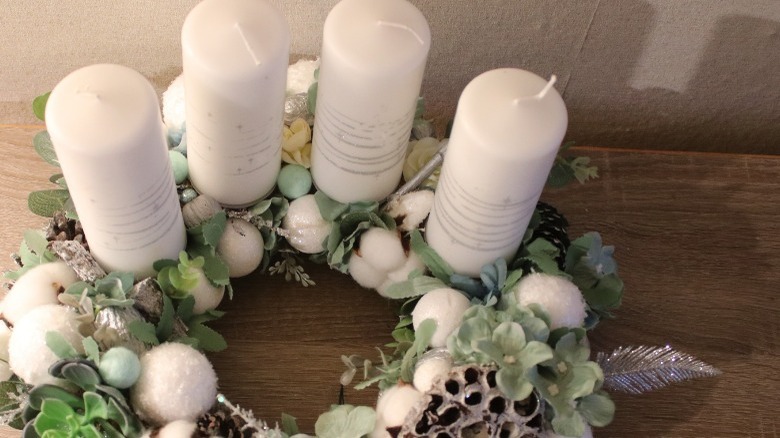 Inga Si/Shutterstock
For a tasteful centerpiece, opt for a leafy wreath instead of the traditional evergreen. Add your favorite white baubles (try to mix up textures if you can), and for the final touch, place decorative candles on top and arrange them to your liking.
22. A monochromatic moment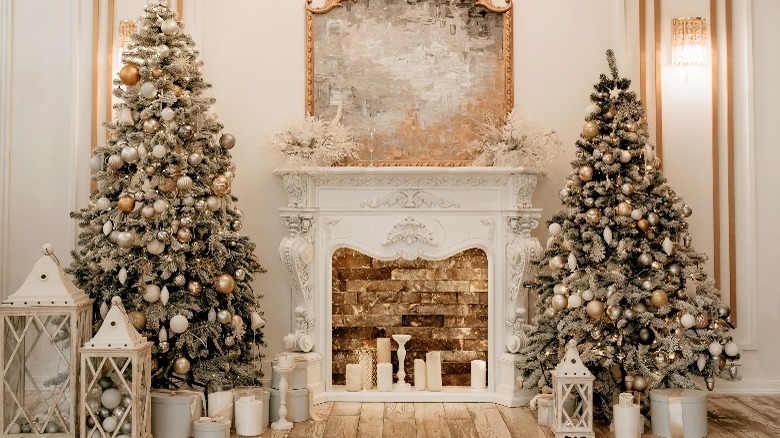 Artem Sokolov/Shutterstock
Monochromatic home decor has been trending throughout 2022, so take this moment to hop on the bandwagon. For a timeless Christmas aesthetic, opt for a white monochromatic look. If you want to go a step further, wrap your presents in matching paper.
23. Christmas village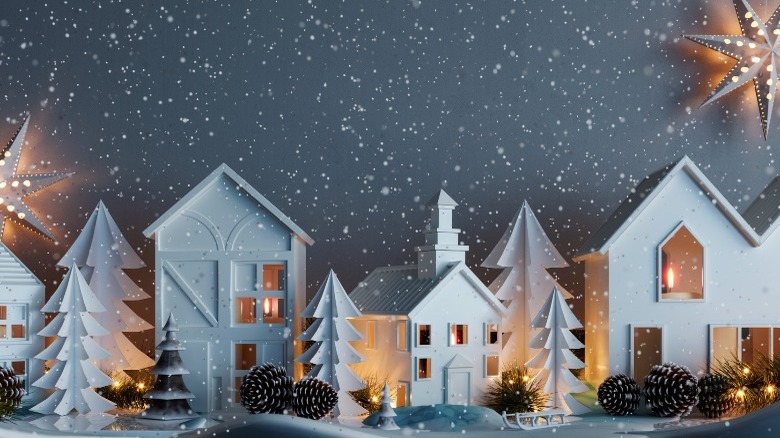 Ilija Erceg/Getty Images
What's holiday decor without a Christmas village? Create your own with matching wooden buildings and trees, and don't forget the twinkly lights and snow!
24. Take a snowy stroll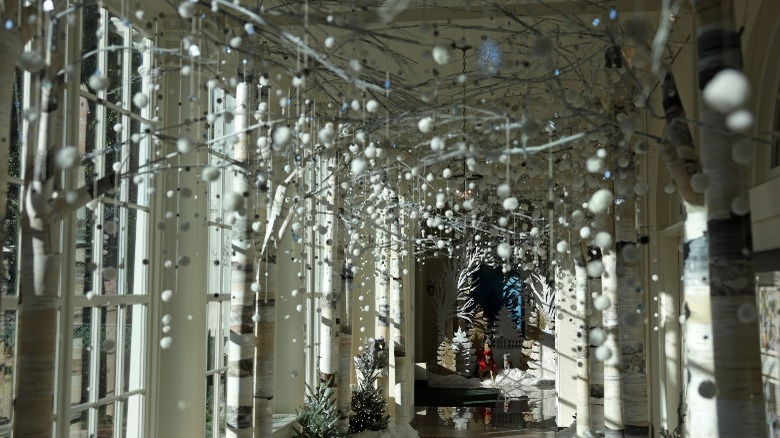 Alex Wong/Getty Images
Turn your hallway into a snowy winter forest by stringing together silver bulbs of all shapes and sizes, and hanging them from the ceiling. Make your strands different lengths for a more eye-catching look.
25. Silver and gold, silver and gold…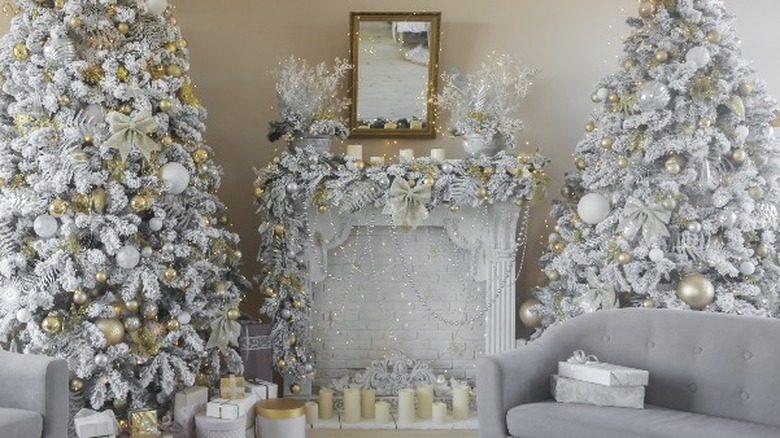 Helena Babanova/Getty Images
Adorn your mantle with a frosted garland, garnished with gold and silver ornaments to give your fireplace some extra flair. But don't stop there — add glimmering strands of beads and twinkling lights to hang down like snow (if you tend to light your fireplace often, we suggest omitting this step).
26. Glitter bomb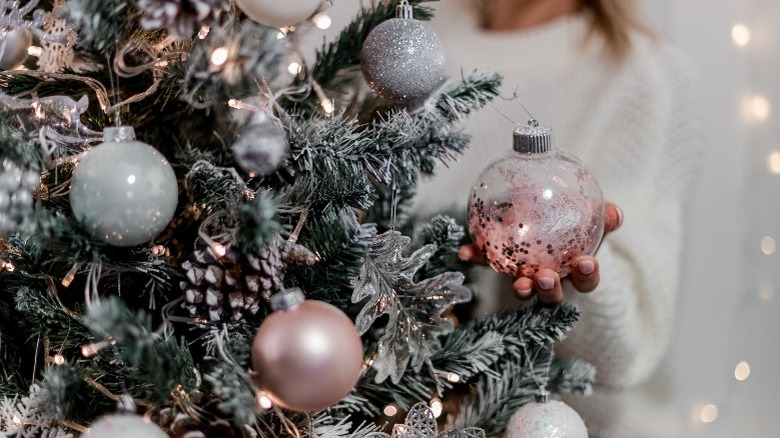 Crazy Bride/Shutterstock
Here's a fun DIY project that takes no time at all, but will make your tree look extra special. Simply add your favorite glitter to a clear bulb, then add a hook or ribbon for hanging. Don't feel the need to stick to one color — the more, the merrier!
27. Pretty in pink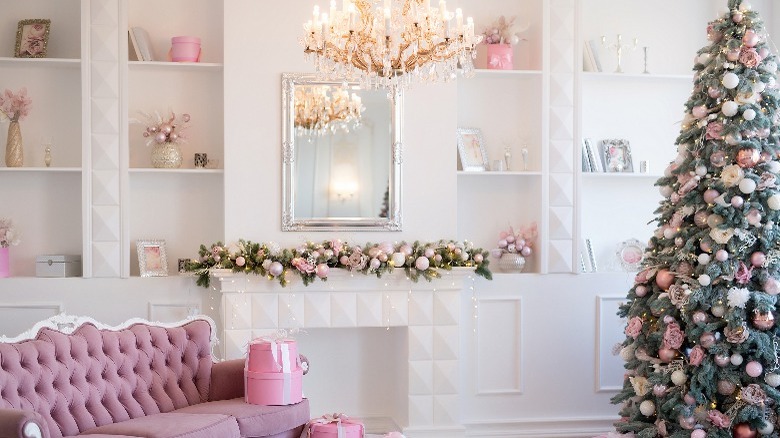 Sergiophoto84/Getty Images
For a feminine touch, add pink bulbs and other ornaments to your tree and garland, and decorate old cardboard boxes with pink wrapping paper to place under the tree and around your home.
28. Festive flames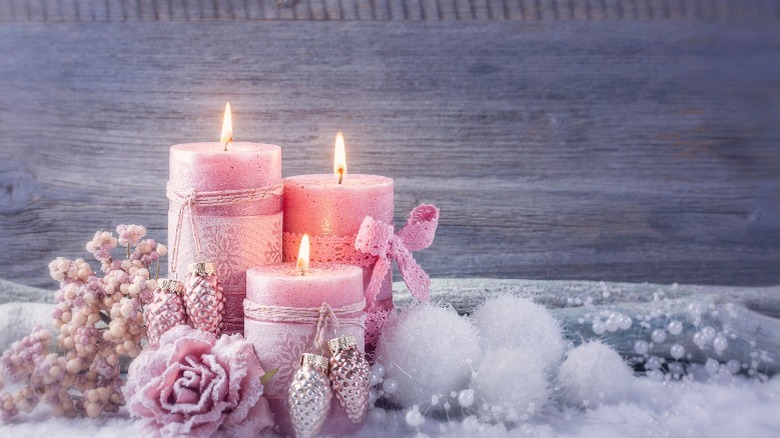 false/Shutterstock
Create a wintery centerpiece for your dining room or coffee table using the same-colored candle in three different sizes. Start by hanging tiny ornaments from each, then surround the trio with winter flora of the same shade.
29. Star light, star bright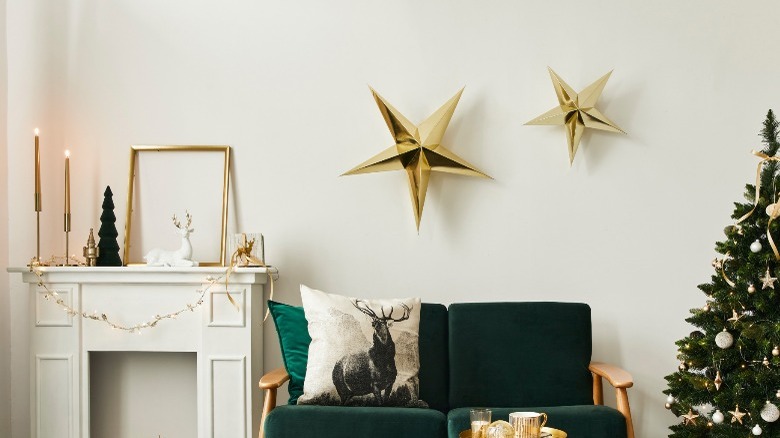 Followtheflow/Shutterstock
A simple look, adding gold stars to your walls shows your holiday spirit without going over the top. Opt for a few large stars, or turn your wall into a night sky with dozens of small ones. The choice is yours!
30. Perfectly patriotic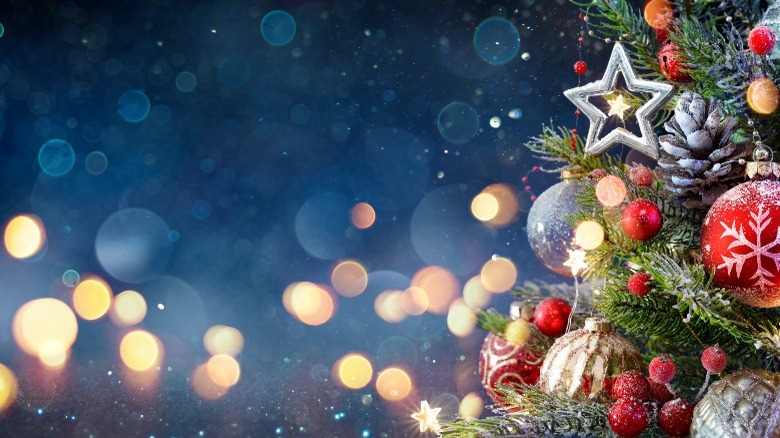 Romolo Tavani/Shutterstock
For this look, consider using items you can find right in your own backyard, such as pinecones and berries. Instead of your typical pinecones, grab some blue spray paint and give them some color, and add glitter to the berries for that holiday sparkle.
31. A citrusy celebration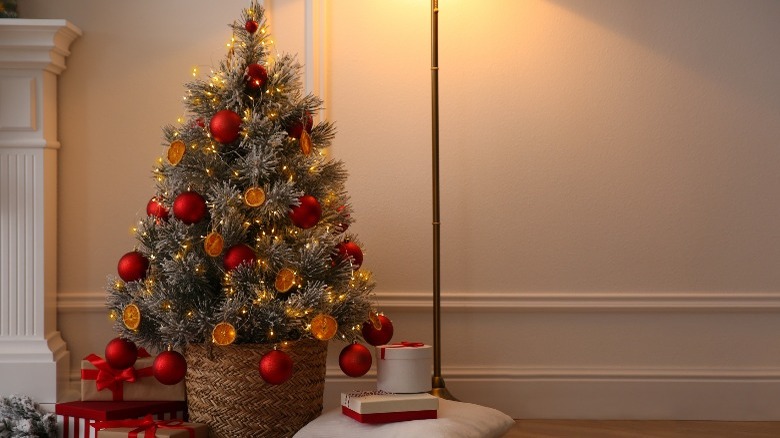 New Africa/Shutterstock
Orange slices on a Christmas tree? Yes, it can be done! Slice up your favorite orange fruit, then dry out the slices by placing them on parchment paper and baking them for three hours at 250 degrees Fahrenheit. Once they've cooled, add hooks, and they're ready to hang!
32. Holiday in the sun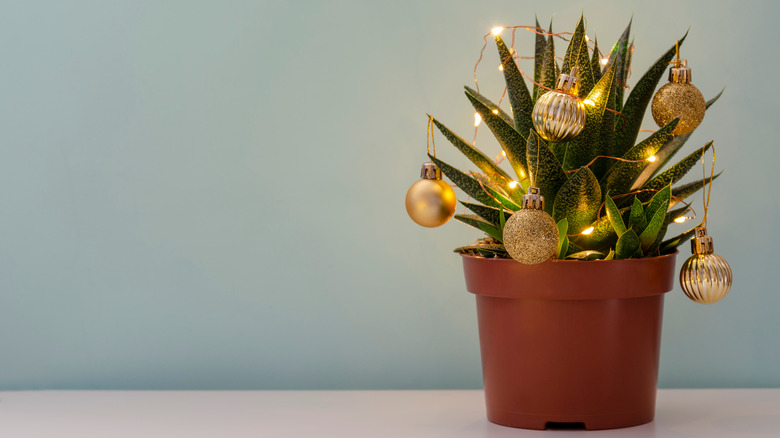 Tenzen/Shutterstock
No pine trees? No problem! This holiday decor idea is for those who don't get to have a white Christmas. Simply hang your favorite ornaments and tinsel on your outdoor plants and cacti (be careful of the spines!).
33. DIY holiday window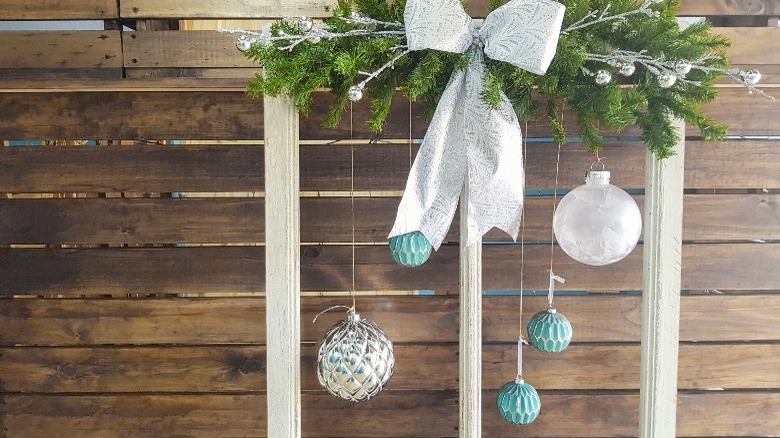 Kryssia Campos/Getty Images
Create your own holiday decor using an old window. Take out the glass panes, then hang as many or as few ornaments as you want. Add some garland to the top, and finish it off with a bow.
34. Handmade Christmas tree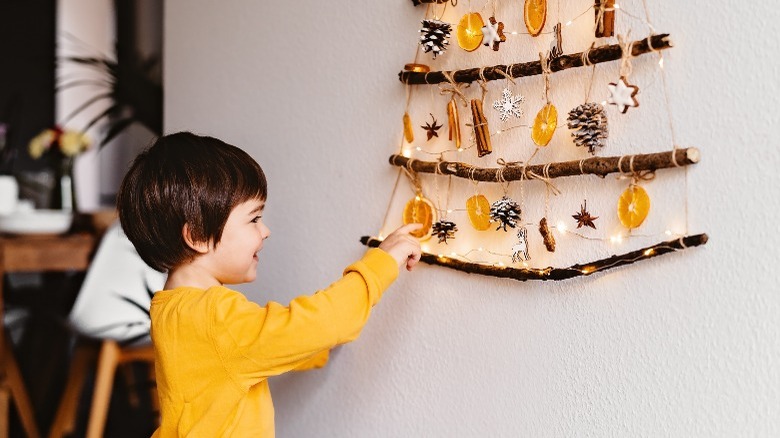 Tatyana Soares/Shutterstock
This DIY Christmas tree is made of nature's finest materials. String five sticks together, leaving about 5 to 6 inches in between each. Make each stick shorter as you work your way to the top (this will be the tree). Then it's time to decorate! Add pinecones, dried fruit or flowers, and whatever else you can think of.
35. Simple and clean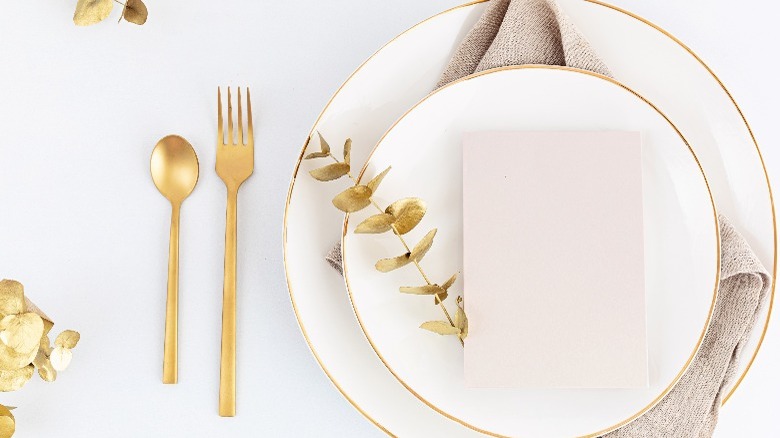 Netrun78/Shutterstock
Don't spend hours fretting over decorating your dining table; keep it simple with white and gold dinnerware and flatware. It looks crisp, clean, and elegant.
36. Classic holiday wreath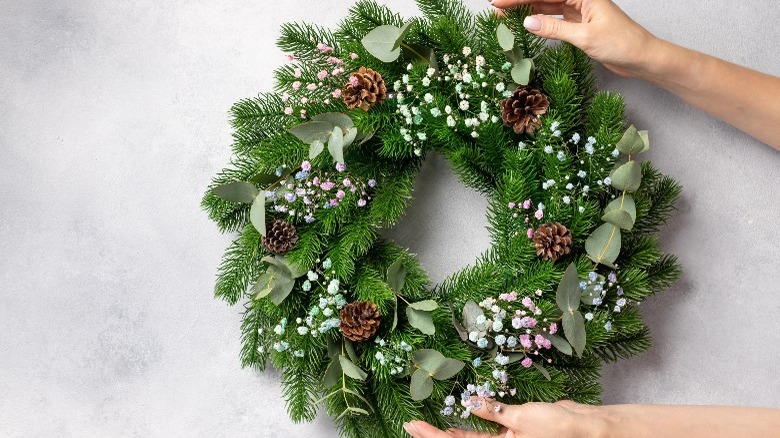 Mila Naumova/Shutterstock
Turn a boring, everyday wreath into something special by adding pinecones, small flowers, and other natural elements. Hang it up on your front door, or use it as a centerpiece and place a large candle inside.
37. Candle Advent calendar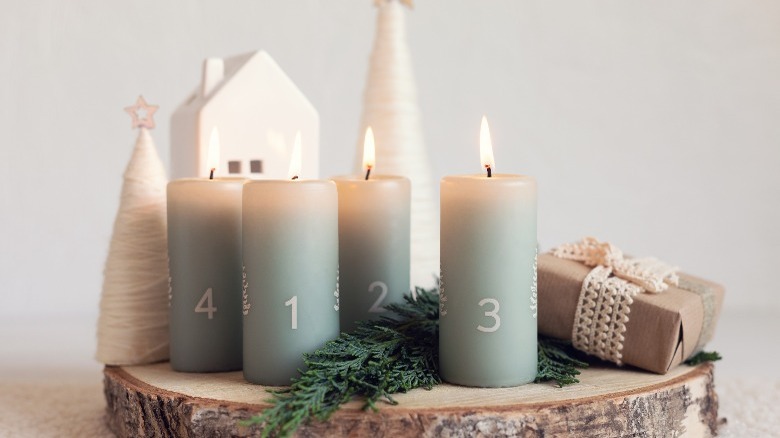 Netrun78/Shutterstock
The four candles symbolize the four weeks of Advent, and one is to be lit each Sunday. Place the candles on a tray or wooden slice and decorate to match your style.
38. An apple a day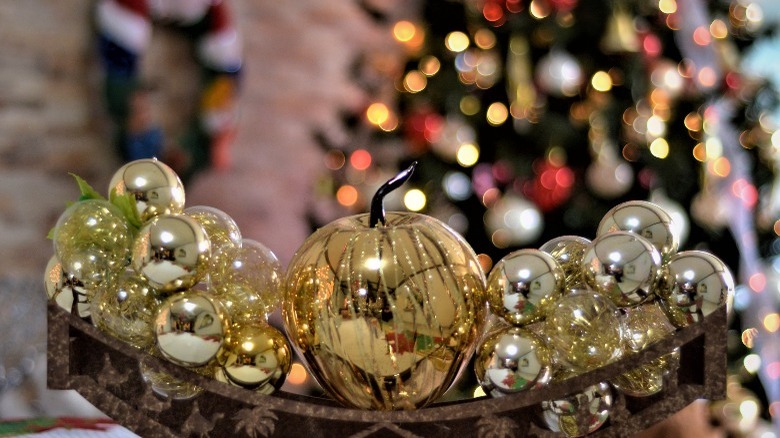 Medios Y Media/Getty Images
Wax fruit just got an upgrade. Decorate your dining table or kitchen island with this glass fruit centerpiece. Get yourself a glass apple ornament and use smaller bulbs for the grapes. Switch things up between transparent and opaque bulbs for texture.
39. Christmas critters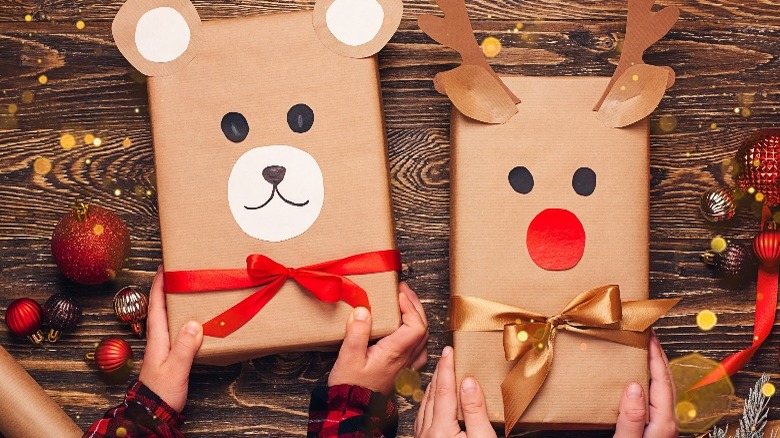 Iryna Kuzmenko/Shutterstock
Here's a fun holiday craft the whole family can do together! All you need are empty cereal boxes, brown wrapping paper, markers, and whatever materials you need to decorate your critters. Cover the cereal box with wrapping paper, draw on some eyes and a nose (or cut them out using construction paper), and decorate however you like!
40. By the candlelight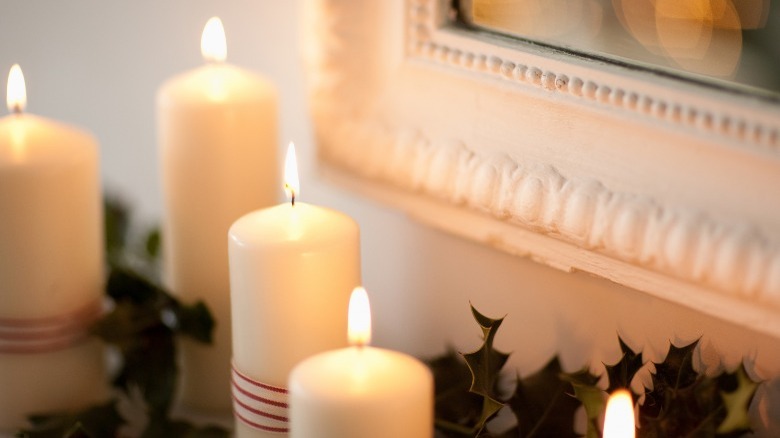 Tom Merton/Getty Images
Simplicity at its finest. Grab your pillar candles and wrap a decorative ribbon around each. Place them on your entryway table or mantle, then decorate the rest of the table with holly or other winter greenery.
41. DIY clothespin snowflakes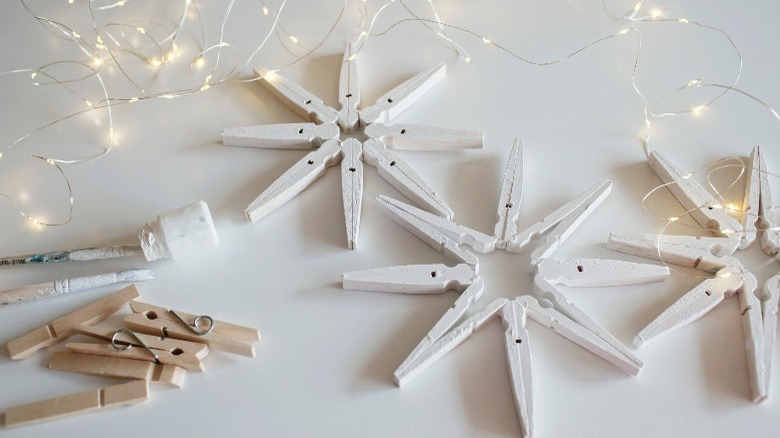 Maria Symchych/Shutterstock
If you live in a place without snow, make your own white Christmas with these DIY snowflakes! First, paint eight clothespins with basic white paint, then leave them to dry. Next, hot glue them together in the shape of a snowflake. Use them as tree decorations, or hang them on the wall.
42. Seasons eatings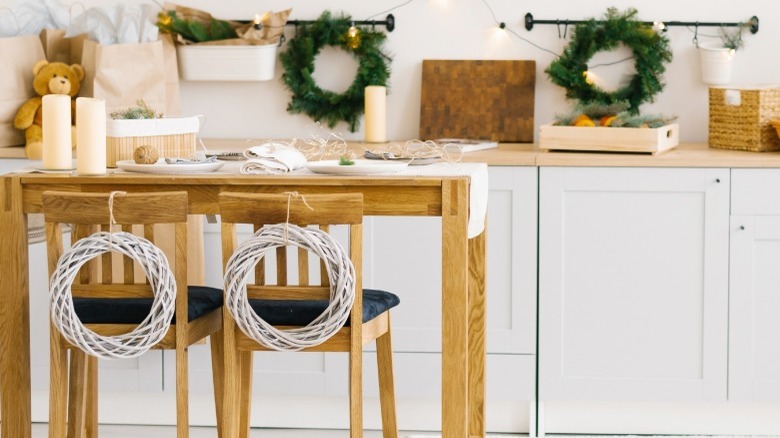 Chamomile_Olya/Shutterstock
This holiday season, decorate your kitchen chairs using none other than Christmas wreaths. Use twine, string, or ribbon to hang a wreath from the back of each chair. Now you can say no space in your home has gone undecorated.
43. Decorative dining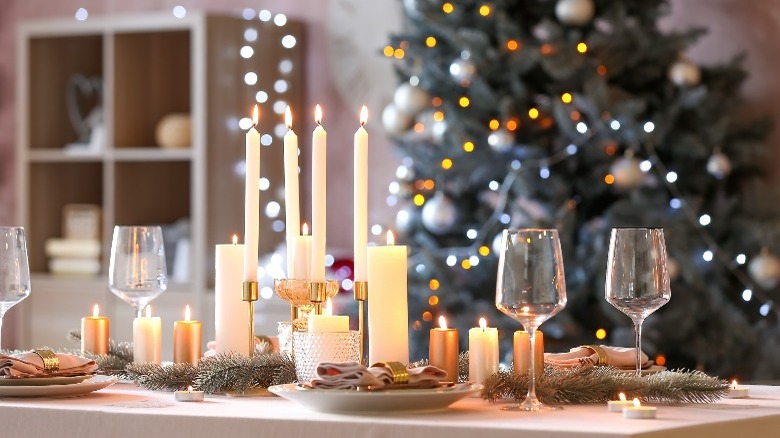 Pixel-Shot/Shutterstock
To create an elegant dining table for Christmas dinner, alternate between taper and pillar candles, using a mix of complementary colors. Place some greenery throughout the table to make it more holiday-appropriate. 
44. Bookshelf blast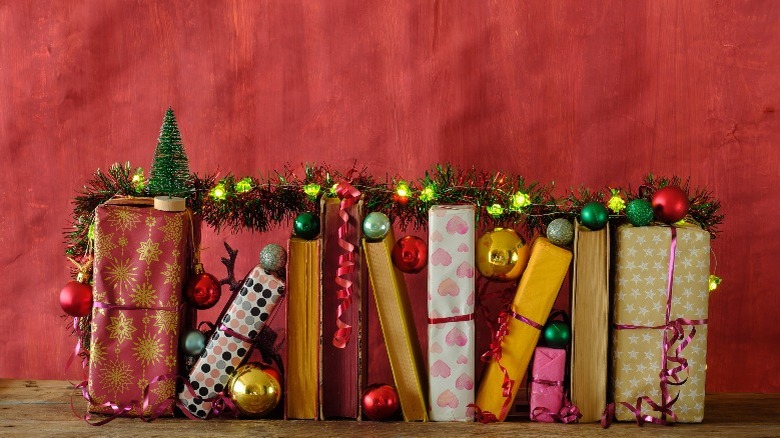 Thomas Bethge/Shutterstock
Turn your books into packages by covering them with different holiday wrapping paper. Add ribbons or bows to finish off, then display them on your bookshelf for all to see.
45. Delicate decor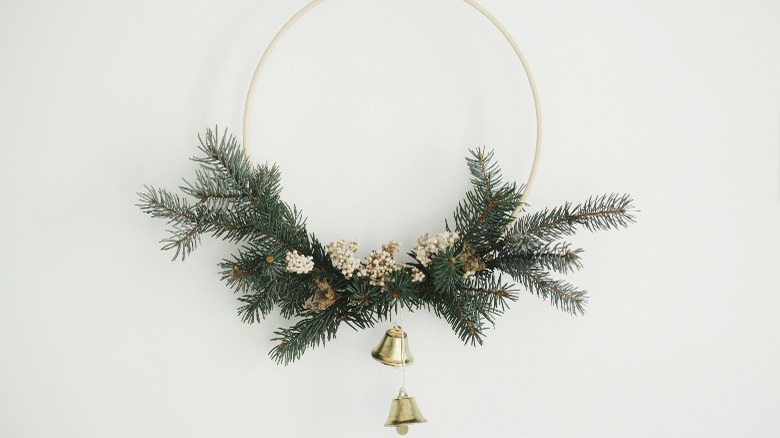 Bogdan Sonjachnyj/Shutterstock
Here's a more modern take on the Christmas wreath. Add garland and ornaments to the bottom of a metal hoop (we prefer gold, but the color choice is yours). Leave the rest of the hoop bare, and it's ready to hang.
46. Funky forest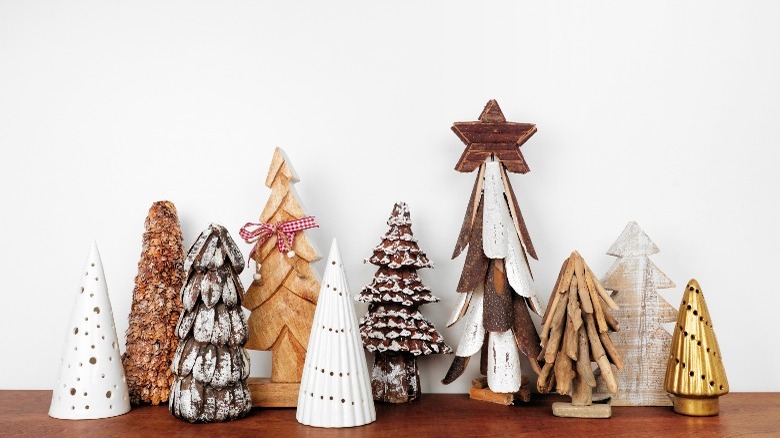 JeniFoto/Shutterstock
Switch things up by incorporating trees of all shapes, sizes, and materials into your holiday home decor. Trees made from natural materials (such as tree bark and pine cones) look excellent alongside those made of metal and porcelain.
47. North Pole peeps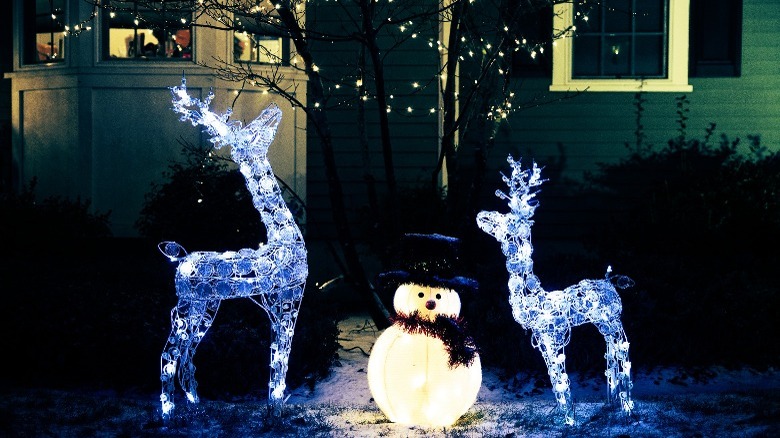 EvgeniiAnd/Shutterstock
Turn your front yard into the North Pole with light-up reindeer and snowmen. They come in all sorts of colors, and you can even purchase animatronic models to bring your frosty friends to life!
48. DIY ladder Christmas tree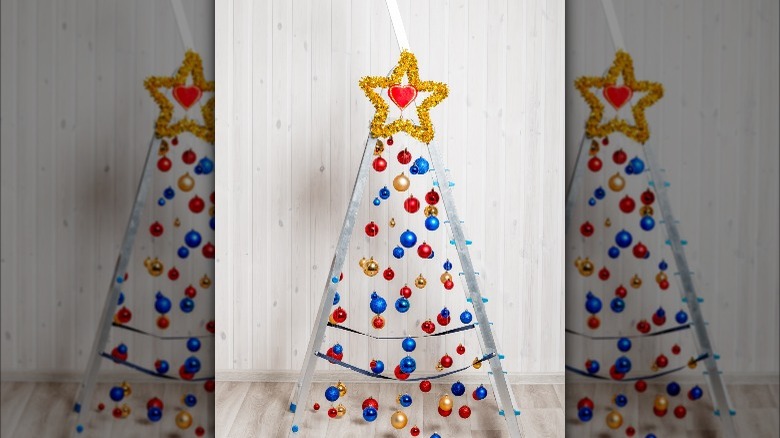 kosmos111/Shutterstock
If you don't have a tree, here's your chance to make one, and all you need is … a ladder! Hang your selected ornaments from the steps of the ladder as you see fit, then add a bow or star at the top.
49. Stepping into Christmas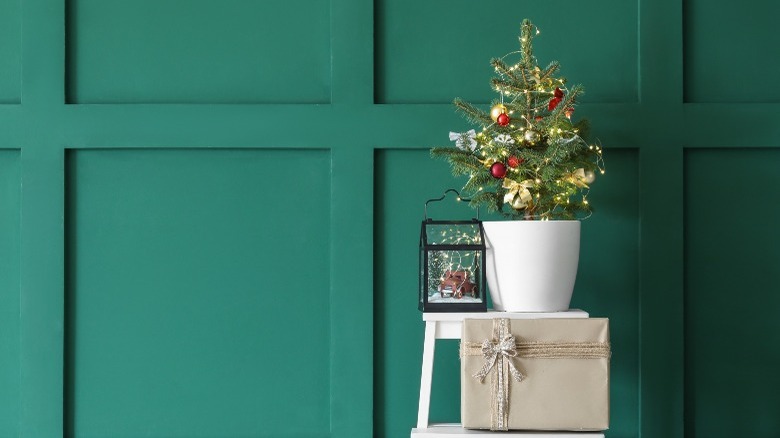 Pixel-Shot/Shutterstock
Turn your step ladder into a shelving unit for your holiday decor. Here is the perfect place for your small Christmas tree and other holiday items searching for a home.
50. Go big or go home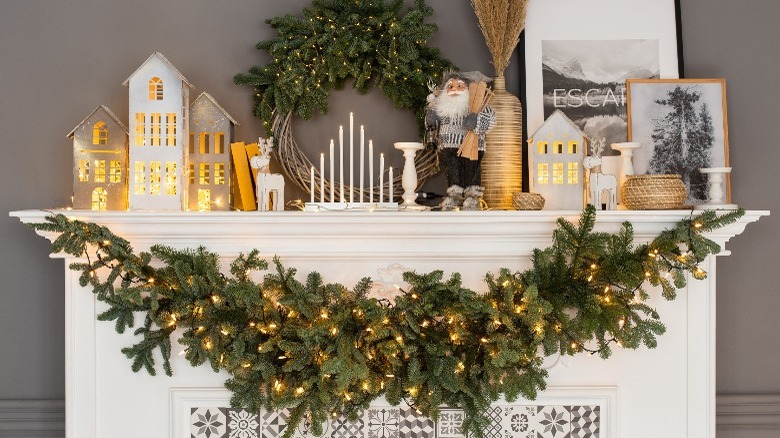 Sergey Mikheev/Shutterstock
When it comes to the holidays, there's no such thing as "less is more." Grab the biggest, bushiest garland you can find to hang from your mantle. Be sure to add twinkly lights to get the full holiday effect!
51. Warm wooden lanterns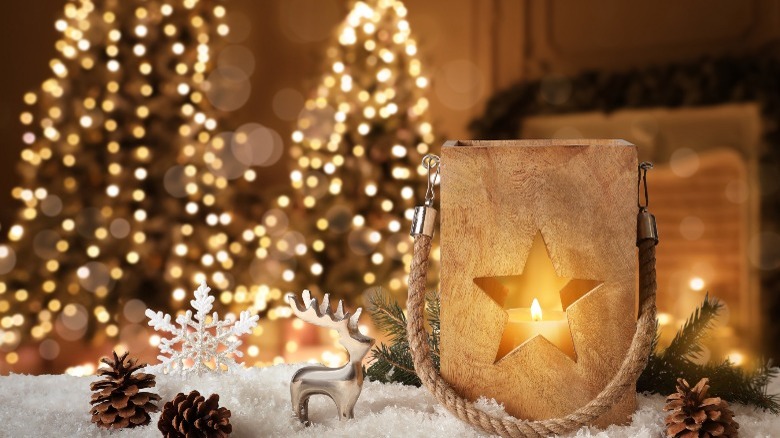 New Africa/Shutterstock
A rustic take on the classic Christmas decor, wooden lanterns make any home feel warm and cozy throughout the holiday season (just make sure you use battery-operated candles).
52. Indoor Christmas tree farm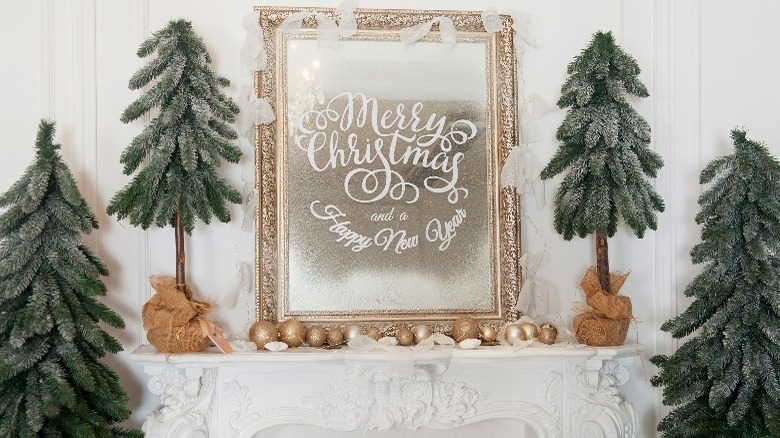 Roma Likhvan/Shutterstock
Who needs to go outside when you have your own tree farm indoors? Adorn your fireplace and mantle with faux Christmas trees of different shapes and sizes (if you're missing that fresh pine scent, lighting a few balsam candles should do the trick).
53. Flameless fireplace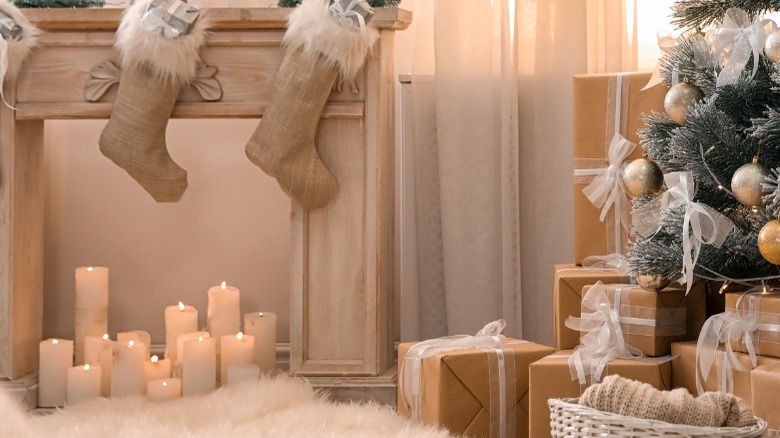 New Africa/Shutterstock
If you have a fireplace but aren't able to light a real fire, there's a simple solution: flameless candles! Add pillar candles of all sizes to your fireplace, then light them up to give your living room that much-needed holiday glow.
54. Light fixture festivities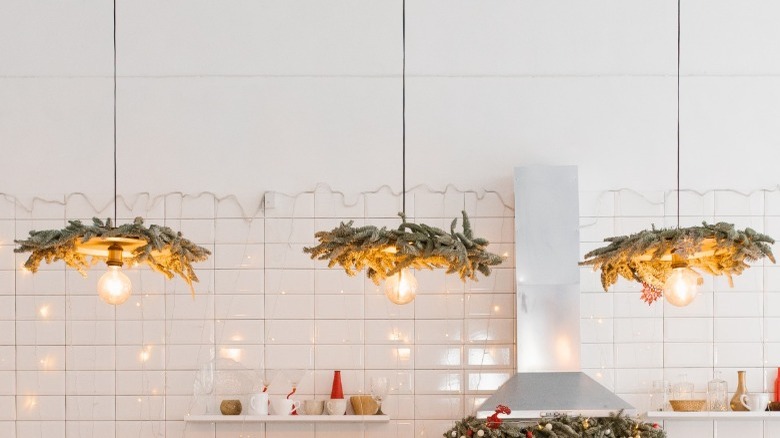 Chamomile_Olya/Shutterstock
To create these holiday-festive features, place the wreath over the light fixture, and adjust it to ensure the pine needles and light bulb never make contact.
55. Upcycle sparkle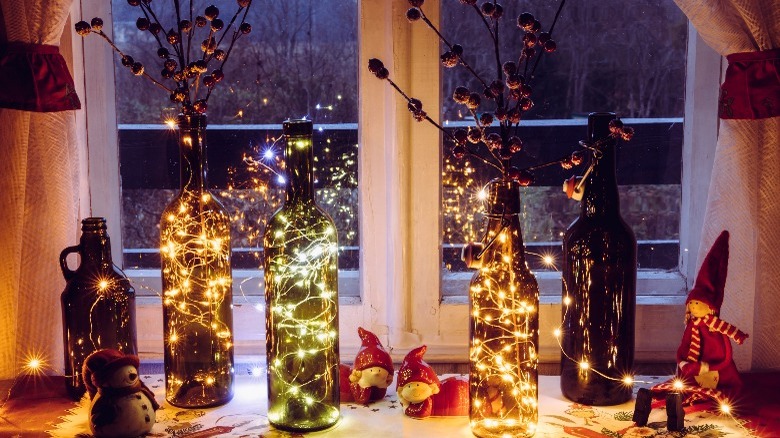 FotoHelin/Shutterstock
Make use of those old wine bottles by turning them into lanterns! Remove the label and give each bottle a good rinse. Once they've completely dried, insert a strand of battery-operated twinkly lights. You can stop here, or you can go one step further and add faux flowers.