The living room is arguably the best place to express your creativity and style. It gets lots of foot traffic as it's the place in your home where you spend considerable time relaxing and entertaining guests.
But if you feel like your living room doesn't reflect you and your family's personality, don't stress! The living room is actually one of the easiest and most cost-effective rooms to revamp, as long as you're not taking down walls, rebuilding it from scratch, or installing cabinetry.
We asked designers and real estate experts to share their best ideas for refreshing your living room for $1,000 or less—no special tools or skills are required.
1. Exalt your space with crown molding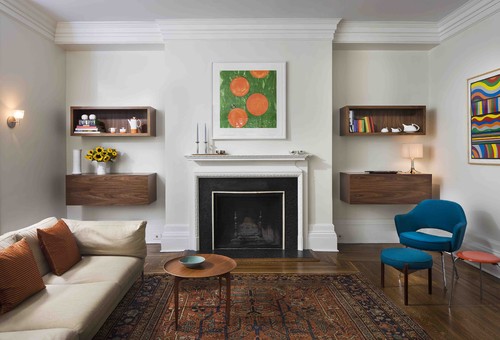 Photo by Laurie Lieberman Architects
Decorative trims like crown molding will give your living room a look of elegance. And, believe it or not, achieving this elegance is relatively affordable.
"If you are looking to upgrade your living room without breaking the break, installing decorative crown molding is the easiest and most cost-effective way to do it," says Todd Saunders, CEO of Flooring Stores. "An average-sized living room will cost between $500 and $800, including labor."
When selecting a crown molding style, be sure you select a style that will complement your space.
"For example, if you have low ceilings, overly ornate molding will make your ceilings look even shorter," says Saunders. "However, if you have high ceilings, the ornate molding will make a bold statement that makes the whole room feel fresh."
Shop the range of styles and prices at The Home Depot, where basic crown molding starts at around $2 per linear foot.
2. Smooth over stains with slipcovers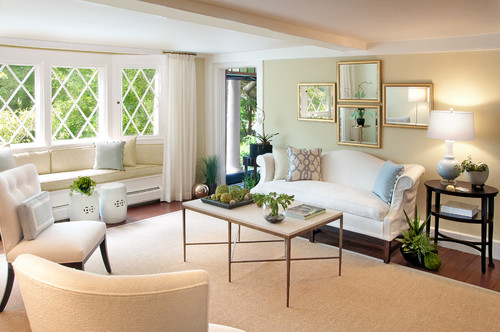 Photo by Marcye Philbrook
If you truly live in your living room, spills happen. Investing in an entirely new set of furniture is expensive. But what if you're tired of staring at the evidence that you accidentally spilled your coffee on the sofa? Snag some slipcovers.
"Slipcovers are an easy and relatively inexpensive way to change the look of your furniture," says interior designer Steven Hill, founder of DIY Gazette. "They come in a variety of colors and patterns, so you can easily find one to match your decor. You can even find slipcovers that resemble high-end fabrics like velvet or leather."
Prices for sofa slipcovers start at around $50 for basic fabrics. Custom slipcovers start at around $300.
3. Refresh the walls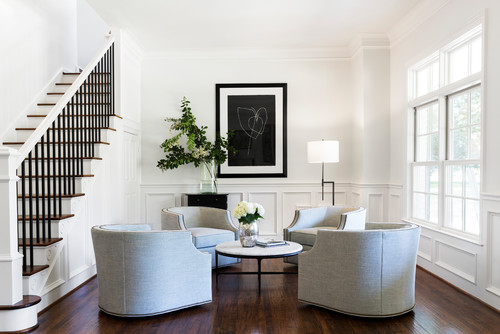 Rethinking your room's color palette or even changing the texture of the walls will imbue the room with your signature style.
"Painting your living room is a great way to upgrade the space and is definitely one of the most impactful home improvements that is easy to do yourself," says Bill Samuel, a residential real estate developer with Chicago's Blue Ladder Development. "You should be able to purchase the paint and all the supplies needed to complete the job for between $250 to $400."
If you want to underline the upgrade, add wainscoting or paneling to one of the walls. It does require some elbow grease, but Samuel says it is eminently manageable.
"This will give your living room a luxurious look for an affordable price," says Samuel. "The MDF material is actually really cheap and shouldn't cost more than $100 to $200 for a single wall in the living room. You should still have room in the budget to rent the tools to complete the job as well."
Scared? Consult the internet.
"There are tons of videos on YouTube that will show you a step-by-step tutorial on how to complete different designs," he says.
Shop for paint supplies and wainscoting at your local hardware store or an online retailer like Lowe's.
4. Change up the lighting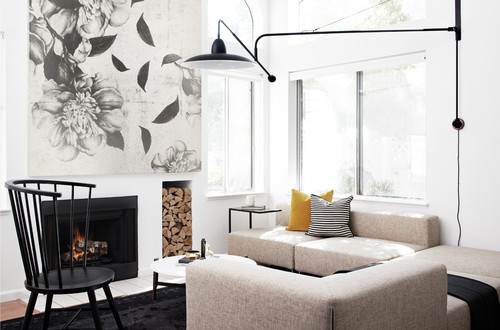 If you want to add depth and visual interest to your living room, consider layering the light sources.
"Add layers of lighting at different heights and levels of brightness," says Stacy Lewis, an interior designer and owner of Eternity Modern, an online store specializing in modern furniture and decor.
Switch out your lamp bases and lampshades, or add a chandelier or wall sconces.
"It's an affordable way to update your space without the additional cost of outside labor," Lewis says.
Explore lighting options at Lamps Plus, with prices starting at $75.
5. Outfit your home theater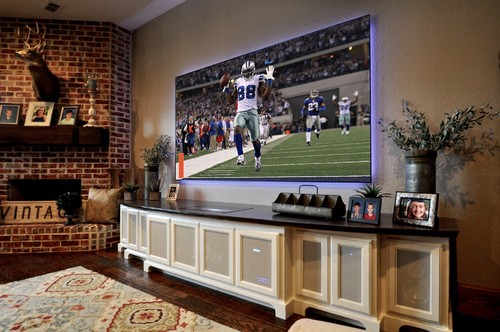 You can upgrade your movie- or TV-viewing experience by adding some equipment to your living room.
"You can easily create the proper lighting and acoustics for your home theater system for much less than $1,000," says Martin Orefice, CEO of Rent to Own Labs in Orlando, FL.
For lighting, you'll want to invest in good black-out curtains that will block the light and reduce glare.
Modern speaker systems are incredible at creating a surround-sound experience with nothing but a single bar in front of the TV.
"If you have an especially large and echoey space, you may want to invest in acoustic tiles or tapestries as a way to keep sound from bouncing too much," Orefice says.
Check out black-out curtain options at Wayfair starting at $25. Home theater sound systems start at $100 at Best Buy and go way up from there.