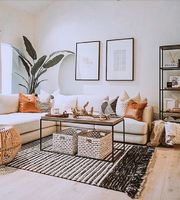 If you have been living in a single apartment or a house for a couple of years now, you might be getting the urge for some quick upgrades to your home decor. When it comes to the interior design of your home, it can be nice to renew and revamp things.

Not everyone has the knowledge or the time required to create a change to their interior, but you are free to draw inspiration from other people and maybe even copy how others have decorated their homes. The internet also offers plenty of ideas that can serve as an inspiration.

There are many tricks when it comes to upgrading your decor and making it feel chic and unique. In this article, we'll do our best to guide you on how to make some swift changes and freshen things up.

Create a Picture Wall

Creating a picture wall has never been trendier. Instead of hanging a single painting on the wall, more and more people choose to collect different and contrasting works of art in one place.

To create a personal impression, you can decorate with family pictures, posters, or paintings. A different way to spruce things up is to use one of your favorite assembled 1000 piece jigsaw puzzles and dress up the walls of your living room or one of the bedrooms.

It is wise to have a plan before you start with your picture wall. Feel free to select one or more images that you particularly enjoy and fill in with other works that match. Don't forget about having a theme or a color, so that the picture wall does not feel too messy. Feel free to mix works of art in different sizes to create a wonderful impression in the room.

Move Your Furniture Around

It could very well be the case that there is nothing wrong with the furniture itself or the interior details in your home but more with their placement in the living space. Try to create a little more dynamic by moving the furniture around and don't hesitate to try different angles and positions.

This is a simple trick to achieve the effect that something new has been introduced in your living space. You can also move furniture between different rooms if you have more than one. The armchair in the living room can work probably just as well in the bedroom.

Even smaller details such as plants, paintings, and ornaments can be moved between the rooms. Small details can indeed do a lot for the overall picture.

Light It Up

Good lighting as decoration is one of the key parts of interior design. Choosing the right lighting for a room is, however, both a matter of function and style. The lamp must fulfill the function you are looking for, but should also fit in stylistically.

Finding a lamp that is simultaneously decorative can be a challenge at times, but there is almost certainly a good option out there if you just look hard enough.

Try out a window lamp

Placing a window lamp can achieve a new look and make your home feel complete. It can look decorative both inside the room and outside.

Remember to first arrange the other lighting in the room so that the window lamp is allowed to be decorative. You can hang a window lamp on each window, group several in just one of many windows, or choose a stylish and eye-catching one in a single window and ignore the rest. There are no musts or rules here, but you should do exactly what you prefer and like.

Think Of The Fabrics

Fabrics in all their forms are always welcome in a freshly decorated space. More than just placing a blanket on the sofa, fabrics are also about pillowcases, curtains, carpets, and much more.

A thick and lovely rug is welcoming in the cozy rooms such as the bedroom and living room. It can also be inviting in the toilet if you have a cold and monotonous tile floor.

Curtains can be of different heights and your taste is what should determine the style you choose. As a mere example, short and straight curtains fit well in the modern home, while lace curtains and thick velvet curtains fit, what you would call, the classic home.

Plants For Breathing In Life

It is no understatement that plants and some greenery can change, even transform, a home. It is, therefore, the best upgrade in your interior to achieve that cozy feeling that makes all the difference.

By making conscious choices about both location and plant variety, you can create exciting, harmonious, or playful rooms, depending on your taste and liking. Besides, plants contribute to a better indoor climate with their air-purifying properties.

Here are some tips on how you can use plants to upgrade your living space:

– If you combine green plants with neutral colors of walls and natural materials of furniture, a calm and soothing feeling often arises in the room. It is a great option if you want to achieve harmony and a "close-to-nature look".

– As a way to utilize the whole space, feel free to place a slightly higher plant in an empty and lonely corner.

– You can also play around with the height of your plants and how you arrange them. Vary the height of the greenery with large potted plants that stand directly on the floor or on top of a low object. There are many options to choose from, such as different types of rustic palm varieties, smaller olive and fruit trees, tall cacti, branched shrubs, or large-leaved plants.

In the end, the trick when trying to use greenery in your home is to choose the right kind of plants that suit both your home and lifestyle.

Final thoughts

Renovating, redecorating, or buying something new for your home can feel like the ultimate upgrade. And it doesn't even have to cost much money, or any money at all, to make a big difference.

Your home is usually the place where you relax and spend most of your time. This is where you gather energy, relax and socialize with those you love dearly. Therefore, it may be worth looking at the suggestions in the text above to see what you can do when trying to achieve elevated decor and be able to enjoy your home even more.