Closets come in all shapes, sizes, and styles. And while we all wish we could have a magical closet a la "The Lion, the Witch, and the Wardrobe" to fit all of our stuff in, in the real world we have to work with what we have.
Whether big or small, disorganized or tidy, your own closet could probably stand to be refreshed with one (or more) or the latest design trends.
"As closets have evolved from simply being about storage to becoming useable spaces within our homes, we have shifted the way we look at them," says Jeffrey Phillip, a New York City–based professional organizer and interior designer. "We want them to be warm and cozy spaces that we enjoy spending time in."
If your next home improvement project involves elevating the look and feel of this all-important space, study up on the design trends below.
1. Dabble in dark wood
Photo by Karl Holtermann Designer + Builder LLC
Statement tones are all the rage in home design, and that includes inside the closet.
"More and more, people seem to be moving away from white closets," says Lisa Adams, CEO and designer of LA Closet Design. "Whether it be a painted color option or a stained wood, I think clients are looking for the unexpected." 
Dark wood brings a sense of luxury, elegance, and glamour, says Diana Viera, managing partner at Italkraft, based in Miami, which specializes in custom-designed kitchens, bathrooms, cabinetry, and closets.
"If you're looking for contrast, apply a lighter lacquer color to accent the wood tones on drawers, shelves, or an island," says Viera.
2. Glam it up with glass cabinet doors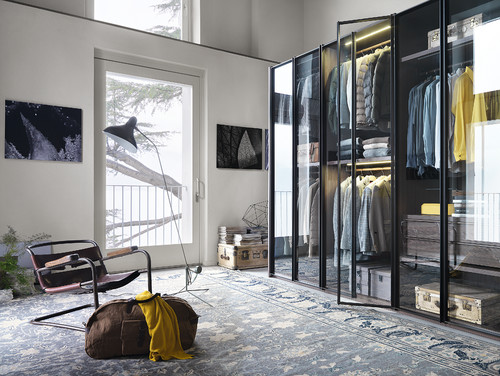 "I like to incorporate glass cabinets to protect special pieces from dust and humidity, especially investment bags and formalwear," says Adams. "Maybe it's a couture gown that needs a climate-controlled environment or a colorful collection of shoes."
Phillip says glass helps create contained storage while not letting the space feel too closed in. Since light can pass through and reflect on the surface, it gives "an effect of movement and openness in the space."
3. Light up your closet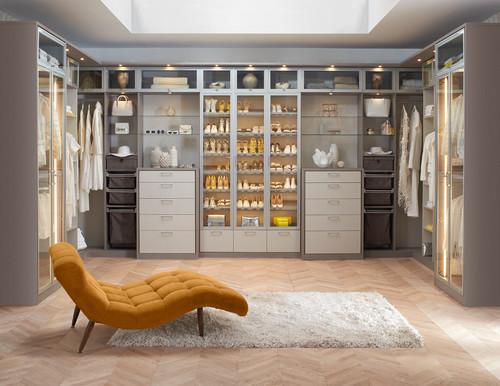 Good lighting allows you to actually see what's in your closet.
"Functionally, I like to incorporate LED lighting in a hanging rod," says Adams. "For aesthetics, I think backlit LED panels, shelf lighting, and cove lighting are all fabulous ways to add drama and practicality to the closet."
Viera is an advocate for horizontal LEDs to be used on all shelving and hanging sections, and vertical LED lighting put into a section with a glass door "so the light really filters through the whole cabinet."
Phillip always recommends using an even white light, typically a temperature of 3,000K. He says this type of light allows you to see color more clearly and doesn't have a yellow or blue tint that can sway vision. 
"Installing a lighting system throughout your closet is very costly," says Phillip. "If you are looking for a more budget-friendly solution, consider installing a stylish statement light in a walk-in closet, adding a wall light to a reach-in closet, or even adding a good battery-powered light or two that can attach to the wall of a reach-in closet or the bottom of a shelf."
4. Organize with accessories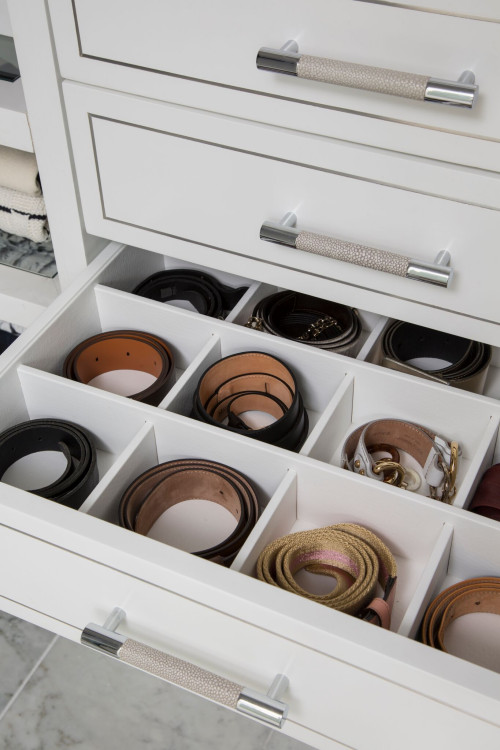 Photo by Lisa Adams, LA Closet Design
Plenty of folks believe no closet is complete without accessories for organization like "jewelry or sunglasses trays, drawer dividers for belts and ties, pull-out valets, pull-out tie racks, and hampers," says Viera. She says most accessories are placed within drawers or behind a door, with valets installed on the face of the shelves.
"Organizing accessories can help bring your closet to the next level," says Phillip. "These accessories can be built-in solutions in a custom closet, but can also be ready-made items that you purchase in a store and place on a shelf or on top of a dresser."
5. Save space with floor-to-ceiling closets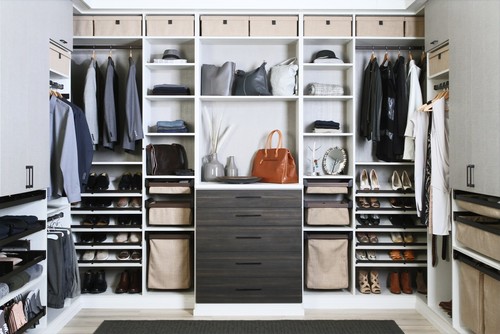 Photo by Tailored Living of North Dallas
When it comes to closet organization, maximizing storage space is the name of the game. If you're able to, take your shelving all the way to the ceiling.
Viera says adding the extra space above 8 feet "gives homeowners the opportunity to store seasonal items above rather than taking up space at arm's reach."
Phillip says floor-to-ceiling closets can be great but, "most closet companies and closet systems are based on 8-foot ceilings since it is a size that fits in nearly all closets, large and small."
He says some companies can design systems that extend all the way to the ceiling, but doing so will cost more. If you are renovating your closet and working with a closet company or designer, ask them to design the space from floor to ceiling.
"If it's not within budget to do this, consider adjusting the height of the closet so that the top of the cabinet is a usable top shelf," says Phillip. "Then you can use this space for storing items in uniform decorative bins/baskets. This will help you achieve the floor-to-ceiling look while staying on budget."