Looking for Christmas mantel decor ideas? When it comes to Christmas, it really is all about the living room, because that's where the magic happens. From opening presents to snuggling up to watch the Queen's speech, your living room is the backdrop to it all. So this is the place to go all out with your decor. 
If you're thinking you've already got your mantel garland so jobs a good'un, think again! There are so many creative ways to decorate your mantel this Christmas, so we've gathered the best five. From hanging baubles to colourful candlesticks, take inspiration from these beautiful ideas and give your mantel the love it deserves. Want even more? Check out these Christmas decoration ideas. 
1. Adorn your mantel with colourful candlesticks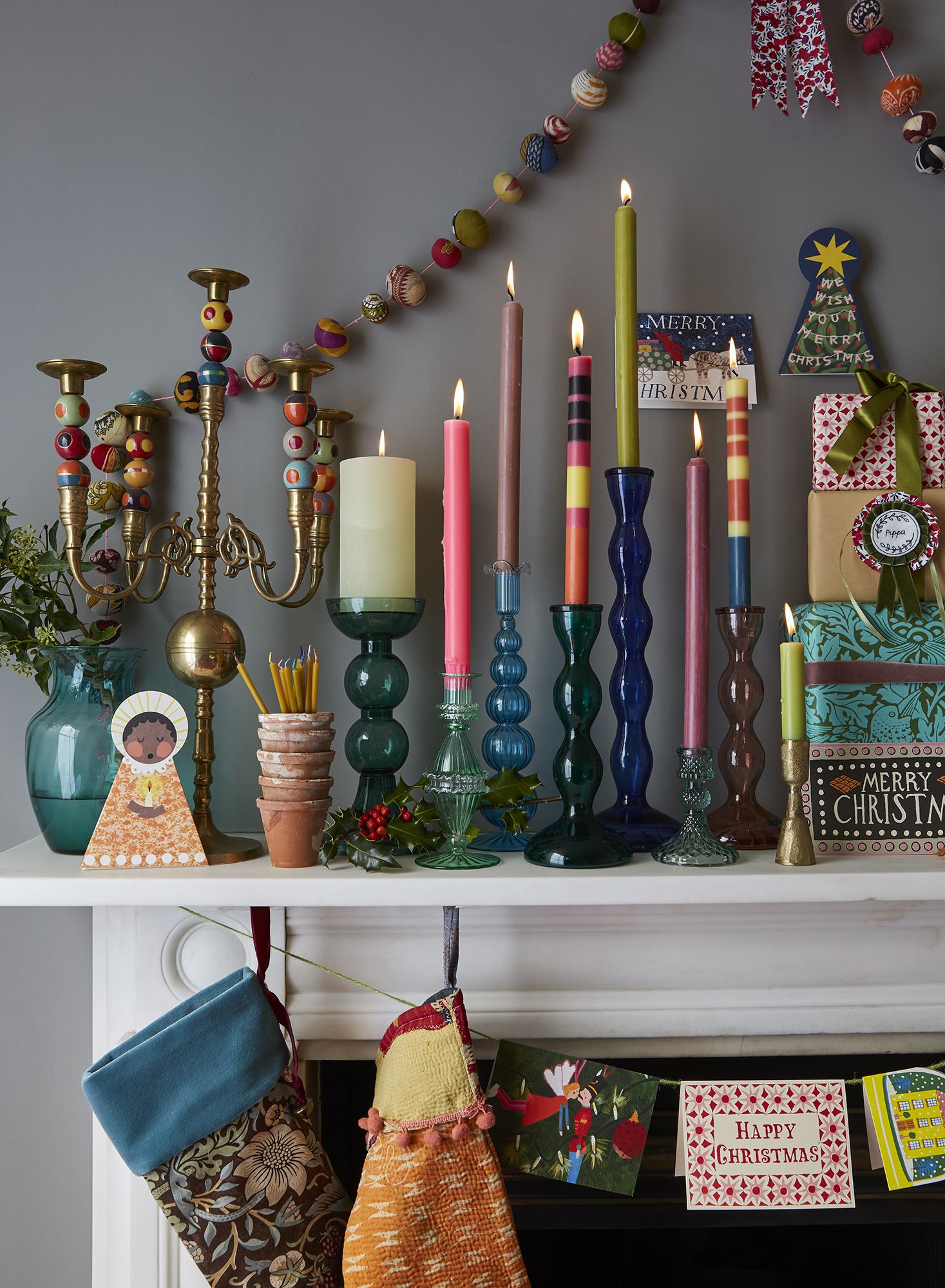 We can't get enough of decorative candlesticks at the moment, but don't let them be the reserve of your dining table. Display a collection on your mantelpiece like this, making sure to combine various heights, colours and candlestick holders. These shapely holders are pieces of artwork in themselves and stood proudly on this fireplace, they can be adored by all.
2. Go contemporary with neon signs and vibrant paper decorations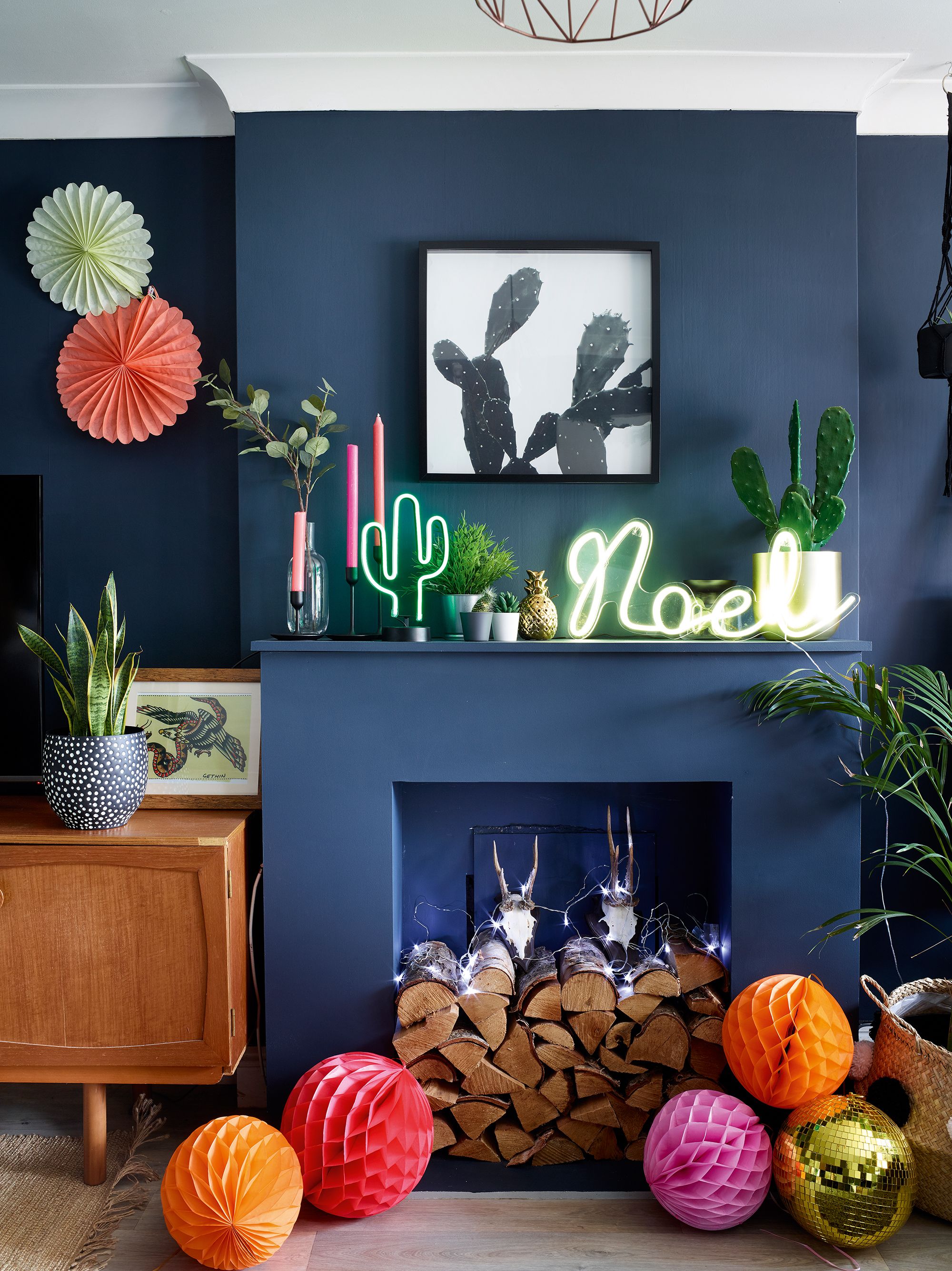 If you've gone for modern decor, bright neon signs and funky paper decorations are the way to go. These colourful decorations fold up completely, making them so easy for storing and taking out for parties. We bet you've noticed that gold disco ball too – this created quite a stir at Real Homes HQ and it's a great way to bring instant pizzazz. 
3. Get back to nature with fresh foliage, natural materials and an earthy colour palette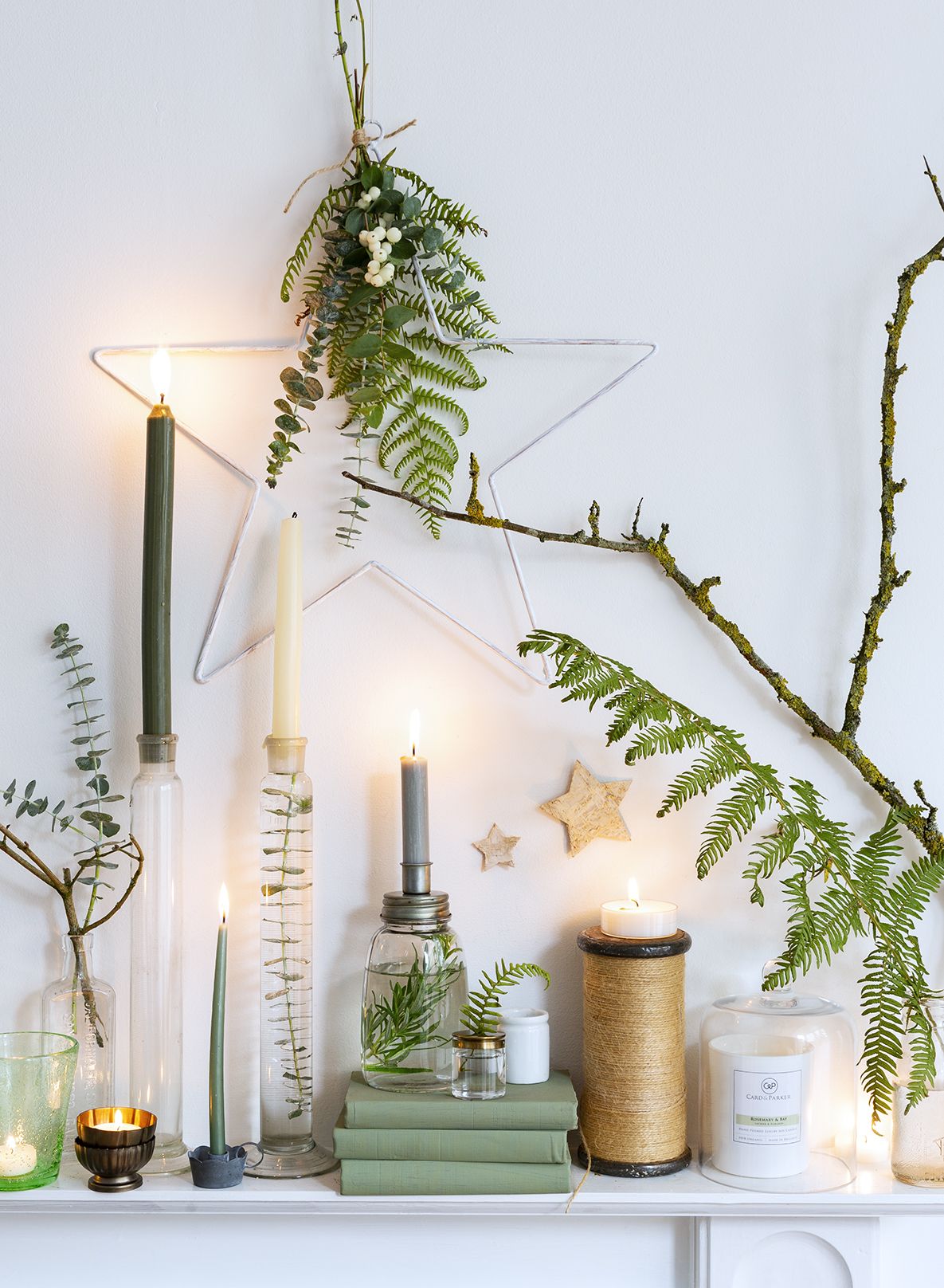 Bring the outdoors in and create a nature inspired, more traditional Christmas mantel for a fresh and calming centrepiece to your room. Go foraging in your garden for fallen twigs or leaves and have fun with positioning them artfully as shown here. We're loving the eucalyptus stems in glass jars, and the ferns bringing a wistful and organic edge. 
4. Show your mantel mirror some Christmas love with baubles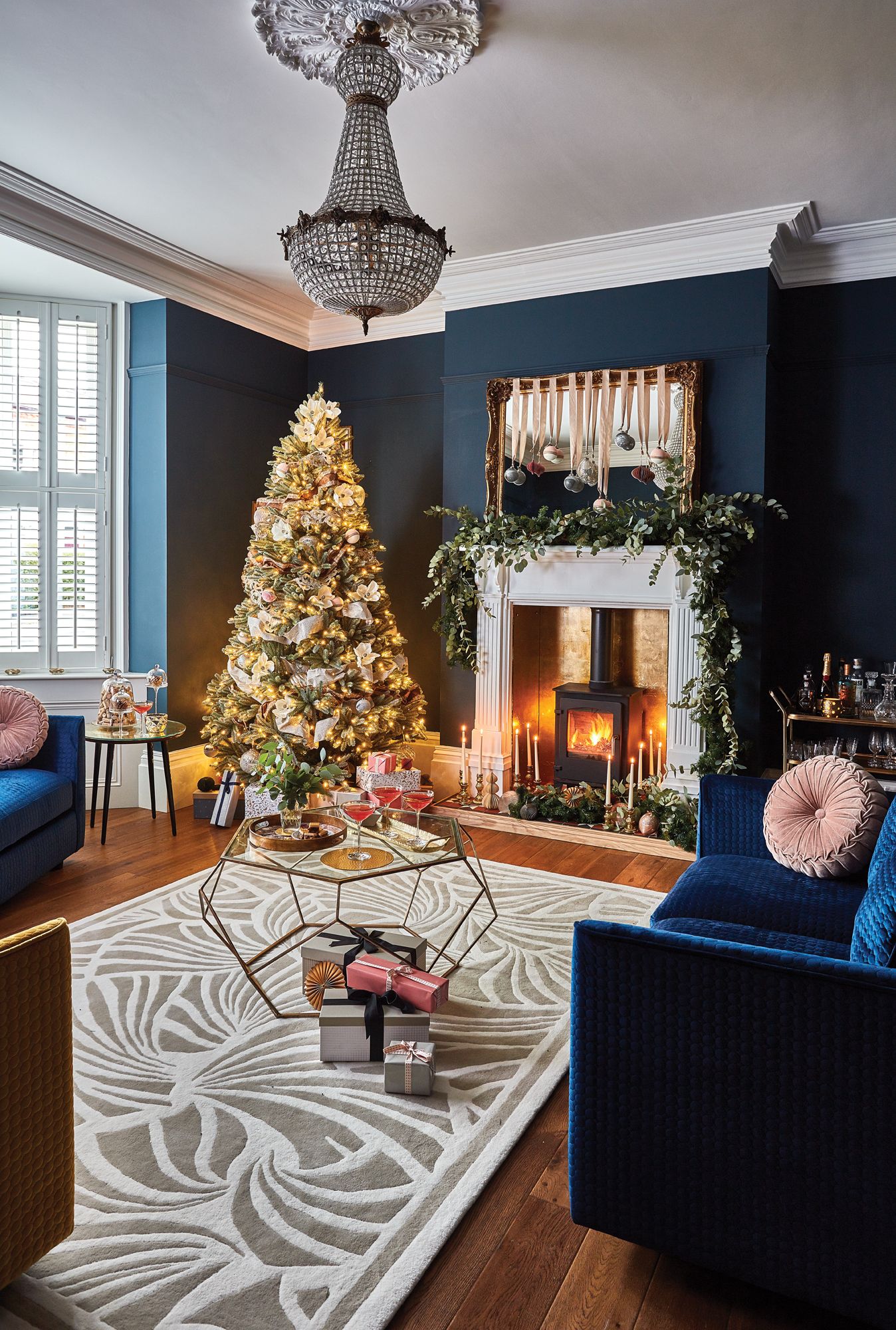 Position your baubles centre stage by hanging them delicately from your mantelpiece mirror. All you need to do it tie your baubles to long lengths of decorative ribbon, and use tape to attach them to to back of your mirror. It's a simple yet effective idea that screams elegance and creativity. 
5. Create a focal point with a huge, light-up, sparkling star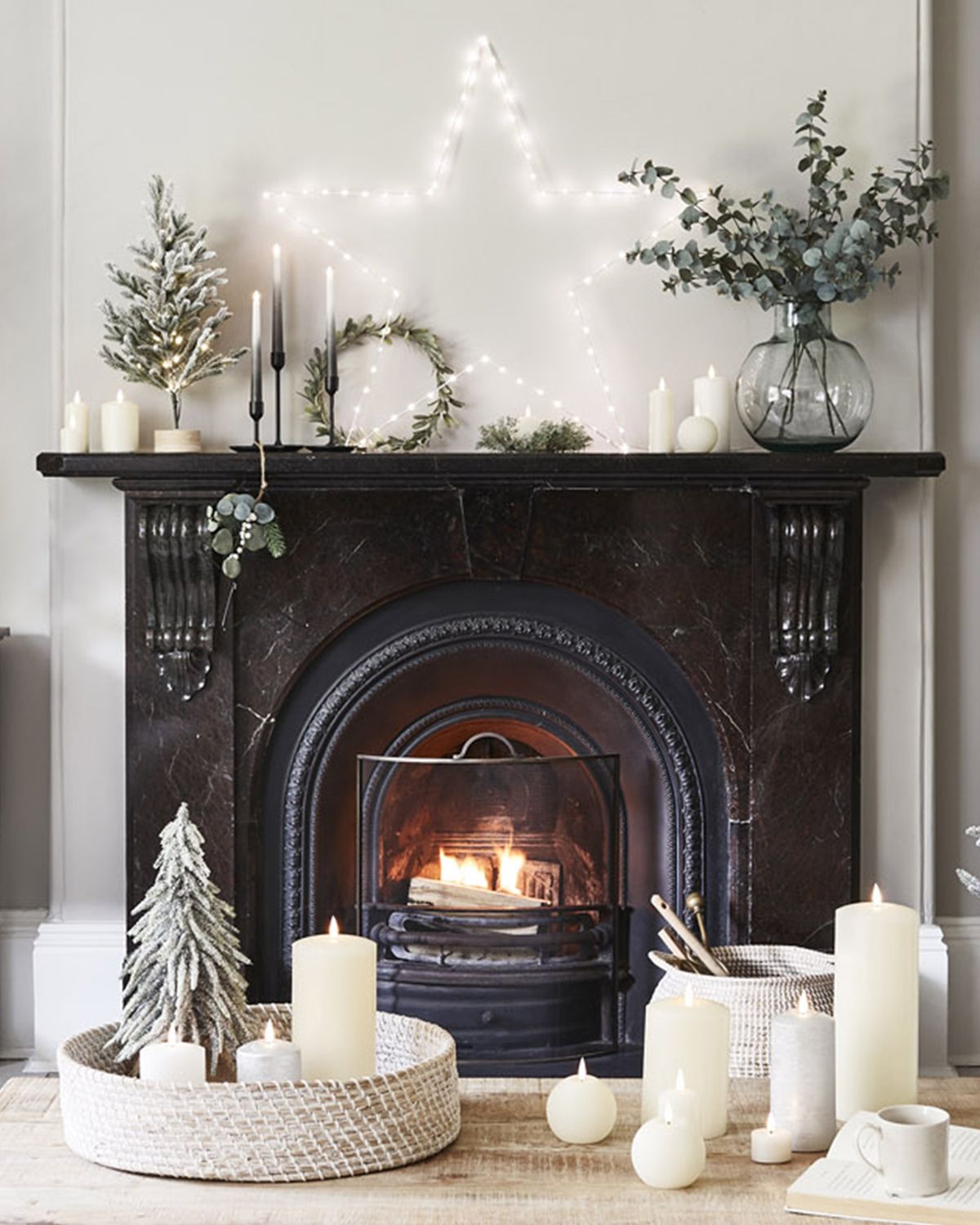 If you're looking for festive fireplace ideas that add a little extra magic this year, a large luminous star is your answer. Position on the centre of your mantel for the highest impact and style up as you please. Be it modern and colourful, traditional golds or simple foliage like this, there's room for a statement star in any Christmas decorating scheme.