If you're seeking to add some personality and style to your bathroom, look no further than your shower curtain. They are a great way to show off your unique aesthetic, and they can help make a bathroom feel more customized thanks to the many options that are available. If you really want to make a statement, you can even find options with fun quotes or images printed on them.
According to High Shower, shower curtains can be made out of a variety of different materials, too. From vinyl to cotton and more, you can select the texture that best matches your space. Plus, who doesn't love a good excuse to shop for new home décor? 
So whether you're looking to send a message or just want to find something that will brighten up your space with a pop of color, don't be afraid to experiment with different shower curtains. To that end, we are sharing 40 stylish options that can help you brainstorm what you'll want when you redo your bathroom.
1. Tree trimming
An excellent way to bring the outdoors in, this shower curtain features a gorgeous tree with bare branches. The bathroom's subtle décor brings out the design on the curtain and creates a more natural feel. 
2. Sleek shower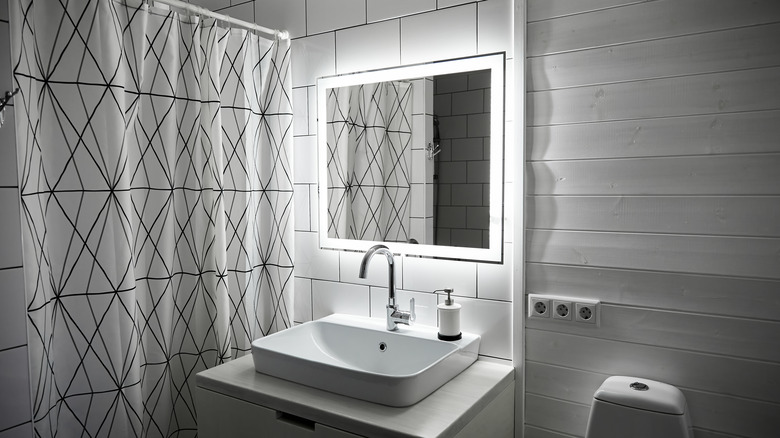 Hanna Taniukevich/Shutterstock
Featuring geometric patterns, this curtain gives character to the bathroom. Coupled with the sleek décor of the rest of the room, you have a modern-looking and beautiful space. 
3. Blue hues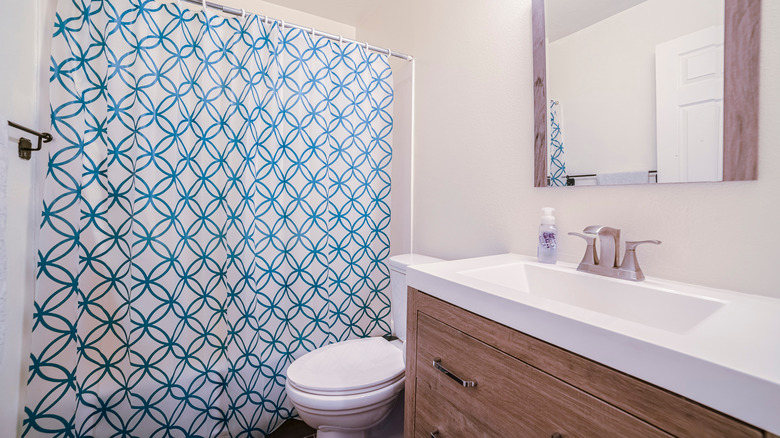 Jason Finn/Shutterstock
This lovely little bathroom features a blue and white patterned option. While the rest of the room is decorated neutrally, this bold shower curtain comes in with a pop of color. In this case, it even adds height to the bathroom, too. 
4. Bright and bold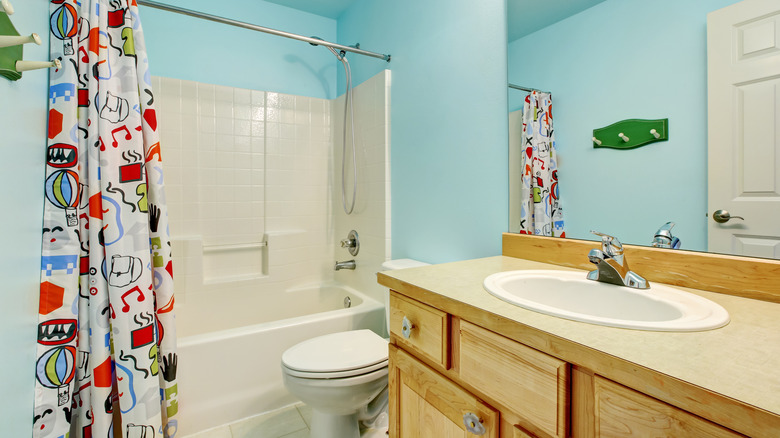 Artazum/Shutterstock
There is nothing wrong with going bright and bold if you are looking to spice things up in your bathroom. Unique and funky patterns give all the more visual interest.
5. Frilly fun
Ruffles are always fun, and if you want to make them part of your home décor without overwhelming the place, this shower curtain is the perfect start. The texture gives the room a decorative edge and pairs exceptionally well with the rest of the bathroom's style.
6. Aesthetically pleasing
While the rest of the bathroom may seem a little bland, this shower curtain comes in and adds extreme visual interest to the room. Between the colors and the patterned lines that flow on it, this definitely adds some depth to the room.
7. Gorgeous green
The blues and greens in this bathroom give it a natural and earthy look, but the real focal point here is the shower curtain. Printed with delicate little flowers and accented with a frilled bottom, this curtain creates a calm and relaxing atmosphere. 
8. Fabulous florals
Adding some visual depth, this beautiful curtain features gorgeous flowers in varying colors, from reds to oranges to grays. When you walk into this bathroom, your eye is immediately drawn to the bright colors. 
9. Ravishing red
If you want to add an air of elegance to your bathroom, one color you could choose is a beautiful red. This shower curtain gives off a luxurious feel, almost as if you're staying at a hotel. The other accents create a relaxing oasis. 
10. Red and white
The color scheme of this bathroom is complemented by the beautiful white and red shower curtain. There is even a towel to match the hues in the pattern.
11. Colorful leaves
There are so many visually interesting things about this shower curtain with a colorful leaf pattern. It's as if it creates its own cozy vibe.
12. Reds and blues
The pattern and vivid colors in this shower curtain draw your eye in immediately. This is a great way to demonstrate how you can be bold with your décor.  
13. Springtime anytime
If you want to bring a bit of springtime into your home all year round, this blue-hued shower curtain will do the trick. It features lovely daisies and complements the actual flowers underneath the window.
14. Greens and blues
The bright blues and greens featured in this curtain make it the focal point of the bathroom. It is just the right length and doesn't drag along the floor as some other shower curtains, too. 
15. Twinning
 The shower curtains in this room are a simple white color, printed with a flower pattern that pairs well with the lovely green tile. All of this together makes for a wonderful space to focus on self-care.  
16. Ocean blue
Designed in such a way that the colors play off of each other, this shower curtain has an almost nautical look to it. With bold blue stripes on white fabric, it definitely gives off ocean vibes.
17. Super stripes
With colorful stripes, this shower curtain adds a little bit of pizzazz to this restroom. While it is certainly bold, it doesn't overwhelm the entire room. 
18. Lap of luxury
The luxe-looking red and brown shower curtain takes center stage in this bathroom. It features hues of deep red, tan, brown, and white. It lends sophistication to the room as a whole. 
19. Great greens
Featuring different shades of green blocks, this curtain also has complementary red flecks the create movement. It adds flair to this bathroom. 
20. Pretty in pink
This curtain features various kinds of trees that come together in a pattern. The light baby pink color also gives the bathroom a whimsical look. Coordinated towels and a rug complete the design.
21. Catitude
These cute kitties are just the thing to make a bathroom stand out. Adding in a brown or orange towel to coordinate would work well in this space. 
22. Sassy
This cheetah-print shower curtain, with its warm browns, creates a warm atmosphere. With the light pouring in from above, it illuminates this fun and funky selection.
23. Bring in bamboo
This nature-inspired shower curtain features a bamboo pattern. It is light and airy and can make the room feel more connected to the outdoors. You could even add a little plant to add some feng shui into your bathroom.
24. Beautiful browns
Live in luxury with these beautiful brown shower curtains, full-length and featuring a scalloped top. They add an air of elegance to the restroom. The brown color lends some earthiness to the space, too. 
25. Lovely flora
This floral print curtain with soft greens and neutrals pairs nicely with the wooden cabinetry. It creates an atmosphere reminiscent of mother nature. 
26. Little lace
The intricate pattern on this shower curtain looks incredibly real, like it could be actual lace. It also complements the coral theme on the walls and countertop, giving movement to the space.
27. Happy hydrangeas
Hydrangeas bloom in all different colors, making them good inspiration for a floral-themed shower curtain. Greens, purples, and blues fill the canvas, which creates a delicate atmosphere in the bathroom.
28. Country quilt
If you're looking to bring a bit of country charm into your bathroom, this shower curtain will do the trick. It evokes southern elegance as it resembles a handmade quilt. Teal scrolling across the top of the curtain adds visual interest and depth to not only the curtain, but to the entire bathroom itself. 
29. Gratifying green
This curtain has several different textures, which ties it in with the granite countertop and rug. The brown and green colors help to create an environment reminiscent of the outdoors.
30. Super striped
The beautiful thing about this shower curtain is that it is all about simplicity. The diagonal stripes add just enough visual interest to the shower area without overwhelming it.
31. Playing with patterns
The busy geometric pattern of this curtain is a bold choice when compared to the tile selection in the shower area. The result is an almost maximalist feel, which contracts with the rest of the simple and neutral space.
32. Wonderful wheat
If you'd like to bring a farm feel into your home, a good option would be this shower curtain. It is a simple white color, but it has wheat fronds on it, pictured as if swaying in the breeze.
33. Millions of peaches
Incorporate a little bit of the south into your home with this sweet shower curtain featuring charming peaches. This colorful pattern also makes the bathroom a fun and whimsical space, too.
34. Sliding curtains
These curtains are a deep chocolate brown; however, the most interesting feature is that there are two panels. They are meant to slide closed, much like regular window curtains do — a unique choice for this space. 
35. Fluttery butterflies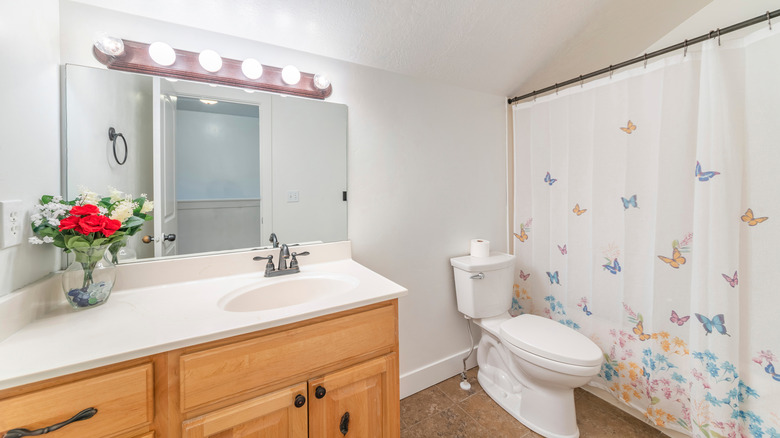 Jason Finn/Shutterstock
It can be springtime all year round with this shower curtain featuring colorful butterflies. There is also dainty flora printed along the bottom, creating a playful tableau.
36. Wavepool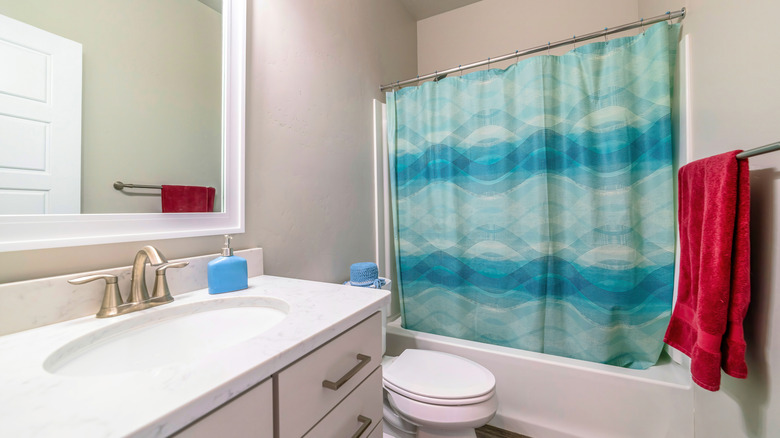 Jason Finn/Shutterstock
This water-inspired shower curtain is bustling with motion, thanks to the wavy pattern that almost tricks the eye. A red towel serves as a complementary and bright pop of color, too.
37. Singing in the rain
This adorable "Singing in the Rain" shower curtain is a bold choice for the bathroom, but the theme makes sense for the space. In the background, miniature umbrellas and raindrops seem to fall, adding a touch of whimsy.
38. Geometric shapes
Not all bathrooms have to be super colorful or bold in their design choices. So if you want to create a more simplified look in your space, something like this would be a good start. The simple cube pattern complements the stripes on the towels. The colors also work with the quartz countertops. 
39. Playing with texture
This shower curtain truly brings home the charm, with billowing ruffles along the bottom playing with the vertical stripes. On the ruffles are little tiny and delicate flowers, creating movement. 
40. Bold blooms
This shower curtain, filled with bold, bright, and giant flowers, is the perfect addition to your eclectic bathroom. From peonies to daisies, you'll find all kinds of blooms in the mix, making the space super fun.