Movies are considered one of the best ways to dodge the mundane life routine and experience the art in terms of cinematography, direction, acting, and music. It's like a mental escape from what's happening around the world. People who are crazy for movies ensure that they can also enjoy their favorite flicks at home along with cinema theaters. But what to purchase? Most of us cannot think beyond a home theater system and a projector. Guess what, there're many affordable and premium products that can actually make your movie-watching experience at home totally blissful. Also, you can gift these products to movie buffs you know.
From decorative items to electronic devices, from books to games, these products will help you to attain an impeccable movie experience at home. Take a look:
Tallenge Hollywood Movie Godfather Poster
The place where you sit and watch movies in your home is where you want to create an ambiance that's splendid and totally in-line with your love for movies. This Godfather movie poster of legendary Hollywood actor Marlon Brando from Tallenge is an ideal item for your living or study. Available in the 12 x 17 inches dimension, the offered poster is designed using top-notch paper and comes in a rectangular shape.
This Godfather poster is unframed and is made using the latest printing technology and can be installed easily using double-sided tape.
Good Hope Pulp Fiction Movie Poster
Fan of Quentin Tarantino movies? Bring home this awesome Pulp Fiction movie poster from Good Hope that comes in the 48.26 x 0.2 x 33.02 cm dimension and in an abstract theme. This movie poster is available with matte lamination and weighs around 180 grams. Moreover,
the offered movie poster does not come with a frame and is available in multicolor. A must-have for all movie lovers.
Okayji Movie Director Clap Board
If you are a die-hard fan of Bollywood movies and crazy about film making, this director clapboard from Okayji can be an incredible addition to your living or bedroom. Ideal to be used for marking scenes in professional movie productions,
this director clapboard can also be utilized as a decoration piece in your home. The offered product comes in the 31.7 x 29.1 x 2.9 cm dimension and weighs around 350 grams.
Everycom X7 (1080p Support) LED Projector
What's better than this LED projector from Everycom to watch your favorite movie at home.
This LED projector is versed with multiple ports including HDMI, USB, SD card, VGA, and AV. In addition to this, the offered LED projector comes with a big screen & an in-built speaker. This projector gives you the feel of a theatrical experience at home. The offered product comes with a lamp life of up to 20,000 hours.
100 Inch Projector Screen, GooDee
This affordable yet high-performance projector screen from GooDee is a perfect addition to your movie room at home. Available in the 100-inch size, this projector screen gives over a 160-degree viewing angle that is known for its black backing design. With a new self-lock design,
this projector screen can be installed easily using the 8 metal finished gorments. This product is available in the 29.97 x 22.1 x 2.29 cm dimension and weighs around 738 grams.
Gnaan Ka Pitara Filmie Hilarious Bollywood Game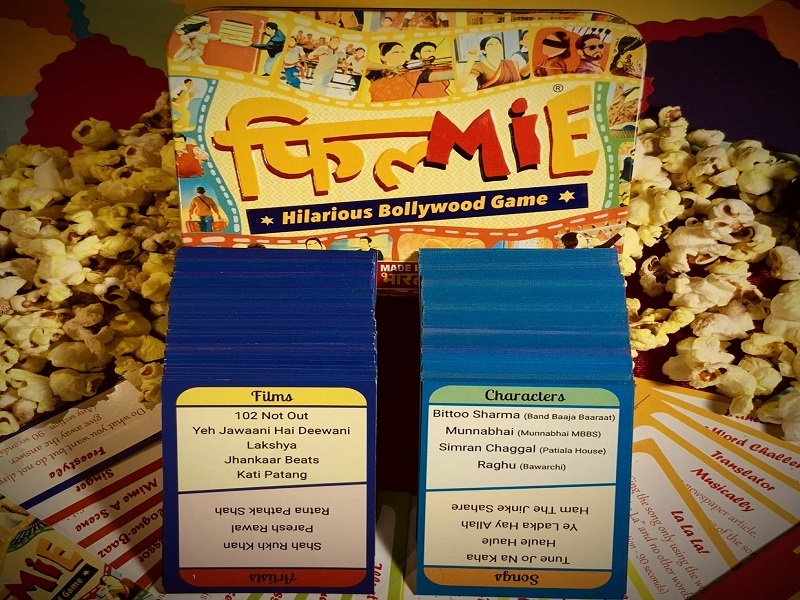 If you and your friends love Bollywood, this awesome and funny game from Gnaan Ka Pitaara is an amazing way to enjoy with friends and family. This Bollywood game contains 162 filmie cards with 800+ films, 480+ artists, 640+ songs, and characters. With 18 fun-filled twists to sing, act, dance, story-tell, and draw,
this Bollywood game is perfect for players above 14 years of age and can be played with 2 to 20 people.
Deep Focus: Reflections on Cinema
Movie buffs, this is your chance to purchase this spectacular book – Deep Focus: Reflections on Cinema by renowned filmmaker Satyajit Ray.
This stupendous book gives a glimpse into the art and craft of cinema and pensan ode to silent cinema. In addition to this, the offered book also discusses the problems in adapting literary works to film and pays tribute to contemporaries like Godard and Uttam Kumar. Get this book to comprehend the details of Indian film making.
GODS Marvel Avengers Laptop Backpack
Been a fan of the Marvel Avenger series, this laptop backpack from Gods is a must-have item. Doesn't matter if you are going to college or traveling, this exquisite laptop backpack has Captain America's shield designed on the front. The outer shell of
this laptop backpack is equipped with unbreakable fiber embedded sheets for theft and pick-pocketing protection. Known for its 6 points stretchable mechanism, this backpack easily fits all laptops up to 15.6-inches display.
GADGETS WRAP Wall Decal Artistic Cinema
Spruce up your living room with this aesthetically pleasing wall decal from GADGETS WRAP. Available in multiple colors,
this wall decal is designed using premium-grade vinyl and is available in the 57 x 0.8 x 102 cm dimension. Along with this, the offered wall decal is known for enhancing the overall look of your living room and is appreciated for its impressive finish.
eCraftIndia Antique Music Decorative Canon Brass Showpiece
Decorate your living room with this retro-looking showpiece from eCraftIndia that comes in brown color and as a gramophone. For people who are movie enthusiasts, this showpiece that's manufactured using top-notch brass offers a classy appearance.
This brass showpiece is available in the 10.2 x 10.2 x 24.1 cm dimension and weighs around 230 grams. Appreciated for its strength and durability, this showpiece is known for its meticulous craftsmanship, stunning portraits & artifacts, and personal touches & colors.
Presta Gifts Bollywood Tea Coaster
Generic comes up with this strong and stylish tea coaster from Generic that comes with some popular Bollywood dialogues on it. Available in a set of 4 pieces,
these Bollywood tea coasters are made using superior-grade wood and are available in the 8.9 x 8.9 x 0.3 cm dimension. The offered Bollywood tea coaster is appreciated for its superior finish, durability, robustness, and lightweight.
AmazonBasics Mini DisplayPort
When planning to watch your favorite movie at home, this mini display port from AmazonBasics is an excellent choice to go with. T
his mini display port adapter accommodates Mac computers equipped with a Thunderbolt 2 connection. Moreover, the offered product is also compatible with Windows computers versed with a mini display port connection. This mini display port adapter transmits audio and video with resolution up to 4K at 30Hz via HDMI, or 1920×1200 and 1080p.
AE Designs Rocking Recliner
When planning to go for a movie marathon on weekends, this rocking recliner from The Couch Cell.
This rocking recliner is manufactured using A-Okay engineered wood and is available in the 96.5 x 86.4 x 70 cm dimension. Available in brown color, this rocking recliner is designed using first-string fabric upholstery and weighs around 40 kgs. This rocking recliner is appreciated for its to & fro rocking chair mechanism and swivel revolving mechanism.
Marvel Avengers: Endgame Titan Hero Hulk
Decorate your home with this awesome action figure of Hulk from Marvel. This 12-inch-scale hulk figure with Marvel's movie-inspired design is available with the Power FX connection port. In addition to this, the offered Titan hero series and Titan hero power FX figure can also be used to activate sounds & phrases.
This action-figure comes in the 7.6 x 16.5 x 30.5 cm dimension and weighs around 449 grams.
RXD3D Polarized Passive 3D Glasses
Watch your favorite 3-dimensional flick at the comfort of your home using these polarized passive 3D glasses from RXD3D. Available with 10 pieces,
the offered 3D glass is light in weight yet comfortable to wear. With the modern 3D design, this product is known to render the latest visual experience in the professional cinema theater and passive 3D TV. These 3D glasses offer a crisp, accurate, and intelligent depth 3D view.
Marshall Uxbridge Home Voice Speaker
And well, if you are going to watch your favorite movie at home, you require a sturdy and high-performance home voice speaker like the one from Marshall. This home voice speaker comes with an in-built Amazon Alexa and comes in black color. Moreover,
this home voice speaker is engineered to produce a thunderous sound from its compact frame. The offered product comes with rocker buttons on the top panel to adjust the volume and treble.
The White Willow Orthopaedic Pillow
Planning to binge-watch your favorite movie series or television show, this pillow from The White Willow is a perfect choice to go with. This pillow is stitched using top-notch memory foam and is available in black color. In addition to this, the offered product weighs around 180 grams and is known for its high resilience. Available with unparalleled support,
this orthopedic pillow trims the stress on your lower back tremendously so that you can comfortably watch movies for long hours.
Atlantic Media Bin Storage with Sleeves for CDs and DVDs
If you have a lot of Hollywood/Bollywood CDs and DVDs, this bin storage from Atlantic is befitting to be kept in your home. This media bin storage permits you to keep up to 72 discs in 36 double insert movie sleeves. Along with this,
the offered media bin storage is known for its space-saving design. This product is made using a premium-grade leatherette front and is known to keep your discs free of some dust and scratches to enjoy a lifetime of use.
Urban Wood Classic Bean Bag
Urban Wood comes up with this superior bean bag that's available in red color.
This bean bag comes in the XXXL size and is designed using top-notch leatherette fabric. Appreciated for its fade-resistance, superior seam, and tear-proof nature, this bean bag's outer surface is made using artificial leather & wash care spot clean. This product is triple stitched and is known for its extra strength and double locking safety zipper with velcro.
Dash DAPP150V2RD04 Hot Air Popcorn Popper Maker
Why not enjoy some hot popcorn when watching your favorite movie? This popcorn maker from Dash comes in the 24.99 x 24.61 x 14 cm dimension and weighs around 1.09 kgs. A perfect gift option for movie lovers,
this popcorn maker is appreciated for its superior performance, durable nature, and easy to use nature.
Bollywood Classics Mug
Well, we all want to enjoy some hot coffee or tea while watching movies at home. And this is where the offered Bollywood classics mug from exciting Lives is an item to purchase.
This exquisite Bollywood mug is a perfect gift option for movie lovers. The offered product comes with colorful movie posters and is appreciated for its wonderful design and unique appearance. This Bollywood mug has a capacity of 312 grams and is known for its gloss finish.

Disclaimer: The Times of India's journalists were not involved in the production of this article. The product prices mentioned in the article are subject to change with offers given by Amazon.