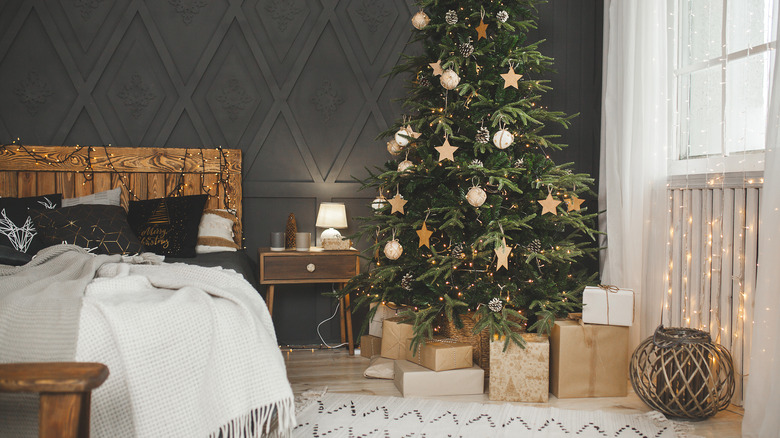 Olena Chukhil/Shutterstock
When it comes to decorating for the holidays, a lot of us concentrate our efforts on the living room and other common areas. But what about taking some of that festive energy into the bedroom? There's no reason you can't keep that holiday spirit throughout the house, and with a few savvy tips, you'll be able to sleep under the (Christmas tree) stars.
If you can't help but miss the delightful decorations from the family room, you aren't alone. Plus, trying to fit all of your holiday ornaments into just a few small rooms can be a huge challenge. People have figured they might as well change something, and that includes Fixer Upper stars Joanna and Chip Gaines. According to an interview with People Magazine, after the birth of their son, they moved their Christmas tree from the living room into their bedroom! While that might sound extreme, we absolutely love the idea of spreading the joy all throughout the house. Of course, there's nothing better than dozing off in a winter wonderland, so check out a few of our favorite ways to spread the holiday magic to the boudoir.
1. Hang up some garland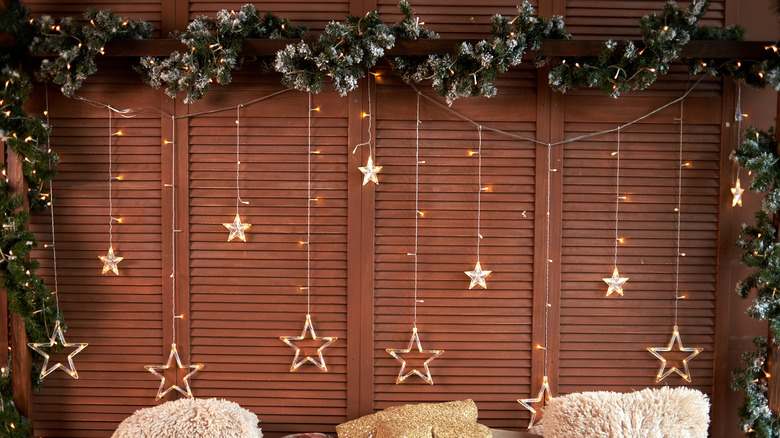 Mirage_studio/Shutterstock
Whether you've got silver tinsel or big boughs of piney branches, hang a little garland over your bedroom doorway or headboard for instant Christmas cheer.
2. Wreaths aren't just for doors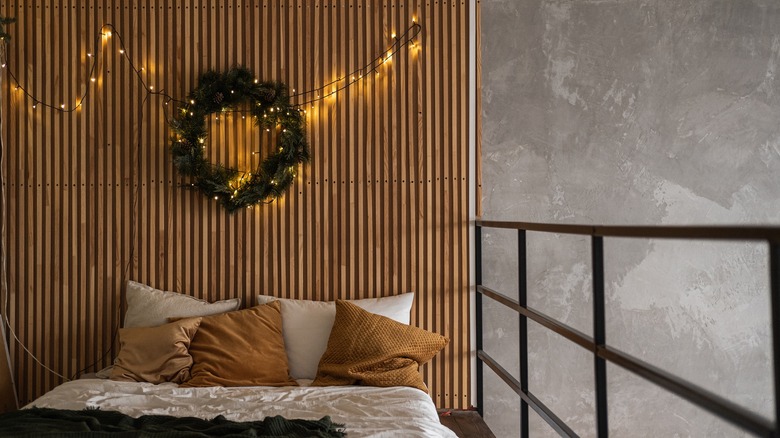 Floral Deco/Shutterstock
Wreaths are often affordable and easy to mount and are a traditional holiday decoration. Hang one above the bed or any place you have some empty wall area in the bedroom. 
3. Set up a slim tree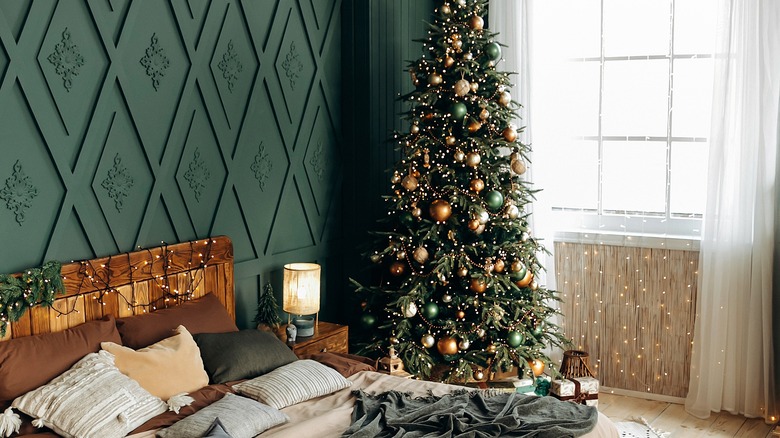 Sheremetio/Shutterstock
While putting a Christmas tree in the boudoir may seem extreme, they actually add a ton of whimsy and cheer. We recommend going for a faux tree in the bedroom, though, because nothing ruins a morning like stepping on pine needles. 
4. Swap out the bedding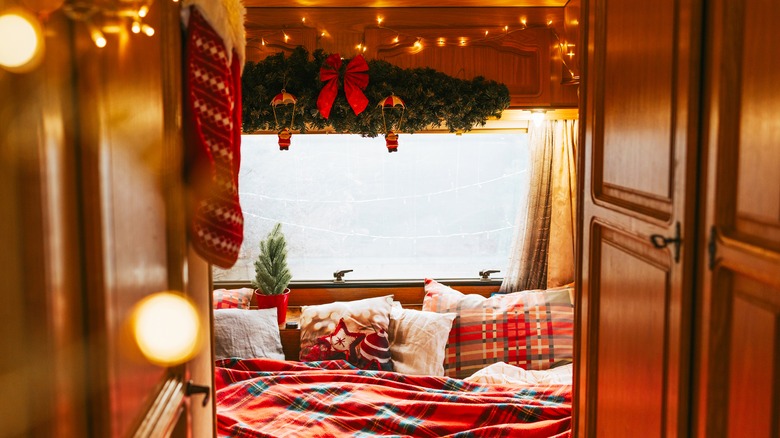 KlavdiyaV/Shutterstock
Bring out the plaid quilt and seasonal throw pillows. You can go for classic red and green or choose a more minimalist approach with earthy accents. Seasonal bedding makes you feel like you're snuggled up in Santa's workshop. 
5. Make wall art from scratch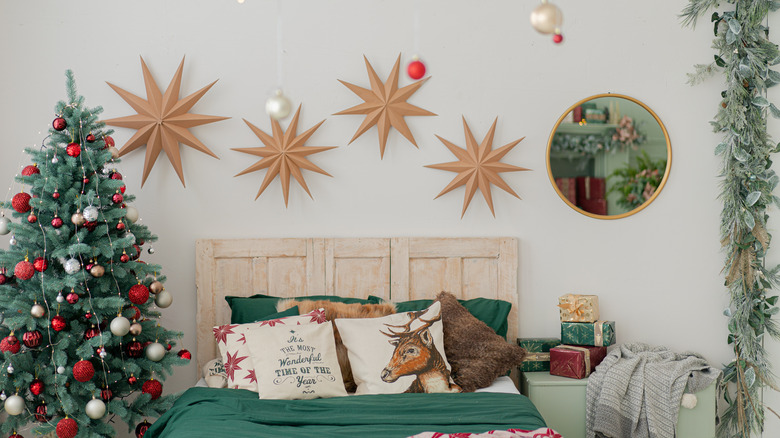 Anna Vershynina/Shutterstock
Paper stars and snowflakes may seem a bit pre-K, but they're really delicate decorations, easy to hang, and an affordable way to add some holiday cheer to the bedroom. 
6. String up some lights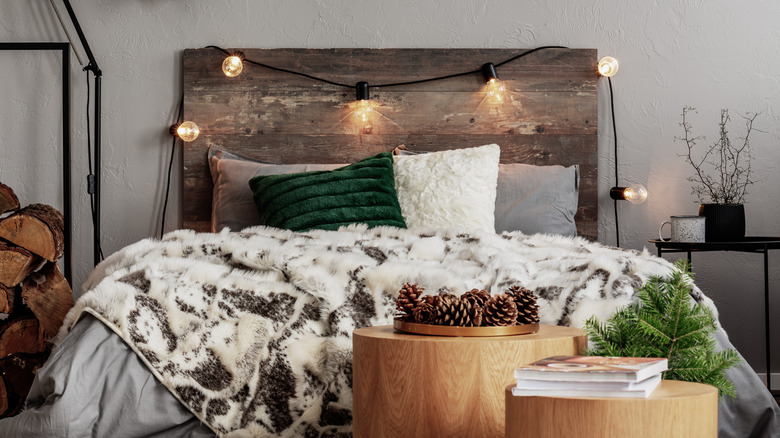 Katarzynabialasiewicz/Getty Images
Bistro lights, fairy lights, or good old-fashioned multicolored bulbs definitely bring a festive flair to the bedroom. 
7. Plant some petite pines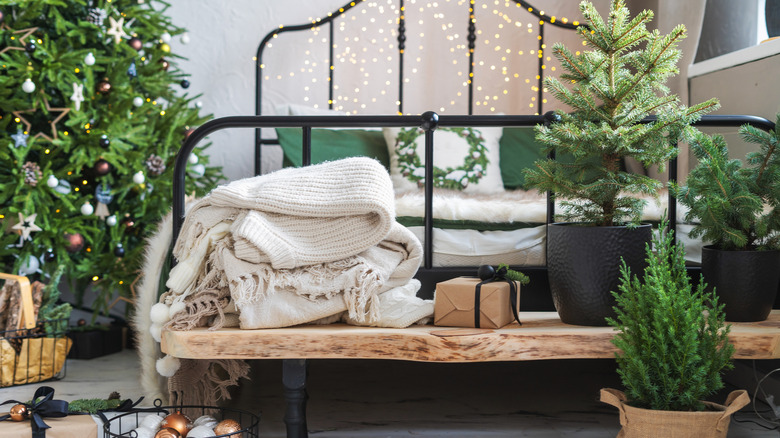 Shavel Ludmila/Getty Images
Not ready for a full-blown Christmas tree in the bedroom? Try a little potted spruce instead — it has the classic evergreen touch without taking up too much floor space. 
8. Bring in natural winter elements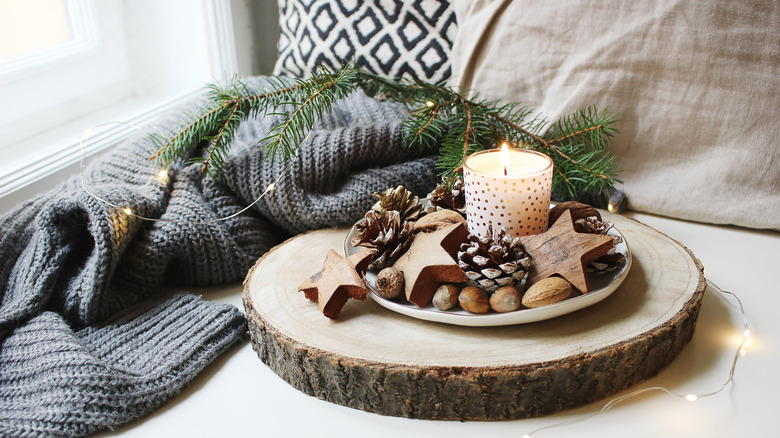 Tabitazn/Getty Images
Pinecones, fallen pine branches, and acorns can help fill out centerpieces and nightstand vignettes. So, don't shy away from collecting these natural beauties on your next walk. 
9. Layer with chunky knit fabrics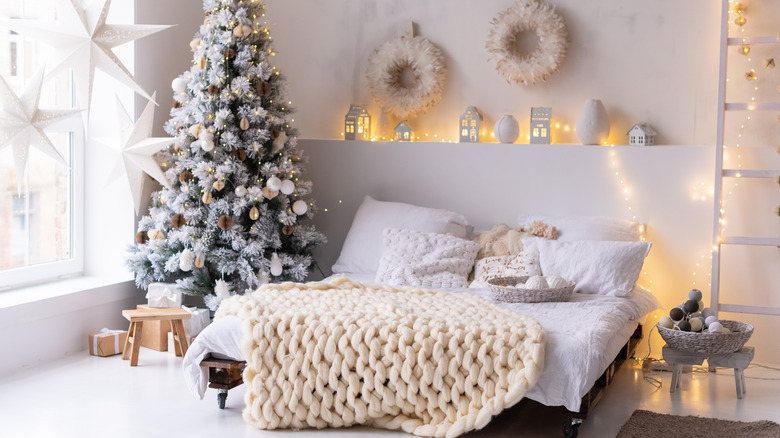 Yana Korneevets-vydrenkova/Getty Images
Nothing says cozy like a chunky knit blanket — they're like a sweater for your mattress. Drape one along the foot of the bed for instant holiday charm. 
10. Create an alternative Christmas tree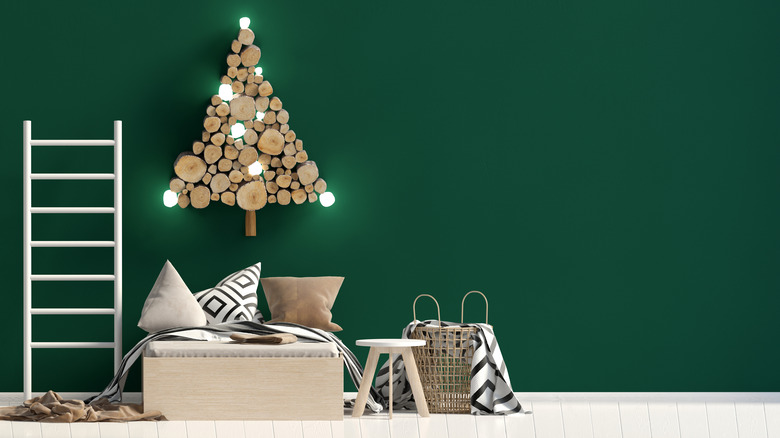 Abracada/Getty Images
11. Embrace hygge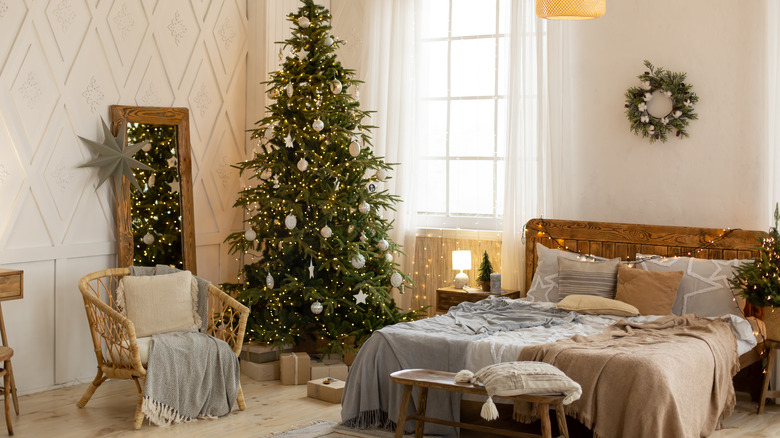 Svetlana Satsiuk/Shutterstock
When in doubt, lean into the Dutch decorating philosophy — hygge. Use plenty of warm-toned neutrals, lights, and blankets for that comforting feel that's a must in the winter. 
12. Spread some Christmas magic on the bookshelves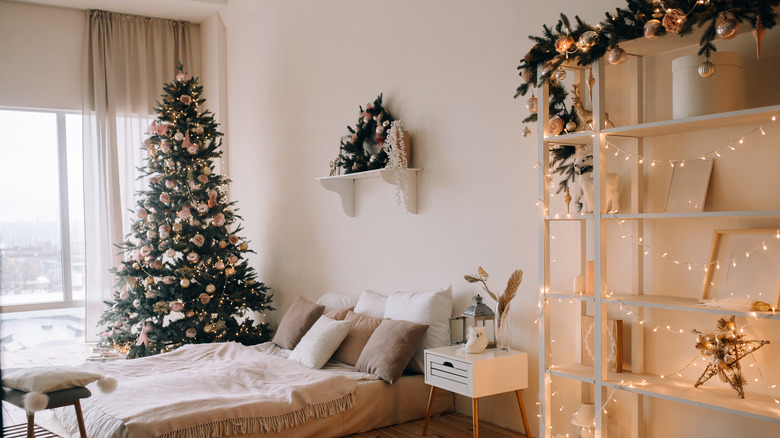 Igor Serik/Shutterstock
Think of your bedroom bookshelves as a display case. Deck them out with candles, bottle brush trees, snow globes, and other holiday figurines. 
13. Layer blankets in the guest room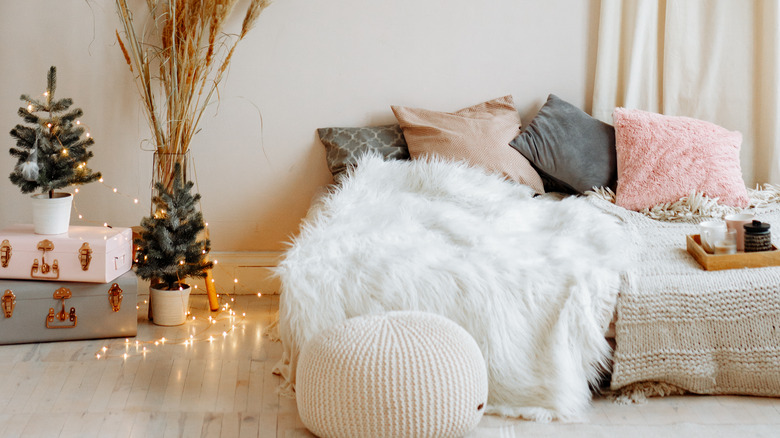 Balchugova Maria/Shutterstock
There's nothing worse than spending the night at someone else's home and shivering all through the night, so be sure to stack the bed with plenty of blankets. Bonus points for a mixture of textures and colors to make things extra cozy and inviting. 
14. There's no such thing as too many candles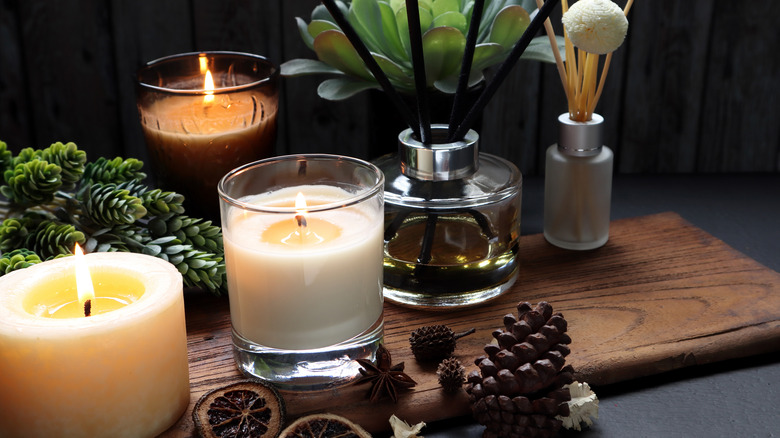 Enjoy The Life/Shutterstock
Candles have long been associated with the winter holidays, providing warm light on dark winter nights. So be sure to have plenty in the bedroom — just use unscented, so the smell isn't overpowering. 
15. Use textured throw pillows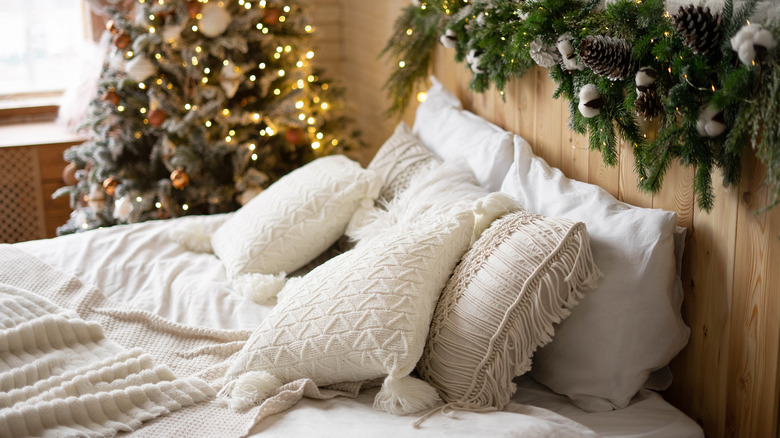 July Ko/Getty Images
Cable knit, chunky knit, macrame, tweed — these are just a few textured pillow case options that will definitely up the holiday cheer factor in your bedroom. 
16. Warm up the floors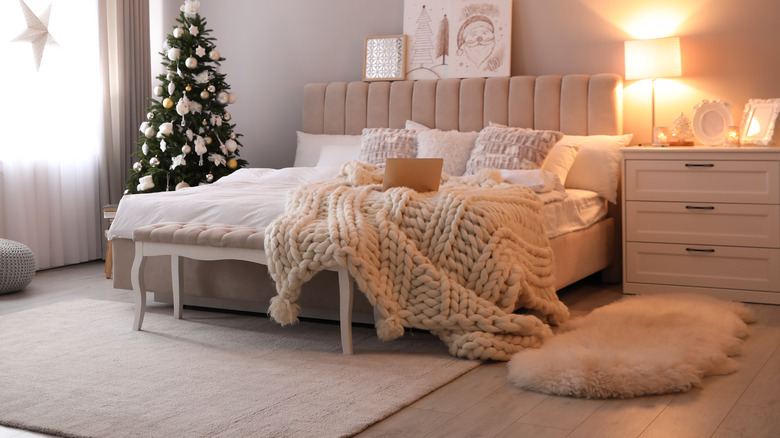 New Africa/Shutterstock
Having rugs on the floor is a great way to add texture and warmth to the room, and it's especially important in the winter if you have hard flooring. 
17. Create atmospheric lighting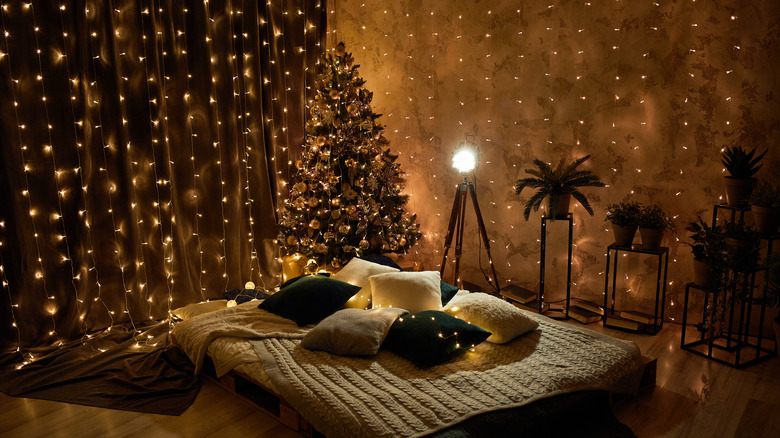 Erstudiostok/Getty Images
Whether you're going for a starry night sky or a crackling fireplace vibe, you can use different lighting options to really incorporate holiday cheer into the room. 
18. Give the houseplants some flair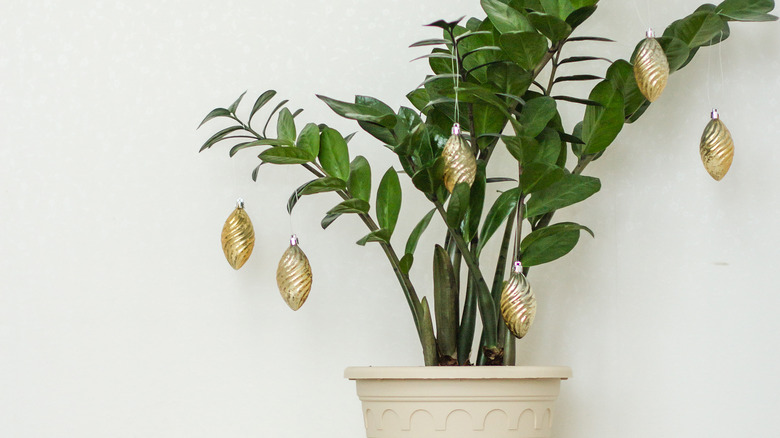 Elena Mitusova/Shutterstock
Got a couple of houseplants in the bedroom? Add some lightweight ornaments to them for an instant holiday makeover! 
19. Don't neglect the nightstands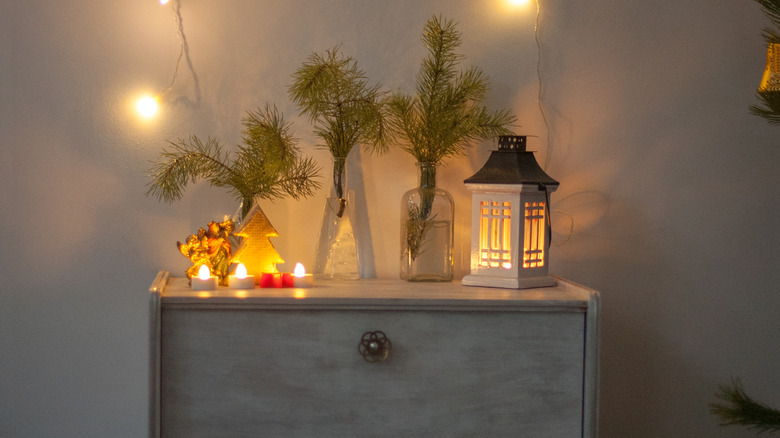 leadenpork/Shutterstock
If you think of your nightstand as a place to put your glasses and mouthguard container, you're missing out on a great design opportunity. Candles, tiny plants, and holiday-themed books are great for dressing up this furniture piece. 
20. Get creative with wall art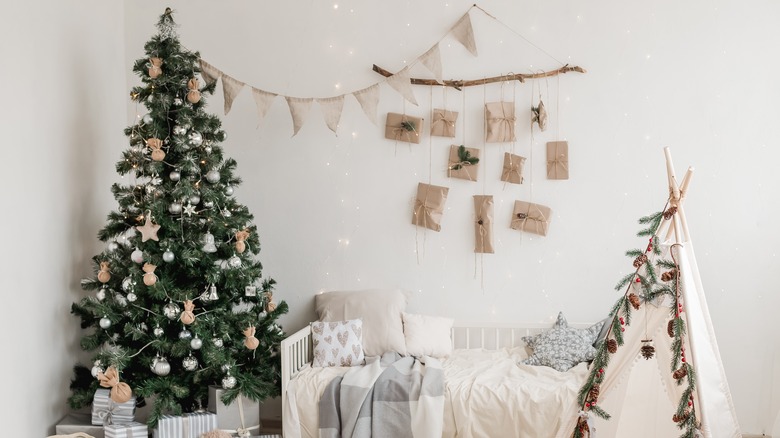 Alena Antsygina/Shutterstock
We love the parchment-wrapped presents as unique ornaments and wall art in the image above, especially because this craft wouldn't cost more than a few dollars between the twine and paper. So, think outside of the box when it comes to filling out your bedroom walls.