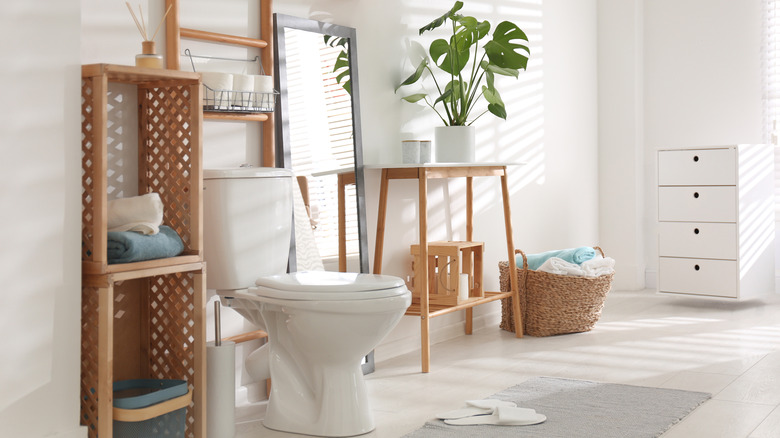 New Africa/Shutterstock
When designing a teenager's bathroom, the most important thing to keep in mind has nothing to do with stain resistant materials or transitional furniture pieces. Instead, your primary consideration should be your teen's own style. Consider the things they gravitate towards when shopping for personalized items like clothing, decorations, or school supplies. What colors, textures, and patterns do they seem to enjoy? Perhaps they love bold statements and would appreciate a peel-and-stick wallpaper wall. Maybe they're into neutral shades, instead. In that case, they might desire a clean, minimalist space. If you need inspiration, you could take a quick peek into their bedroom or ask them how they would style their future home.
According to Destination Living, allowing your teenager to design their own room can help them feel empowered and excited. Because of this, you may want to collaborate together to create a design they love. Before upgrading your teenager's bathroom, you and your teen are going to want to check out the following 20 inspired ideas. While some of these designs are rather playful, others offer a slight air of sophistication. With so many options, your teen is sure to find something they love.
1. Playful pastels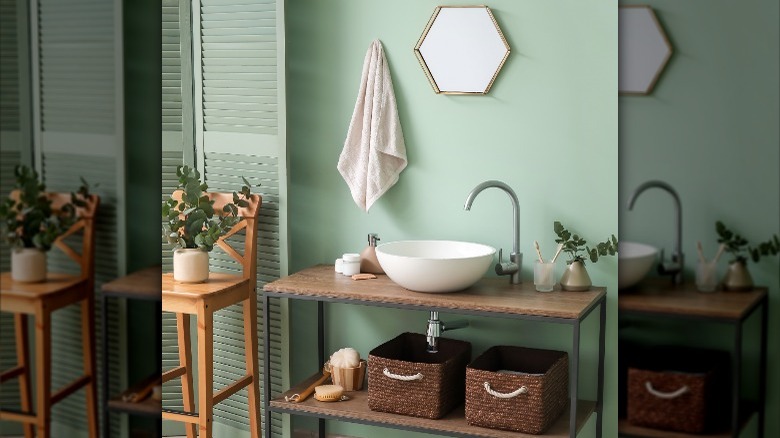 Pixel-Shot/Shutterstock
If your teenager loves delicate colors and relaxation, look into pastel hues. A light green may very well create a zen atmosphere in the bathroom. 
2. Pretty pink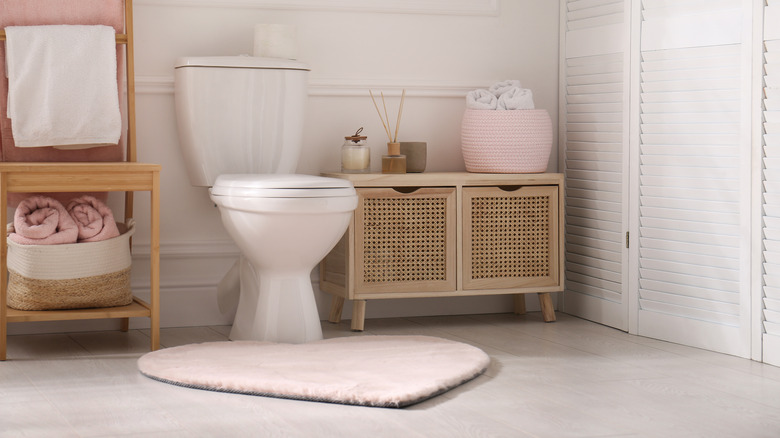 New Africa/Shutterstock
If painting your bathroom walls seems like overkill, you could incorporate smaller bursts of pink through decorative items like baskets, towels, and a heart-shaped floor mat.
3. Gorgeous greenery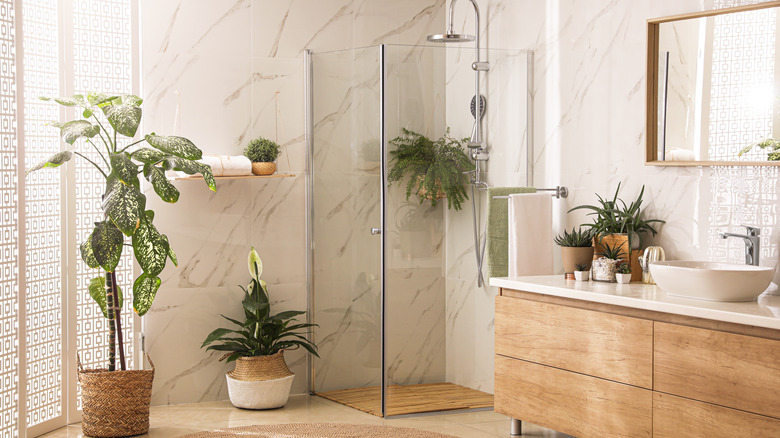 New Africa/Shutterstock
To provide a more lively environment and to ease your teen into taking on more responsibility, you could fill their bathroom with moisture loving plants for them to take care of.
4. Tropical theme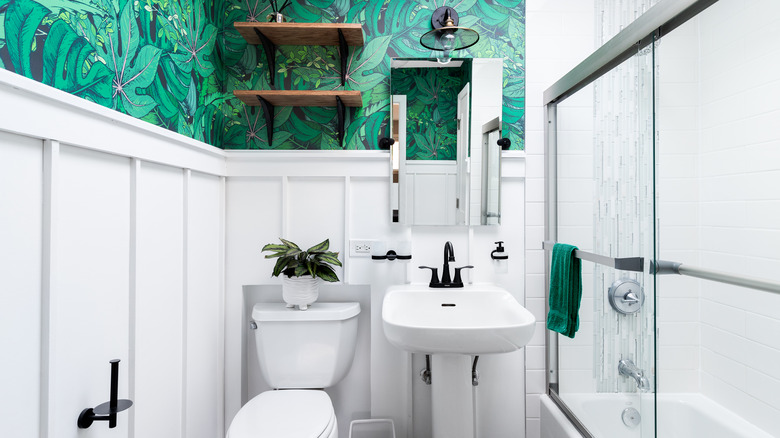 Hendrickson Photography/Shutterstock
5. Calming cool gray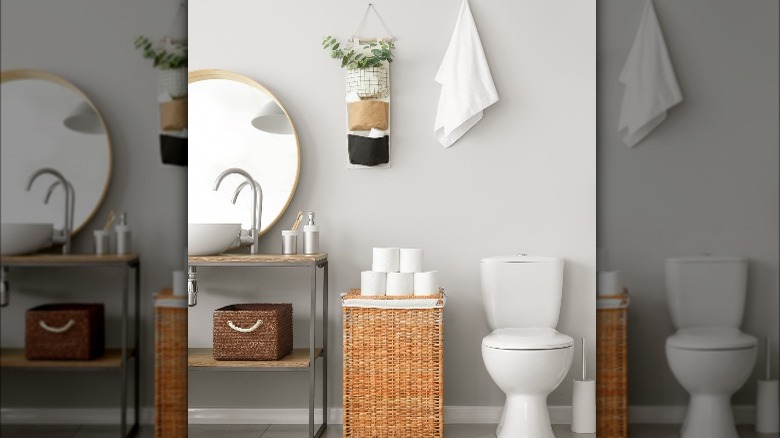 Pixel-Shot/Shutterstock
The clean and minimalist teen may prefer a soothing gray paint shade on their walls. To incorporate some warmth, look into adding wicker and wooden elements. 
6. Emerald energy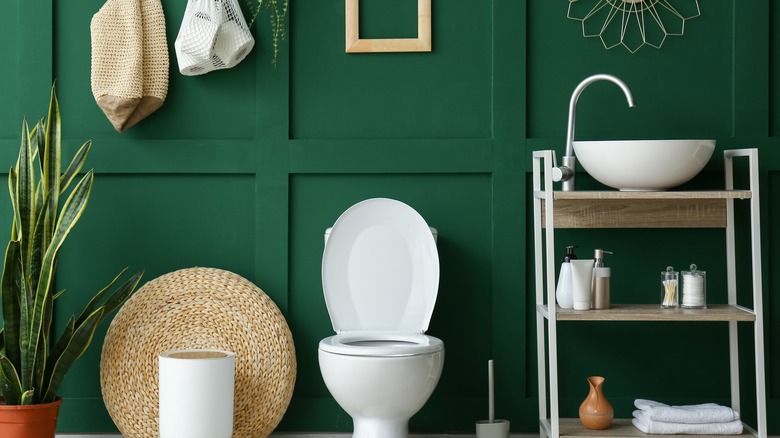 Pixel-Shot/Shutterstock
Jewel toned shades like emerald green will create a luxurious feel in the space. Darker tones are a great way to introduce color without it becoming too vibrant or ungrounded. 
7. Nautical navy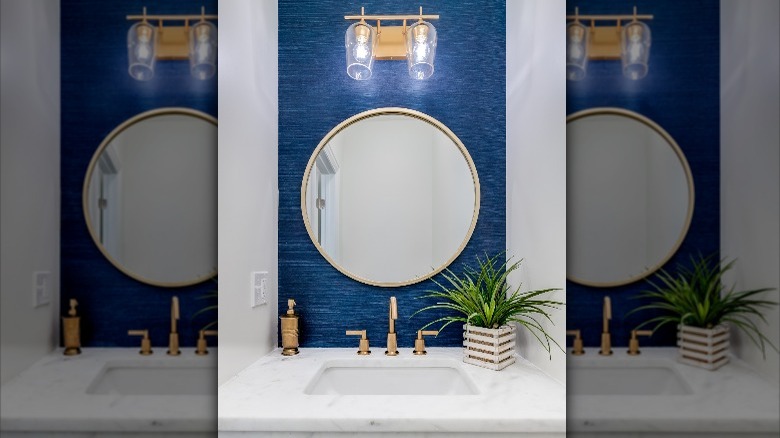 Hendrickson Photography/Shutterstock
Does your teenager love everything about the beach? Subtly nod to nautical elements by adding navy blue paint and golden accents.
8. Fully wallpapered wall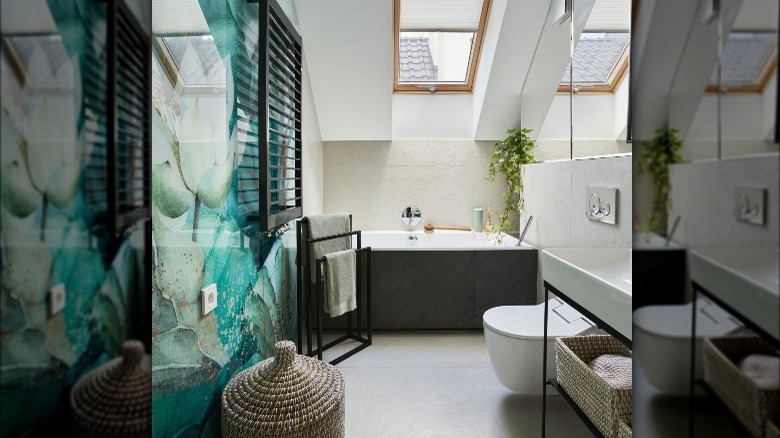 Followtheflow/Shutterstock
To make a large statement, cover an entire wall in wallpaper from the floor to the ceiling. This could be an easy way to make a basic setup more interesting without much hassle. 
9. Abstract artwork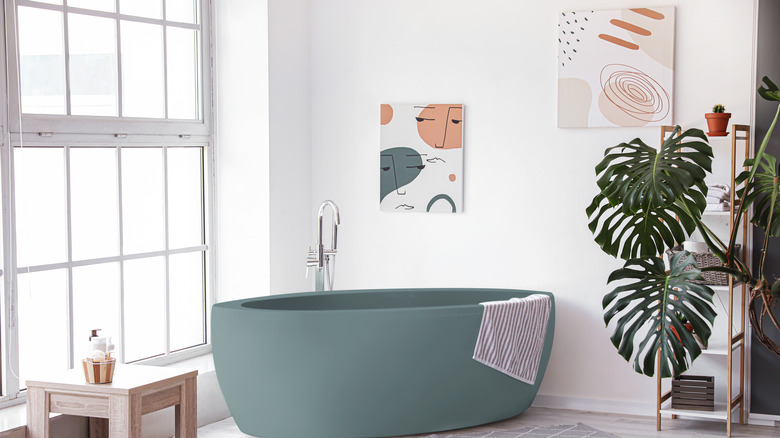 Pixel-Shot/Shutterstock
A great way to infuse character into a blank space is with artwork. You could let your teen paint some pieces themselves or have them pick out their favorite designs at the store.  
10. The perfect pair
If you come home with two pieces of matching artwork, hang them together in the corner of the room. This botanical setup is serene and pleasing to the eye. 
11. Textured tapestry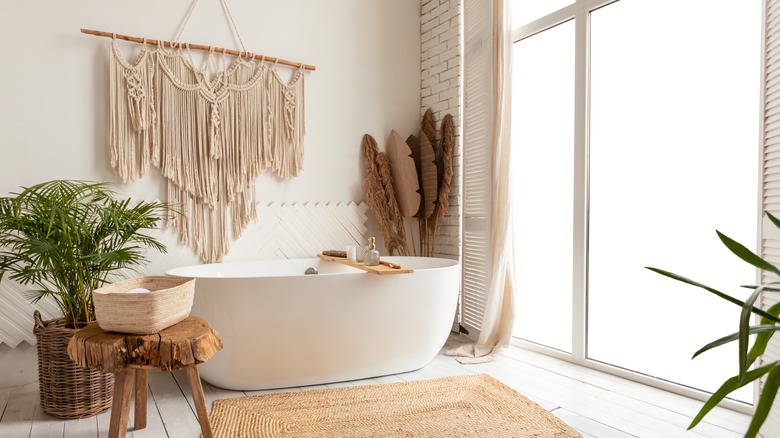 Prostock-studio/Shutterstock
For the lover of bohemian style, a large wall tapestry would really sell the style. From there, decorate the rest of the bathroom with textured elements like a jute rug or tall ferns. 
12. Create contrast
For a more sophisticated and dramatic look, create contrast by painting the walls a deep black shade and keeping the tub and sink bright white. 
13. Two tones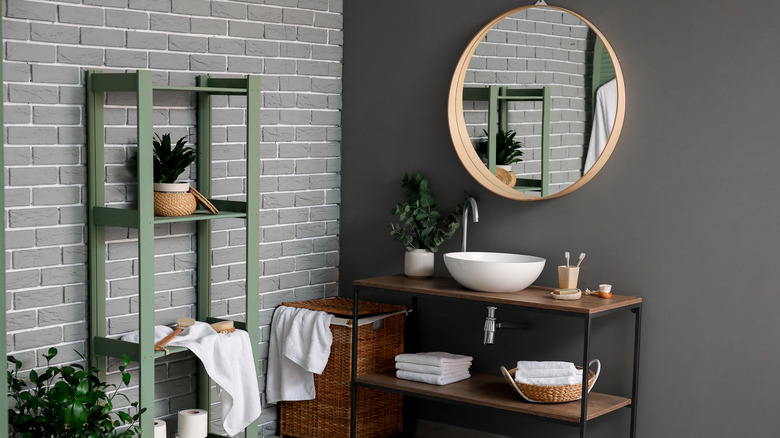 Pixel-Shot/Shutterstock
Using two tones of one color on the bathroom walls will create a dynamic appearance. Use the darker color for an accent wall and the lighter shade to balance it out in the rest of the room. 
14. Vibrant vanity
If the bathroom is mostly neutral, you could introduce a bold color through the vanity. Purchase a new piece if needed, or make a DIY project of painting the cabinets you already have.
15. Playing with pattern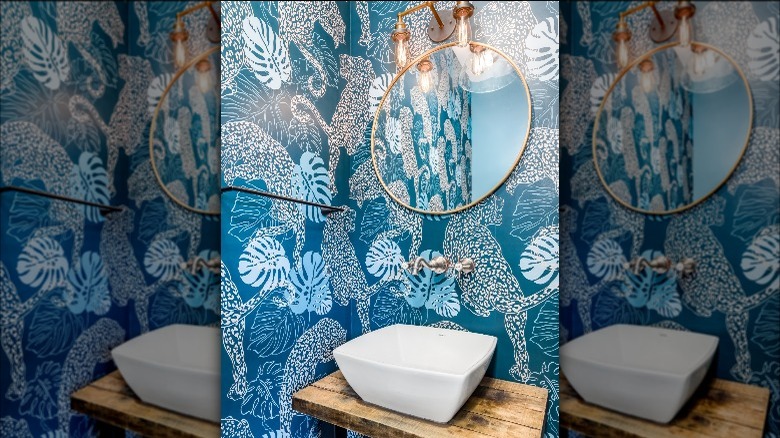 Hendrickson Photography/Shutterstock
To surround the space completely in pattern, cover every wall in wallpaper. Just make sure your teenager really loves the design and that it doesn't feel overwhelming. 
16. Customized curtain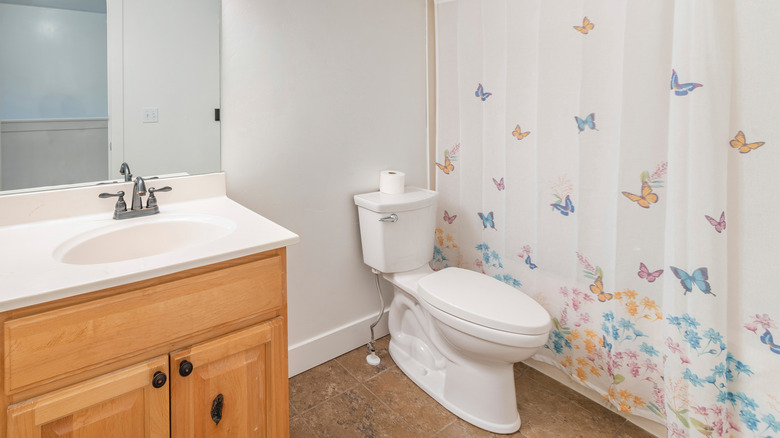 Jason Finn/Shutterstock
An extremely easy and budget-friendly way to personalize your teenager's bathroom is to have them choose a custom shower curtain. This will lead to clear choices on accent decor.
17. Glamorous gold
If your teenager leans a little bougie, why not create an expensive feel on a budget by trading out basic hardware with gold fixtures? This can be accomplished by simply spray painting old knobs.
18. Nearly neutral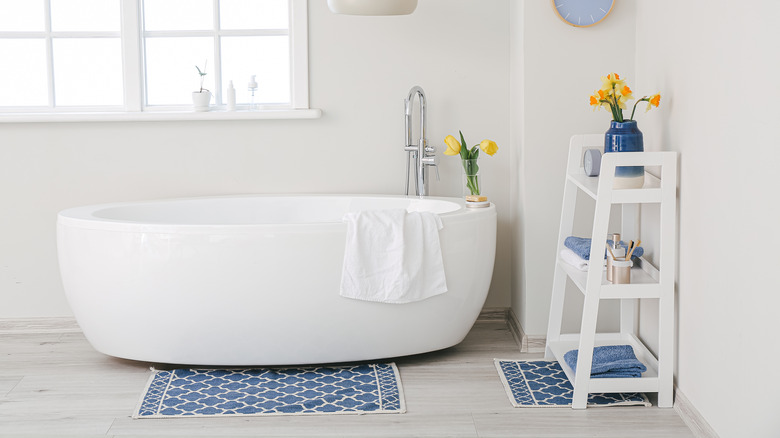 Pixel-Shot/Shutterstock
Keeping the space mostly neutral, yet adding in one fun accent color, will produce a nice balance of interest and calmness.
19. Tasteful tiles
Installing tiles in a unique pattern is a great way to infuse personality into the space. The design doesn't have to make a huge statement; even just installing subway tiles diagonally can make a massive difference.
20. Create continuity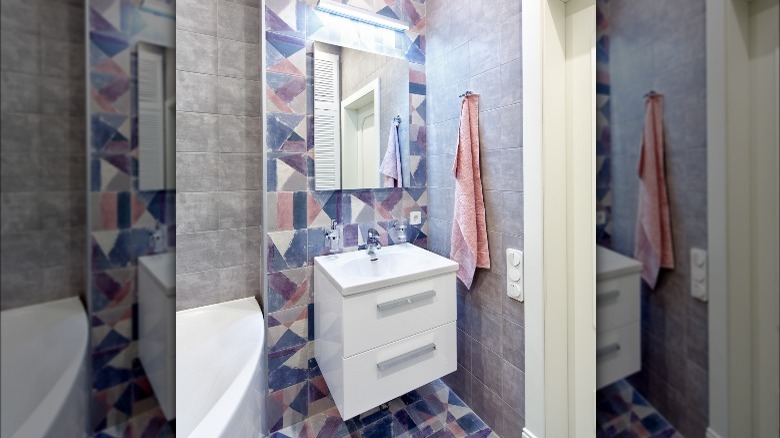 Alexxxey/Shutterstock
Here's another example of how tiles can be used in a creative way. This design carries the tiles from behind the vanity and onto the floor.