When the time comes to remodel your bathroom, along with potentially finding a new tub and tracking down stylish tiles, this is the perfect opportunity to give the space a fresh coat of paint. You might even want to choose a new color. While you could certainly opt for a yellow space or find ways to add green accents, blue is both a classic and contemporary color that looks fabulous in a bathroom. Of course, there are various versions of blue that will suit various tastes.
When choosing a new shade of blue for your bathroom, there are a few things that you should think about, according to Sharper Impressions Painting. For instance, take into consideration the kind and amount of light in the room, and how that might work with various colors. Beyond that, note the size of the space and keep in mind that light colors can make a room look bigger. At the same time, a smaller bathroom, such as a powder room, might be ideal for a shade that's more vibrant, thanks to the fact that it can be a safe spot to experiment. You'll also want to consider how certain colors will work with the existing fixtures and décor or the style that you have in mind.
Now that your thoughts are likely focused on the details of your own space, you'll surely be excited to check out these shades of blue paint that you definitely need to consider for your dream bathroom.
1. Light blue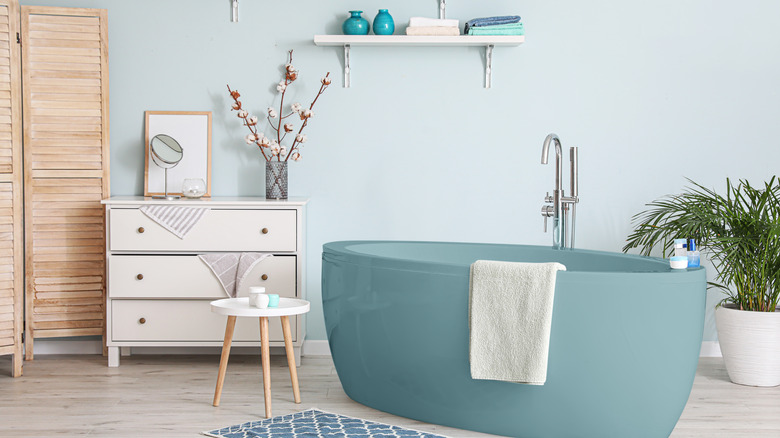 Pixel-Shot/Shutterstock
If you want to add a touch of color to your bathroom walls but don't want to opt for a shade that's overwhelming, then light blue might be the perfect choice for your home. Keeping even tiny bathrooms feeling open, it's also a color that can be used with a range of styles from contemporary country to beach-inspired.
2. Dark steely blue
Anyone who is drawn to the idea of dark paint will surely be intrigued by this steely blue. With a hint of gray, it's a shade that's chic and refined. If you're concerned it might be too dark, then you can use it on the upper half of the wall while using white paneling on the bottom.
3. Teal blue
While teal has a strong blue tone with a hint of green, this leans slightly more toward the former color as opposed to the latter. Beyond that, this bathroom uses both a lighter shade of teal blue and a brighter version of the same shade which is a stunning way to take full advantage of the eye-catching color.
4. Deep blue
While this color is not as dark as some other options, it's a deep blue that looks gorgeous in the shadows and when hit by light. A strong enough color to stand on its own, it's also a shade that can be paired with something lighter like white accents or dramatic like black details.
5. Dark lagoon blue
Think about an idyllic lagoon that's full of lush plants and still water, and you might envision a place that boasts this incredible color. A darker shade of blue that's in no way aggressive but will definitely capture your attention, it's the ideal choice for a bathroom that features a serene yet sophisticated design.
6. Baby blue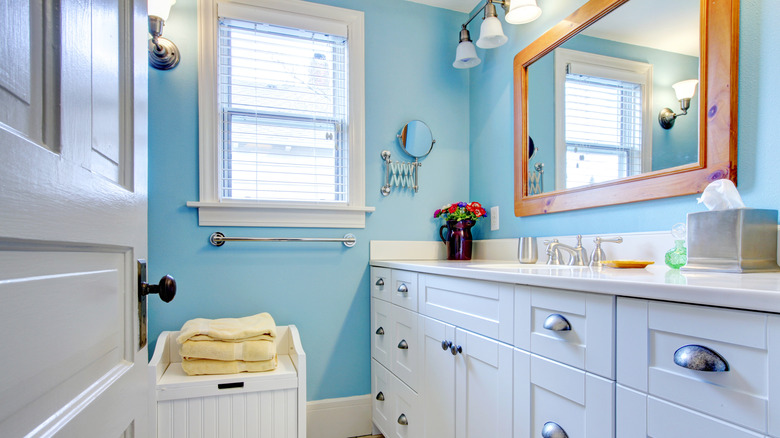 Artazum/Shutterstock
Slightly more vibrant than a classic light blue, there's a very good reason why baby blue is just as timeless. A shade that's calming and welcoming, it's also fabulously cool and surprisingly versatile. For instance, while you could pair baby blue paint in your bathroom with white décor, it would look just as stunning with darker accents.
7. Stately blue
The kind of color that you might find in a fine home, this stately blue is wonderfully posh. A shade that would look lovely in a space with soft light, it would be even more beautiful when the room is flooded with sunshine. In this case, the color has also been enhanced with gorgeous white wall molding.
8. Navy blue
Another beloved shade that will seemingly always be trendy, you likely can't go wrong with navy blue. A color that will continue to look great over the years as you make minor updates to your bathroom, it might be best to use it alongside lighter elements to keep the space from becoming too intense or excessive.
9. Smoky blue
Far from a typical gray-blue color, this particularly stunning shade has a slightly smoky hint to it. In this sleek bathroom that might win you over with its contemporary style, the paint color has been brought to life with a white sink and matching toilet as well as accents in light natural wood.
10. Light robin's egg blue
Let yourself be inspired by the beauty of nature and opt to paint your bathroom walls in this shade of light robin's egg blue. Suitable for a style that relies on modern elements or timeless touches, think about using it with materials that are just as classic such as wood, stone, or marble.
11. Storm cloud blue
If you love to watch the sky while trying to catch a glimpse of lightning, then you'll surely know why storm cloud blue is such a captivating color. While it might sound like a dramatic shade, it's actually a soothing color that can be used with a contemporary boho style that also boasts warm shades of brown.
12. Dark slate blue
Whether you want a bathroom that's filled with details or something minimalistic, this fabulous slate blue will set you on your way to the perfect style. Just keep in mind that it's on the darker side, so you might want to use it in a bathroom with lots of light and pair it with white accents.
13. Light lavender blue
While lilac is a type of purple that relies on pink tones, lavendar leans more toward blue. However, in this lovely bathroom, the shade that's been used is a very light blue that has a touch of lavender to warm it up. Sweet and chic at the same time, it's surprisingly striking for such a subtle shade.
14. Dark lavender blue
A color of blue that won't fade into the background, this wonderfully vibrant tone might make the bathroom your favorite place in your home. Using a shade that has a slight hint of lavender just like the lighter version, this option is much darker while still being bright and cheerful.
15. Crayola blue
A playful option, it might not surprise you to find out that this is what you may call Crayola blue, according to CSS Gradient. On the other hand, ColourLex might deem it to be cerulean blue. Either way, it's a bright, bold, and beautiful shade that would suit a bathroom for both kids and adults alike.