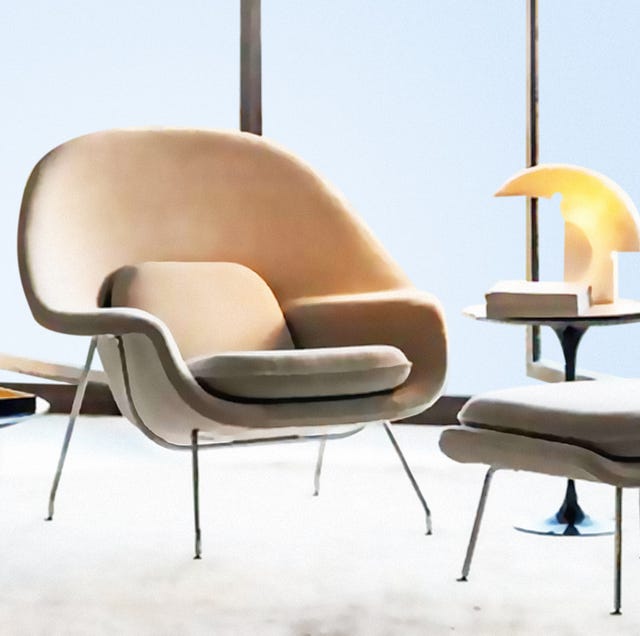 Courtesy
A hypothetical situation: After four years of crashing on twenty-semesters-used bunk beds, handmewaydown twin frames, dumpster-dived platforms, and a mattress on a bare floor, you graduated college and prepared yourself for an adult life of good living. Then, some number of years passed—maybe three, maybe thirty—and it occurred to you that you haven't exactly achieved the home-owning or apartment-renting dream. That couch you're sitting on was the cheapest at Ikea, that bedframe came secondhand on Facebook Marketplace, and you up and bought the dining set after about two seconds of consideration at Target. And once you got them, you never really considered replacing them.
Then, perhaps after months-on-end in your home and only your home, you were revisited by that dream of the good life, which got you thinking about owning furniture to be proud of, and owning it for a long time. So, unwilling to venture out to look at showrooms, you turned to your old companion, online shopping.
Just a hypothetical. Maybe you've always loved online shopping for furniture. Whatever the reason, we've gathered up our 15 favorite online furniture stores for you to digitally meander through, from the affordable to the luxurious. Refer to this list, which is more or less arranged in order of price point (low to high), when you want a new desk or a new bedroom set or an accent piece of yet-undiscovered functionality, and you can leave your dumpster-diving days behind you.
Advertisement – Continue Reading Below
Amazon Home
You buy your toilet paper and Hanes T-shirts en masse on Amazon, so it makes sense to check out its home section. Amazon Home Essentials' landing page is neat and tidy (unlike some discombobulated sections on the swollen shopping site), with tools that'll let you select items right out of room designs like the one you see here. Inspired by that coffee table? Amazon will direct you to the right page to buy it. The furniture selection ranges from cheap basics to moderately priced pieces.
Wayfair
Shop
Wayfair is a catchall—as in, all—for furniture, where you'll find pieces for the outdoors and any room imaginable indoors. Like Amazon Home, Wayfair carries a lot of basic, no-flair brands (like its home brand, which is called, go figure, Wayfair Basics), but it also carries higher-priced options from more revered designers. The site is somewhat chaotic, but it's also in a seemingly constant state of sales events, so it's worth the investigative effort.
Etsy
Shop
If the word "Etsy" brings to mind quaint images of empty-nester moms darning socks and making macramé to sell for a few pennies on the side, rethink. The site is a thriving online marketplace for craftsmen, artisans, and artists—whatever label they choose to go by—who create unique, usually handmade pieces as small as drinks coasters and as large as dining room tables. Browse for custom and repurposed furniture, and stop by Etsy's curated collections of designs by Black-owned and Latinx-owned shops.
Bespoke Post
Shop
Bespoke Post is known for its subscription boxes, each centered around a theme, like grooming, camping, hosting, and beyond. But Bespoke's online shop is well-stocked with the kind of furniture that you never realized you needed but will immediately begin to covet. As you scroll through it, you'll find yourself rethinking the home basics. Can a nightstand look like modern art? Can a clothing rack be beautiful? Was I really considering a dresser when I could buy a cool canvas trunk instead? The answers to those questions being: "yes," "yes," and "why would I do that?"
Huckberry
Shop
Huckberry's home section is hyper-curated by the men's lifestyle brand, meaning at times you'll only find a single item that really catches your eye. But that item will almost certainly be handmade and natural, the kind of accent piece that'd look at home in a Western ranch or a Northeastern log cabin. These items, like an Appalachian hardwood drawer bed, are meant to be bought purposefully and treasured always. And if you happen to snag a waxed trucker jacket and a pour-over coffee maker before leaving Huckberry's site, so be it.

Urban Outfitters
Shop
Urban might lean towards a younger, cooler (they think!) audience than you for clothing, but it also sells some damn nice furniture. After all, a handsome, cylindrical acacia wood coffee table is still a coffee table, regardless if it's covered in tarot cards and loose-leaf weed or, you know, more adult shit, like bills. Look here for modern furniture with a youthful energy that isn't cheap but also isn't ungodly expensive.
West Elm
Shop
West Elm traffics in neutral, earthy tones, but you'd be mistaken to call its styles minimalist. The detailing, from the leather to the wood grain to the fabric swatches—and the many brushed bronze and burnished gold accents; seriously, many—sets it apart. West Elm is the kind of store a new New Yorker (one ignorant of the Couch Story) will find themselves wandering around, muttering in admiration, "One day, I will be able to afford this." Perhaps it is finally that day.
Pottery Barn
Shop
To all the kids who wanted to be Pottery Barn Kids and all the teens who wanted to be Pottery Barn Teens, who all had moms who crushed those dreams into dust after taking one look at the price tag, because your uncle's old twin-size bedframe from 1964 still worked just fine… Now is your chance to be a Pottery Barn Adult. If you're unfamiliar with the vibe, Pottery Barn's furniture could be described as countryside-cool—homey, airy, light, and preferably sun-dappled.
Gooddee
Though many of the stores in this list feature brands that do good by the earth, Gooddee, founded by the twin brothers behind WANT Les Essentiels, only features such brands. Its curated collection of home items—from richly hued chairs made from recycled industrial materials to sustainable teak wood tables and stools for inside and out—feel naturally tasteful, and all are crafted in a way that respects the environment and the people who make what the designer envisions.
MoMA Design Store
The MoMA Design Store, an offshoot of the Museum of Modern Art in New York City, sells, naturally, art for your home, however you interpret that. Art might be a tiny stool, emblazoned with patterns, for your kid's room. It might be a set of Albers nesting tables. It might be a squiggling bookworm bookshelf. Some of this stuff barely even looks like furniture, it's so engrained in the art and design world. No online furniture store will make you feel more like you're living among the byproducts of an immensely creative mind quite like MoMA.
Design Within Reach
Shop
"Within Reach" doesn't refer to price range. It refers to access. Meaning, DWR's intent is to collect furniture and accessories from designers whose pieces you'd normally have to hunt down through backchannels or over a full day of stomping through showrooms. Here, you can browse all these modern styles together.
54kibo
Shop
54kibo is where you ought to turn if you're in great need of more texture and brighter color in your home. Based in the States, the company looks to the 54 countries in Africa to source most of its collection of contemporary furniture and designs. It's a collection that'll prove to you that an accent chair—like a mid-century modern armchair in rich velvet—can change the course of a crappy year. Or, at least, begin to.
One Kings Lane
Shop
One Kings Lane carries renowned designers of refined home goods. Like Ralph Lauren Home. But its more intriguing draw is the Vintage section, featuring ornate gothic chairs, 18th-Century brandy boards, art deco cabinets, and more to lend a lightly aristocratic touch to a room. And in the process, draw you one step closer to becoming a full-time antiques collector.
1stDibs
Shop
In the spirit of sportsmanship, we'll warn you right now: It's frightfully easy to get addicted to 1stDibs. This online marketplace makes it easy for designers and sellers to connect directly with buyers to discuss rare pieces, which means it's easy for you to find utterly unique furniture that you'll insist you must snap up before someone else browsing the site gets greedy. It's difficult to categorize the furniture selection, as it ranges from modern to vintage and covers most ground in between, so we'll simply call it nice as hell.
Restoration Hardware
Perhaps you have not a clue in hell of how to arrange your interior; all you know is that you want it to be up to the standards of an "AD Open Door" tour. If cost is not much of a concern, you can tap a design consultant from Restoration Hardware to point you in the right direction, the right direction being Restoration Hardware's trove of impeccably designed, beautifully made, wholly high-end furniture. The catalogue of pieces is vast, but it's safe to assume most heavily feature the best steel, wood, and leather to feel lightly industrial and of the moment.
Get Expert Style & Gear Recs, Every Day
This content is created and maintained by a third party, and imported onto this page to help users provide their email addresses. You may be able to find more information about this and similar content at piano.io
Advertisement – Continue Reading Below