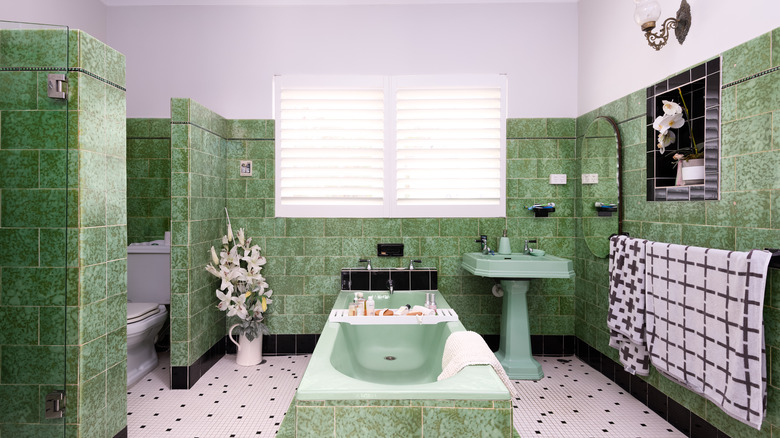 Hendrickson Photography/Shutterstock
Popular from the 1890s through 1910, the Art Nouveau style is known for its curved, flowing lines and silhouettes on everything from architectural elements to furniture, glassware, and pottery. A reaction to the stuffy ornateness of Victorian design that preceded it, this décor style presented a simplified, nature-inspired design that appealed to homeowners, who appreciated its grace and glamour.
Art Nouveau, meaning "new art" or "art of the new," is often considered in relation to other art movements that were popular or developing at the time, including the Arts and Crafts trend, which shared Art Nouveau's love of florals and botanicals, and Art Deco, which would incorporate many of the motifs and textures of the movement more geometrically. While all three were based on similar reactions to Victorian design, Art Nouveau stands out for its unique curved lines and botanical imagery forged in materials like wrought iron, stained glass, gilt, and natural woods (via Gallerease).
If you are looking for some ways to incorporate this graceful, elegant style into your own décor, bathrooms are an excellent place to start, often lending themselves to the use of decorative and colored tiles, beautiful Art Nouveau-inspired light fixtures, and a wealth of botanical and nature-inspired elements.
1. Colored tile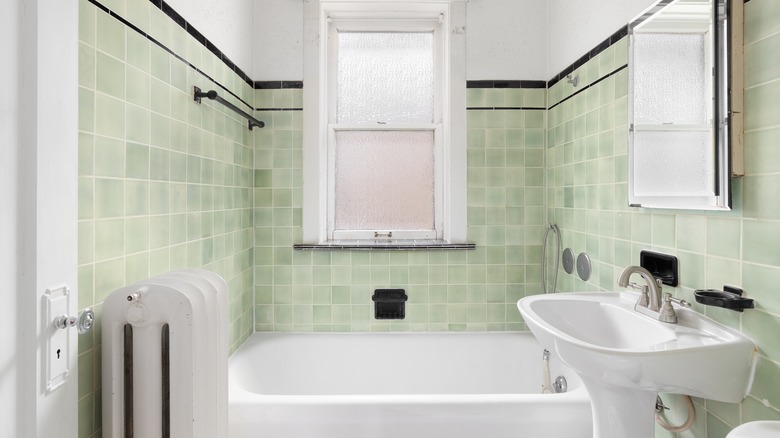 Hendrickson Photography/Shutterstock
Art Nouveau interiors used rich, colorful tiles in aqua, green, and pink shades. A quality shared with the slightly later Art Deco movement, many early 20th century bathrooms are still bedecked in colorful vintage tiles that, when combined with other of this trend's specific elements like stained glass and ornate mirrors, can make this style pop.
2. Sculptural bathtubs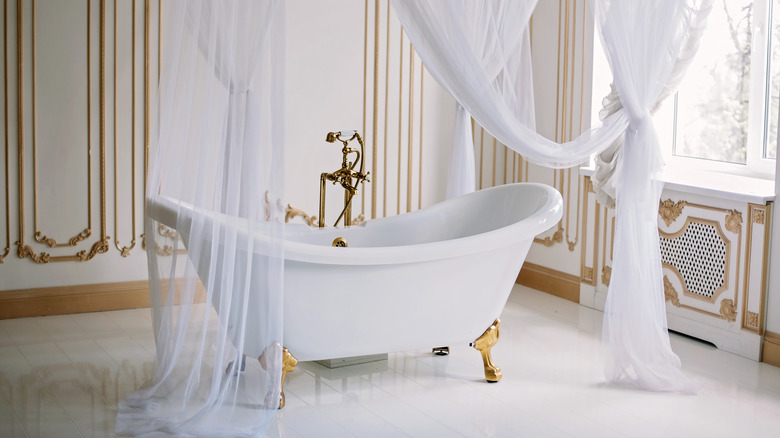 TashaSinchuk/Shutterstock
Art Nouveau elements were always graceful and sculptural. So a unique bathtub is a perfect item to enhance an Art Nouveau bathroom style, whether it's a more period-specific claw-foot tub or a rounded, ornate, more modern piece with nature-inspired shapes. Here, an ornate claw tub gives off old-school glamour when combined with gold wall moldings.
3. Dreamy accents
Art Nouveau artwork and prints are known for their romantic feel and floral details. These elements are a perfect fit for bathroom spaces, creating a small nature-inspired oasis at the center of your home. Try incorporating these accents through wallpaper, artwork, and accent pieces like lamps or statuary.
4. Simplicity and lightness
Even for all its ornate details, there is a simpler, more graceful feel to this style, which makes it a perfect way to augment even neutral or minimal décors. Here, modern white subway tile is combined with decorative lines that echo Art Nouveau motifs.
5. Woods
Like the Arts and Crafts movement that preceded it, this trend loved using natural wood elements whenever possible. Most woods were left with natural stains and unpainted to reflect a nature-inspired look. This romantic double bathroom pairs a wealth of natural architectural elements and cabinetry with dreamy green tile and ruffled curtains.
6. Vanities
One easy way to incorporate an Art Nouveau feel is to swap out your vanity for an older wood piece. The natural feel of the wood gives a turn-of-the-century feel, particularly if it features botanical accents or hardware. Here, even the modern elements like gray tile and TV set are elevated by the timeless feel of the vanity cabinet.
7. Silver and gold
This style usually included an abundance of gold and silver accents. While gold often has a more antique feel, silver is a great option if you are mixing more modern pieces with Art Nouveau elements. The bathroom above feels historic yet slightly space age with its silver-painted wood elements and shimmering curtains. 
8. Curved pieces
Even the most minimalist décors can benefit from Art Nouveau in small doses. For example, consider adding a curved cabinet or vanity to even the simplest bathroom design. Here, the room's architectural moldings combined with an arched vanity evoke a strong dose of glamour.
9. Rounded architectural elements
If you are designing a new space from scratch, consider including more rounded elements like alcoves, doorways, and skylights that mirror the graceful curves of this style. Here, a rounded sink alcove and Art Nouveau-inspired light fixtures immediately send us into the past.
10. Floral-inspired hardware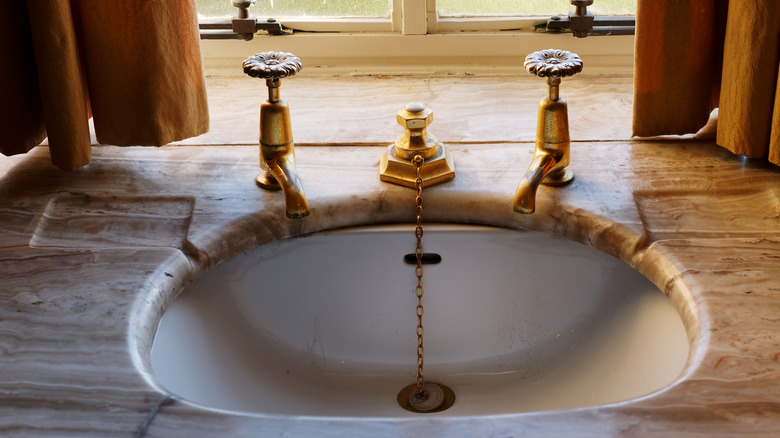 DRG Photography/Shutterstock
You can add small touches of Art Nouveau style to any bathroom space by simply swapping out plainer hardware for more ornate, decorative touches. For example, botanical-inspired faucet handles and drawer pulls are a perfect way to get a lot of impact for little cost, time, and effort.
11. Old meets new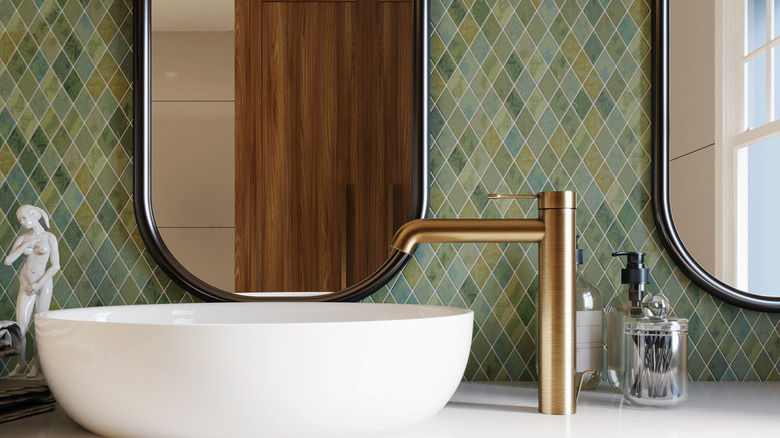 IZ1737/Shutterstock
While Art Nouveau left many of the elements of previous design styles behind, it often married 19th-century sensibilities with cleaner, more modern elements. Here, rich diamond tile and statuary are paired with curved mirrors and modern sink fixtures, which makes the older touches seem entirely new.
12. Marble galore
Stelmakh Oxana/Shutterstock
With its love of glamour, one of this trend's favorite materials was marble, which it used in abundance, particularly in places like lobbies and public restrooms. Here, floor-to-ceiling marble makes a big impact, particularly when paired with the more modern gold tiled mirror surround. 
13. Ornate mirrors and glass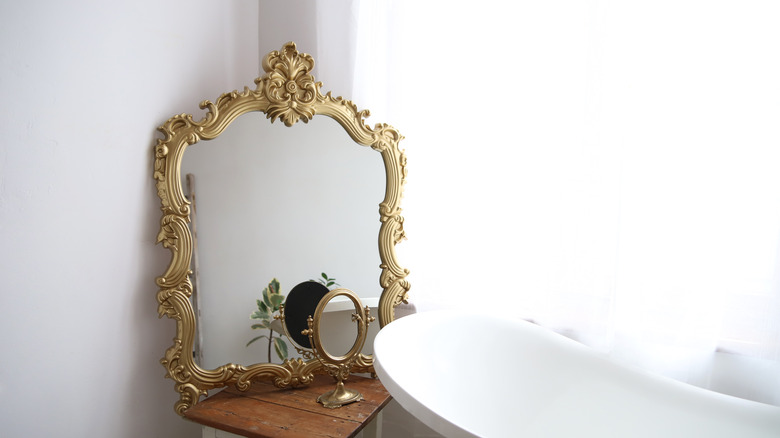 Mari Photographer/Shutterstock
Mirrors and other glass creations are often where the Art Nouveau style was most pronounced. Consider adding a rounded, ornate mirror above your vanity instead of the traditional options. Stained glass, also popular in this style, makes a perfect element to add to a window or lighting fixture.
14. Decorative tiles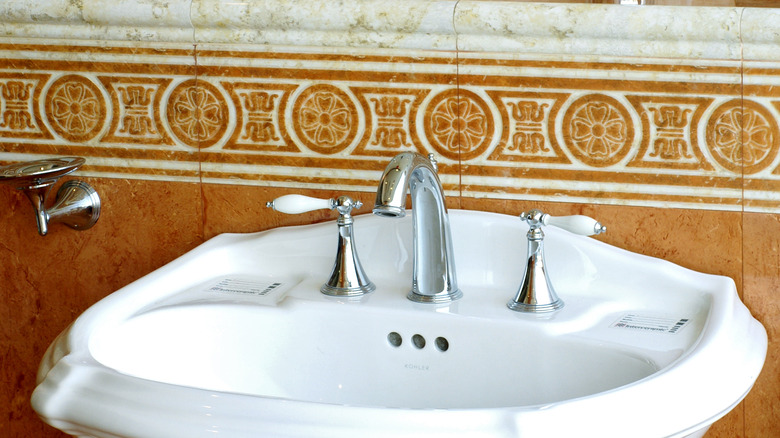 photomatz/Shutterstock
Art Nouveau placed details everywhere, including on tiles, which were often used to form a border around simpler, colored tiles in many spaces. For example, if you are re-tiling a bathroom space, you can add a touch of Art Nouveau beauty by creating a complementary row of decorative slabs as a backsplash or shower area border.
15. Floral patterns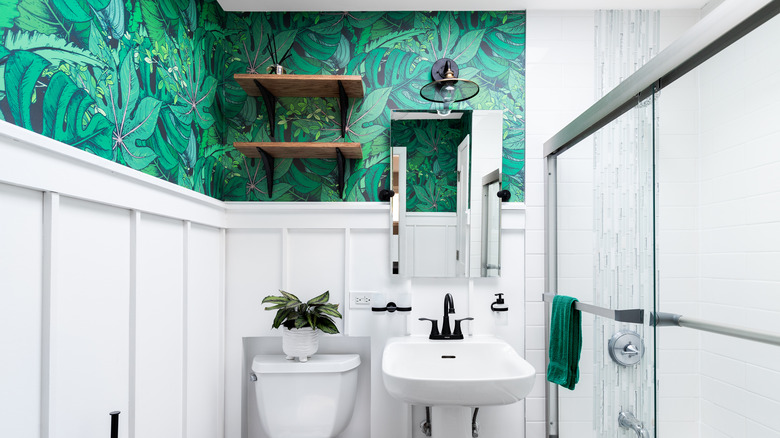 Hendrickson Photography/Shutterstock
With all of its natural inspiration, the Art Nouveau style often included flora and fauna patterned wallpapers and textiles in abundance. A great way to add a huge dose of this style is to install a rich floral wallpaper or shower curtain in your bathroom, which will immediately make the room feel dreamy and romantic.