For 41 years, Washingtonian has joined with the DC chapter of the American Institute of Architects to recognize outstanding work from local residential architects. To ensure an unbiased process, none of the jurors—architects from around the country—are local. Here are 2022's winning designs.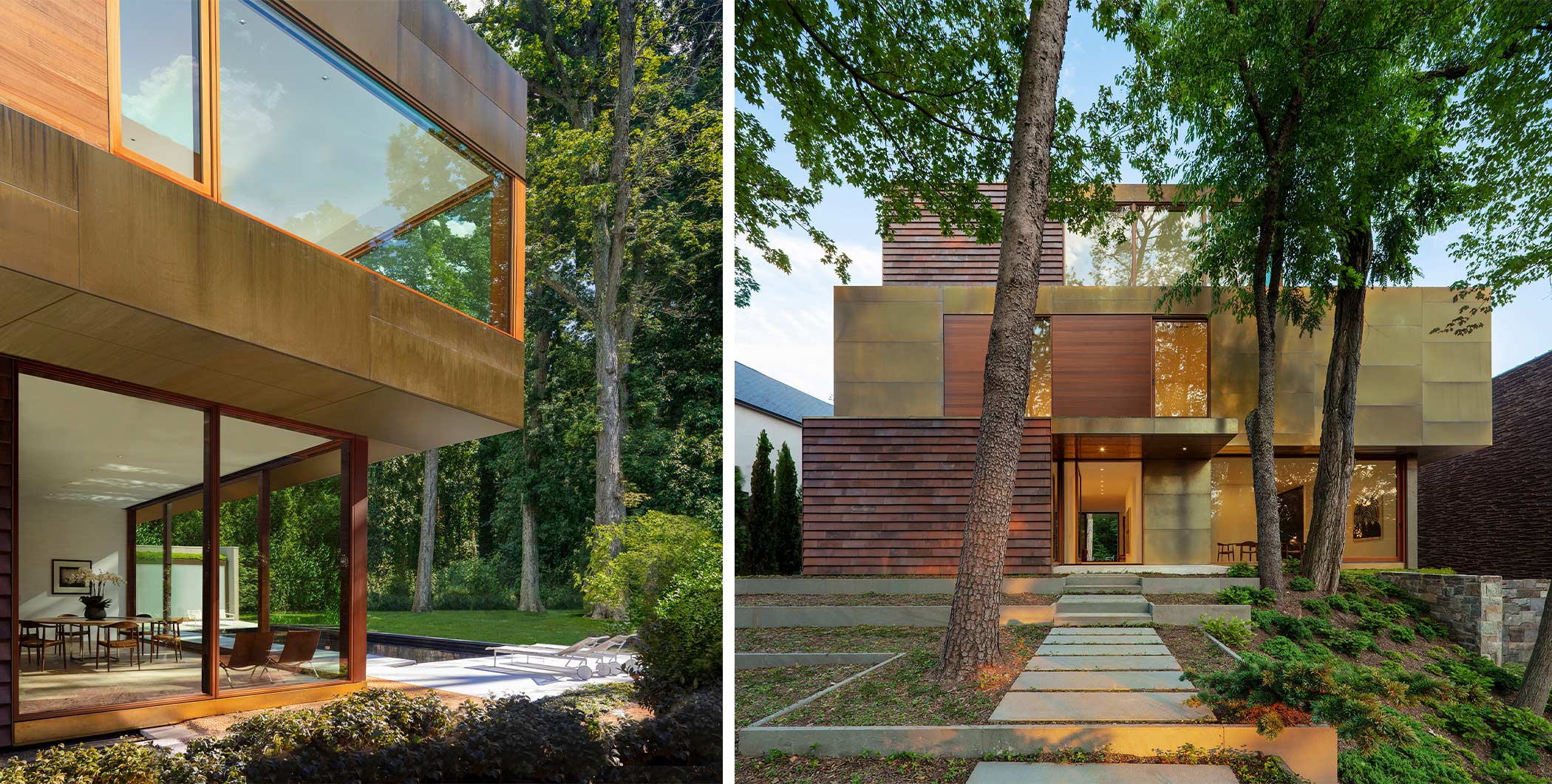 Bronze House on Chain Bridge Road
Firm: David Jameson Architect
Spec houses are typically designed to appeal to the masses. But this one, clad in patinated bronze, with walls of mahogany-framed windows and a garage for a car collector, is highly customized. "It's totally unique in the market," says architect David Jameson, who designed it for a parcel in DC's Kent that used to contain a tennis court. Also unusual: It doesn't have a basement. Functions that are often subterranean, such as a game room and an in-law suite, are instead on the third level. As of press time, the home was still for sale, listed for just under $11 million.
---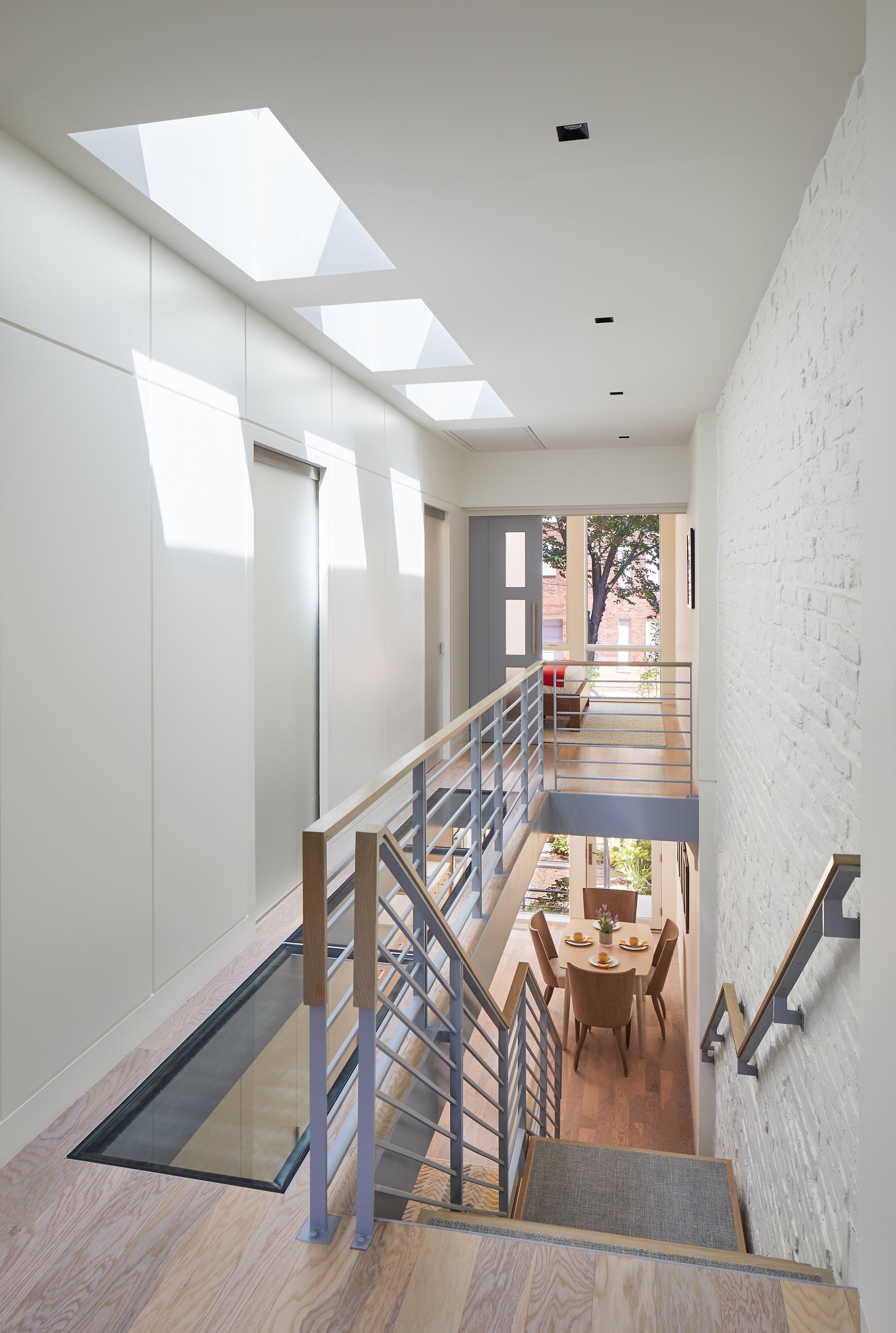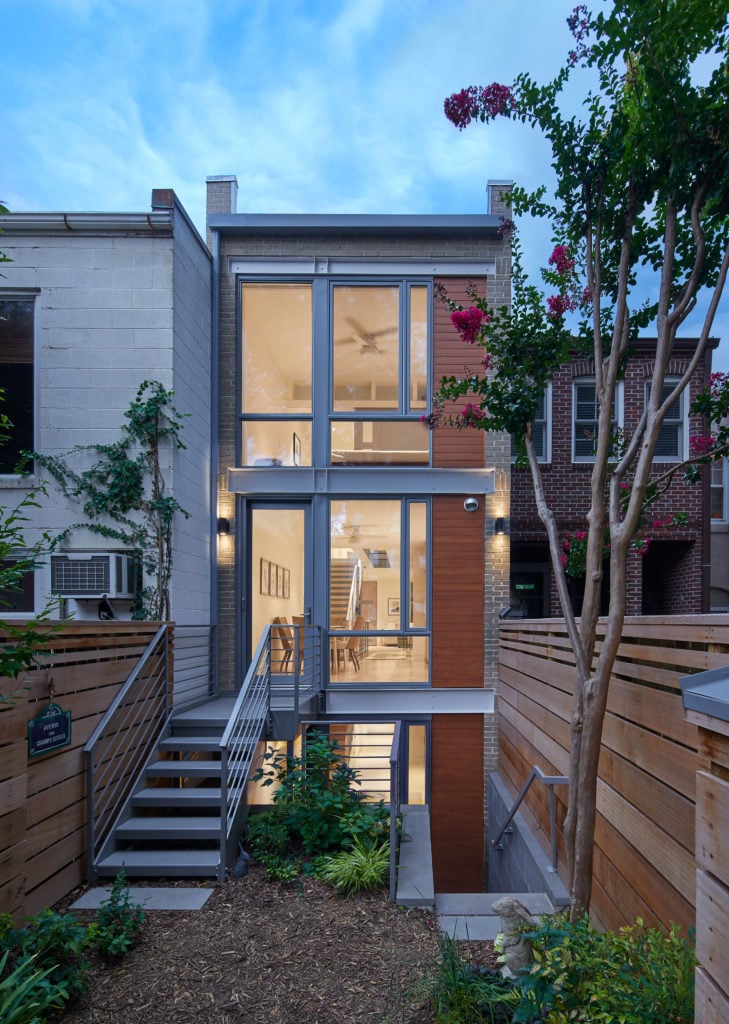 A Rowhouse Revisited
Firm: Bonstra Haresign Architects
Back in the 1980s, the couple who owned this historic rowhouse in Foggy Bottom hired architect Bill Bonstra to modernize it and design a rear addition. Some 30 years later, their daughter—now the owner—was ready for another round of renovations. Though his firm handles primarily larger-scale projects these days, Bonstra says this was a "very special" case. With the help of project architects Lizza Medina and Chau Tham, he devised a gut renovation that opened up views through the house and brought light into its core via skylights and glass floors. While the front facade remained mostly untouched, says Bonstra, the new design inside is "all about visibility."
---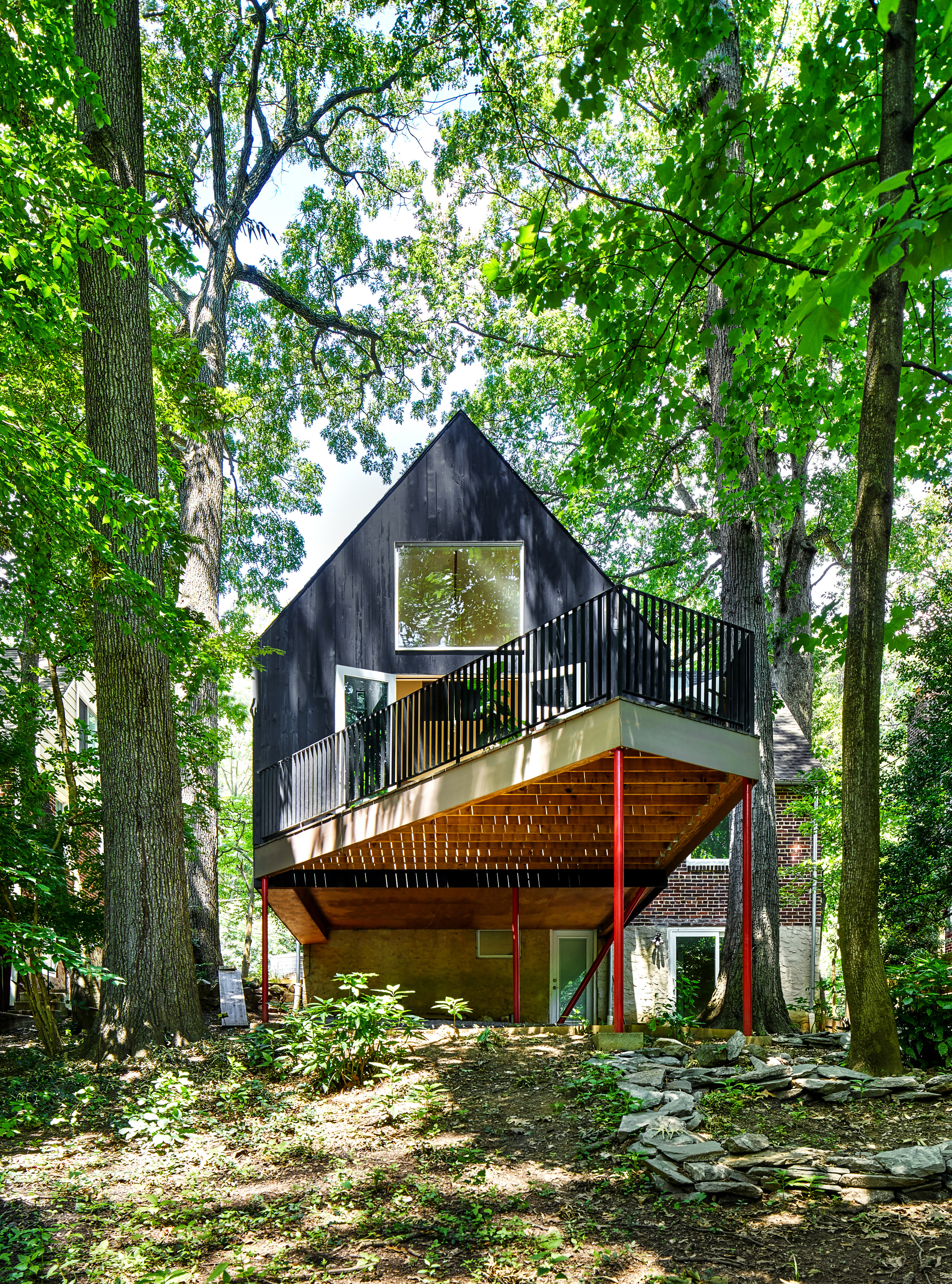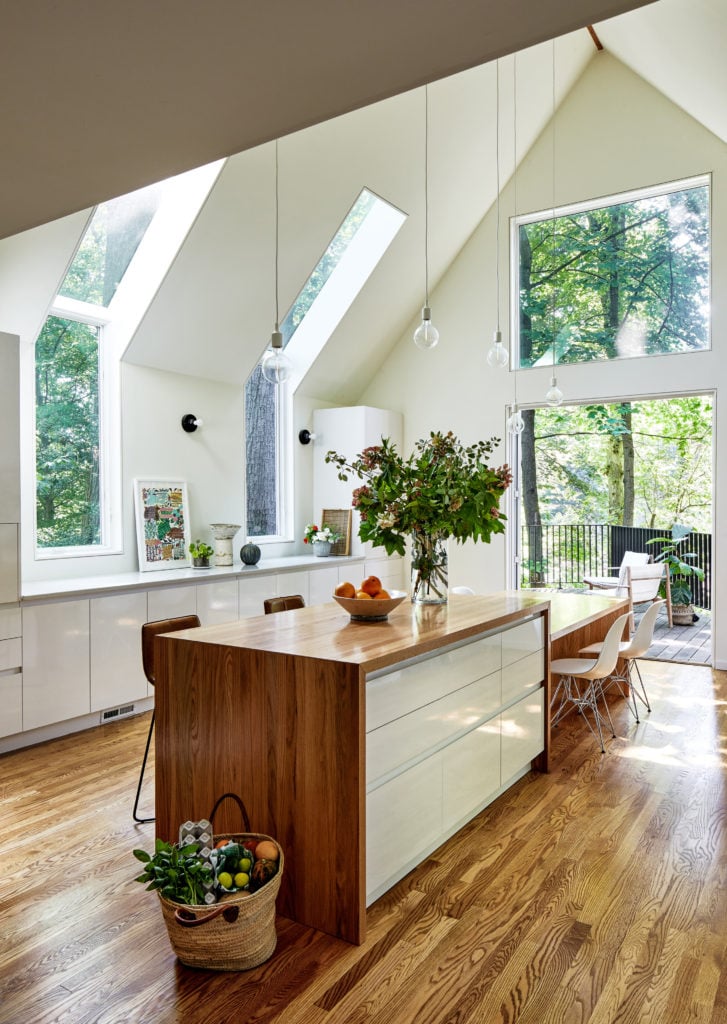 Takoma Park Treehouse
Firm: Wak Tok Architects
When architect Wakako Tokunaga set out to design a modern kitchen addition for her clients' 1930s bungalow, the heavily wooded lot served as her main inspiration. "We sort of imagined this addition nestled in the trunks of the trees," she explains. The new section of the home is perched atop stilts, adding to the treehouse vibe. A pair of skylights wrap from the roof down the side of the structure, making the interiors feel even more connected to the lush environs. Wooden, waterfall-style countertops on the island add a dose of warmth to the other-wise minimal space. Says the architect: "When you're in the kitchen, you feel as though you're outside."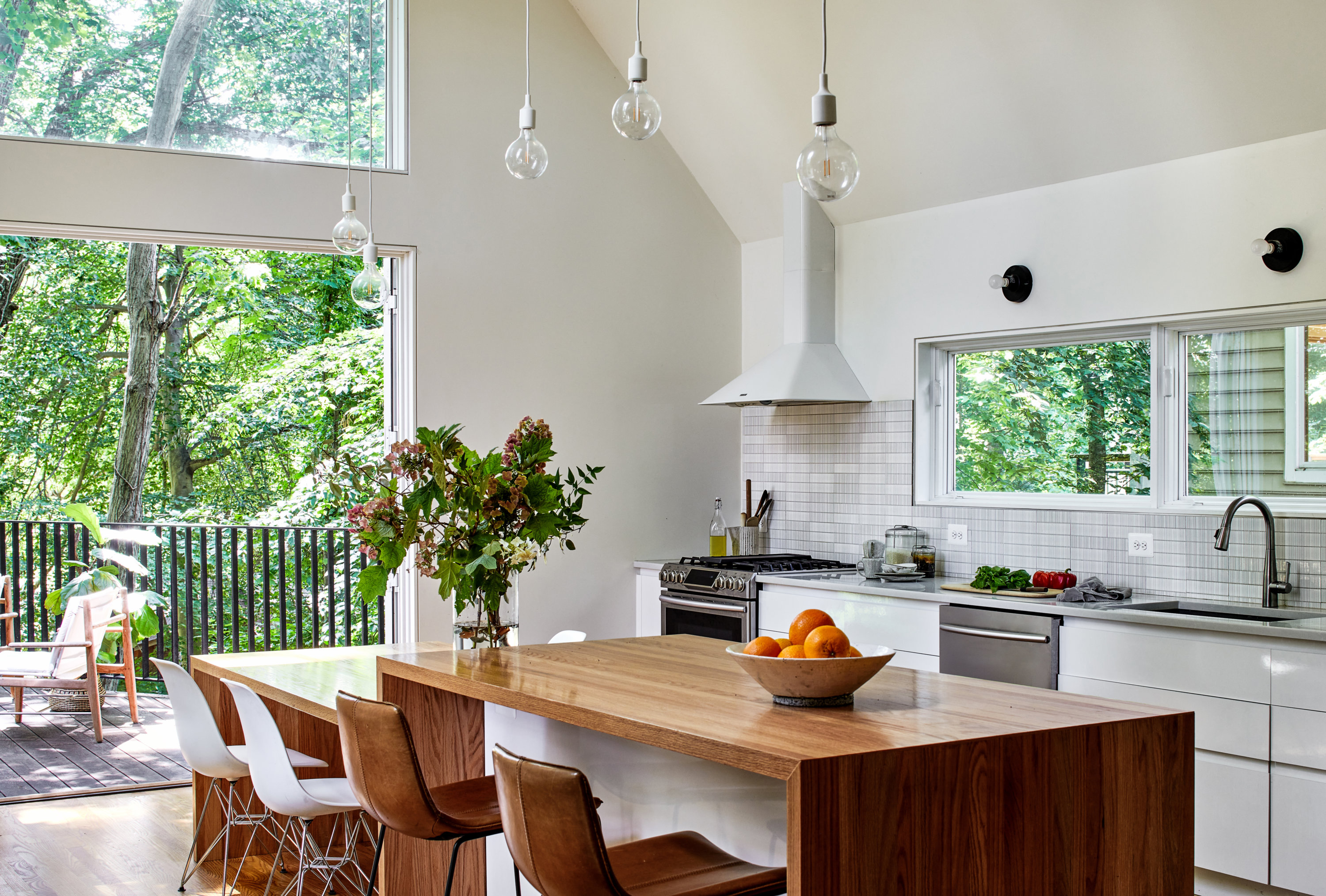 ---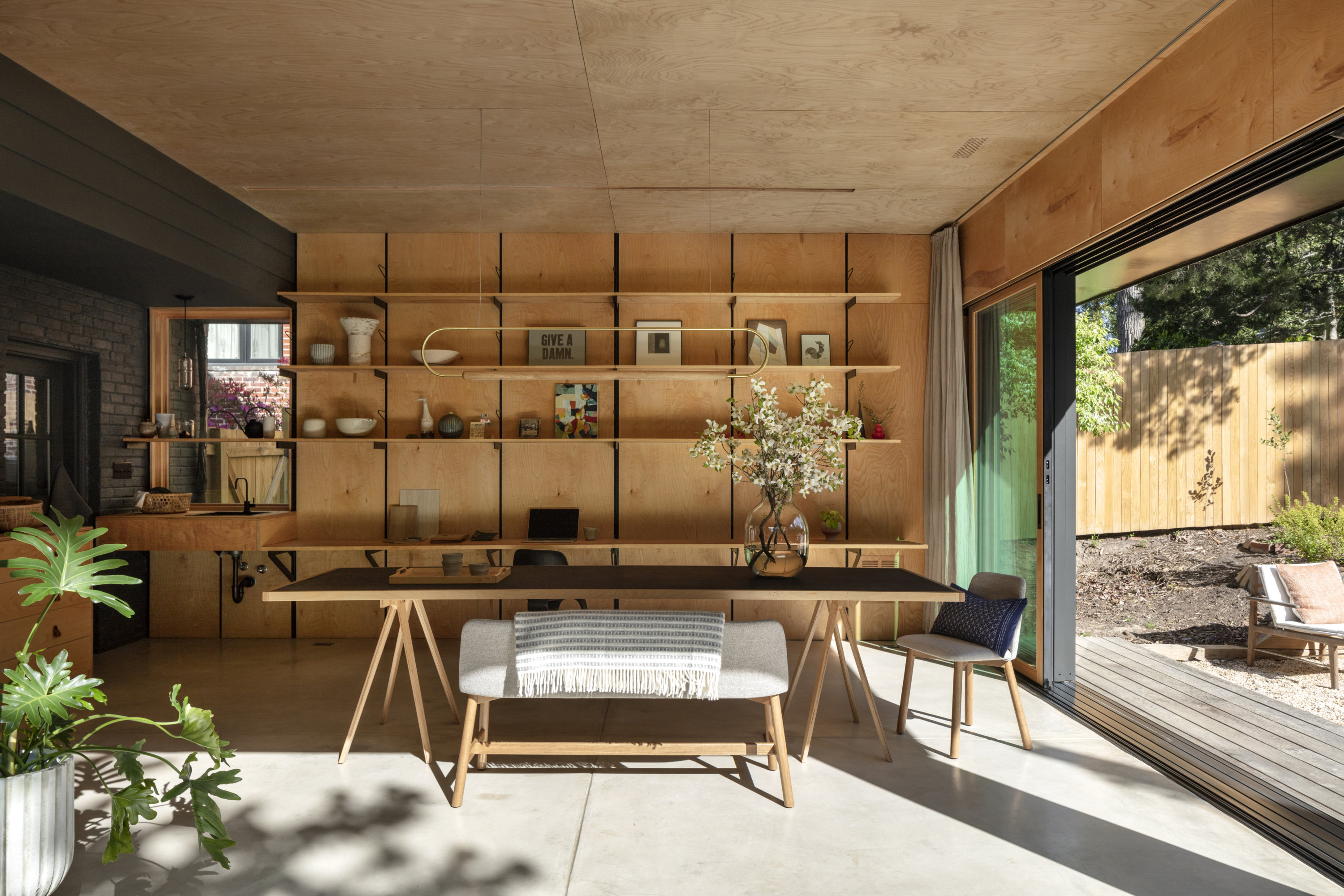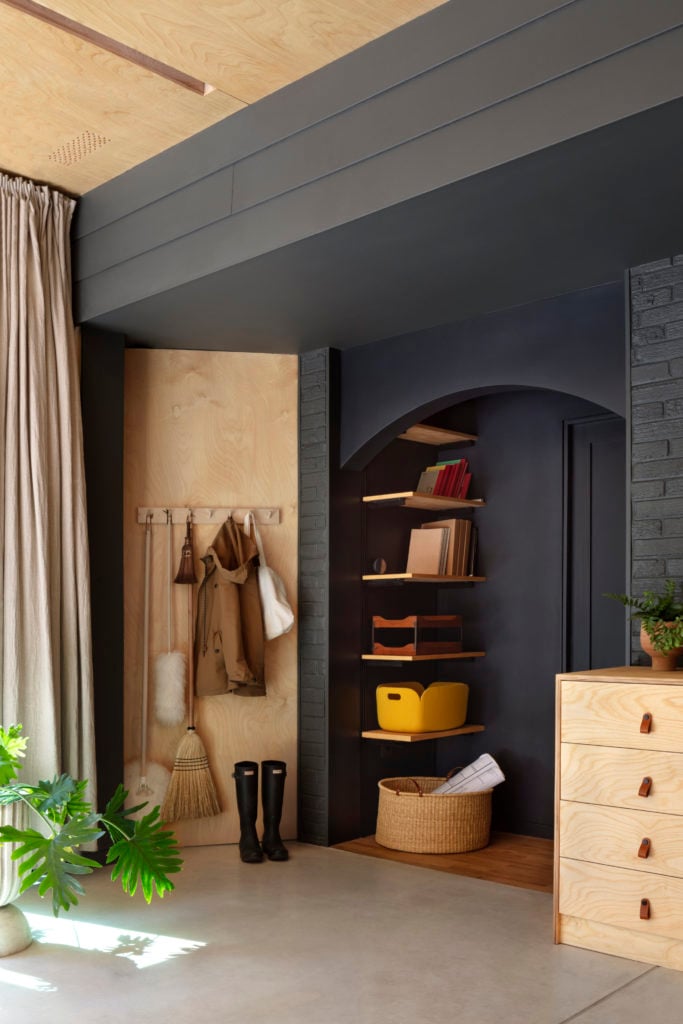 A Garden Office for the Covid Era
Firm: Wak Tok Architects
In March 2020, architect Wakako Tokunaga was about to sign a seven-­year lease on a new downtown office for her firm. Then, well, you know what happened. Though she was relieved to have narrowly dodged committing to an expensive lease, she still needed a place to work and to meet with clients. So she designed a 350-square-foot rear addition to her own Takoma Park home, relying primarily on organic, nontoxic materials such as plywood. Glass sliders open up the backyard office to a garden of native plants. Tokunaga employs two other architects who share the space with her, and she's also talking to friends about using it to host yoga classes and art showings.
---
Refuge on the Potomac
Firm: Page
This modern marvel on the Leonardtown, Maryland, waterfront could be straight out of a James Bond film. But its owner had another pop-culture reference in mind. "He came to us and said, 'I want it to feel like a hobbit house,' " recalls architect Todd Ray. The client meant he wanted the home to be so integrated with the landscape that when you approach it, you almost don't realize it's there. To achieve that, Ray designed a concrete portal as the front entrance: "And through this threshold, you find this place of wonder." A glass-encased courtyard and walls of glass looking onto the Potomac River further blur the boundary between indoors and out.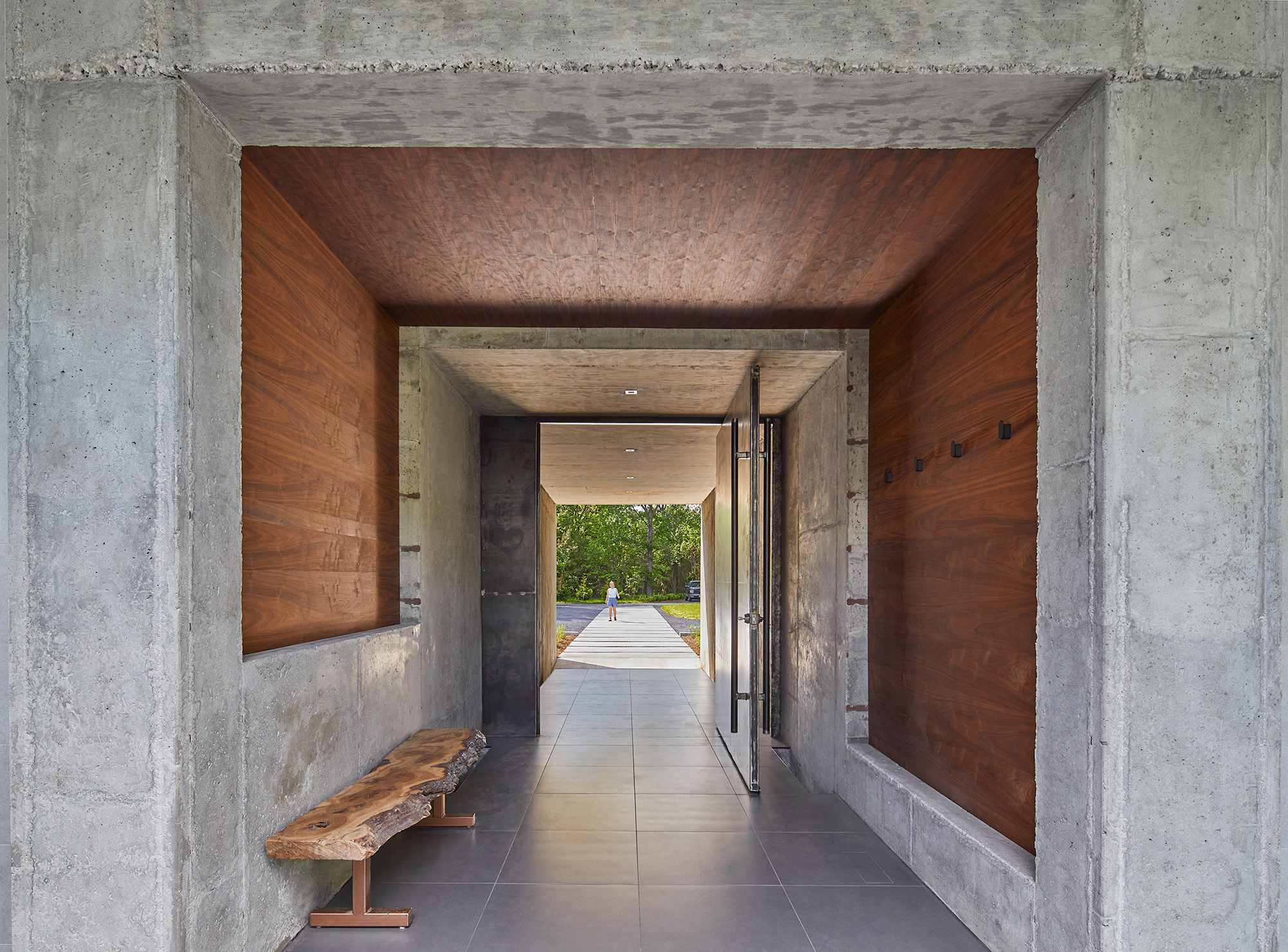 ---
Back to Top
Two projects recognized for specific features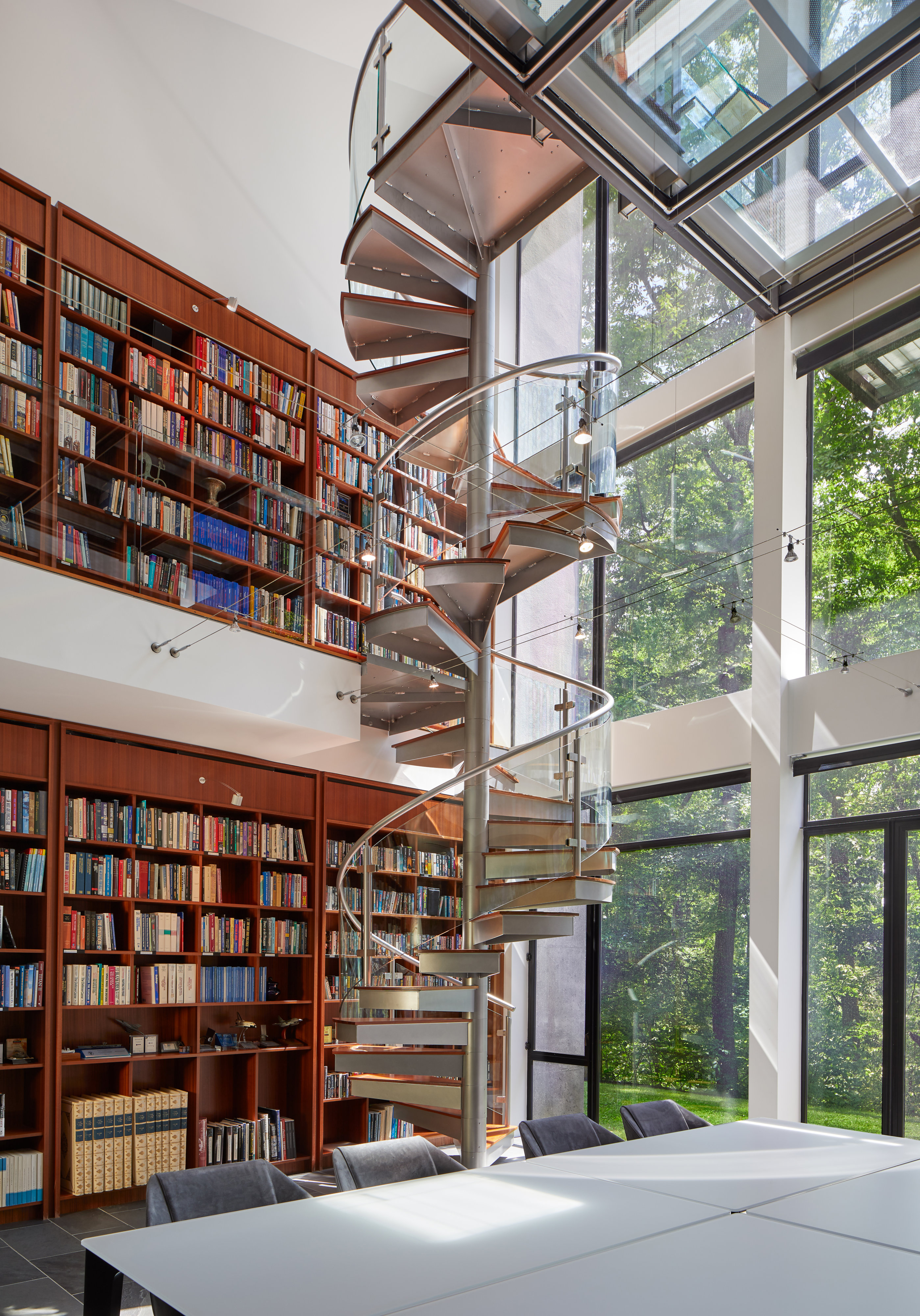 The Loft in a Library Addition
Firm: McInturff Architects
The spectacular library above, built for 10,000 books, was an addition to a home overlooking the Potomac (earlier parts of which were also designed by McInturff Architects). Jurors were enchanted by a lofted reading area over its open core.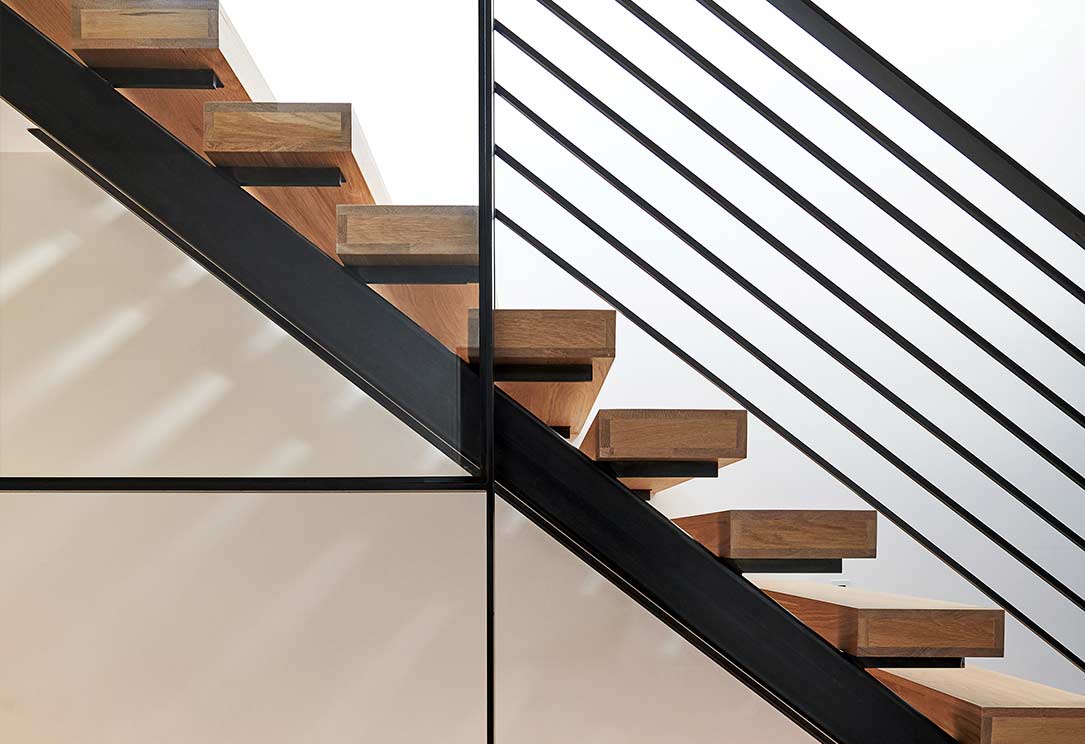 The Staircase at the Balance House
Firm: Kube Architecture
This rowhouse renovation in Mount Pleasant was dubbed the "Balance House" by its architects because of the design's reliance on balancing heaviness and lightness. The stairs, for which the project was recognized, exemplify this—a steel frame contrasts against light-wood treads.
---
Back to Top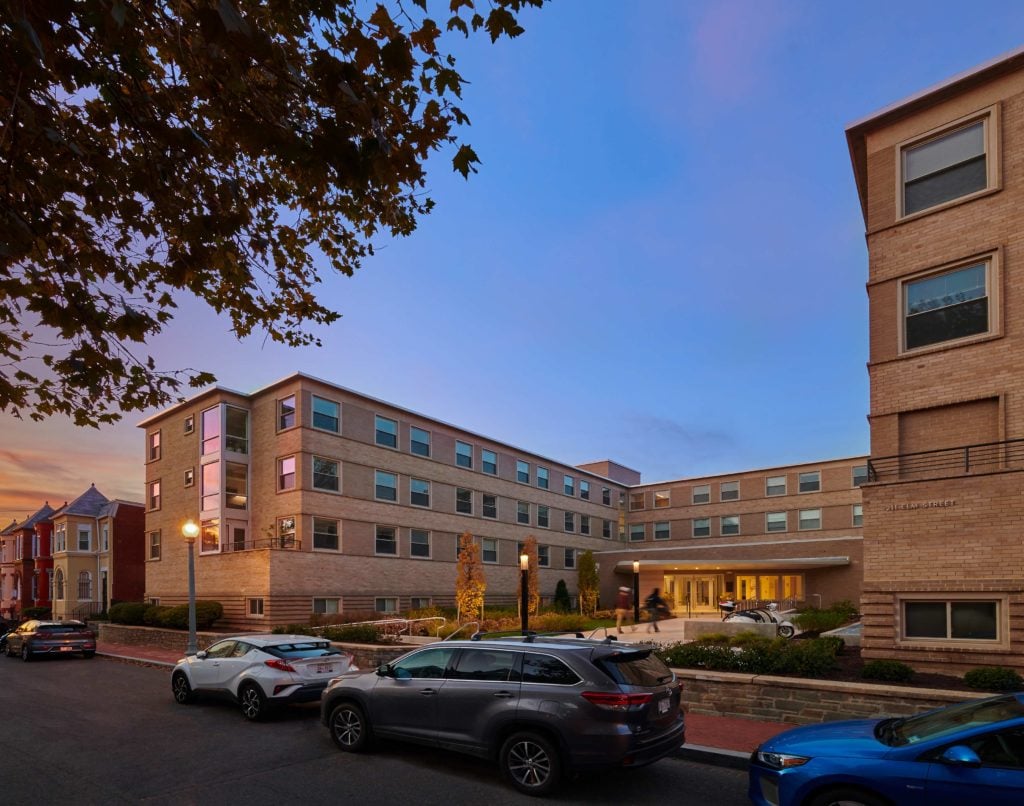 Carver Hall
Firm: Bonstra Haresign
Originally designed by noted Black architect Hilyard Robinson during World War II, the LeDroit Park building was transformed into 63 below-market-­rate apartments. Though the project maintains its historic character, jurors appreciated the subtle modern updates.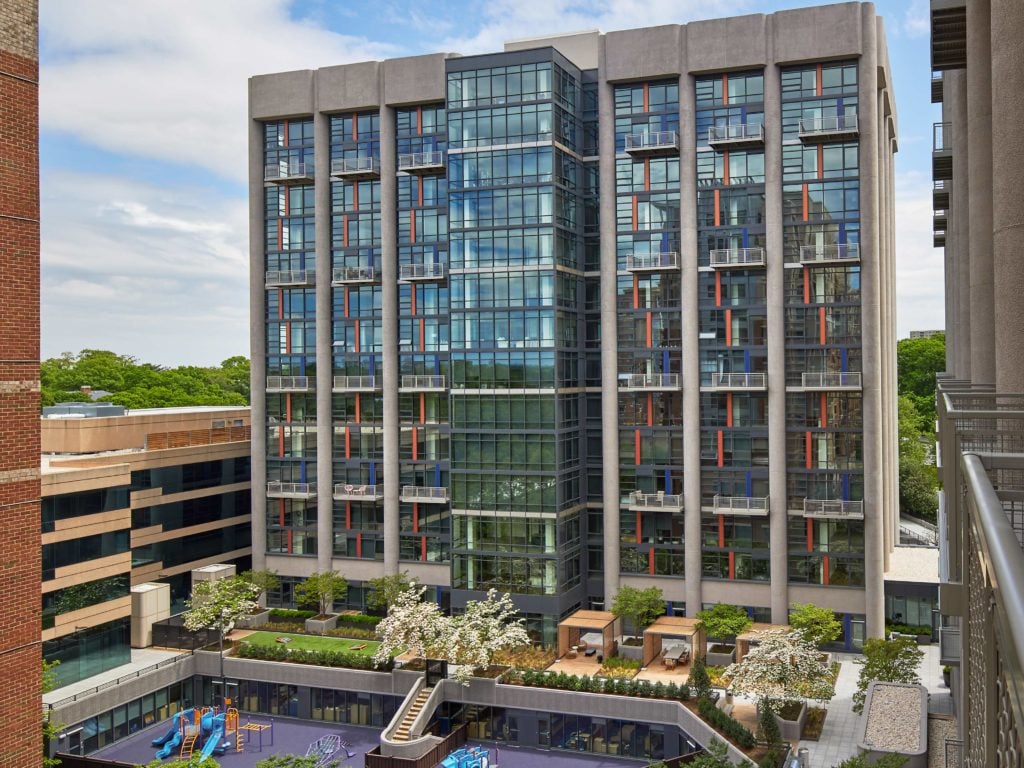 Park + Ford
Firm: Bonstra Haresign
The conversion of an outdated Alexandria office complex (part of which used to house the Department of Agriculture) into high-end apartments was praised by jurors as an example of adaptive reuse to which others should aspire.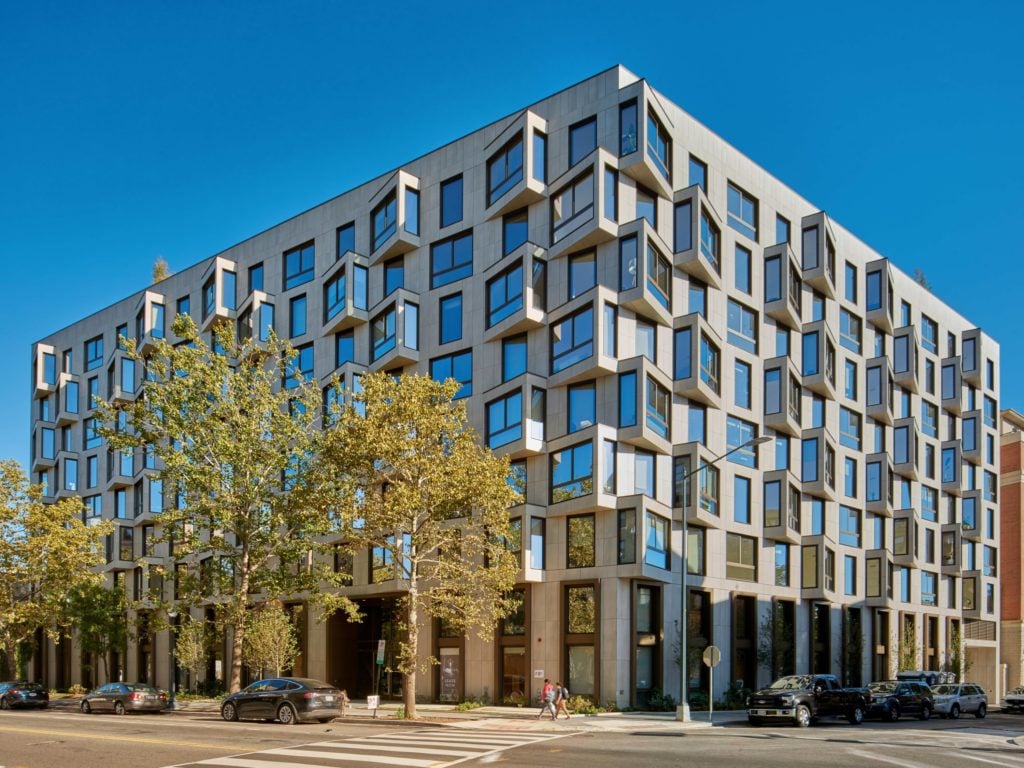 The Silva
Firm: Core Architecture + Design and Grimshaw
Jurors were especially impressed by the innovative facade, distinguished by projecting bays, of this luxury apartment development on Columbia Road in Adams Morgan.
Capitol Hill Micro-Community
Firm: EL Studio
This condo project's two buildings mirror each other and share a courtyard, from which each of the four units is accessed. Large windows fill the homes with light.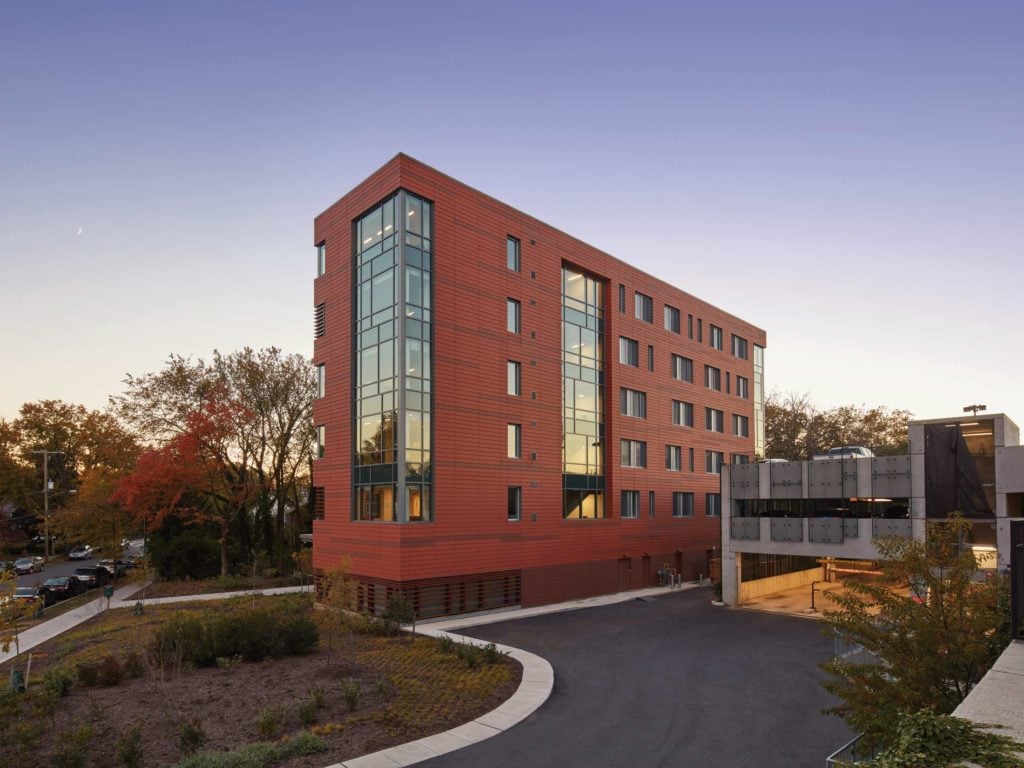 The Brooks
Firm: Ayers Saint Gross
Part of DC's initiative to build short-term housing for families experiencing homelessness, the Brooks—in DC's Ward 3—provides 50 apartments, indoor and outdoor play space, and many other services, all within a sophisticated design.
This article appears in the September 2022 issue of Washingtonian.