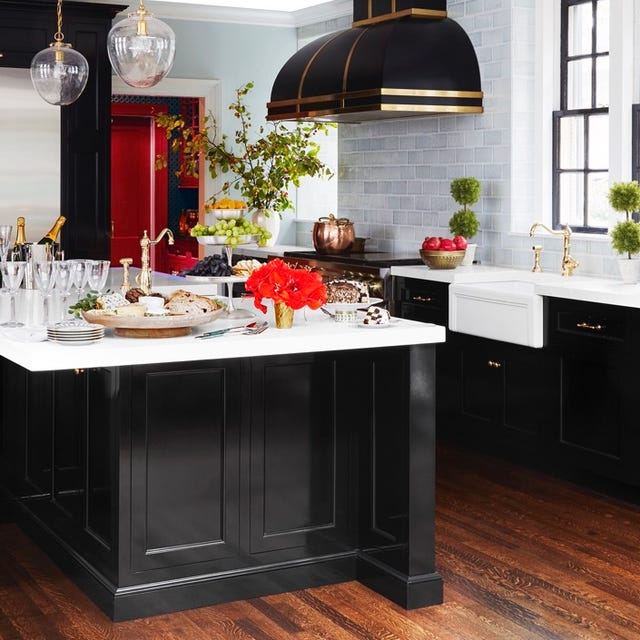 Pernille Loof
If you're hosting for the holidays, chances are, you'll be spending extra time in the kitchen. So why not make it especially festive with holiday decor? Whether you're the primary chef whipping up holiday classics for a crowd or you've been delegated to chopping duty, the right Christmas decorations (and a solid playlist!) will make everything more fun. Ahead, get inspired by 12 kitchens from designers decked out for the holidays.
Advertisement – Continue Reading Below
These adorable mini wreaths over the mesh-enclosed cabinets are playful and sweet. The pink bows make for an unexpected, playful touch. And if you look closely, you'll notice those holiday cards strung into a garland and hung over the window! Now if your guests insist on helping you in the kitchen, they'll be able to see how nice it is that you didn't toss their card in the trash!
2
Match Decor to the Existing Color Scheme
Rachel Barrett incorporated plenty of lush greenery for a festive update to the kitchen, but to keep it feeling cohesive, she opted for ribbons that match the existing color scheme instead of sticking with the go-to red and green. The same is true for every room in the house!
They're not just for the tree: Weave some branches around your platters and scatter a few ornaments that match the wreath ribbon. In this dessert nook, we also love how Rachel Barrett stacked the cake stands to alternate the heights of the cakes—it adds visual interest and makes sure they all get equal time in the spotlight.
4
Gather Seasonal Branches
A display of greenery animates the corner while a bunch of berry branches livens up the island in this kitchen designed by Ryan Turf of CB2. The colorful display brings up the vibrant reds in the runner, too.
5
Don't Forget the Pantry!
If your serving pantry opens up into the kitchen, don't forget to show it some love with Christmas decorations, too. The wreaths are staggered at different heights, playing up the height of this small but bold space.
6
Highlight Special Features With a Garland
Following the curvature of these spiral stairs, the garland really brings this room designed by Cathy Chapman to life. And it enlivens the kitchen, a space that can be hard to decorate for the holidays since you want to keep all useable space clear and ready for feast prep.
Hang a garland from the hood and turn it into an advent calendar. Attach a ribbon across it and then hang small containers labeled with the day of the month and fill them with treats. Now that's our kind of giving tree!
Bring out the glitz and glam for the holidays! Bold gold catch-alls and vases highlight the metal details in the hood and hardware in this kitchen by Jim Dove. And don't forget to bring out that bottle of champagne you've been waiting for the right occasion to pop.
This evergreen is covered entirely with edible decorations, like cookies, ribbon candy, gumdrops, and garlands of popcorn and cranberries.
10
Add Fruit to Your Centerpiece
Fruits are a fun decorative addition for the holidays. A casual but festive centerpiece—like the one here in a kitchen decorated by Joceyln Chiaponne—will make Christmas morning even more memorable. Bonus points if you have a roaring fire nearby!
11
Frame Your Windows With a Garland
Have giant windows in the kitchen? Think of how amazing they'll look with a garland draped over them, drawing your eye out to the view even more. Take note of this kitchen in designer Alison Pickart's California home.
12
Spruce Up Your Dishware Display
Use gingerbread cookies, cardboard, clay, or construction paper to make little snowflakes to add to the garland. This also introduces an extra Christmas craft to keep the kids busy, and it'll make your kitchen cabinets and dishware look even better.
Advertisement – Continue Reading Below