On the hunt for some inspiring apartment living room ideas? Well, we have you covered, no matter what size you are dealing with, or awkward layout, or what your budget might be, hey, even if you rent, you are sure to find a ton of looks you can copy right here. 
Apartment living rooms tend not to be stand-alone spaces and often they have to double up as other rooms too – a dining room, a home office, a second bedroom when needs must. We work those spaces hard. So before all else they need to be functional, but that doesn't mean they can't look stylish too! We've rounded up all our favorite on-trend looks to prove just what can be done with an apartment living space so you can be inspired to give yours a refresh…
1. Think about your apartment living room layout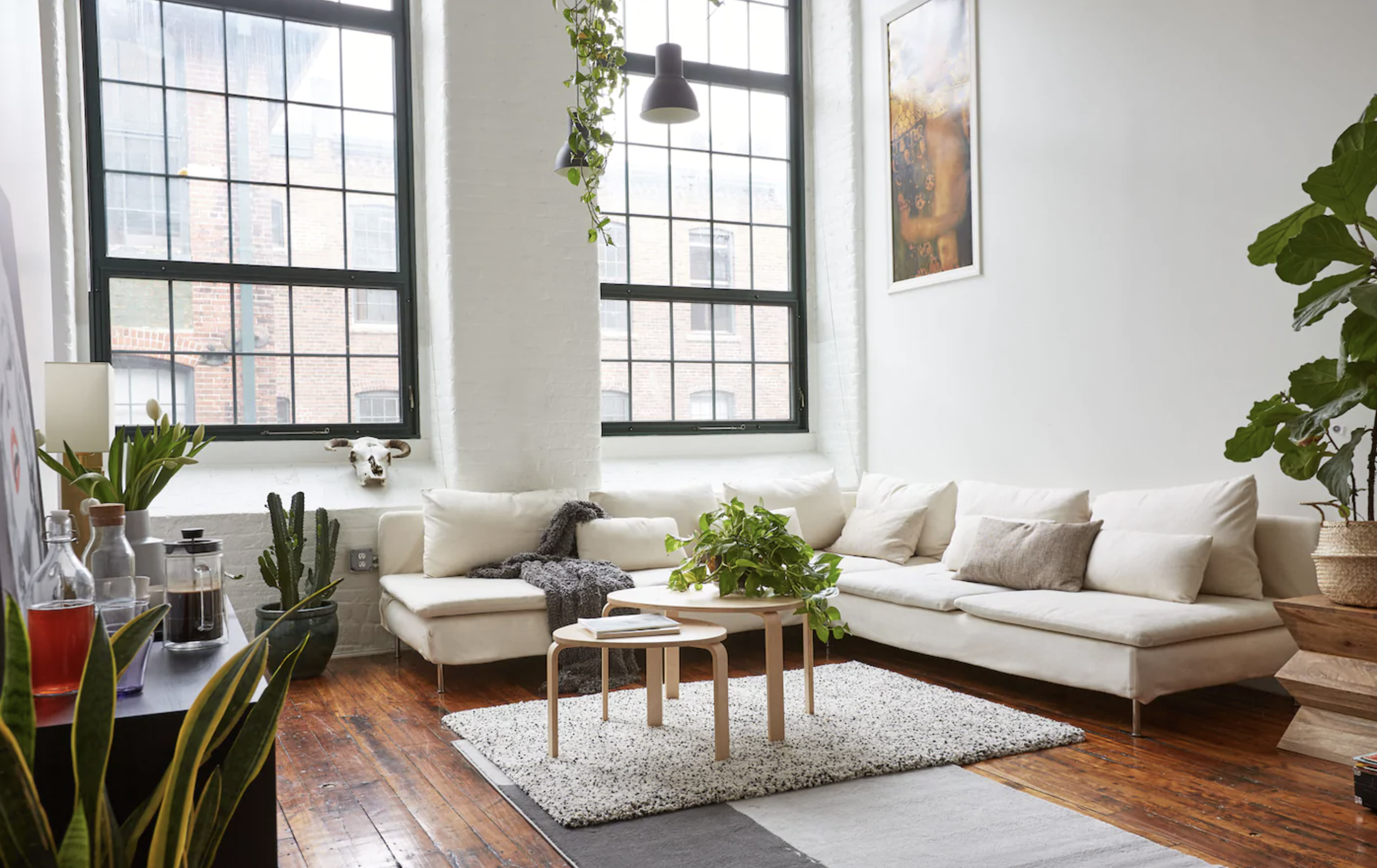 When it comes to configuring the layout of an apartment living room it can be a bit of a tricky task, especially if you are working with an open-plan space or a room that has to double up as something else. But there are plenty of ways to make the most of your space that are way more interesting than just pushing everything up against walls.
We would actually start by drawing up a plan of your space and then deciding on what furniture you can actually fit in the space, then start planning its location. Remember it's okay to float your furniture, it can actually make the space feel bigger than if you just go for the layout that shows the most floor.  
2. Make your room multi-purpose
Often in an apartment, you have no choice but to make your living room multipurpose, but embrace that, and rather than see it as you have a one-room apartment see it as an open-plan space. Carve out space to create a little dining area that can double up as a workspace too. If you have the room add in screens in the form of curtains or furniture to make the living space feel like it's made up of different zones. 
3. Separate your space with a sectional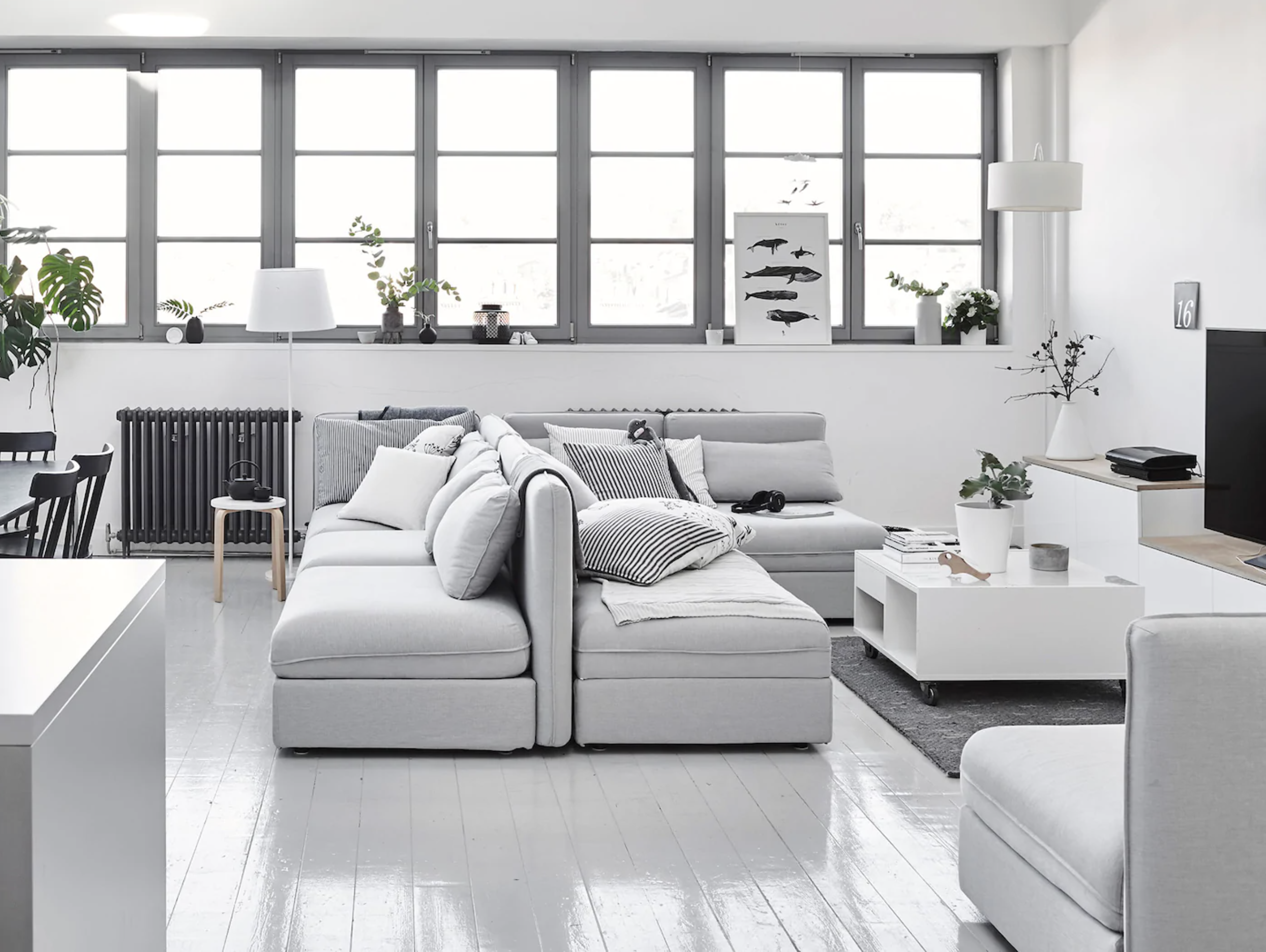 In an open-plan apartment or a studio, it can be tricky to decide on a sofa. You don't want it to look like it's just floating in the middle of the room. Opting for a larger sectional sofa (even if your space isn't massive) can solve that problem, acting as both a sofa and a 'wall' between your living room and the rest of the space. We love that this one is double-sided, adding a sofa to both the living room and the dining room.
P.S. even if your space isn't as big as this living room, don't be afraid of choosing a large corner sofa. Let it hug the walls of your room and create a cozy, inviting ambiance, plus plenty of seating.
4. Opt for wall storage to save on space
When your floor space is at a premium but you need to add storage to your apartment living room, open shelving is the way to go. Opt for something slimline in the same color as the wall it's going to sit on, so you can maximise the storage space and so your shelving doesn't dominate the room too much.
5. Embrace an all white color scheme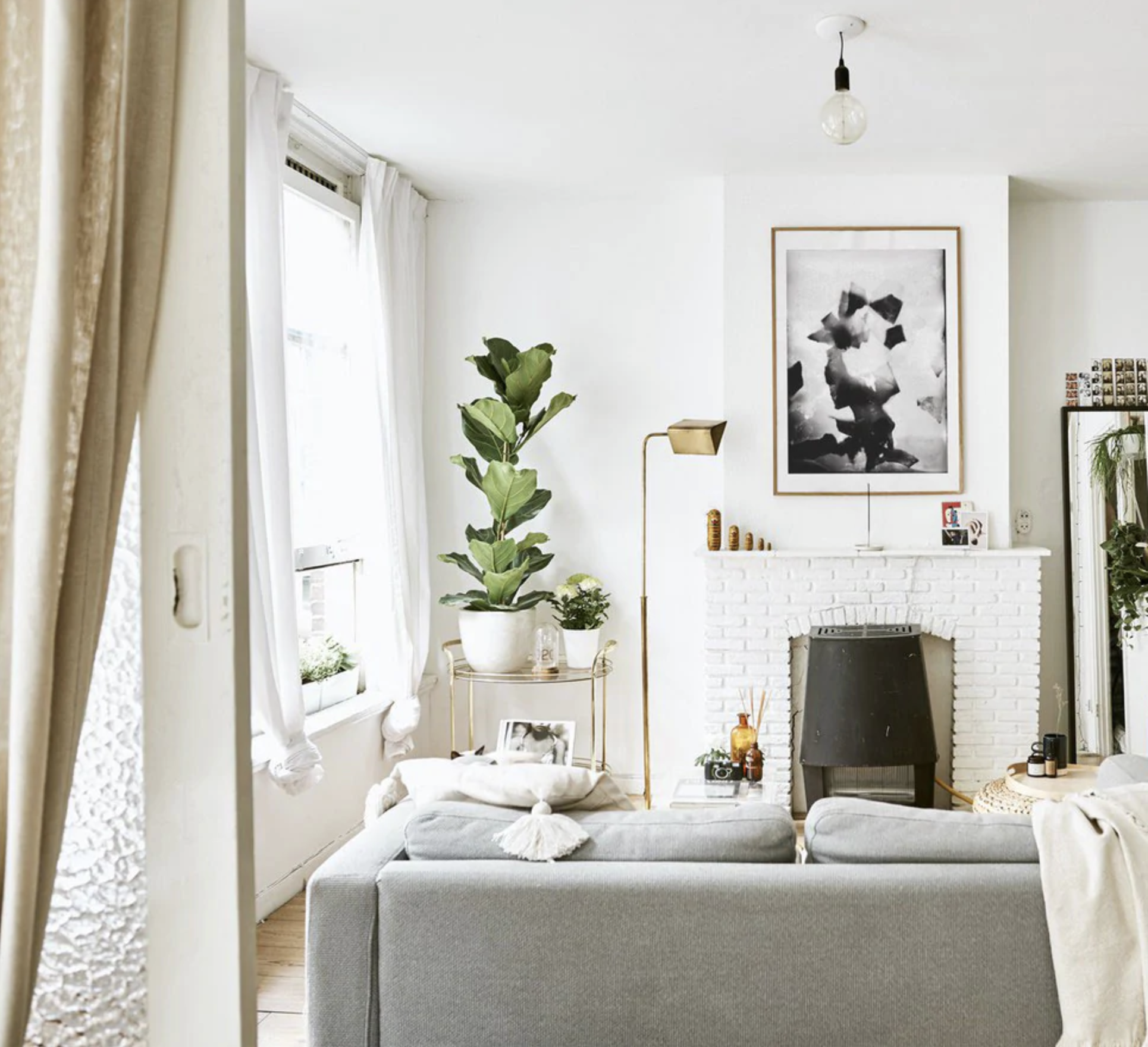 If you are renting, chances are you have inherited a sea of white walls, so why not embrace them and go for an all-white color scheme. Even if you aren't at the mercy of a landlord's tastes, white is a classic that creates a very serene, calming vibe, plus it's really versatile so you switch up your decor as your styles change without having to paint all your walls. 
Pair your white walls with a sofa in a similar hue, and pile up the white pillows and blanks too. Choose white window treatments too to maximize the natural light in your apartment. Add a touch of contrast in the form of prints and houseplants. 
6. Mix and match style for an eclectic vibe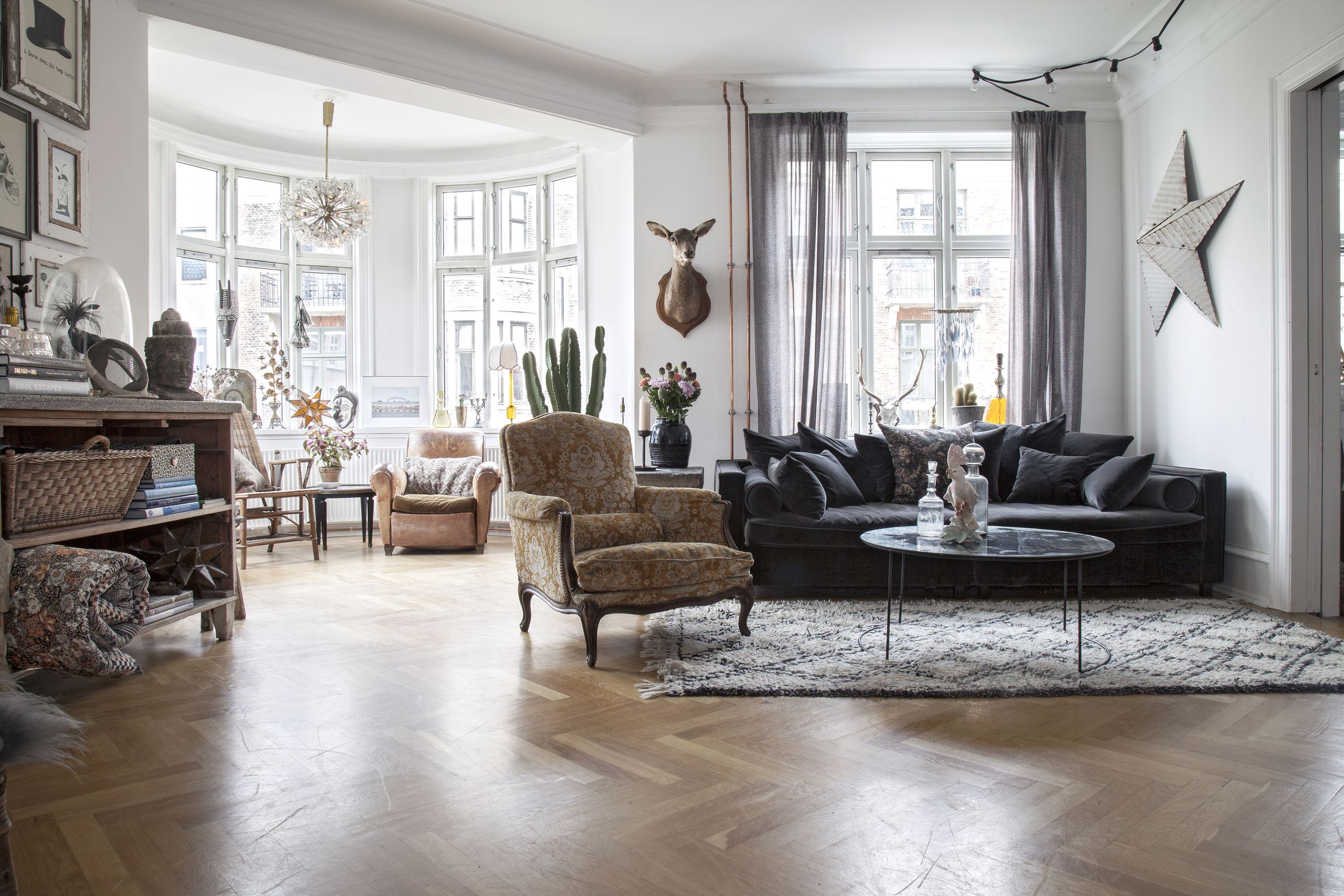 We love the whole vibe of this Copenhagen apartment. By mixing so many different styles and textures this room is so unique and full of personality. Recreate that in your living room by picking out furniture that means something to you (even if you think it won't go, that's part of the look). Start collecting objects and decor that feel personal to your style and layer them up with new pieces to create a very eclectic cozy space, that still has a stylish, contemporary feel. 
7. Or keep things simple and linear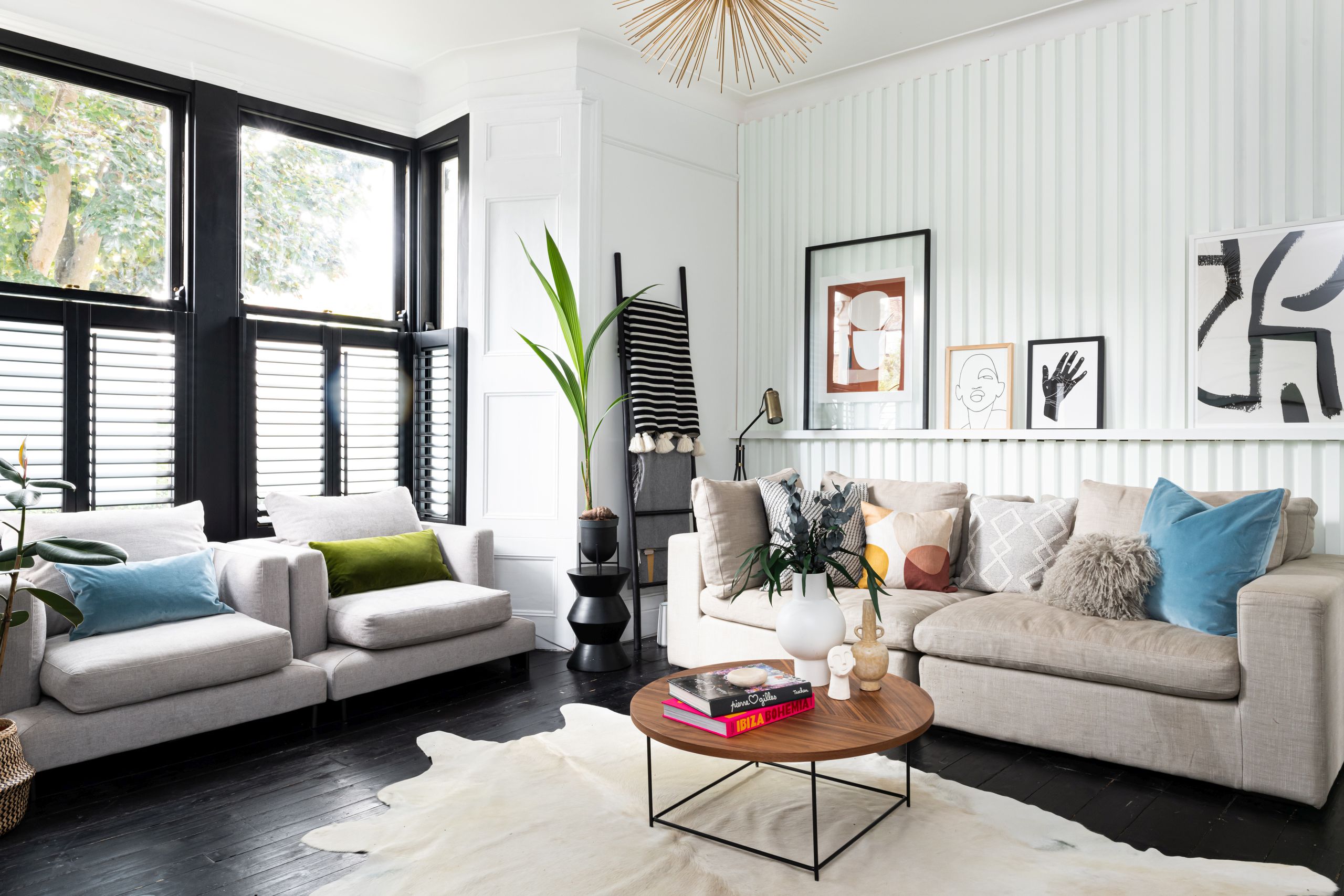 Or if you like a more contemporary look and like for your room to have some structure, pick furniture and decor that have a linear look to them. And by that, we mean clear lines, so a coffee table with a metal frame, a straight-backed sofa with square arms, even simple prints in black frames will add to the very clean vibe. You can add in some softness with cushions, rugs and blankets in you still want the soft to have a comfy feel.
8. Anchor your space with a statement rug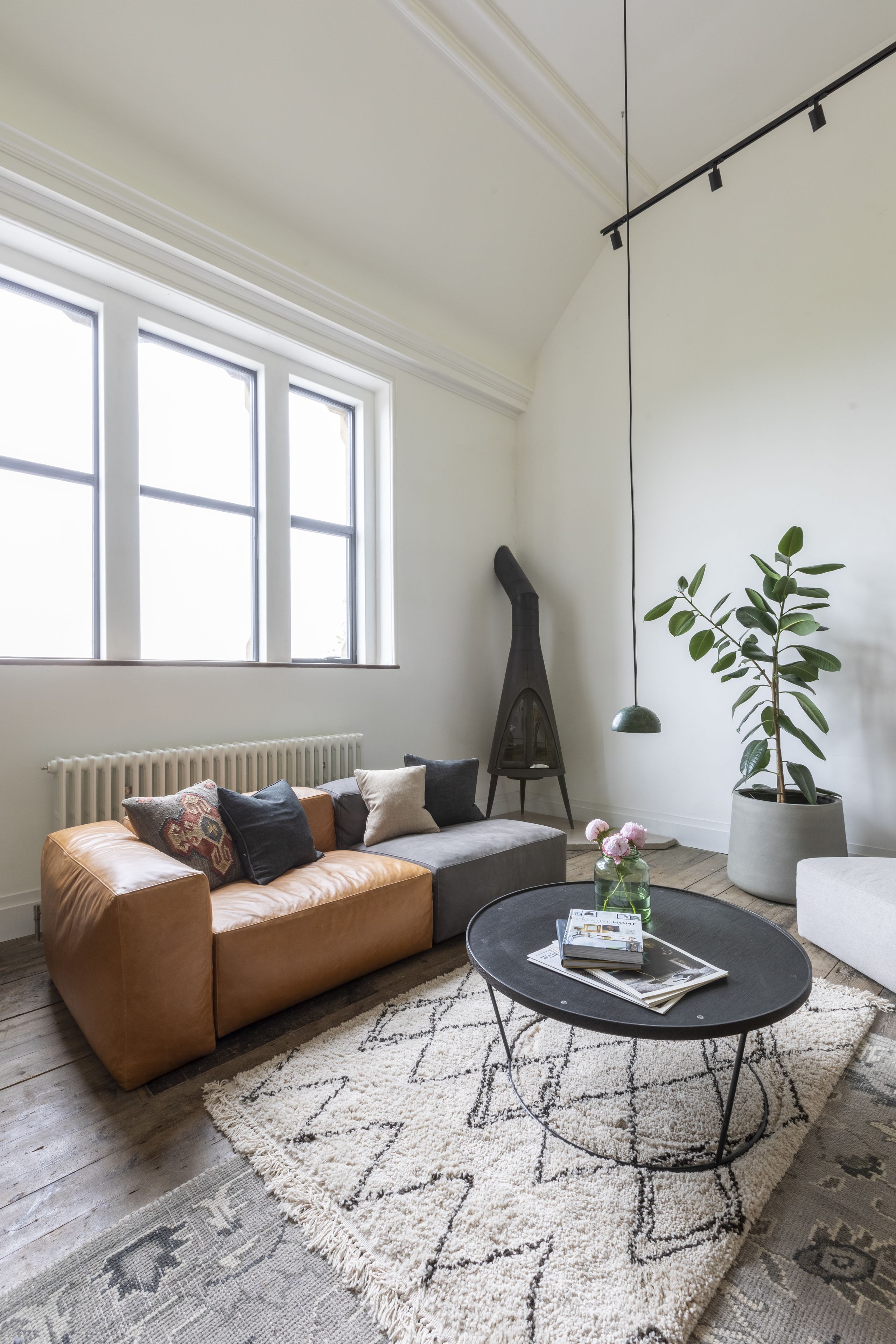 If your living room is in an open plan apartment, a rug is a super easy way to create a 'zone'. See your rugs almost as like walls of which you can arrange your living room furniture around to create a space that feels slightly separate from the rest of the room. Pick a large plainish, short pile rug to act as an anchor, and then you could always layer up a smaller rug in a more intricate pattern on top to be a focal point in the space.  
9. Don't underestimate a strategically placed mirror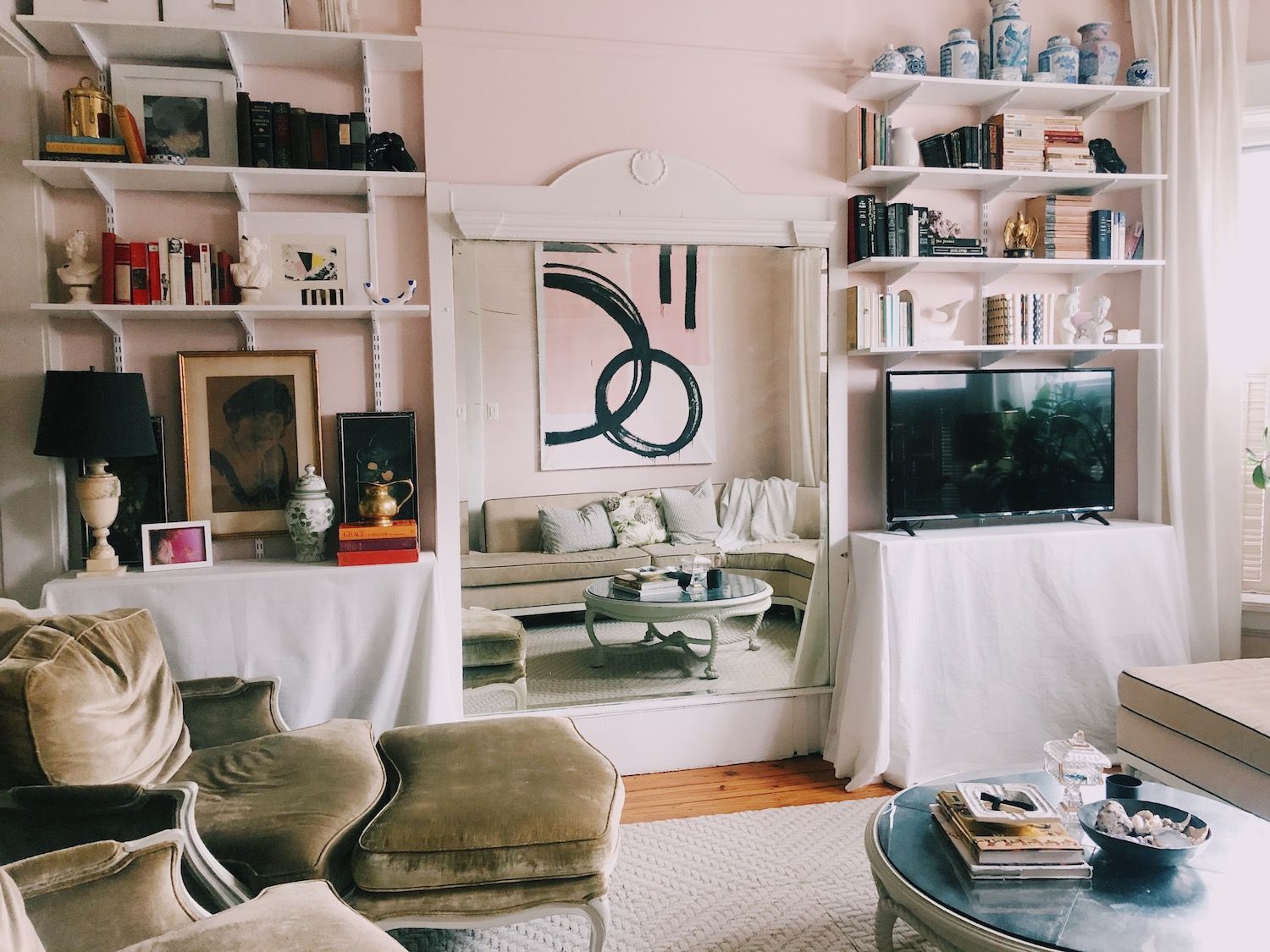 It's interior design 101, mirrors make spaces feel bigger. A strategically placed mirror can make the smallest of apartments feel larger and lighter. Go for a simple mirror, nothing too heavy or ornate and go as big as you think your place can handle. 
Rather than put it high on the wall, behind your furniture, try hanging it just off the floor like in the room above or even get a leaning mirror you can prop against the wall (a great solution if you are renting) and you'll see how it instantly makes the floor space feel much bigger.
10. Add life with plenty of house plants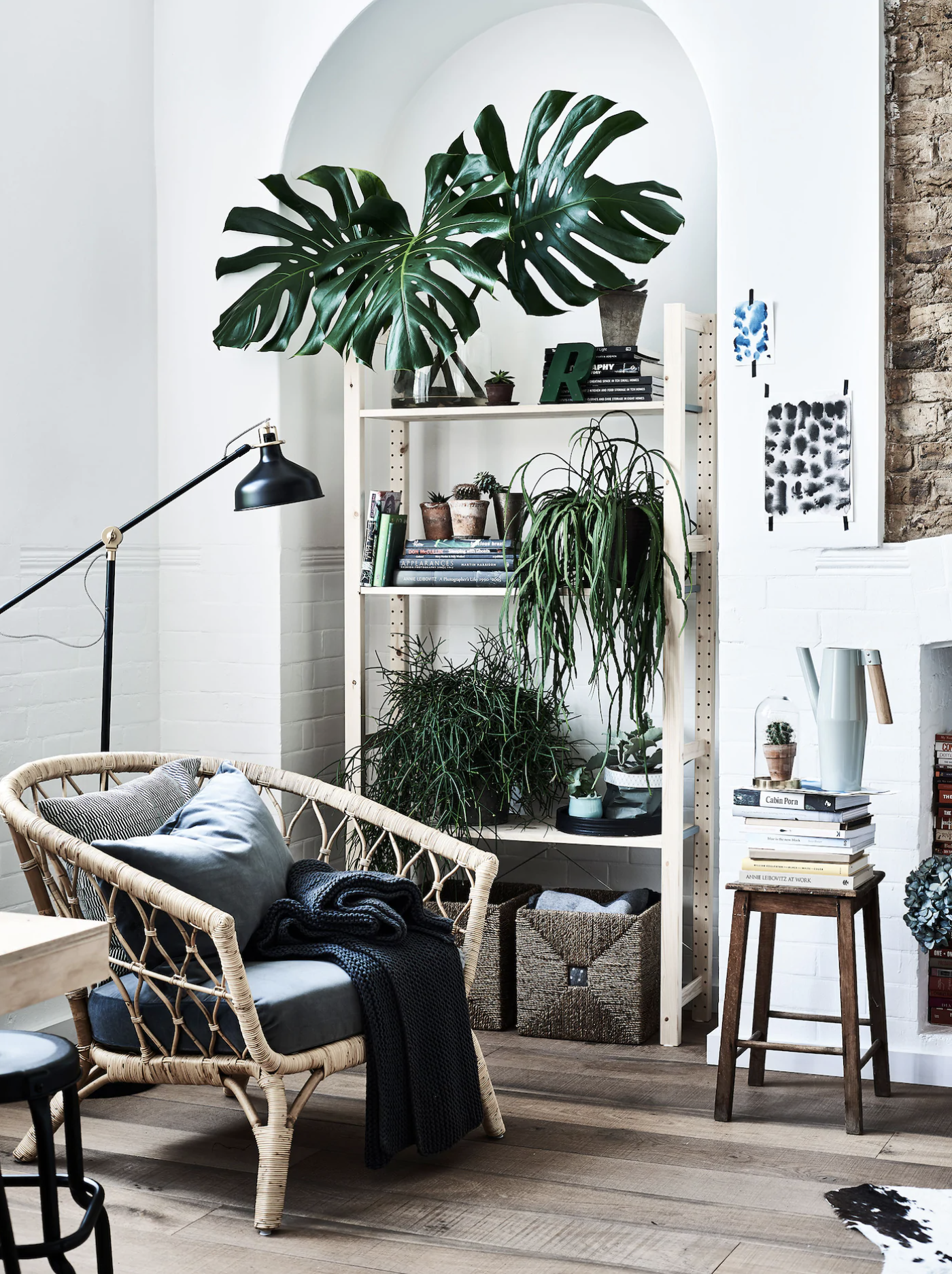 We've mentioned the room-changing abilities of houseplants many times, and there's no denying that they can add so much… life to a space. In an apartment living room where floor space might be tight opt for a shelving unit you can display your plants on but will also work as some handy extra storage too. 
11. Pile up the textiles and textures to create a cozy feel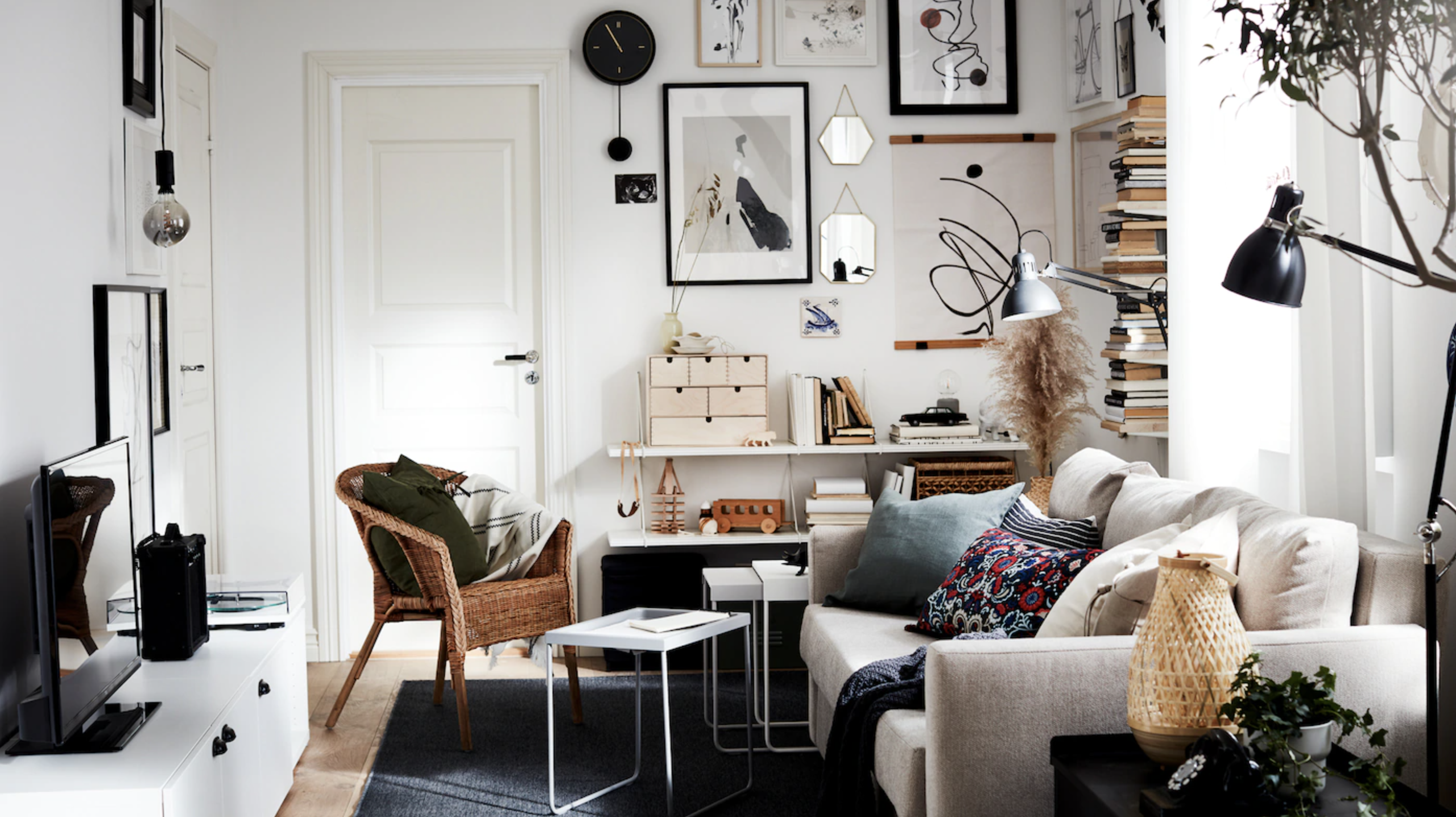 Sometimes the best thing for a cramped apartment living room is to embrace those small dimensions. Turn a small sad room into a rustic, boho, bang-on-trend dream space just by filling it with plenty of different textiles and textures. 
Pile up the throw pillows and blankets on the sofa, cover the walls with prints and memorabilia, stack up your books and fill every surface with decoration. Stop it looking too crazy by keeping the walls white so you have that neutral backdrop, and pick a simple color palette for your decor too. 
12. Use your book collections to add color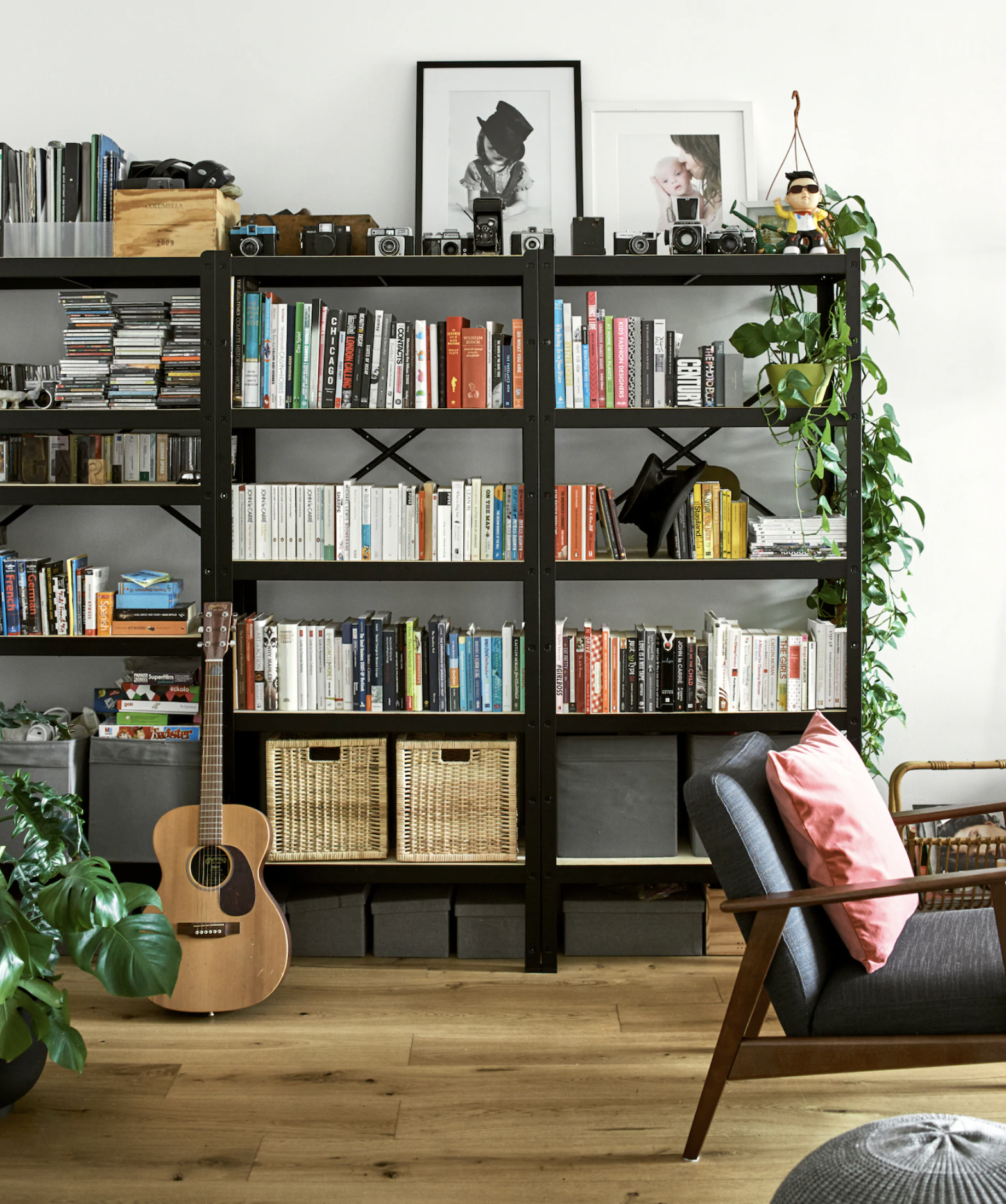 And if you do want to go adding in some bolder colors, use books! This is a great option if you are renting too and can't go nailing stuff to the wall or painting a bright mural. If you've got books you have got decoration. Dedicate an empty wall to creating your library and use some simple shelves to display your collection. Mix in some storage too with baskets and add extra interest with prints and houseplants. 
How can I decorate my apartment living room on a budget?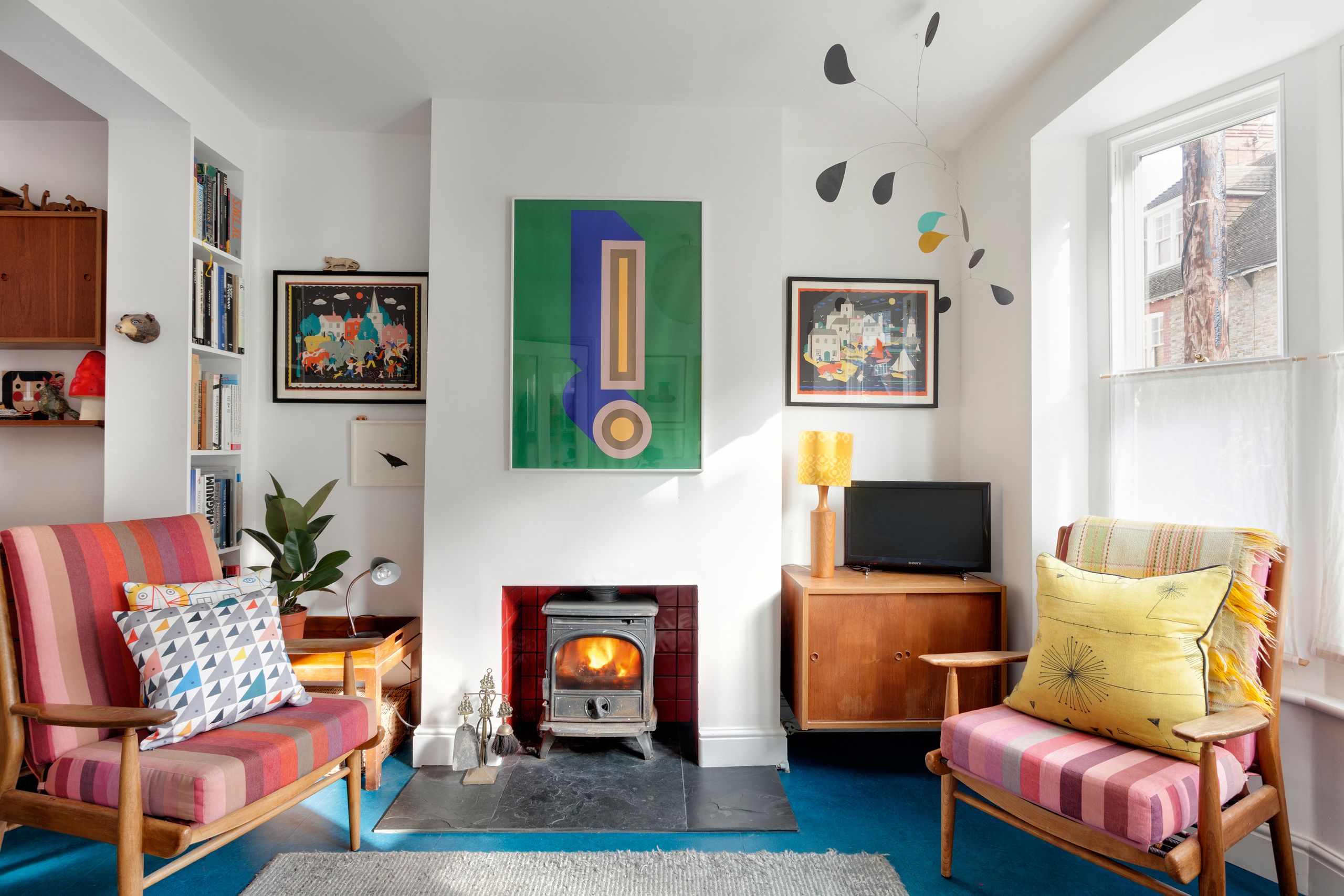 The best way to decorate an apartment living room on a budget is to shop second-hand. Not only is this going to save you money it's going to add a ton of personality to your space that you won't get if you just fill it with a load of cheap flat-pack furniture. 
Also, get DIYing, a lick of paint can make all the difference to a space, or pull up carpets (if allowed) and see if you have anything beautiful underneath, make your own throw pillow out of vintage fabrics. Just think; can I make that/restyle my current space to get that look, before you go spending any money. 
What is the best layout for an apartment living room?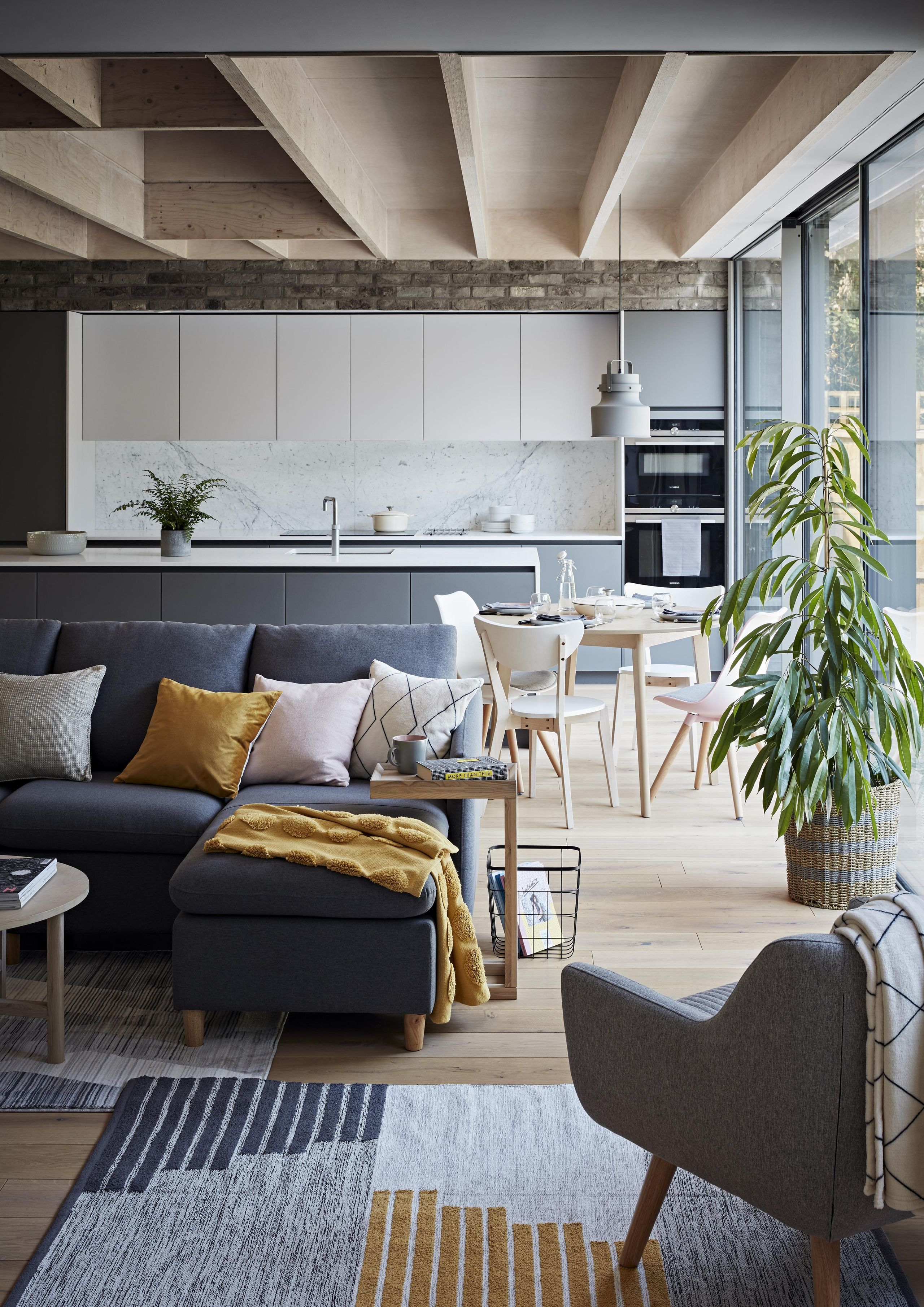 The best layout for an apartment living room very much depends on the size and shape of your space and what you need to use it for. It is solely a lounge? Or does it have to become a dining room or a home office when you need it to? This will obviously dictate the layout, but the best place to start is by drawing up a plan of your living room and trying out different layouts.
Our top tip is to always give your living room furniture some room to breathe, don't have every piece in your room stuck up against a wall. And be creative with your layout too, don't just pick a focal point and angle everything towards that.