Bathrooms are often the smallest room in the house and one of the busiest, especially if you have a family, so good towel storage ideas are a must. After all, they're the one item everyone needs after a bath or shower, so having a towel ready to use, clean and dry and within easy reach is important. 
Dry towels need to be put away neatly in bathroom storage ideas, but used towels need somewhere to go too, rather than being draped over the bath or left in a heap on the floor. So, where is the best place to keep them? Nick Duggan, managing director at The Radiator Centre (opens in new tab) suggests a towel radiator as the perfect solution. 
'Having a warm bathroom is one of life's little luxuries,' Nick says. 'There's nothing worse than having a lovely hot shower and then stepping out into a freezing cold room. Today's modern bathroom radiators can warm your room whilst also proving a handy place to store towels and robes, with the added benefit that they are nice and warm when you come to use them.'
Other options include shelving, hooks and baskets – but what way is best for you will depend on the size and look of your bathroom.
Towel storage ideas
Let's face it, we'd all like to channel hotel-style bathroom ideas where everything has a place and it's always neat and tidy. But life isn't like that, so you need to think about the space you have and how to make the best use of it to store your best bath towels. 
'Make a feature of your fluffy towels and bring them to the forefront of your bathroom by rolling them and placing in a stylish hamper next to your bath, or on shelves near your shower,' says Debbie Drake, design director of Dunelm.
'Practical and aesthetically pleasing, this technique will also bring a calming spa environment to your bathroom. Once used, it's important for towels to have enough space to dry. Rather than hanging them on the back of a door, try a stylish towel ladder, the perfect modern storage option with a nod to the popular Scandi bathroom trend. Alternatively, use a wall-mounted towel holder, which is great for compact spaces.'
1. Keep towels nearby so they are ready to use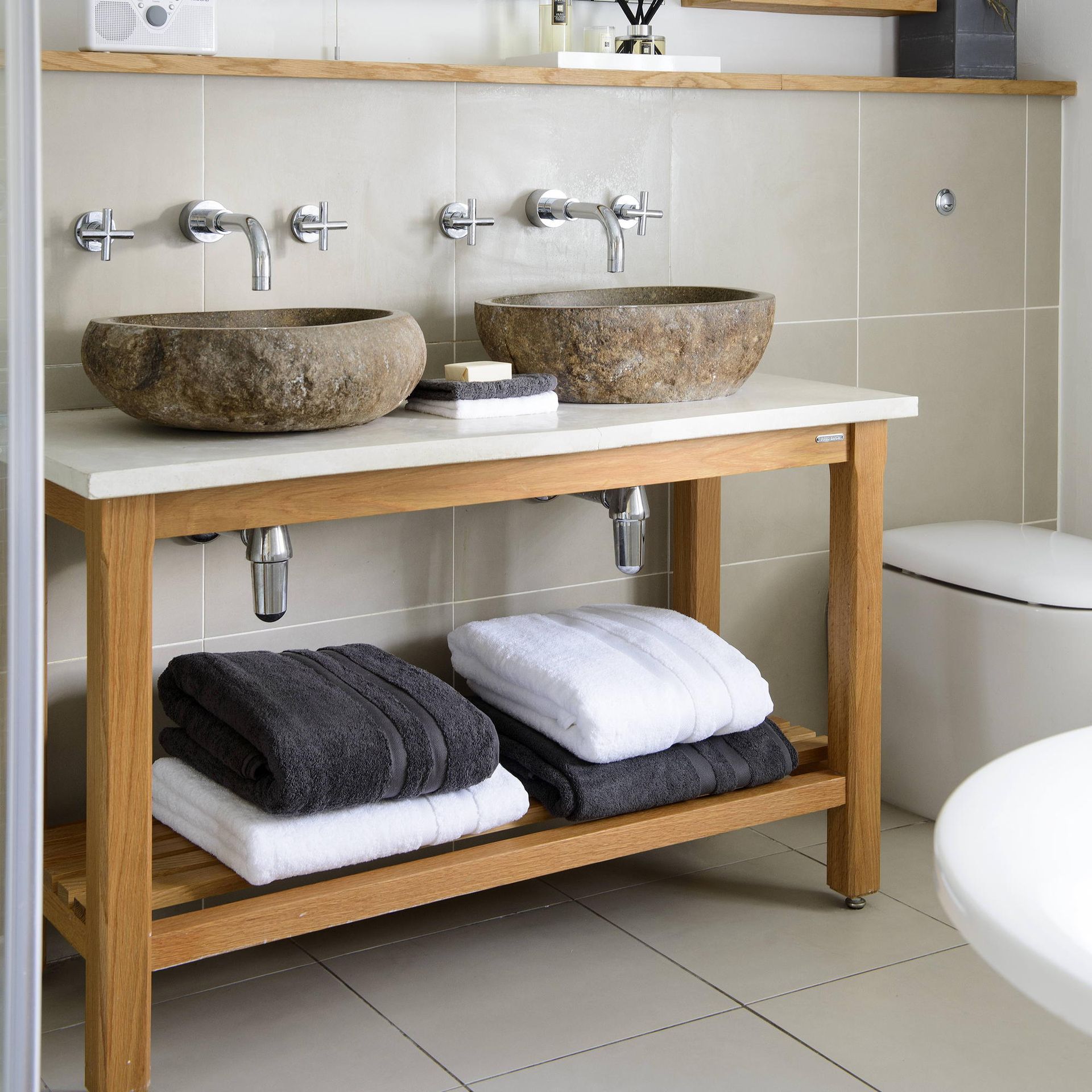 A vanity unit with slatted wooden shelves beneath is the perfect towel storage idea. Not only are they kept close to hand for ease, but the slatted shelves mean they have air circulating around them to keep them from getting damp and smelling musty.
Fold them neatly and stack them in orderly piles, ready to be taken when you need one.
2. Make use of alcoves for a neat solution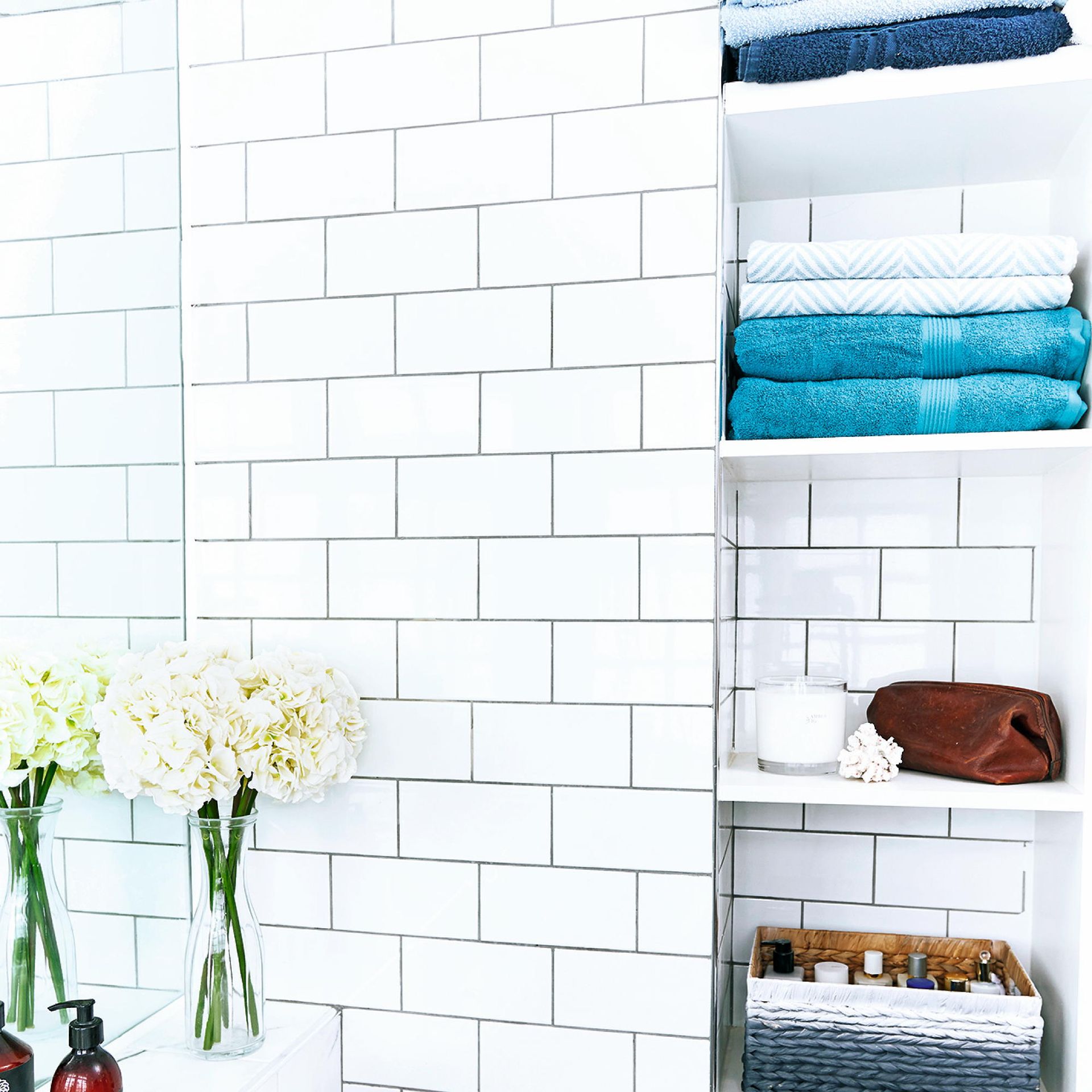 If your bathroom has alcoves, then use them to store towels and toiletries. The narrow space means that towels can be folded neatly and will stay that way until they are used. 
For smaller towels or facecloths, try using a few baskets to keep them tidy. Dunelm's rush baskets start at £20 for a small (opens in new tab) look lovely for decorative storage. For a more affordable and easier-to-clean alternative, Dunelm has a range of smaller plastic storage boxes starting at £1.80 (opens in new tab).
3. Utilise stand-alone shelving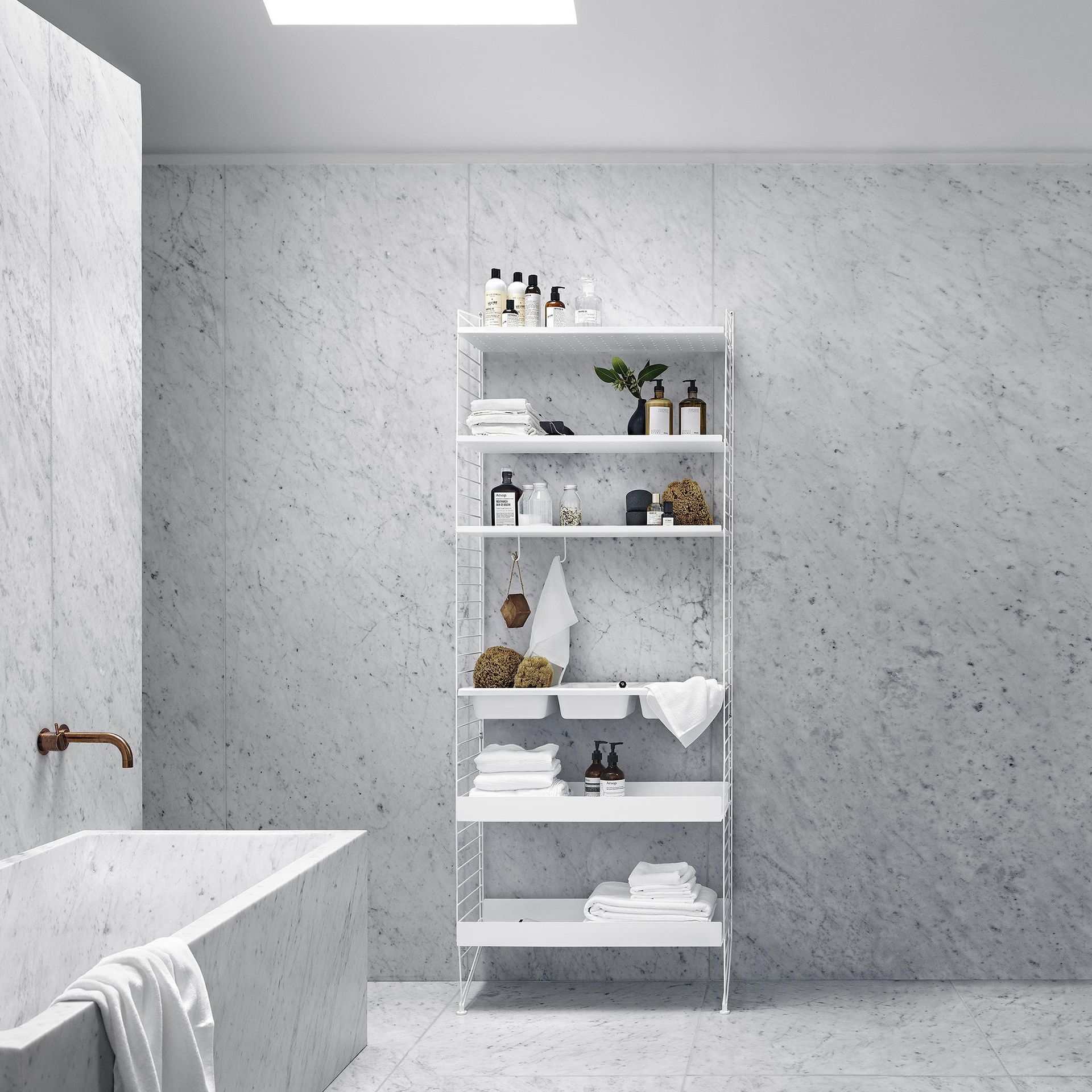 Dedicated shelving is a good choice for a bathroom and means everything is in one place, so the whole family knows where to find things. However, having open shelving also means it needs to be kept tidy, so maybe allocate a shelf to each family member and shame them into keeping it neat! 
Modular furniture is great as you can move the shelves and even add trays and hooks to suit, moving them around as you need them. 'With these modular shelves, you'll have no problem maximising stylish storage for any bathroom size or type of space,' says Bo Hellberg, CMO of String Furniture (opens in new tab). 'Towels and other bathroom essentials all need their dedicated spot so you can find a place for all your things while giving your bathroom a contemporary design – there's somewhere to give all those little things a place of their own.' 
4. Go for a vintage look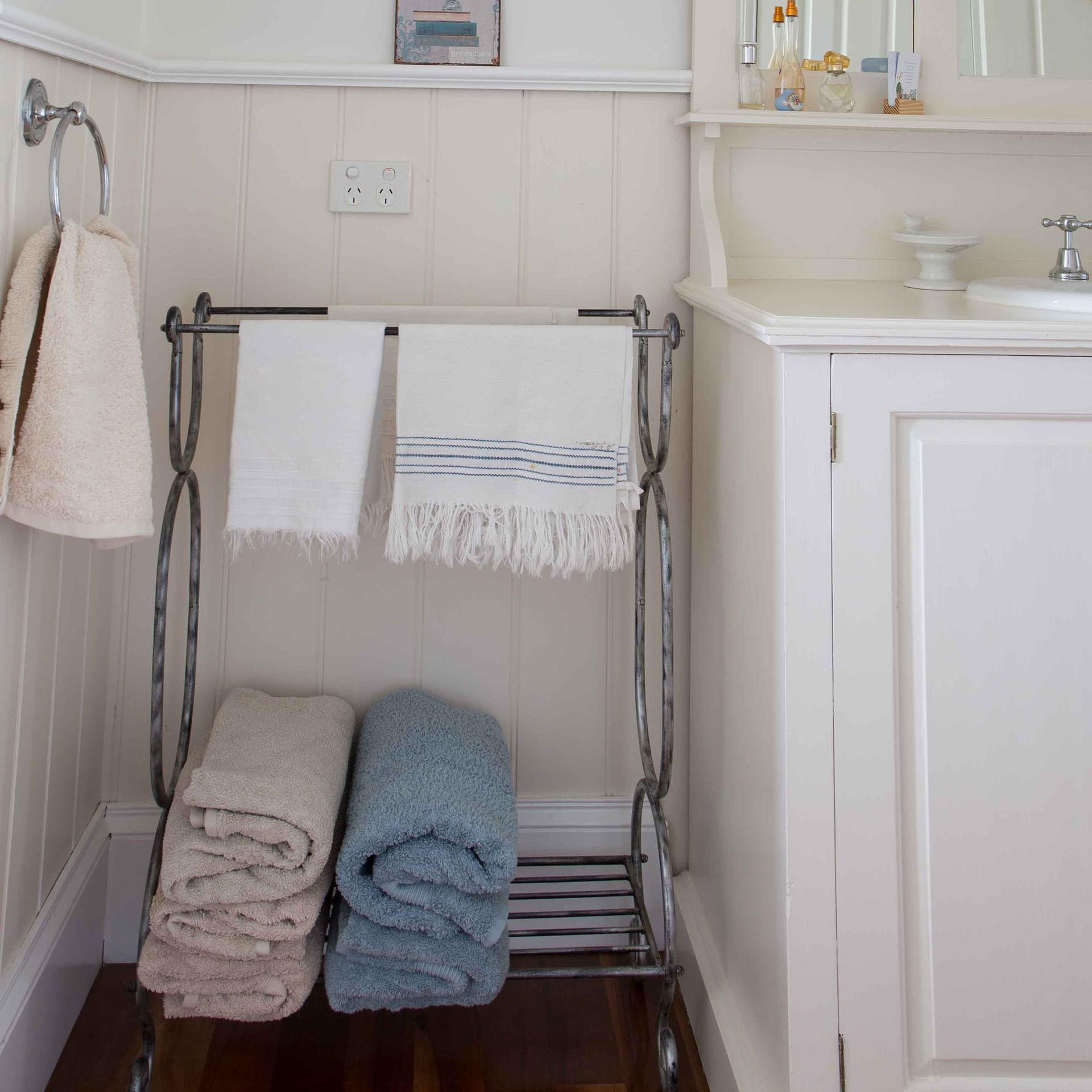 An old-fashioned towel rack will fit perfectly in a traditional-style or period bathroom. With rails at the top for hanging damp towels and bars beneath to store folded or rolled-up dry towels, they'll all be kept in one place – it's a perfect towel storage idea. 
Finding a rack that fits can be a challenge. It's worth searching antique fairs and markets or looking online when buying second-hand furniture.
5. Try a ladder design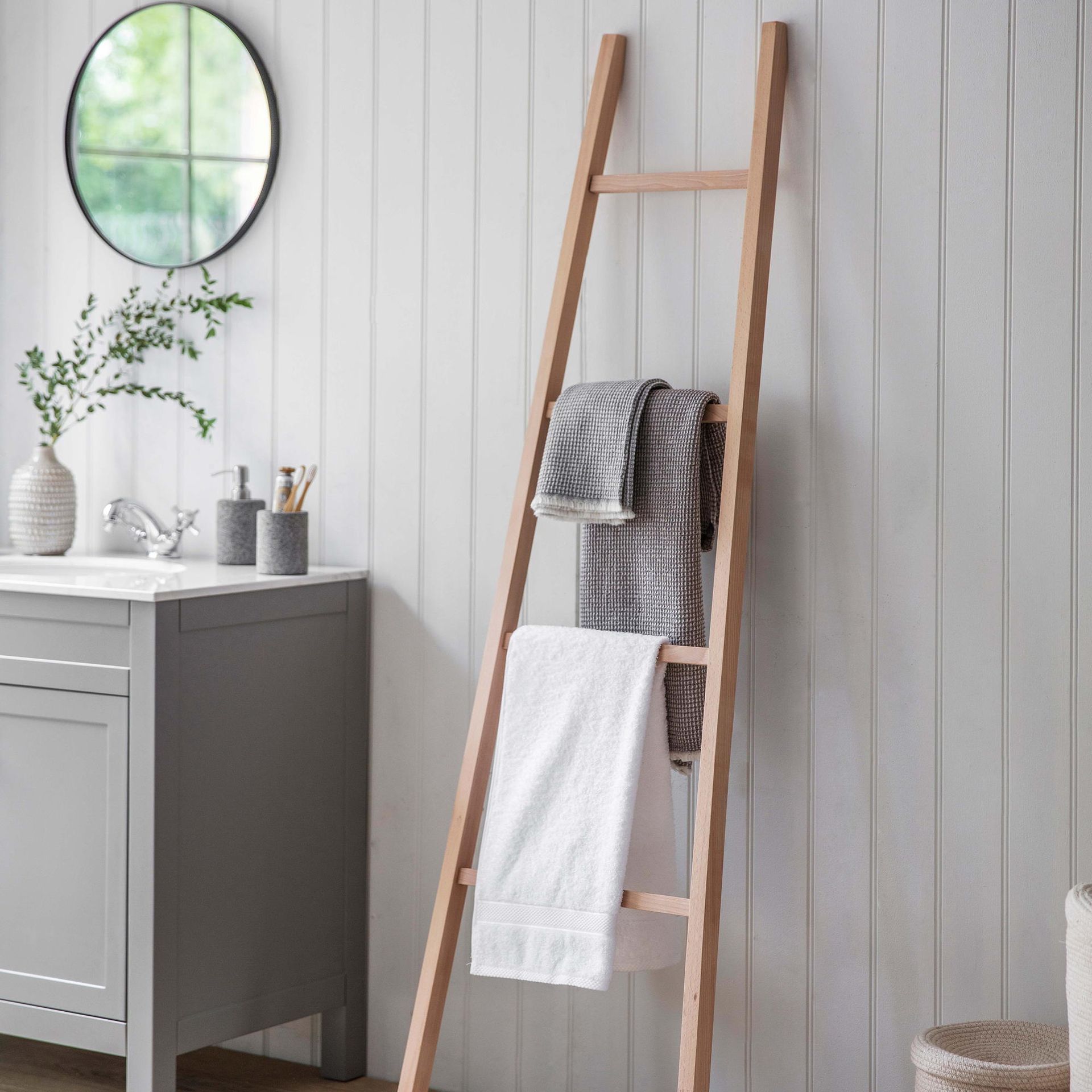 If space is an issue, a towel ladder, like this one from Garden Trading (opens in new tab), is a good option. They don't take up a lot of room and can hold enough towels for daily use – just lean it against the wall where you have room. The beauty of a ladder is that it's also a great display piece, showing off any designs on your towels to the best effect.
'Using a towel ladder, shelves or a stool allows you to put your luxury towels on display in the bathroom,' says Ruth Welton at Soak & Sleep (opens in new tab). 'Fold various sizes and layer on top of each other to add interest and use a similar colour palette, or mix and match for a more individual look.'
6. Choose dedicated bathroom storage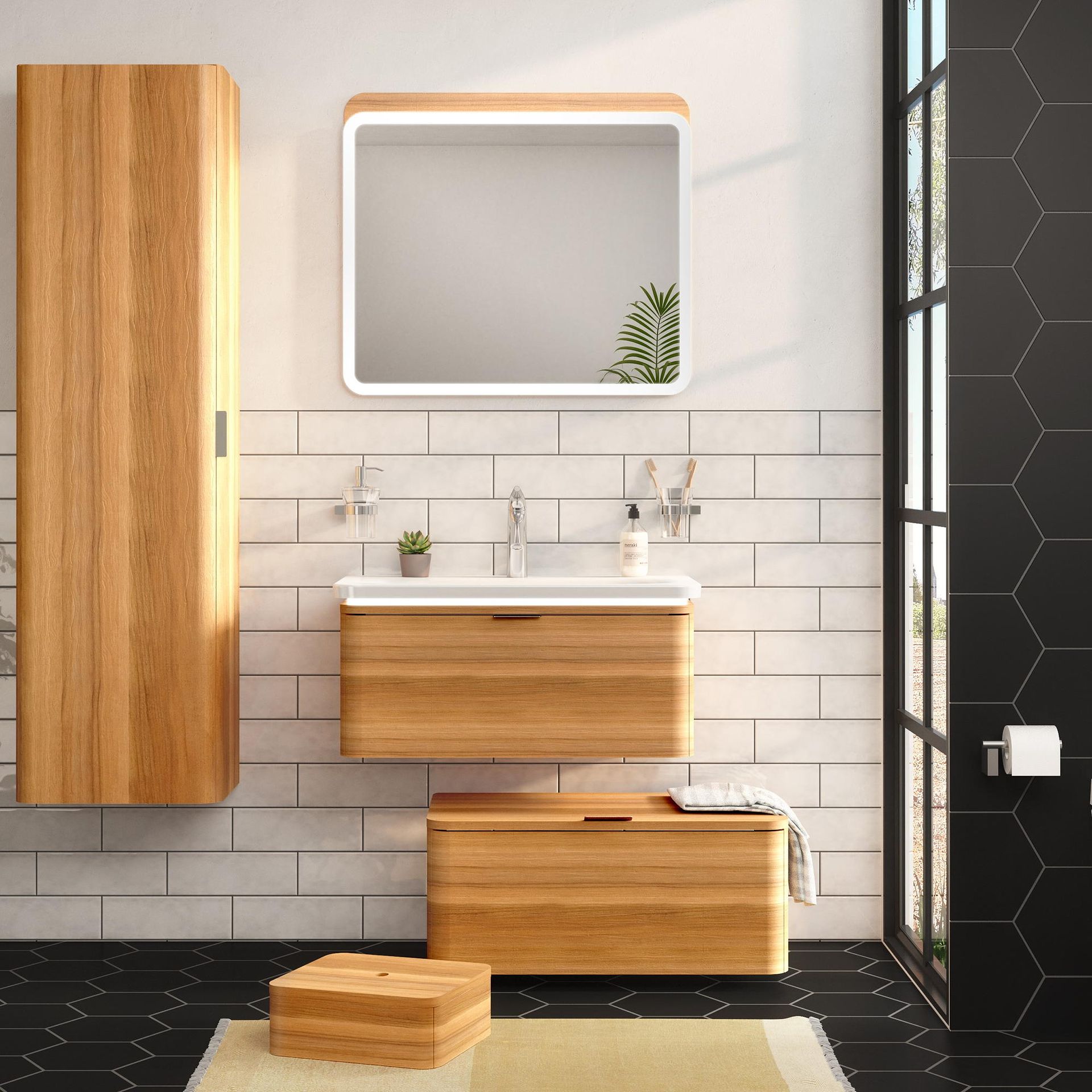 Matching storage in the bathroom not only gives you that chic hotel look, but also means plenty of storage for everything. Toiletries and cleaning products can be hidden away in the wall-mounted cabinet, make-up can be placed in the vanity unit drawer, and a matching towel storage bin with a lift-up lid sits beneath. There's also a smaller box for other sundry items.
'Nothing makes a space feel smaller than lots of towels, toiletries and toys filling every surface,' says Natalie Bird, marketing manager of Roca Bathrooms. 'Plus, it makes the bathroom stressful to use. How can you relax when you can't find anything? In contrast, a clutter-free bathroom allows for head space and a tranquil vibe – both conducive to rest and rejuvenation.'
7. Use baskets with labels for easy recognition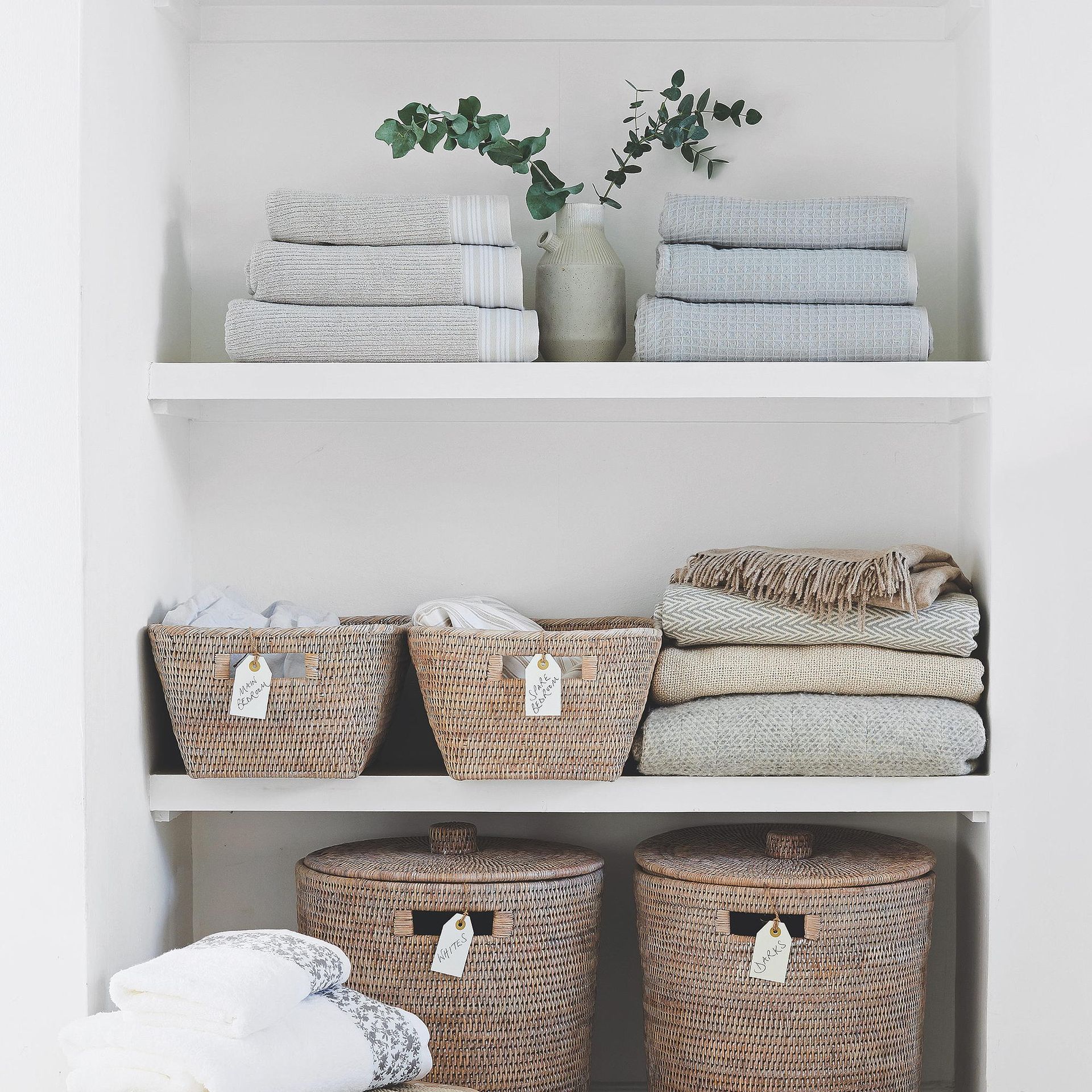 Investing in some different sized baskets for bathroom shelves and labelling them means your towels and other items will be easy to find. Place small ones at the top for face cloths and cotton wool etc, then larger ones below for varying sized towels – or label them up as to the room they are allocated to. You could even label your laundry bins in the same way for an ordered look.
8. Make use of vertical space with tall cabinets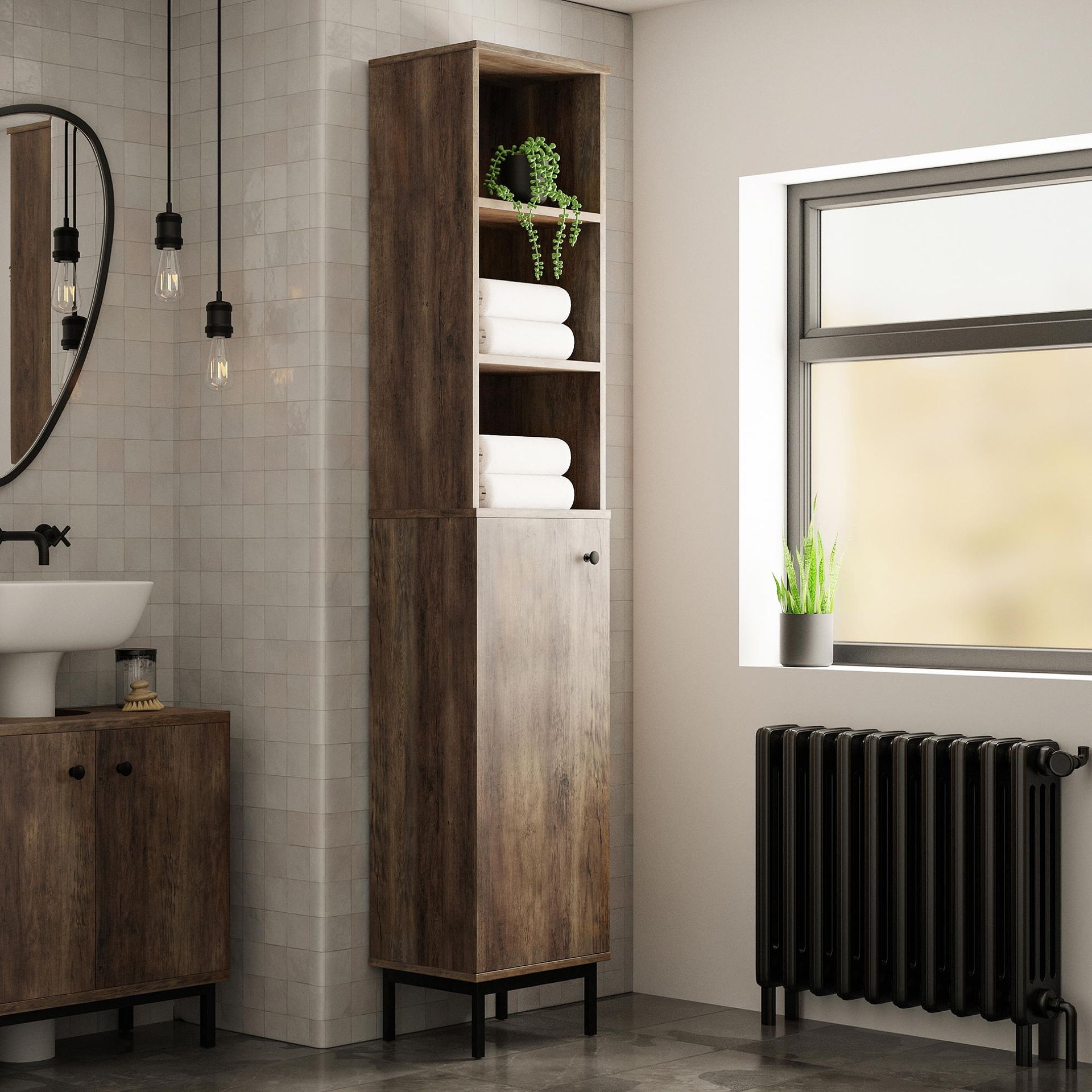 Tall, slender cabinets, like this Fulton Pine Bathroom tall unit from Dunelm (opens in new tab), are great for small bathroom ideas, making use of the height of the room rather than taking up a lot of floor space. 
With open shelves at the top for folded towels and a closed cupboard beneath for toiletries and cleaning materials, it means you've got the storage you need and its narrow design will also slot into most spaces.
9. Do double duty with wall-mounted, open storage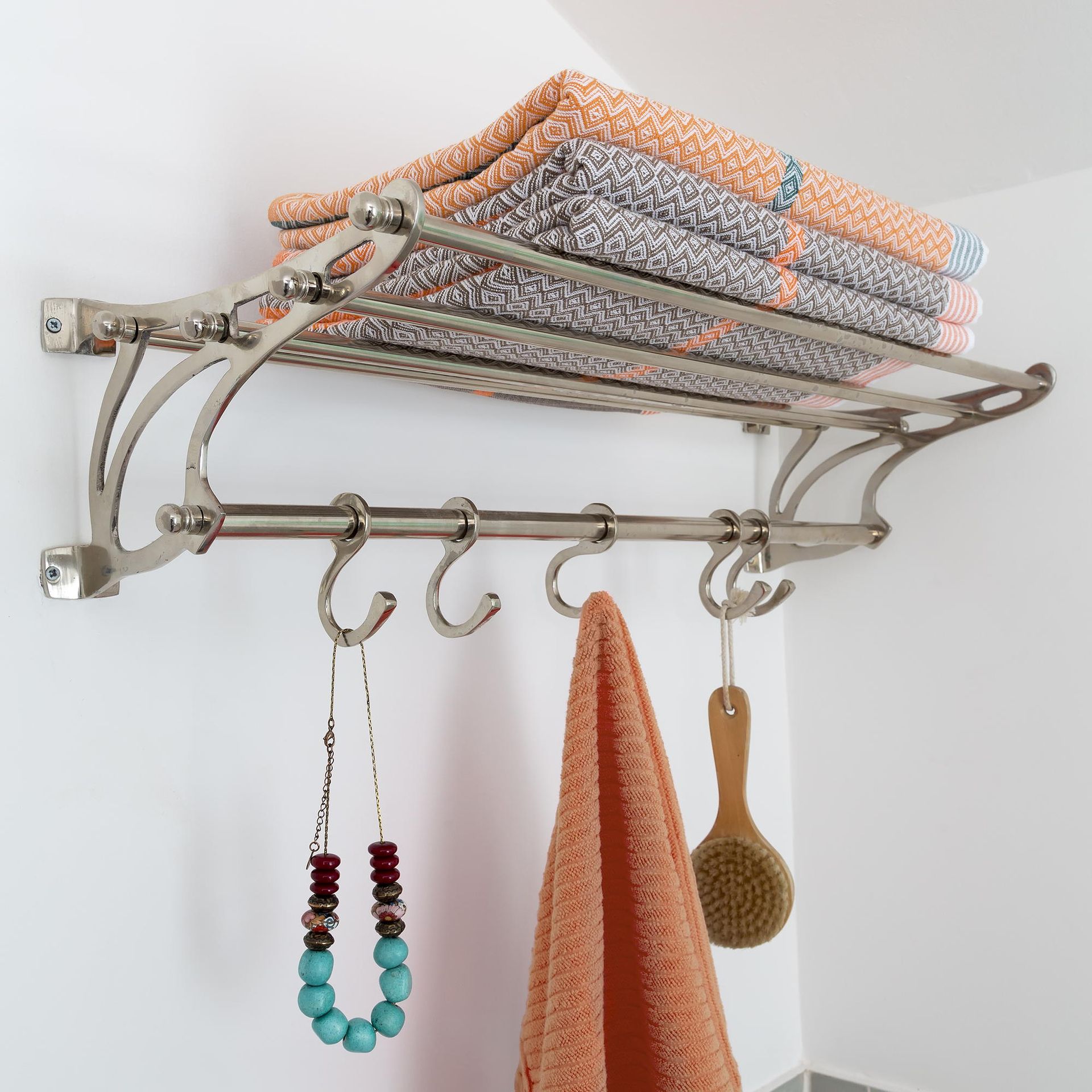 Traditional luggage racks are great for displaying towels and don't take up much space, plus they make good use of the walls higher up. Designed to look like the vintage luggage racks on trains, you can fold and display dry towels on the rack and hang damp ones on the hooks below.
10. Go cheap and cheerful with fabric baskets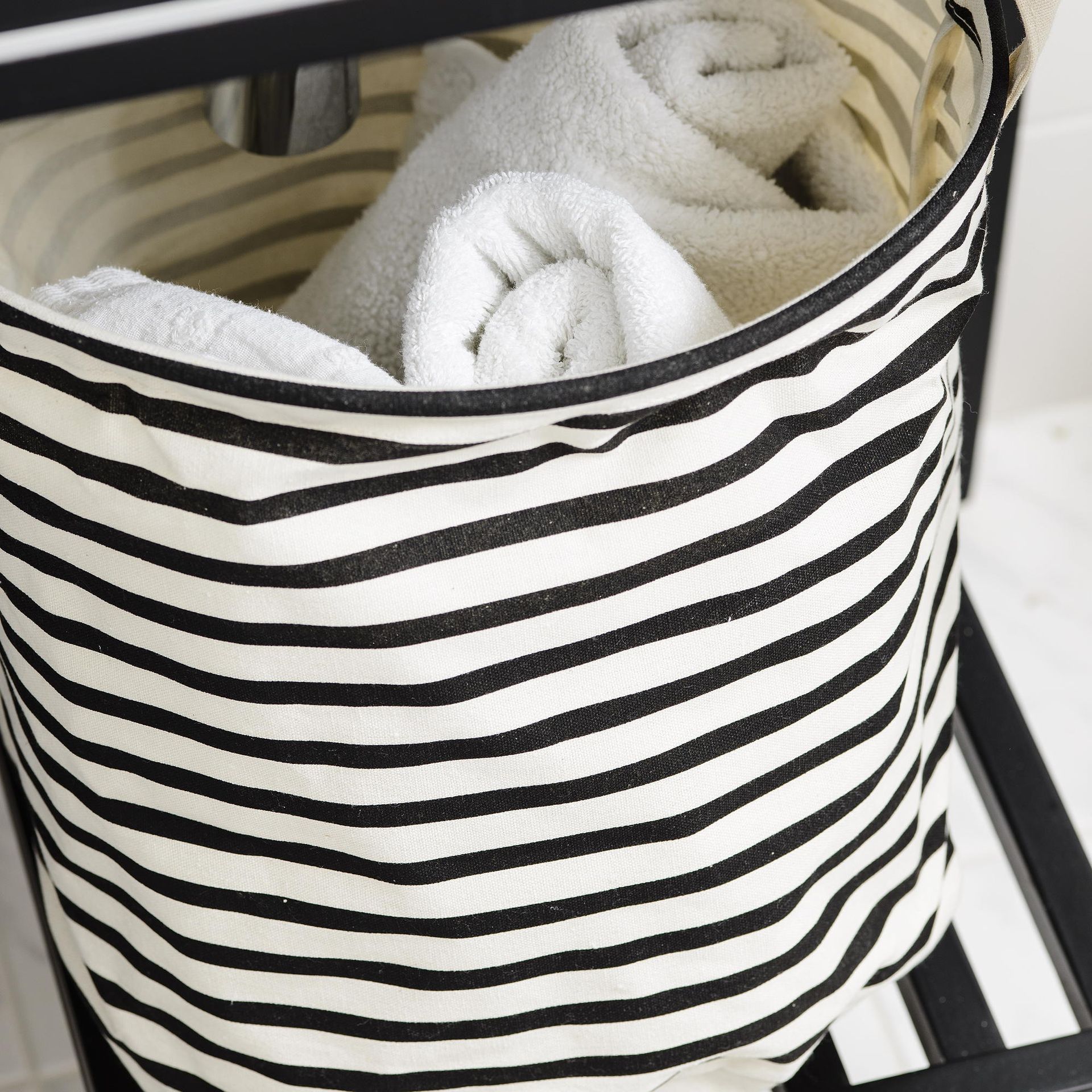 Fabric bags and baskets are a great way to store towels. They're inexpensive and come in a range of sizes, plus you can choose patterned and colourful designs to suit your decor. Wayfair (opens in new tab) has a huge range of colours, shapes and sizes to choose from. 
Why not have two – one for clean towels and one for dirty? They can be sponged clean and folded flat for storage, too. 
How can I store towels in the bathroom? 
There's a number of ways to store towels, but if you want to blend them in seamlessly it's wise to think about what type of storage will work best with your decor.
'Designed to create a hotel feel from home, sleek stone shelves are particularly popular in contemporary bathrooms, allowing you to keep your towels in reach while appearing neat and uncluttered,' says Cameron Lowe, product manager at Lusso Stone. 
For those looking to add both heat and storage, radiators with integrated towel rails work perfectly, especially for towels on display. However, vanity units are the most versatile, especially ones with a mixture of concealed and open storage.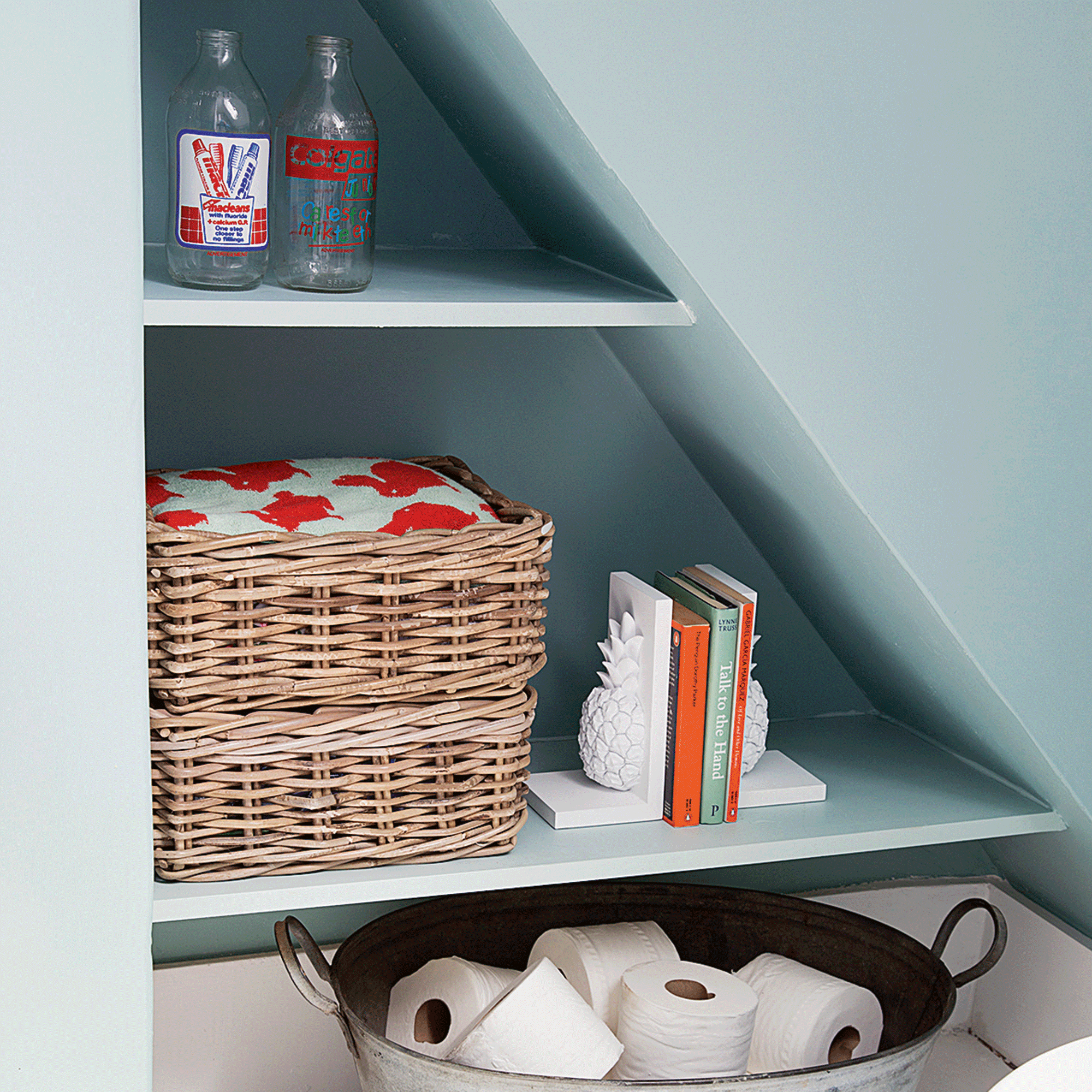 How do you store towels without space? 
This is where you need to be clever and utilise areas like alcoves, the top of a wall, or use multi-purpose furniture. Ikea are masters at creating storage in a small space. 
'The drawers of Godmorgon washstands (opens in new tab) provide ample storage,' says Grant Robertson, Interior Design Leader of Ikea UK and IE. 'The Ehnet open shelving (opens in new tab) can be added to a washstand and don't forget the back of the door, too – it's a clever way to utilise space in small bathrooms and rented homes. Then there's the Ragrund (opens in new tab), which is a seat, shelf and towel rack all in one. Made from bamboo, it's perfect for humid areas like a bathroom.'
What can I use instead of a towel rack?
Hooks are the unsung hero of the bathroom, and can be used on walls, or on the back of the door, for towels, back brushes, hanging toilet bags, robes – anything!